USA. 2012.
Crew
Anthology Concept – Brad Miska, Producers – Roxanne Benjamin, Gary Binkow, Brad Miska. Production Company – 0303 Productions/The Collective/Bloody Disgusting
Tape 56
Crew: Director – Adam Wingard, Screenplay – Simon Barrett, Producers – Simon Barrett & Kim Sherman, Photography – Andrew Droz Palermo, Michael J. Wilson & Adam Wingard, Special Effects Supervisor – Mike Strain Jr., Art Direction – Laine Faith & Marie Overton.
Cast: Calvin Reeder (Gary), Lane Hughes (Zak), Adam Wingard (Brad), Frank Stack (Old Man)
Amateur Night
Crew: Director – David Bruckner, Screenplay – David Bruckner & Nicolas Teckosky, Producers – David Bruckner & Linda Burns, Photography – Victoria K. Warren, Visual Effects – Itaki Design Studio (Supervisor – Michael McReynolds), Special Effects Supervisor/Creature Effects – Blake Myers, Art Direction – Raymond Carr. Production Company – Wasteland Pictures.
Cast: Hannah Fierman (Lily), Mike Donlan (Shane), Joe Sykes (Patrick), Drew Sawyer (Clint), Jas Sams (Lisa)
Second Honeymoon
Crew: Director/Screenplay – Ti West, Producers – Peter Phok & Ti West, Visual Effects – Neal Jonas.
Cast: Joe Swanberg (Sam), Sophia Takal (Stephanie), Kate Lyn Sheil (The Girl)
Thursday the 17th
Crew: Director/Screenplay – Glenn McQuaid, Producers – Alex Kuciw, Glenn McQuaid & Lee Mussbaum, Visual Effects – Neal Jonas, John Loughlin & Glenn McQuaid, Makeup Effects – Brian Spears, Art Direction – Roger Vianna. Production Company – Landing Site Productions.
Cast: Norma C. Quinones (Wendy), Drew Moerlein (Joey), Jeanine Yoder (Samantha), Jason Yachanin (Spider), Bryce Burke (The Glitch)
The Sick Thing That Happened to Emily When She Was Younger
Crew: Director – Joe Swanberg, Screenplay – Simon Barrett, Producers – Simon Barrett & Joe Swanberg, Photography – Adam Wingard, Visual Effects – Ryan Miller, Makeup Effects – Lino P. Stavole.
Cast: Helen Rogers (Emily), Daniel Kaufman (James), Liz Harvey (The New Girl)
10/31/98
Crew: Directors/Screenplay/Producers – Radio Silence (Matt Bettinelli-Olpin, Tyler Gillett, Justin Martinez & Chad Villella), Photography – Tyler Gillett & Justin Martinez, Visual Effects – Justin Martinez.
Cast: Chad Villella (Chad), Matt Bettinelli-Olpin (Matt), Tyler Gillett (Tyler), Paul Natonek (Paul), Nicole Erb (The Girl), John Walcutt (Cult Leader)
---
Plot
Tape 56:- A group of friends who specialise in acts of mayhem that they film to be posted online are hired to break into a house and find a particular videotape. Inside the house, they find the owner's dead body and must sift through dozens of increasingly disturbing tapes to find the one. Amateur Night:- A group of guys film their exploits as they go out for a night drinking on the town. They pick up two girls and take them back to a motel room. There the very strange Lily proves to be something other than human. Second Honeymoon:- Husband and wife Sam and Stephanie drive through Arizona on a holiday, filming the trip. After an encounter with a strange girl who asks for a ride, someone enters their motel room at night with a video camera. Thursday the 17th:- Wendy takes a group of friends on a trip into the woods, they filming the journey. They become concerned after she makes an offhand comment that they are all going to die. Something that only appears as a blur on the camcorder then begins to stalk and attack the party. The Sick Thing That Happened to Emily When She Was Younger:- Emily and James have an online relationship, staying in contact by webcam while both are in different cities. She becomes frightened and begs his help as ghostly figures start to appear in her apartment. 10/31/98:- A group of four friends head off to a Halloween party, filming themselves. The house appears to be deserted but they see ghostly figures. They then enter the attic to find a cult preparing to sacrifice a girl.
---
The so-called Found Footage film – film intended to give the appearance it had been shot on somebody's camcorder – has become almost a genre unto itself ever since the successes enjoyed by The Blair Witch Project (1999) and in particular Paranormal Activity (2007). Others amid this fad have included the likes of The Great American Snuff Film (2003), Incident at Loch Ness (2004), Amateur Porn Star Killer (2007) and sequels, Diary of the Dead (2007), The Poughkeepsie Tapes (2007), [Rec] (2007), Cloverfield (2008), Lake Mungo (2008), Evil Things (2009), Atrocious (2010), Haunted Changi (2010), The Last Exorcism (2010), Apollo 18 (2011), Grave Encounters (2011), 388 Arletta Avenue (2011), The Tunnel (2011), The Bay (2012), Chronicle (2012), The Devil Inside (2012), Afflicted (2013), The Frankenstein Theory (2013), Frankenstein's Army (2013), As Above So Below (2014), Black Water Vampire (2014), Devil's Due (2014), Project Almanac (2015), even spoof versions such as Big Man Japan (2007) and The Troll Hunter (2010), among a great many others.
V/H/S is a unique concept in the Found Footage genre – that of an entire anthology of short Found Footage horror films, each made by different directors. This in itself doesn't make V/H/S too different from a bunch of amateur short films that have turned up on YouTube and the likes, but for the presence of a number of professional filmmakers behind each of the shorts. The multi-director anthology has taken off in recent years with the likes of Chillerama (2011), The Theatre Bizarre (2011), The ABCs of Death (2012) and sequel, The Profane Exhibit (2013), Tales of Halloween (2015), Grindsploitation (2016), Holidays (2016) and XX (2017). The most high-profile genre names are those of Ti West, the increasingly acclaimed director of the likes of House of the Devil (2009), The Innkeepers (2011) and The Sacrament (2013), and Adam Wingard, behind the likes of Pop Skull (2007), A Horrible Way to Die (2010), You're Next (2011), The Guest (2014) and Blair Witch (2016).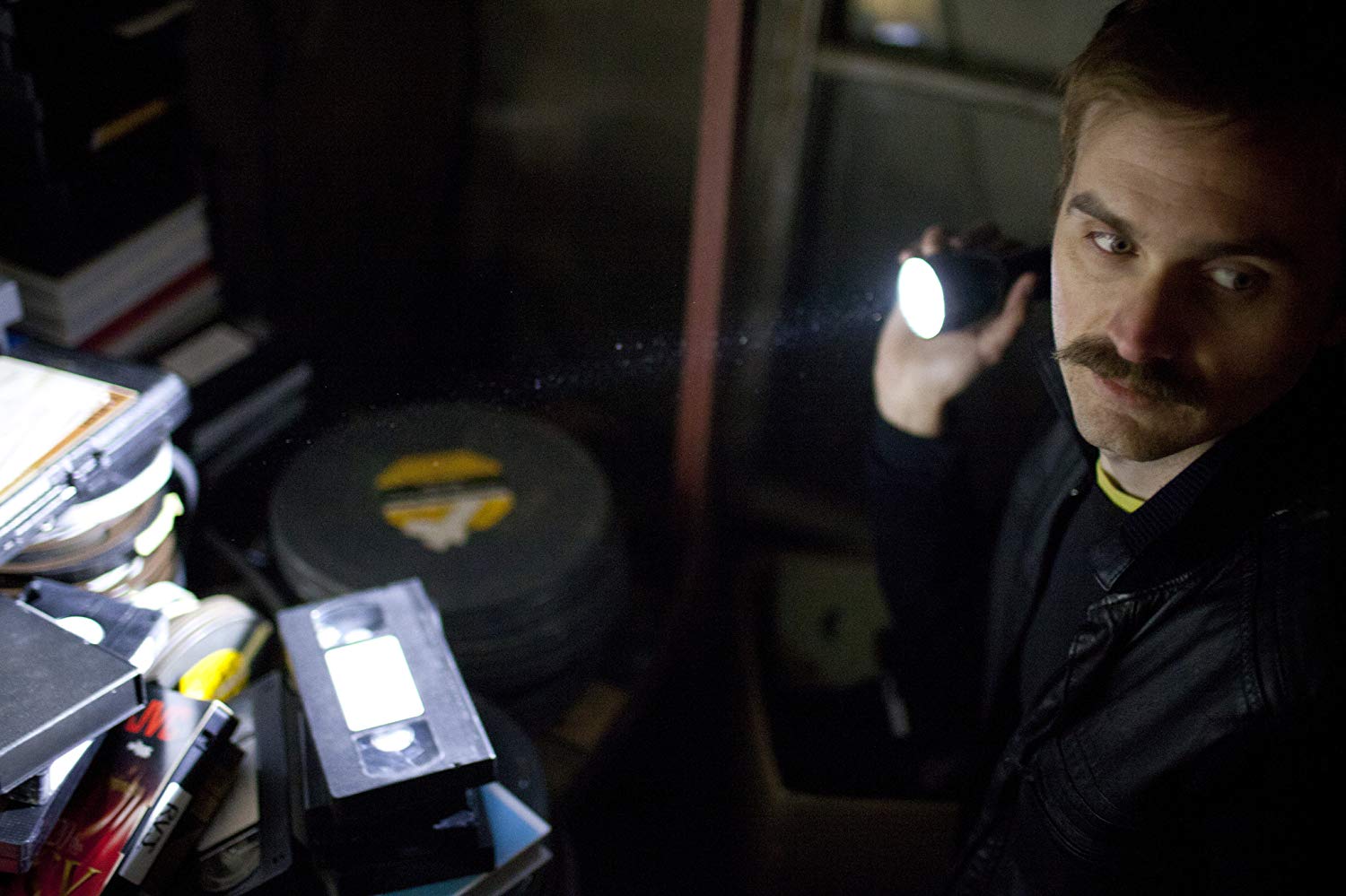 Adam Wingard's wraparound segment is the weakest effort in the anthology. It sets the scenario up and creates a certain dread chill as the group enter the house in the dead of night searching for the videotape. This creates certain promise – however, the biggest disappointment is that it is something that the anthology never delivers on. What happens to the group or even the finding of the videotape they are sent to obtain is left unresolved. The other complaint is about the title – V/H/S, a technology that seems to be about as prehistoric as the vinyl record by 2012. Despite the opening segment giving the impression that videotapes are being popped into a player, the characters in the various segments are clearly using digital camcorders and the footage seen is too high resolution to be videotape.
Amateur Night, from David Bruckner, one of the co-directors of The Signal (2007) and solo director of The Ritual (2017), is an effectively strong segment. Bruckner does a convincing job of establishing a group of characters and their drunken hijinks. The mystery girl Hannah Fierman looks incredibly weird and otherworldly with her wide eyes. The segment gets into decidedly outlandish territory during the sex scenes where she is seen lifting the guy she is with bodily off the bed and devouring him, then attacking the fleeing videographer and abruptly revealing that she has an alien appearance with a split-open forehead, before in the final shot grabbing him and taking off into the air. It is never explained who or what she is and the segment is all the more mysterious and unworldly for it. Amateur Night was later expanded as a feature film Siren (2016) with Hannah Fierman reprising the same role.
Ti West directs the second segment Second Honeymoon, while Joe Swanberg plays the lead role of the husband. The segment tracks a married couple on their honeymoon, charting their journey with thorough ordinariness, before a mysterious stranger (also by coincidence with a video-camera) enters their motel room and looks at their sleeping bodies, arriving at a twist revelation of the identity of the stalker. The segment works okay but I felt like the problem with it was Ti West as a director. West always directs his film with a slow, almost dull accrual of incidental detail. This has a great deal of building effect in his full-length films but when such is applied to a piece of twenty minutes in length, what you end up with is a slow, mostly dull and ordinary episode with some occasionally creepy moments, before arriving at a left field ending.
Thursday the 17th comes from Glenn McQuaid, the director of Glass Eye Pix's I Sell the Dead (2008). This draws very much on the backwoods happenings of The Blair Witch Project. After just having watched Amateur Night, the jocular characters with a video camera are starting to seem familiar, while the backwoods happenings seem like only a slasher movie variant on Blair Witch. The killer of the piece has an unexplained, possibly supernatural ability to appear as blurred footage on the camcorder. This is a segment you feel would have benefitted from being told at greater length.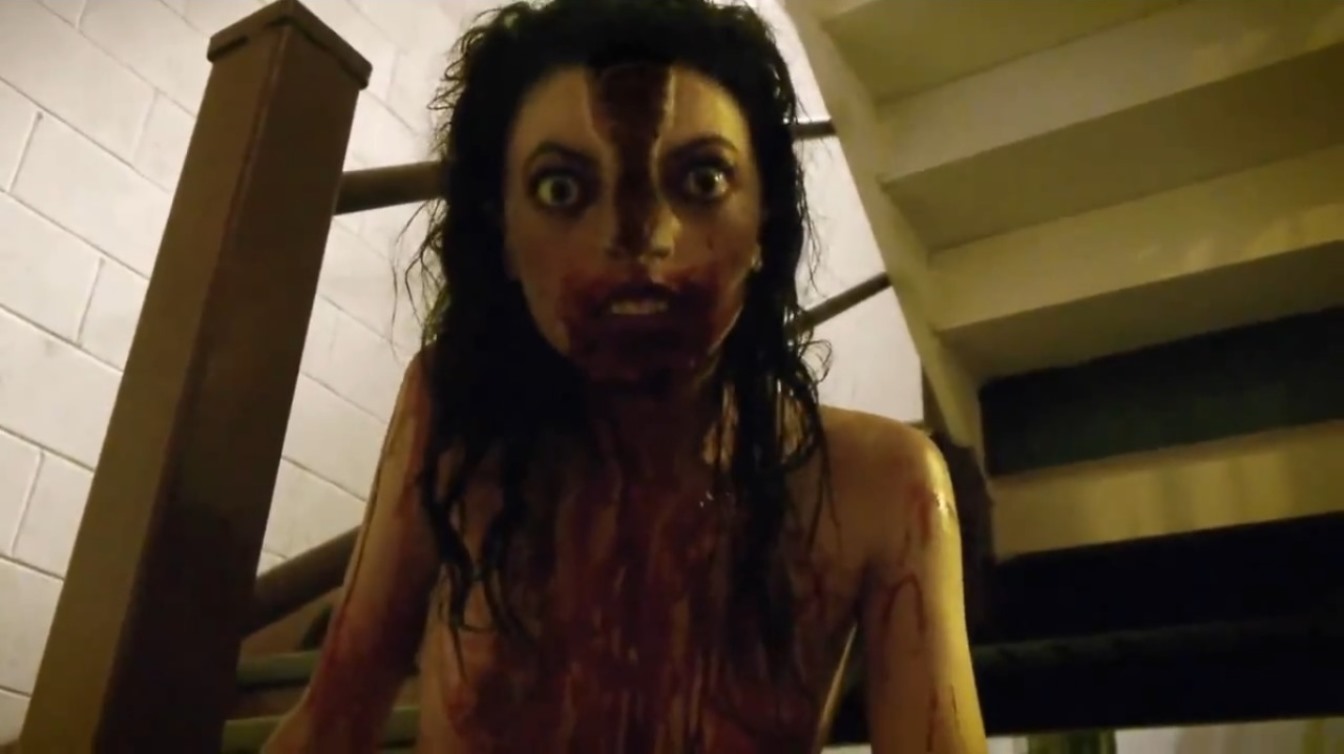 Joe Swanberg gained a name for a bunch of micro-budgeted freely distributed non-genre films such as Kissing on the Mouth (2005), LOL (2006), Hannah Takes the Stairs (2007), Art History (2011), Autoerotic (2011), Caitlin Plays Herself (2011), Silver Bullets (2011), The Zone (2011), All the Lights in the Sky (2012), Marriage Material (2012), Drimking Buddies (2013), 24 Exposures (2013) and Happy Christmas (2014), plus has been a frequent collaborator as co-director and actor for Adam Wingard. After all the foregoing segments have stayed with the Found Footage standard of the characters in the midst of something with video cameras, Swanberg's The Sick Thing That Happened to Emily When She Was Younger mixes things up by having its entire story take place via video chat. Swanberg starts this out as an initial ordinary seeming online romance between two people in different cities, which then turns into something unexpected along the lines of Paranormal Activity as haunted figures start turning up in Helen Rogers' apartment. Even this is not what it seems either as the episode then diverts off into a very strange if not particularly well explained twist ending – the end credits, for instance, state that the other characters who turn up are aliens.
The last segment, 10/31/98, is actually the best, despite coming from the least known names on the credits – the Los Angeles based quartet of filmmakers known as Radio Silence (three of whom play the characters investigating the haunted house). The segment does a fine job in the build-up with eerie there again/gone again pop-up effects and reflected or peripheral shadowy figures, before the group abruptly walks in on a cult preparing to make a human sacrifice. The group's flight with the intended victim has the handicam action interwoven with some particularly accomplished visual effects as hands come popping out of the walls, birds fly through the house, shutters abruptly appear, door handles disappear, objects levitate and the like. (Two of the members of Radio Silence, Matt Bettinelli-Olpin and Tyler Gillett, later went on to make Devil's Due (2014), a feature-length Found Footage film about Satanic impregnation, while the four also were one of the principals forces behind another anthology Southbound (2015), directing two of the episodes).
A different group of directors returned for two sequels V/H/S/2 (2013) and, the best of the series, V/H/S Viral (2014).
---
---