---
Crew
Director – Raja Gosnell, Screenplay – Jeff Bushell & Analisa LaBianco, Story – Jeff Bushell, Producers – David Hoberman, John Jacobs & Todd Lieberman, Photography – Phil Meheux, Music – Heitor Pereira, Visual Effects Supervisor – Michael J. McAlister, Visual Effects – Cinesite (Europe) (Supervisor – Matt Johnson), CIS Visual Effects Group (Supervisor – Thomas J. Smith) & Svengali FX (Supervisor – Rocco Gioffre), Animation – Tippett Studio (Supervisor – Blair Clark), Special Effects Supervisor – Jorge Farfan, Production Design – Bill Boes. Production Company – Mandeville Films/Smart Entertainment.
Cast
Piper Perabo (Rachel Ashe), Jamie Lee Curtis (Vivian Ashe), Manolo Cardona (Sam Cortez), Jose Maria Yazpik (Vasquez), Jesus Ochoa (Sergeant Ramirez), Ali Hills (Angela), Eugenio Derbez (Store Owner), Marguerite Moreau (Blair)
Voices
Drew Barrymore (Chloe Winthrop Ashe), Andy Garcia (Delgado), George Lopez (Papi), Edward James Olmos (Diablo), Cheech Marin (Manuel), Paul Rodriguez (Chico), Luiz Guzman (Chucho), Placido Domingo (Monte)
---
Plot
Chloe is the pampered chihuahua of Beverly Hills fashion guru Vivian Ashe. Vivian has to fly to Milan at short notice and leaves Chloe in the care of her niece Rachel. Rachel's friends whisk her away to go partying across the border in Mexico. Rachel takes Chloe with her but forgets and leaves her in the hotel. Chloe then wanders out into the street where she is snatched and taken to be placed in illegal dogfights. She makes an escape with the help of the German Shepherd Delgado. She soon finds that life on the streets is considerably different to the pampered life she is used to. When the gang leader Vasquez realizes that Chloe is wearing a diamond necklace, he sends the Rottweiler Diablo in pursuit of her. Rachel also starts searching for Chloe, joined by Vivian's Mexican gardener Sam and his dog Papi who has a crush on Chloe. Delgado takes it upon himself to make sure that Chloe gets back to Beverly Hills safely. However, things are complicated when the diamond necklace is stolen by a rat and iguana confidence trickster duo.
---
You can almost imagine how the pitch session for Beverly Hills Chihuahua went: "Hey, you know the tiny little dog that Paris Hilton carries around? How about we do a talking animals film about it?" Studio executives must have wet their pants laughing about the idea and greenlit it instantly. No doubt, people were then stuck with having to come up with a film to go along with it. Unfortunately, if anybody had bothered to sit down and think about the basic concept for more than 30 seconds, Beverley Hills Chihuahua, whichever way one looks at it, must count as surely the lamest concept ever for a talking animals film.
When Babe (1995) first came out, it offered the novelty of a live-action talking animals using CGI and animatronics and the results were incredibly endearing. However, as the CGI and animatronics improved, the genre was taken over by films filled with animals constantly making smartass one-liners and pop-culture references. See the likes of Dr Dolittle (1998) and sequels, Racing Stripes (2005), Alvin and the Chipmunks (2007), Underdog (2007), G-Force (2009), Furry Vengeance (2010), Yogi Bear (2010), Hop (2011), Zookeeper (2011) and Peter Rabbit (2018).
Beverly Hills Chihuahua follows all the patterns of the genre – animals coming out with lines like "Talk to the paw", "I love the smell of dirt in the morning," "I was born to shop, not fight," "Don't look now, Hannah Montana three o'clock." As with most of these, there is no sense of charm, only of a film playing hip and sarcastic, constantly pandering to audience familiarity.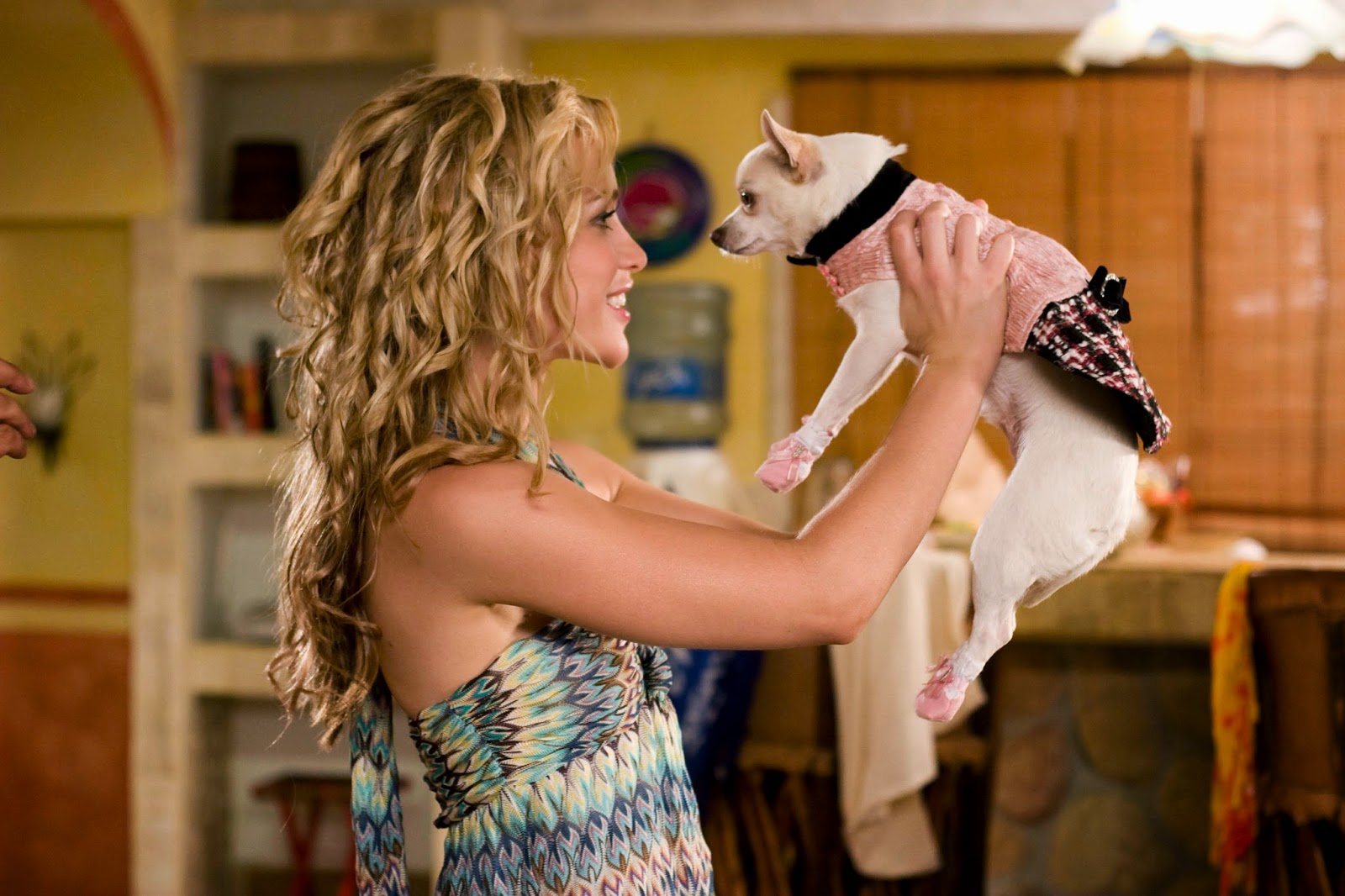 The plot connecting everything together is fairly much a riff on Disney's Lady and the Tramp (1955) and its story arc of a pampered upper-class female dog falling into life on the street as she is chaperoned by streetwise male dog and coming to eventually enjoy life there. Although one suspects what was the inspiring factor behind Beverly Hills Chihuahua was the idea of taking the reality tv show The Simple Life (2003-7) – where spoilt rich girls Paris Hilton and Nicole Richie get their hands dirty in working class America, moving it to Mexico and letting Paris's dog become the central character.
The basics are padded with random subplots that often seem there to drive dramatic situations more than anything – like Chloe being thrown into a dog fighting arena, followed by the owner suddenly deciding that he needs to find her and pursuing her at all costs across the country. There are randomly tacked-on scenes diverting away to visit chihuahuas that live in a Mexican temple – although, one never figures out what that added to the plot – and a subplot about an iguana and rat conman team.
The comedy is alternately excruciating and inane – an extended slapstick scene with the iguana and rat demolishing a convenience store while running around hidden inside a piñata should give some idea of where the film is coming from. Both Jamie Lee Curtis and Piper Perabo should regard a scene where they are required to stand in public and make dog noises down a cellphone as some kind of a mutual career low. There is no effort to make any of it seem funny – the culture in-reference gags and smartass one-liners seem more tired than they do irritating. Rather this is a film that is coasting by solely on what it wants you to think is the cuteness of its concept.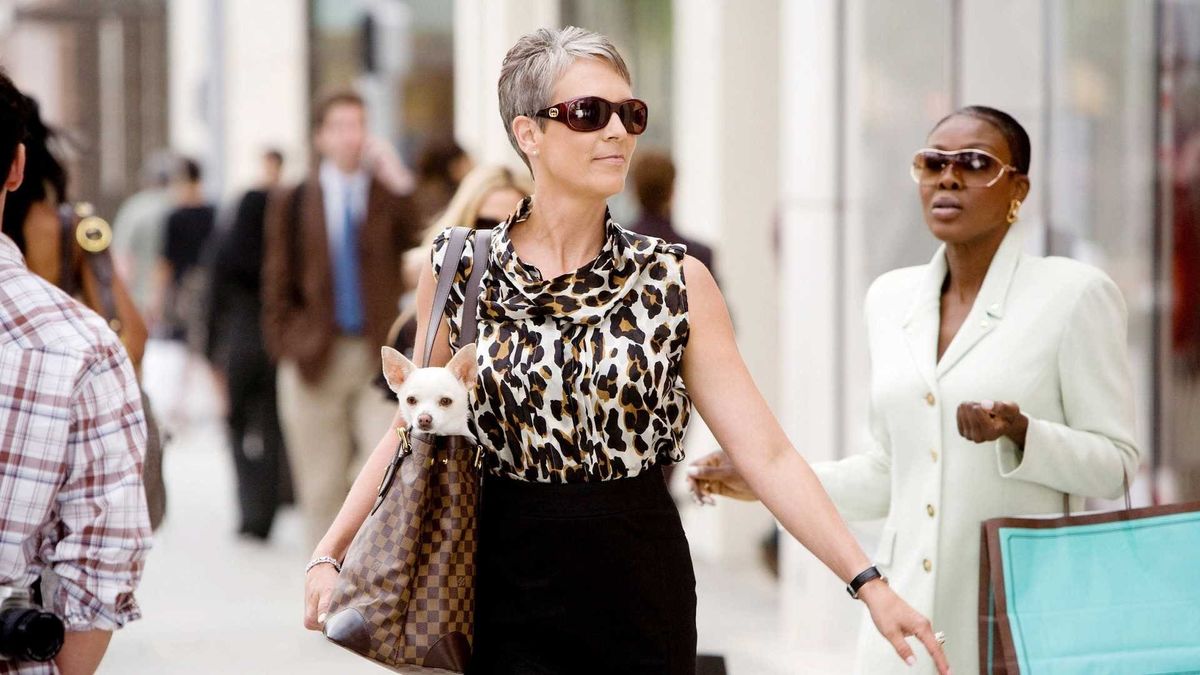 The film corrals a huge mostly voice cast of Latino actors – there is even opera singer Placido Domingo as the leader of the dogs that live in the temple – but mostly the depiction of Mexico is by cliche – a cheerfully impoverished populace, criminal street life, carnivals merrily dancing through the street. That said, the production design team do manage to depict Mexico with an incredibly rich palette of bright colours. Wider issues though, like Chloe by implication having to join the tide of Mexican immigrants smuggling across the border to the US, are beyond the film's scope of reference ie. this is a film about Mexico that has been made for white middle-class Americans who want to regard it as no more than a colourful tourist destination. Notably, while Chloe's prettified dress sense is ruffled and considerably dirtied by her visit to Mexico, it is the world of Beverly Hills privilege that she eventually returns to, not the street.
There were two dvd-released sequels with Beverly Hills Chihuahua 2 (2011) and Beverly Hills Chihuahua: Viva La Fiesta! (2012).
Beverly Hills Chihuahua was directed by Raja Gosnell, who was also responsible for Home Alone 3 (1997), Never Been Kissed (1997), Big Momma's House (2000) and two previous CGI dog films with Scooby-Doo (2002) and Scooby Doo 2: Monsters Unleashed (2004). Gosnell next went onto make the live-action version of The Smurfs (2011) and The Smurfs 2 (2013) and later returned to make another talking dogs film with Show Dogs (2018).
(Winner in this site's Worst Films of 2008 list).
---
---