---
Denmark/Sweden/France/Netherlands. 1996.
Crew
Director/Screenplay – Lars von Trier, Producers – Peter Aalbaek Jensen & Vibeke Wideloev, Photography – Robby Muller, Music – Joachim Holbek, Production Design – Karl Juliusson. Production Company – Zentropa Entertainment/Liberator Productions/Argus Film.
Cast
Emily Watson (Bess McNeill), Stellan Skarsgård (Jan), Katrin Cartlidge (Dodo McNeill), Adrian Rawlins (Dr Richardson), Jonathan Hackett (Priest), Sandra Voe (Mrs McNeill), Phil McCall (Grandfather), Udo Kier (Captain)
---
Plot
In a staunch Scottish church community, Bess McNeill marries Jan, a worker from a nearby oil rig. Once Jan returns to work, the naive and emotionally unstable Bess cannot bear to be separated and prays that God will return Jan to her no matter what the cost. Suddenly Jan has an accident on the rig and is returned to her, paralysed from the neck down. Bess is distraught but Jan insists that she go out and sleep with other men and return and tell him about it so that he may vicariously enjoy the experience. Bess eventually consents, believing that in doing so she is obeying her husband. However, as Jan's condition worsens she is forced into increasingly more extreme acts of whoredom, believing that by so being obedient that God will bring Jan back from death's door.
---
Breaking the Waves won the Grand Prix that year when it premiered at the Cannes Film Festival. It received a number of other awards nods elsewhere, including lead actress Emily Watson being nominated for Best Actress by both the Academy Awards and Golden Globes. It is an absolutely extraordinary film. There is no other film I have sat through that conducts such a unique and harrowing emotional rollercoaster ride. It is a film that leaves you exhausted at the end – and its sum emotional effect stays with you for a long time after.
Danish director Lars von Trier has always been a director fascinated with stylistic effect – The Element of Crime (1984) was shot on tinted film stock; Epidemic (1987) altered between 16 and 35 mm; and von Trier's breakthrough hit Zentropa/Europa (1991) was shot in black-and-white and sepia tone where parts of the frame had been individually tinted. In Breaking the Waves, Lars von Trier makes the entire film seemingly using handheld video-camera (although in truth it is a Panavision lens and 35 mm film stock). The effect of this affectedly naturalistic, handheld camerawork became a trendy artistic conceit, given a high-profile by 90s tv shows like NYPD Blue (1993-2005) and ER (1996-2009).
However, Lars von Trier took it even further and issued a new artistic challenge to filmmakers that became known Dogme 95. The credo of Dogme required that filmmakers make a 'vow of chastity' – to eschew artificial music, special effects and self-contained dramatic set-pieces, to use only natural lighting, to not use cranes and tracking dollies or even sets and props. (This resulted in the birth of a new artistic movement, with von Trier subsequently making The Idiots (1998) and Thomas Vinterberg taking up the call with The Celebration (1998), as have a number of other subsequent filmmakers to variable effect). While Breaking the Waves is only partially a Dogme film, the results are extraordinary. Almost certainly, the affectedly pseudo-naturalistic camerawork allows Lars von Trier to create a rawness of emotion on screen that a Hollywood film with its artful composure and glossy dramatics would never be able to come anywhere near reaching.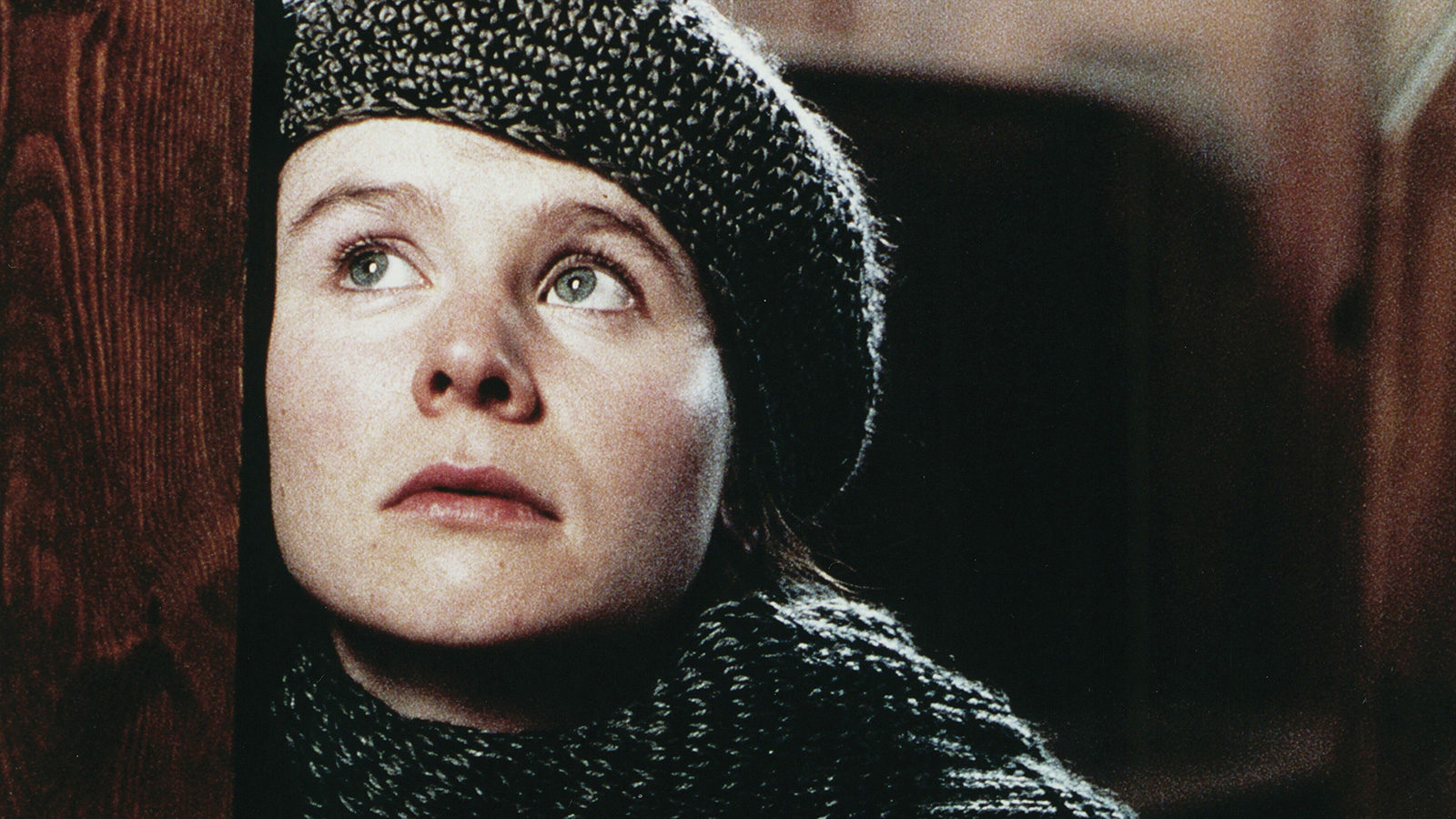 Every person in Breaking the Waves gives superb performances – from the then unknown Stellan Skarsgård (a dead ringer for Abba's Benny Andersson) to a remarkably heartfelt performance from Katrin Cartlidge to the impassive stoicism of Phil McCall. The most exceptional piece of acting comes from Emily Watson, making her screen debut. Emily Watson was deservedly nominated for an Academy Award for her work – although lost out to Frances McDormand's commendable but lesser performance in Fargo (1996). The breadth of emotion that Watson is required to convey throughout the film – from soft-headed innocence to near-nervous breakdown, to dialogues with God where she plays both parties in the conversation, to descent into whoredom – is astounding. The expressions of innocent delight on her face during the early parts of the film when Stellan Skarsgård explores her body are magical, while the expressions that von Trier follows as she undergoes her descent into living Hell are terrifyingly credible. (von Trier originally started out Breaking the Waves as a planned adaptation of the Marquis de Sade's Justine (1791), which is about the degradation of an innocent).
The ending – wherein comes the film's only overt inclusion as fantasy – is a genuine surprise. [PLOT SPOILERS]. Seeing Stellan Skarsgård walking again is a shock, although one feels that maybe Lars von Trier should have let the film end upon that note of ambiguity. The subsequent miraculous event that comes as the riggers bury the body at sea pushes well past that nebulous uncertainty. The implications of what von Trier says here – that Emily Watson in her descent into whoredom has been sanctified for being obedient – are not entirely pleasant ones. The idea that the Almighty would require someone to descend into the extremes of prostitution and then die so that her husband might walk again is an utterly abhorrent one. Indeed, it surely reinforces the harsh worldview of the Episcopalian church depicted in the film (although this interpretation does sit at odds with the church's condemning Emily Watson to Hell for being a whore). What Lars von Trier means to say with the ending is unclear.
von Trier could well have been influenced by Carl Dreyer's Ordet (1955), a film that is similarly set in a small isolated religious community and features a women who sacrifices her life so she can bringing together the divisions within the community. The end of Ordet similarly broaches all the way into fantasy where we see the woman miraculously raised from the dead. [Lars von Trier has been a longtime admirer of countryman Carl Dreyer and later adapted an unflimed Dreyer script Medea (1988) for Danish tv]. Nevertheless, Breaking the Waves is an absolutely remarkable film.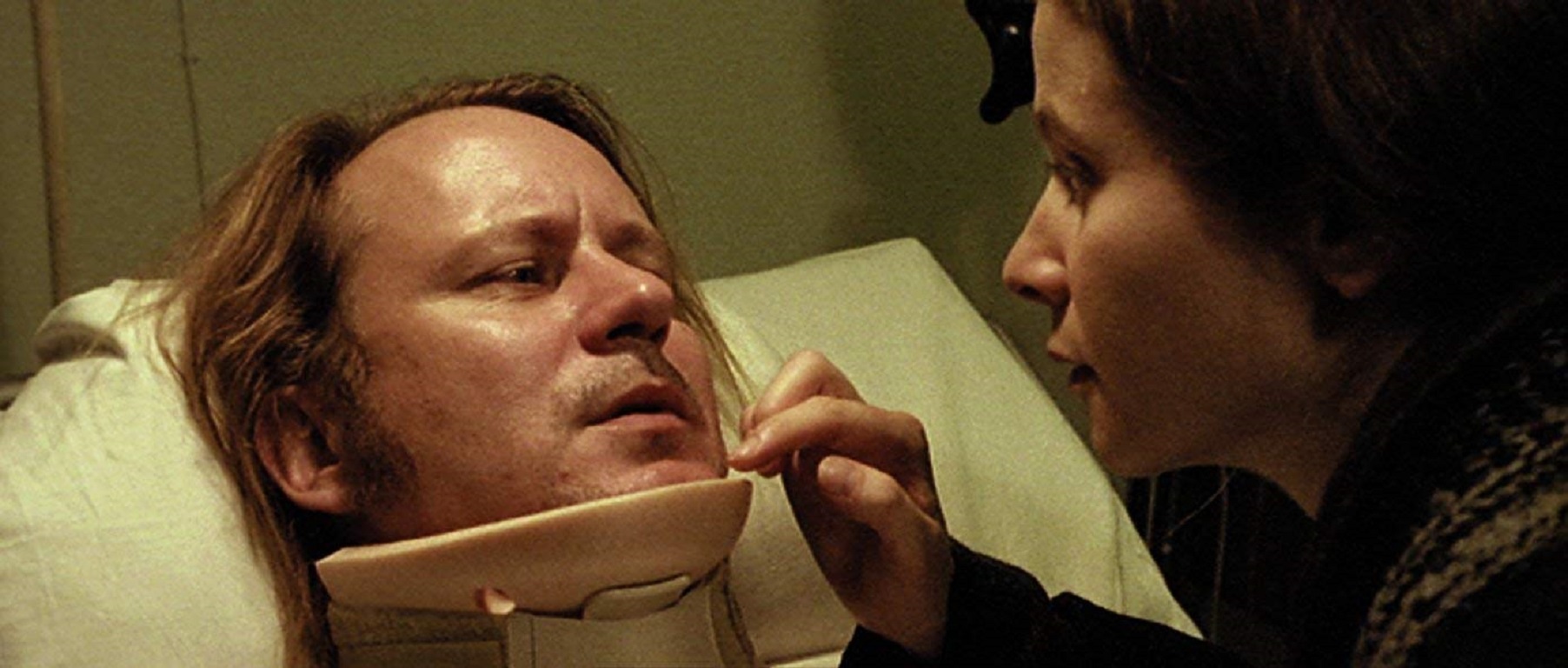 With his subsequent films, Dancer in the Dark (2000), Dogville (2003) and to a lesser extent The Idiots (1998), Lars von Trier returned to the vision of a saintly, naive woman undergoing a descent into living Hell. Of course, by the time of Antichrist (2009) he took such things to entirely the opposite extreme, while Nymphomaniac (2013) still shows a woman suffering by going to sexual extremes.
Lars von Trier's other films of genre interest as a director are:– the decayed future film noir The Element of Crime (1984); Epidemic (1987), a peculiar meta-fiction about filmmakers making a film about a plague and hypnotism; the black comedy tv mini-series' The Kingdom (1994) and The Kingdom II (1997) set in a haunted hospital, which were both cinematically released in the West; Antichrist (2009), a film about grief that spirals into madness and extreme torture scenes; the End of the World film Melancholia (2011); the serial killer film The House That Jack Built (2018); and The Kingdom: Exodus (2022). von Trier was also Executive Producer on Kingdom Hospital (2004), the Stephen King scripted, US tv series remake of The Kingdom. von Trier's production company Zentropa Entertainments have also produced and co-produced numerous other films. Of genre note are the Icelandic Magical Realist quest Cold Fever (1995); the Swedish fairytale The Glassblower's Children (1998); the surreal Old Dark House thriller Impotence/Powerlessness (1998); Possessed (1999), a plague film about The Devil returning at the Millennium; Kat (2001), a horror film about a possessed cat; the Dogme film Truly Human (2001) about an imaginary man becoming real; The Last Great Wilderness (2002), a Gothic thriller set in the Scottish Highlands; Thomas Vinterberg's near-future romance It's All About Love (2003); In Your Hands (2004), a Dogme film about miracle healing prison inmate; the remarkable puppet fantasy Strings (2004); the ghost story Behind External Calm (2005); the dark reality-twisting Norweigian film Next Door (2005); Princess (2006), an animated film about an anti-porn vigilante; the fantasy Island of Lost Souls (2006); the horror film Echo (2007); the satirical dystopia How to Get Rid of Others (2007); Through a Glass Darkly (2008) about a girl receiving a mysterious visitation; the Dystopian film Metropia (2009); and Perfect Sense (2011) set in a world where people are losing their sensory perception.
(Winner Best Film in this site's Top 10 Films of 1996 list. Winner for Best Director (Lars von Trier), Best Actress (Emily Watson), Best Supporting Actress (Katrin Cartlidge), Nominee for Best Original Screenplay, Best Supporting Actor (Stellan Skarsgård) and Best Cinematography at this site's Best of 1996 Awards).
---
Trailer here
---