---
USA. 1997.
Crew
Director – Sean McNamara, Screenplay – Thomas Hart & Jynn Magon, Story – Rob Kerchner & Thomas McCluskey, Producer – Mike Elliott, Photography – Christian Sebaldt, Music – Udi Harpaz, Music Supervisors – Ron Kenan & Ian Christian Nickus, Visual Effects Supervisor – Ray McIntyre Jr, Digital/Visual Effects – OCS/Freeze Frame/Pixel Magic, Special Effects Supervisor – Greg Landerer, Production Design – Nava & Arlan Jay Vetter. Production Company – 20th Century Fox Home Entertainment/Saban Entertainment/The Harvey Entertainment Company.
Cast
Brendon Ryan Barrett (Chris Carson), Steve Guttenberg (Tim Carson), Lori Loughlin (Sheila Fistergraff), Michael McKean (Bill Case), Rodney Dangerfield (Mayor Hunt), Shannon Chandler (Jennifer), Steven Hartman (Brock Lee), Richard Moll (Principal Rable)
Voices
Jeremy Foley (Casper), Bill Farmer (Stinky), Jess Harnell (Fatso), James Ward (Stretch), Pauly Shore (Snivel), James Earl Jones (Kibosh)
---
Plot
Young Casper finds himself on a train heading towards the afterlife, but is accidentally knocked overboard. He arrives in Deedstown where he is startled to realize that he is now a ghost. He takes refuge at Applegate Mansion, which is inhabited by three obnoxious ghosts, Fatso, Stinky and Stretch. They attempt to show Casper how to be scary but soon give up on him as an abject failure. Casper then befriends ten year-old Chris Carson who is feeling neglected by his busy father. What Casper does not realize is that Chris's father is a real estate developer who is trying to fight off local protest so that he can demolish Applegate Mansion to build a mall.
---
Casper (1995), the big-screen adaptation of the popular children's cartoons and long-running comic-book, was a reasonable success when it came out. This was the first of several made-for-video sequels – it would be subsequently followed by Casper Meets Wendy (1998), which teamed Casper up with Harvey Comics' other long-running character – Wendy the Good Little Witch, and Casper's Haunted Christmas (2000). These video-released features were made by Saban Entertainment, a company specialising in children's entertainment and the producers of such tv shows as Mighty Morphin Power Rangers (1993-6) and Digimon (1999-2002).
There is not much to Casper: A Spirited Beginning. It sets out with the ambition of telling a Casper origin story, of how Casper came to Applegate Manor and met the three obnoxious uncles, Fatso, Stretch and Stinky. There is a decent opening CGI sequence with Casper travelling to the afterlife on a colourfully ghoulish ghost train and falling off. It is also an opening that makes you realise just how much the film is not showing – ie. while the film holds itself out to tell a Casper origin story and shows us how he came back from the afterlife as a ghost, it fails to mention in any way how it was that Casper died in the first place. It is as though being a children's film the mention of death was a taboo subject – and what is even more noticeable is that the original theatrical movie did give us a flashback scene that showed us the human Casper before he died, yet this, even though supposedly telling the Casper origin story, avoids the subject entirely.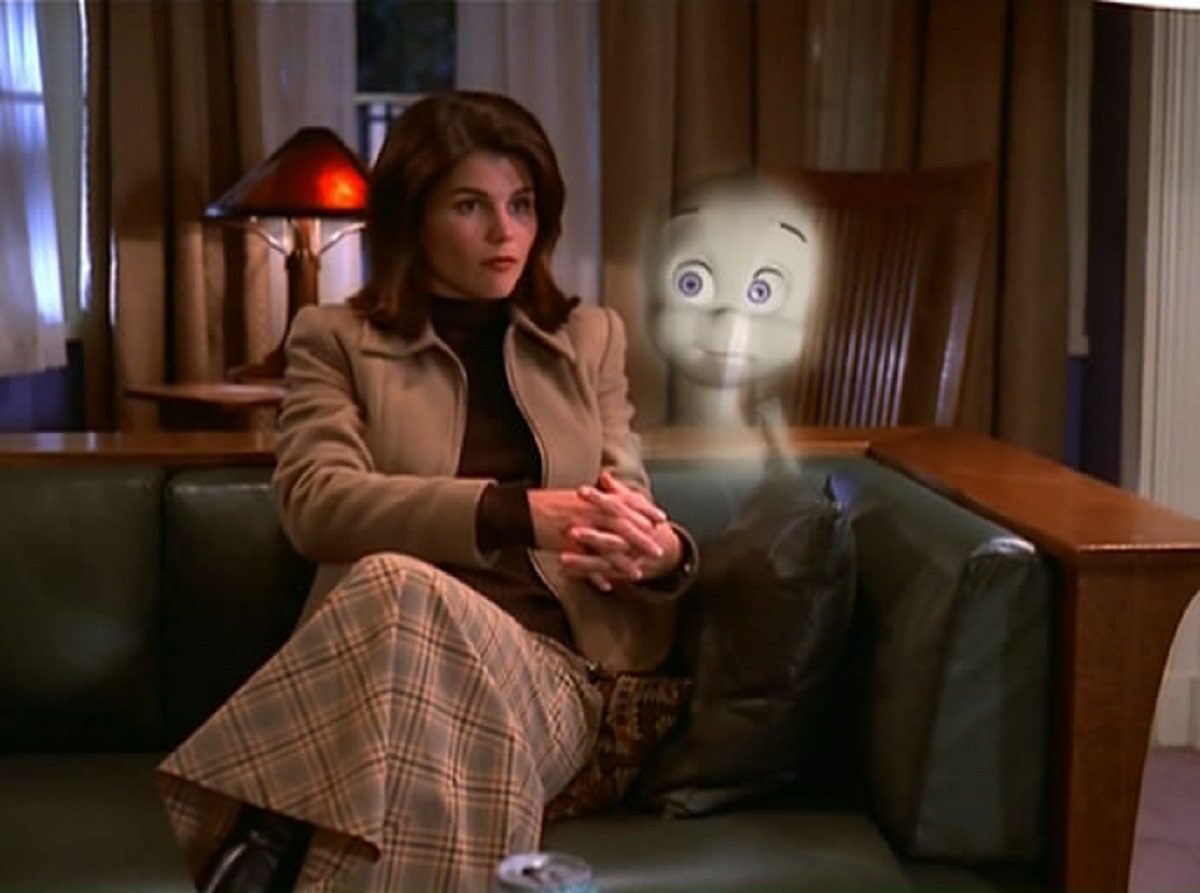 Most of the rest of the story is similar to the first film and copies the basic plot about Casper befriending a lonely young kid. There is a much higher degree of slapstick – a substantial portion of the film consists of scenes with the uncles going crazy through the town and scaring people, Michael McKean's one-dimensional military figure bumbling around the mansion; and the kid shooting a fire extinguisher in the library. The digital effects are good, as they were in all these sequels.
The film is co-produced by 20th Century Fox and as a result there are a number of plugs for Fox productions – the kid wears a T-shirt from The X Files (1993-2002, 2016-8) and his room is littered with posters from The X Files and the Alien movies.
---
Trailer here
---