---
USA. 2004.
Crew
Director – Arthur Allan Seidelman, Teleplay/Lyrics – Lynn Ahrens, Based on the Novel by Charles Dickens, Producers – Howard Ellis & Steven North, Photography – Hanania Baer, Music – Alan Menken, Music Producer/Adaptation/Underscore – Michael Kosarin, Visual Effects – Meridian Creative Association (Supervisors – Zoltan Benyo & Jeno Udvari), Special Effects Supervisor – Ferenc Olmos, Production Design – Keith Wilson, Choreography – Dan Siretta. Production Company – Hallmark Entertainment.
Cast
Kelsey Grammer (Ebenezer Scrooge), Jane Krakowski (Ghost of Christmas Past), Jesse L. Martin (Ghost of Christmas Present), Edward Gower (Bob Cratchit), Jennifer Love Hewitt (Emily), Jason Alexander (Jacob Marley), Geraldine Chaplin (Ghost of Christmas Future), Steve Miller (Young Scrooge), Brian Bedford (Fezziwig), Jacob Moriarty (Tiny Tim)
---
Plot
Ebenezer Scrooge is a miser who, as Christmas Eve comes, shouts "humbug" at all good cheer and charity. That night, Scrooge is visited by the ghost of his old business partner Jacob Marley who warns Scrooge of the fate that awaits him in the afterlife if he does not turn from his miserly ways. Throughout the night, the ghosts of Christmases Past, Present and Future turn up and proceed to show Scrooge the things he has missed in the past and the misery of others that he is capable of changing in the present.
---
This is one of umpteen filmed versions of Charles Dickens' A Christmas Carol (1843). (See below for other adaptations of the story). Indeed, Hallmark Entertainment, which produces A Christmas Carol 2004, had earlier produced two other made-for-television productions of the story – an excellent straight version, A Christmas Carol (1999) with Patrick Stewart, and a sex-changed version, A Carol Christmas (2003) starring Tori Spelling as Scrooge. This tv movie version is based on a musical adaptation of the story created by Alan Menken and Lynn Ahrens, which premiered on Broadway in 1994.
There have been so many screen adaptations of A Christmas Carol by now that one settles into watch this version with a certain ennui, wondering if there is anything new that can possibly be wrung out of the story. Over-familiarity aside, this version is worthwhile. It is extremely faithful to Charles Dickens. Which is all the more surprising considering that this version is a musical – some of Alan Menken and Lynn Ahrens' lyrics actually take dialogue straight from Charles Dickens' text. There is some inspired dance choreography, most notably the Fezziwig's Annual Christmas Ball number. Although the number where the Ghost of Christmas Present takes Kelsey Grammer to view a dance between a woman and toy soldiers feels like it has no particular place in the story.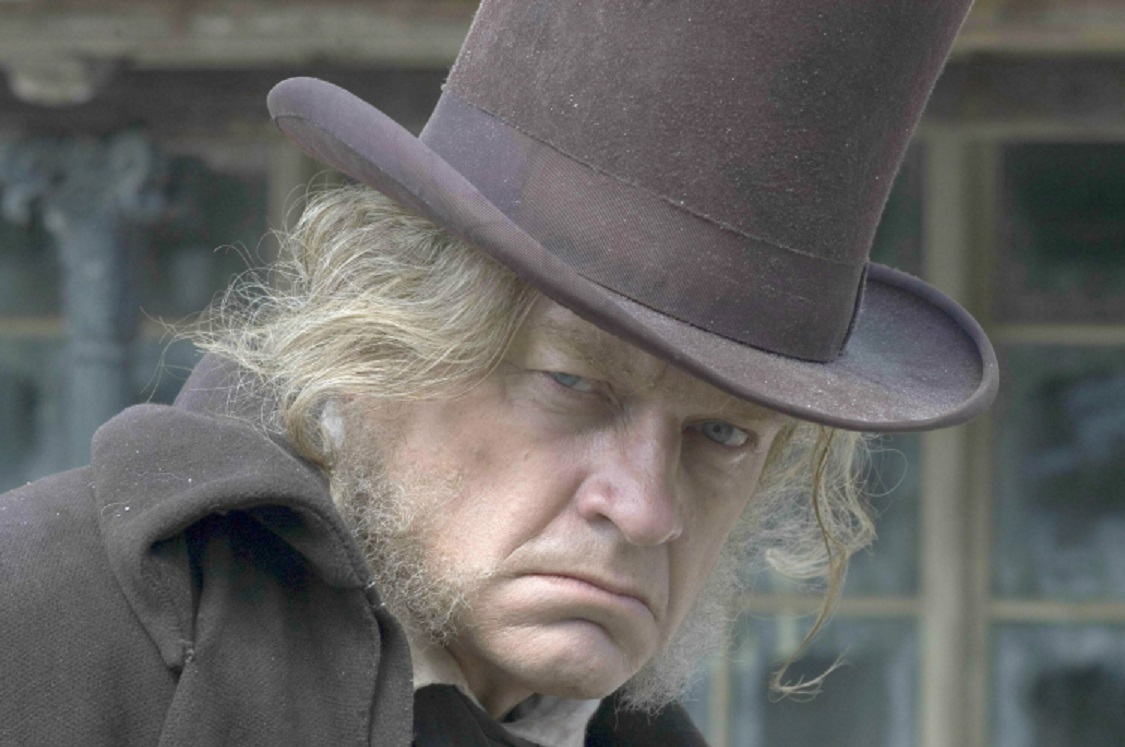 Kelsey Grammer, clearly trying to shake typecasting after the end of his hit sitcom Frasier (1993-2004), plays Scrooge. Disappointingly, when placed up against some of the fine other screen essayals of the role, Kelsey Grammer's Scrooge ends up being a stagy, theatrical performance. Jennifer Love Hewitt gets second billing behind Kelsey Grammer but it feels like her role as Scrooge's love Emily has been stretched out of shape in order to cater to her presence. Jason Alexander seems miscast as the ghost of Jacob Marley, where Alexander seems altogether too roly-poly in the part and unintentionally ends up coming out resembling Danny DeVito's Penguin from Batman Returns (1992).
The production, which was shot in Hungary, has some extremely impressive snowbound sets (even if one may have a few doubts if some of those exteriors would have been found in the real Victorian London).
Other adaptations of A Christmas Carol include:– a number of lost silent adaptations made respectively in 1901, 1908, 1910, 1913, 1916, 1923 and 1928. Sound versions include:– Scrooge (1935), a British sound version with Seymour Hicks as Scrooge; A Christmas Carol (1938), an American version with Reginald Owen; a Spanish adaptation (1947); Scrooge (1951), a British production starring Alistair Sim; Scrooge (1970), a British-made musical adaptation starring Albert Finney; a short animated version A Christmas Carol (1971) from animator Richard Williams; Mickey's Christmas Carol (1983), a 25 minute animated short from Disney where the Scrooge role was played by Scrooge McDuck and Mickey Mouse was cast as Bob Cratchit; the modernised updating Scrooged (1988) with Bill Murray; The Muppet Christmas Carol (1992), which enacted the tale with the Muppets and starred Michael Caine as Scrooge; a British-German animated adaptation Christmas Carol: The Movie (2001); the conservative-backed An American Carol (2008) where a liberal filmmaker is persuaded of their ways; the animated Barbie in A Christmas Carol (2008); and Robert Zemeckis's motion-capture animated A Christmas Carol (2009) starring Jim Carrey. TV adaptations include A Christmas Carol (1943), a 60 minute live version, which was apparently one of the first ever experimental tv broadcasts; The Christmas Carol (1949), a half-hour American adaptation starring Taylor Holmes; A Christmas Carol (1950), a British adaptation starring Bransby Williams; A Christmas Carol (1953), a half-hour American adaptation starring Noel Leslie; a German production (1960); Carol for Another Christmas (1964), a production written by Rod Serling as a United Nations Special that updated the tale as an anti-war parable; a Canadian production Mr Scrooge (1964); A Christmas Carol (1977), a British production starring Michael Hordern; Scrooge (1978), a Canadian production starring Warren Graves; Rankin-Bass's one-hour animated adaptation The Stingiest Man in Town (1978); An American Christmas Carol (1979), starring Henry Winkler, which updated the story to the Depression era; Skinflint: A Country Christmas Carol (1979), starring Hoyt Axton, a bizarre American adaptation populated entirely by Country and Western singers; A Christmas Carol (1981), an American adaptation starring William Paterson; A Christmas Carol (1982), an American adaptation starring Richard Hilger; A Christmas Carol (1984), a lavish British-made production starring George C. Scott; a French tv adaptation (1984); Blackadder's Christmas Carol (1988), a sardonic take on the story using the characters from the popular British tv series Blackadder (1983-9); Scrooge: A Christmas Sarah (1990), a British version that cast Scrooge as a woman (Sarah Greene); A Christmas Carol (1994), a British-made ballet adaptation; A Christmas Carol (1997), an American-made animated adaptation; Ebenezer (1997), a bizarre American adaptation that recast the tale as a Western starring Jack Palance; Ms. Scrooge (1997), an American version that also cast the role with a woman (Cicely Tyson); A Christmas Carol (1999), an American production starring Patrick Stewart; A Christmas Carol (2000), a modernised adaptation where Scrooge (Ross Kemp) was a petty loanshark; A Diva's Christmas Carol (2000) with Vanessa Williams as a self-absorbed pop singer; Scrooge and Marley (2001), a one-hour adaptation starring Dean Jones; Hallmark's sex-reversed A Carol Christmas (2003) starring Tori Spelling; the Italian-made A Christmas Carol (2004); the modernised Karroll's Christmas (2004) starring Tom Everett Scott; the Doctor Who tv special A Christmas Carol (2010) where a time-travelling Doctor becomes the Ghosts of Christmases Past and Present to intergalactic miser Michael Gambon; the low-budget Canadian-made A Christmas Carol (2015); the dark adult BBC mini-series A Christmas Carol (2019) starring Guy Pearce; and the modernised musical Spirited (2022) starring Ryan Reynolds. Also of interest is The Man Who Invented Christmas (2017) about Charles Dickens and the writing of A Christmas Carol.
---
Trailer here
---