---
Crew
Director/Screenplay – Woody Allen, Producer – Jean Doumanian, Photography – Carlo Di Palma, Visual Effects – Industrial Light and Magic (Supervisor – Tom Rosseter), Special Effects Supervisor – Jack Ottesen, Production Design – Santo Loquasto. Production Company – Sweetland Films/Magnolia Productions.
Cast
Woody Allen (Harry Block), Kirstie Alley (Joan), Hazelle Goodman (Cookie Williams), Bob Balaban (Richard), Judy Davis (Lucy), Elisabeth Shue (Fay), Caroline Aaron (Doris), Richard Benjamin (Ken), Demi Moore (Helen), Billy Crystal (Larry/The Devil), Julia Louis-Dreyfus (Leslie), Amy Irving (Jane), Tobey Maguire (Harvey Stern), Eric Bogosian (Burt), Eric Lloyd (Hilly Block), Robin Williams (Mel), Julie Kavner (Grace), Stanley Tucci (Paul Epstein)
---
Plot
Writer Harry Block returns to the university he was kicked out of several years before to receive an honorary award. Along the way, people from Harry's past, dreams and characters from his fiction (who are always thinly based on the people in his life) return to make the pill-popping, compulsively womanising Harry re-examine his life.
---
Woody Allen is not the most ready figure that comes to mind when you think of prominent directors of fantastic cinema. However, when you consider the number of Woody Allen's films that can be classified as fantastic, he has in fact directed and written numerically far more than Steven Spielberg has. Eighteen at my count – Play It Again Sam (1972), Everything You Always Wanted to Know About Sex * But Were Afraid to Ask (1972), Sleeper (1973), Love and Death (1975), A Midsummer Night's Sex Comedy (1982), Zelig (1983), The Purple Rose of Cairo (1985), New York Stories (1989), Alice (1990), Shadows and Fog (1991), Mighty Aphrodite (1995), Everybody Says I Love You (1996), this, Match Point (2005), Scoop (2006), Midnight in Paris (2011), To Rome with Love (2012) and Magic in the Moonlight (2014).
Woody Allen is a figure who always polarises audiences between those who regard him as a genius and those who cannot stand his neuroses and constant crises of angst. My own preference has tended to fall toward the former, although that said some of Allen's films in the last decade – Another Woman (1987), Alice and Shadows and Fog – have only come out as glum and unhappy.
The good news about Deconstructing Harry is that it is Woody Allen back on form and even returning somewhat to the heyday of still unsurpassed masterpiece Annie Hall (1977) to wind the old Allen neuroses into a kind of grandly existential self-inquisitorial on-screen psychodrama. Deconstructing Harry contains some of the most penetrating writing that Allen has served up in recent years and is certainly Allen at the most self-excoriating and self-loathing we have ever seen him – the entire film is a work of self-analysis about unhappiness, the constant failure of his marriages, his angst, self-loathing and pill addiction.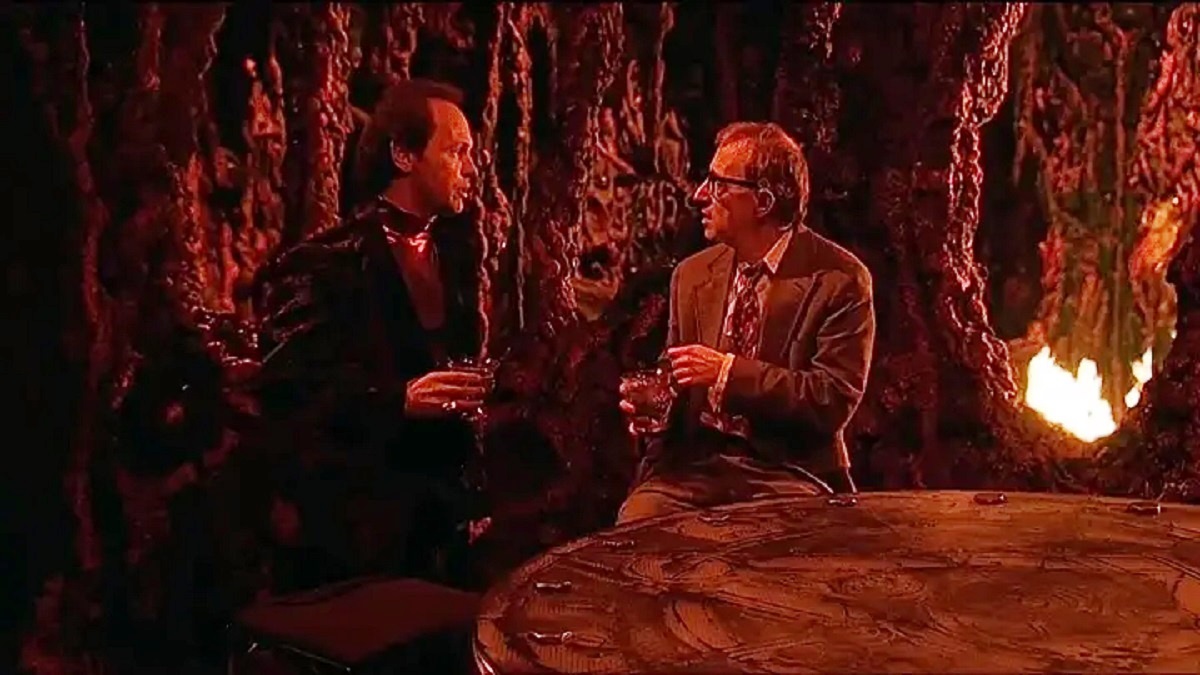 It is also sharply funny – one scene where Allen's psychologist wife Kirstie Alley discovers he has been sleeping with one of her patients is side-splitting. Woody Allen has been a longtime admirer of Ingmar Bergman and many of his films contain Bergman quotes and parodies – Deconstructing Harry could be considered his homage to Bergman's Wild Strawberries (1957).
A considerable portion of Deconstructing Harry is fantastic – it is filled with dreams, people returned from the dead, characters from Harry's fiction come to life to talk to him and the like. The story also pops into the central writer character's short stories and novels (which are always thinly based on his own life). Almost every single one of these is a fantasy story – Death comes to mistakenly collect a man who has borrowed a friend's apartment as a loveshack; an actor finds he has become out of focus; an extremely funny journey down into Hell with Billy Crystal as The Devil; and a positively hilarious sequence where a Jewish wife finds her husband has eaten his previous family – although due to the briefness of each story's telling the net effect is of flipping through a series of short stories that remain unfinished.
On the minus side, Deconstructing Harry features Woody Allen experimenting for the first time with brief onscreen nudity and a considerable degree of four-letter language. Far be it from one wanting to join the conservative screen language clean-up campaigners, the result does seem forced and for once the accusations of gratuity in language in a film can be legitimately levelled. Also Allen experiments for the first time with jump edit cuts where it appears he has simply edited the best parts of each take together – but the result is a film that keeps jumping about in a distracting manner.
(Nominee for Best Supporting Actress (Kirstie Alley) at this site's Best of 1997 Awards).
---
---