---
USA. 2000.
Crew
Directors – Eric Leighton & Ralph Zondag, Screenplay – Walon Green, John Harrison & Robert Nelson Jacobs, Story – John Harrison, Robert Nelson Jacobs, Ralph Zondag & Thom Enriquez, Producer – Pam Marsden, Photography – David R. Hardberger & S. Douglas Smith, Music – James Newton Howard, Visual Effects Supervisor – Neil Krepela, Production Design – Walter P. Martishius. Production Company – Disney.
Voices
D.B. Sweeney (Aladar), Julianna Margulies (Neera), Samuel E. Wright (Kron), Joan Plowright (Baylene), Alfre Woodard (Plio), Max Casella (Zini), Ossie Davis (Yar), Peter Siragusa (Bruton), Della Reese (Emar)
---
Plot
A dinosaur egg is carried to an island where it hatches. The dinosaur is cautiously adopted by a tribe of lemurs. Named Aladar, it grows up amongst them. The island is then devastated by a meteor shower. Only Aladar and a handful of the lemurs survive. On land, they join a trek of various dinosaur species across arid desert toward the verdant nesting grounds. However, the trek is run at a pitiless pace by the leader Kron who leaves the old and stragglers behind for predators. Aladar takes it upon himself to aid those less fortunate. Abandoned by Kron, they then have to survive on their own, hunted by the ruthless carnotaurs.
---
Ever since Disney rediscovered their classical form with Beauty and the Beast (1991), their films have started to come with an ever-escalating sense of self-importance. Some Disney films of the late 1990s almost took on promising the awe and mystique of religious experiences – the trailer for The Lion King (1994) with the clouds parting to witness the birth of the title character before all the gathered animals, or Fantasia 2000 (1999), which promised an event akin to the Second Coming (something that faltered entirely upon delivery). Increasingly, Disney also pushed technological frontiers in terms of computer and 3D animation.
Dinosaur is maybe one of the first of the Disney films of this period that fulfilled the epic promise of its promotion. Conceptually, Dinosaur falls somewhere between someone having had the idea of giving the CGI dinosaurs in Jurassic Park (1993) a feature of their own and a more lavish expansion of the cutsie talking dinosaur drama of Don Bluth's The Land Before Time (1988). Dinosaur has much in common with The Land Before Time – both films feature a group of misfit dinosaurs from various species being led by an anthropomorphic young hero on a trek toward a verdant valley of Utopian promise across a landscape in the last volcanic throes of the Cretaceous.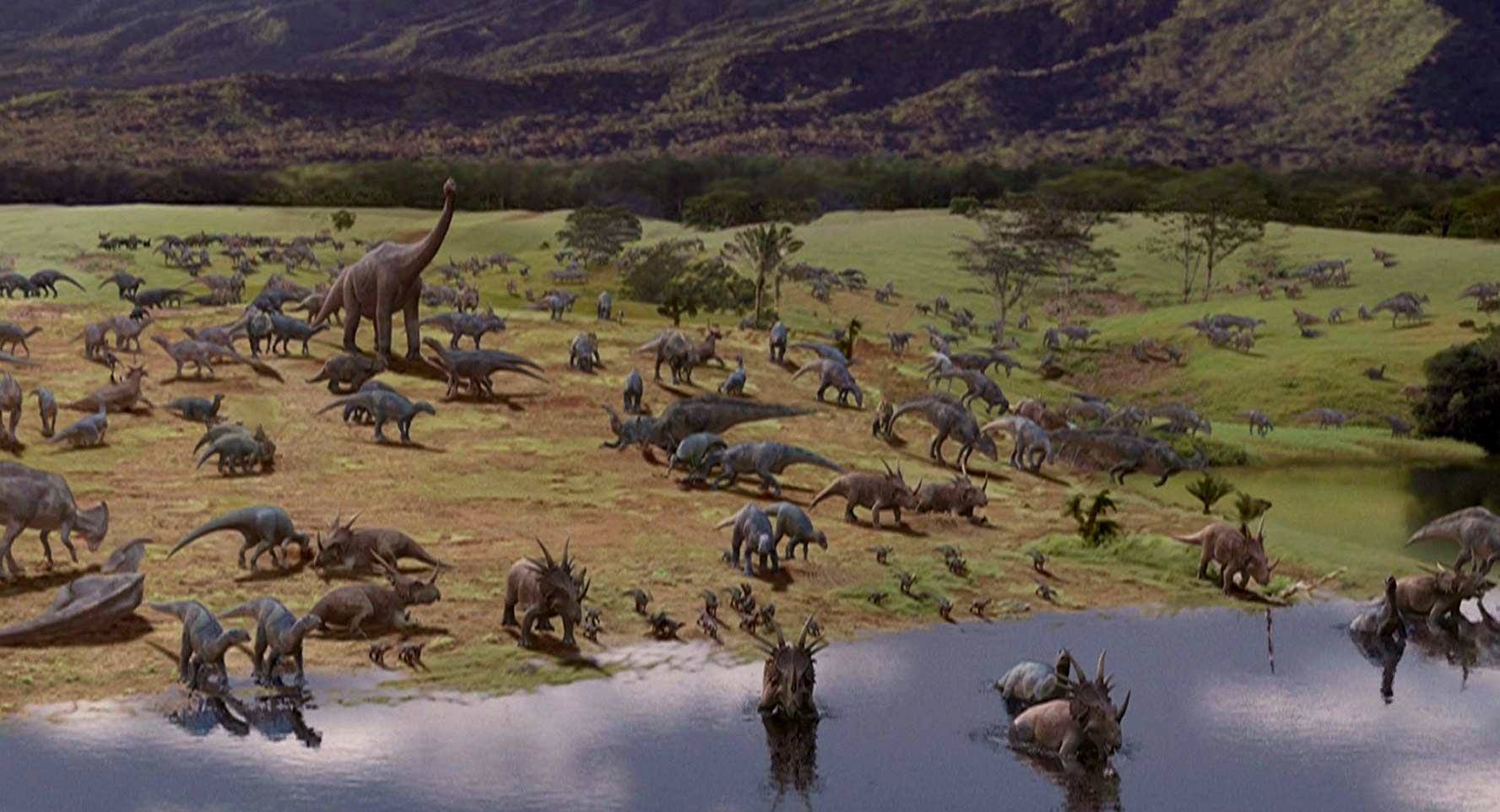 Dinosaur is one modern Disney film where everything works beautifully. The animators do an excellent job in keeping the dinosaurs biologically realistic – they even do Spielberg one better and show velociraptors at their correct diminutive height rather than exaggerating it – while also making the large and ungainly creatures endearingly anthropomorphic. There is an uncommonly good script – from no less than Walon Green, the screenwriter of The Wild Bunch (1969) and RoboCop 2 (1990), and writer/director John Harrison of Tales from the Darkside: The Movie (1990) and the tv mini-series Dune (2000). This avoids most of the stock cliches of a Disney film – cute small animal sidekicks designed to get easy laughs, song sequences. Even the film's overall message – that community strength is better than an individualist survival-of-the-fittest attitude – is something that one comes out applauding. In fact, Dinosaur is everything that co-director Ralph Zondag's previous talking dinosaur outing We're Back: A Dinosaur's Story (1993) was not.
The quality of the animation is staggering – Dinosaur pushes a CGI envelope that goes way beyond what was first tried on Toy Story (1995). It is impossible to tell which background landscapes are photographic plates and which have been computer-generated. The film is directed with enthralling impact – the fight scenes come with considerable ferocity and violence, and sequences such as the meteor storm are directed with seat-edge tension. On the other hand, looking back on the film after the advances in CGI animation that came in the subsequent eighteen years, it looks far less convincing than it did when one first saw the film in theatres.
(Winner in this site's Top 10 Films of 2000 list. No. 7 on the SF, Horror & Fantasy Box-Office Top 10 of 2000 list).
---
---