---
USA. 2017.
Crew
Director – Tony Leondis, Additional Sequences Directed by Conrad Vernon, Screenplay – Tony Leondis, Eric Siegel & Mike White, Story – Tony Leondis & Eric Siegel, Producer – Michele Raimo Kouyate, Music – Patrick Doyle, Senior Animation Supervisor – Sacha Kapijimpanga, Supervising Animators – Chad Ellis, Martin Esnaola Scotto, Michael Kimmel, Francois F. Laurent, Valerie Morrison, Jeff Panko & Nick Starcevic, Visual Effects Supervisor – David Alexander Smith, Production Design – Carlos Zaragoza. Production Company – Sony Pictures Animation.
Voices
T.J. Miller (Gene), James Corden (Hi-5), Anna Faris (Jailbreak), Maya Rudolph (Smiler), Steven Wright (Mel Meh), Jennifer Coolidge (Mary Meh), Jake T. Austin (Alex), Christina Aguilera (Akiko Glitter), Patrick Stewart (Poop), Rachael Ray (Spam), Tati Gabrielle (Addie)
---
Plot
In Textopolis, Gene is the son of two meh emojis. He is excited about going to work for the first time and be placed on the grid that will allow him to be chosen and sent by the phone's owner Alex. However, when he is selected for the first time, Gene freezes up and emerges the other end on the phone of Alex's crush Addie as a garbled emoji. Gene is called in by Smiler, the head of the emoji council, and threatened with potential deletion. Fleeing with his friend Hi-5, he sets out across the phone, passing through various apps, searching for the hacker known as Jailbreak who can rewrite his source code and make him into a normal emoji. Smiler sends out her robots to apprehend Gene. Meanwhile, Alex has scheduled a trip to the phone store to have his phone repaired, something that threatens to delete all of them.
---
Sony Pictures Animation have been on the rise in the animation stakes in recent years with the likes of Monster House (2006), Open Season (2006), Surf's Up (2007), Cloudy With a Chance of Meatballs (2009), The Smurfs (2011), the big hit of Hotel Transylvania (2012) and sequels, Peter Rabbit (2018), The Mitchells vs the Machines (2021), Vivo (2021) and Wish Dragon (2021), as well as their collaborations with Aardman Animation, Arthur Christmas (2011) and The Pirates! Band of Misfits (2012). Director Tony Leondis had previously co-directed Lilo & Stitch 2: Stitch Has a Glitch (2005) and then went solo for Igor (2008).
The Emoji Movie is a textbook example of a film having been quickly slung together to capitalise on a fad of the moment – namely, emojis. For those who have no idea what I am talking about, emojis are the expressive little icons featuring everything from smiley faces to hearts, animals, cars, houses and thumbs up and so on that you can insert into text messages. For reasons known only to the people behind the film, The Emoji Movie speculates that these graphic characters are entities that have lives of their own beneath the screen of the phone.
You get the impression that The Emoji Movie was conceived in terms of a pitch somewhere between Wreck-It Ralph (2012) – the secret lives of characters inside a videogame – and Inside Out (2015). The main problem is that the script – co-written by Mike White, the actor known for Chuck & Buck (2000) and more recently as director of Brad's Status (2017) – feels rushed and not properly thought out. It leaves you with unanswered questions. What does it mean for emojis to have children? Are there whole families of baby smiley faces, sad face emojis etc out there? And if there is only one emoji to choose from what do all the others do? What happens when an emoji is sent to another phone – the confused Gene exists in Alex's phone, so when Gene is sent and appears in Addie's phone, does that mean he has been instantly cloned and appears in her world too? Does it not seem odd to the creatures living in this world that the places they live, things they eat are also shaped like their friends and comrades and would that not seem offputting? It is also interesting to see that terms applied to abstract groups of things like Spam, Trojan Horses and Trolls are actual living entities as opposed to annoying things sent by human agents ie. spam is not millions of different messages sent daily but a single individual entity.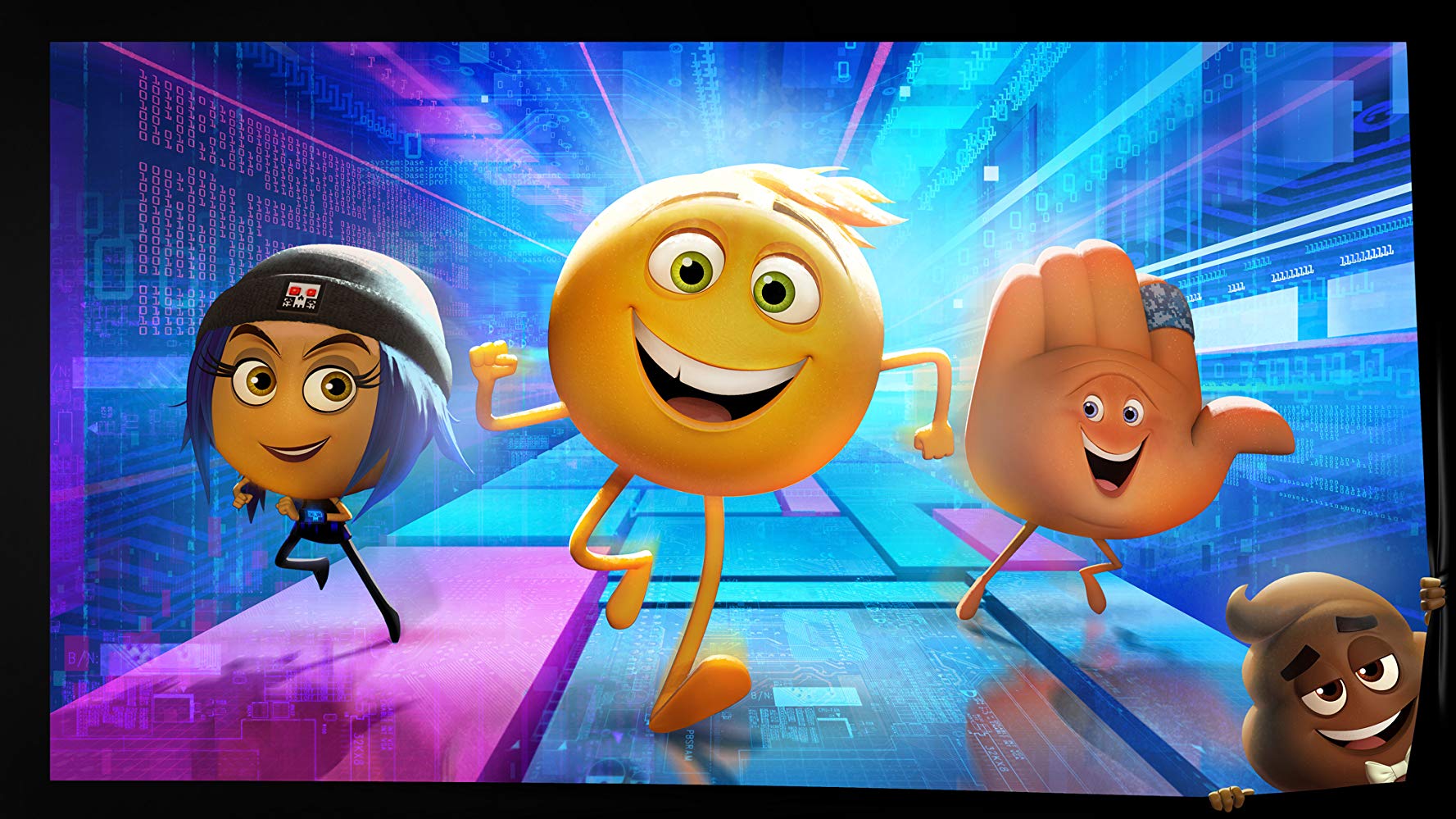 This is a film that you cannot help but think that very young children watching are afterwards going to suddenly feel very worried about the feelings of their emojis every time they send a message. To be honest I think if I were to regard the emojis I (only very occasionally) use in my everyday messaging as living entities and had to worry whether I was hurting their feelings if I didn't use them that often, then I would start getting just a little unsettled. Not to mention highly concerned if I felt that these emojis had the power to enact independently and might decide to send themselves to someone I was attracted to of their own free will just to help the relationship along (as we see happening here).
The thing I found more amusing to contemplate while I was watching was what it would be like trying to explain the premise to say someone in the 1980s or earlier. It is like an idea that would seem to have no referents to anybody unfamiliar with the concept of the internet or the cellphone. I can imagine trying to explain the film to my 1980s self: "You see phones are no longer these big clunky things with dials on them that plug into the walls. They are actually small things that you can carry around in your pocket. And see that big bulky PC on your desk – well your phones actually has one of those in it. And guess what – people spend all day on their phones – not actually calling each other to talk but typing each other messages. You can even read the newspaper, play videogames, read books, listen to music and take photos and videos with your phone. And guess what else – instead of typing a message you can sent this cute little cartoony logos in messages instead of saying anything. Now imagine if there was a film about the lives of those cute little logos." I think my 1980s self would have had no trouble comprehending if I tried to explain Wreck-It Ralph to myself but would have been mind-boggled trying to grasp the idea behind The Emoji Movie. The nearest way I think I could have explained it to myself would be to compare things to Tron (1982) and ask myself to imagine it as a world populated by cute animated creatures.
The other thing that you cannot help but think about the film is that it is going to be a real head-scratching puzzle for anybody watching in the future and trying to get the jokes and in-references. If someone around the year 2040 or so were to look back at The Emoji Movie, I wonder what they would make of a film that is knee-deep in product placement for companies/produts such as Facebook, YouTube, Just Dance, Spotify, Instagram and so on, or whether the image of Jaibreak being saved by the Twitter bird icon will make any sense to this future person? How many of these companies/apps will still be around for someone in twenty years or so time to make sense of to someone looking back at the film?
---
Trailer here
---