---
UK/USA. 2017.
Crew
Director – Simon Curtis, Screenplay – Frank Cottrell-Boyce & Simon Vaughan, Producers – Steve Christian & Damian Jones, Photography – Ben Smithard, Music – Carter Burwell, Visual Effects – Atomic Arts (Supervisor – Justin Cornish & Brooke Lyndon-Stanford), Special Effects – SFX (GB) Ltd (Supervisor – Neal Champion), Makeup/Prosthetic Designer – Sian Grigg, Production Design – David Roger. Production Company – DJ Films/GasWorks Media.
Cast
Domhnall Gleeson (Alan Milne), Margot Robbie (Daphne Milne), Will Tilston (Christopher Robin Aged 8), Kelly MacDonald (Olive), Alex Lawther (Christopher Robin Aged 18), Stephen Campbell Moore (Ernest Shepard), Richard McCabe (Rupert)
---
Plot
In 1941, the writer Alan (A.A.) Milne receives the shattering news that his son Christopher Robin has been listed as missing presumed dead in action in World War II. Milne had served in World War I and was left experiencing post-traumatic stress as he endeavoured to find success as a playwright in the years after. With the birth of Christopher Robin in 1920, Milne and his wife Daphne left London and bought a cottage verging on Ashdown Forest in the Sussex countryside. There Milne determined to write an anti-war book. Left alone tending Christopher Robin, or 'Billy Moon' as they nickname him, with both Daphne and the nanny away, Milne took him for walks in the woods and made up stories about Christopher Robin's favourite bear and other toys. Milne began to write these down and brought in an illustrator. These were published as the Winnie the Pooh stories and enjoyed worldwide acclaim. As reporters everywhere wanted to interview the real Christopher Robin, Billy Moon found that his childhood had disappeared.
---
A.A. Milne – the published name of British author Alan Alexander Milne (1882-1956) – is known the world over as the creator of Winnie the Pooh. Milne published two books of Pooh stories with Winnie the Pooh (1926) and The House at Pooh Corner (1928), while some Winnie the Pooh works appear in two books of children's poems When We Were Very Young (1924) and Now We Are Six (1927). Milne also wrote a number of other works of fiction and non-fiction – the film does mention one of these, his anti-war diatribe Peace With Honour (1934), although oddly fails to mention his subsequent rebuttal to that War With Honour (1940) in which he reversed his position – as well as plays and even a number of screenplays, including adaptations of other children's works such as Toad of Toad Hall (1947) and The Ugly Duckling (1947) made for the very earliest British tv broadcasts. However, his legacy rests on the stories of Winnie the Pooh. These were stories he had made up for his son Christopher Robin Milne (1920-96) with characters based on Christopher Robin's toys while Ashdown Forest, which the Milne's Sussex property verged on, became the locale of Hundred Acre Woods.
This biopic based on A.A. Milne's life comes from Simon Curtis, a producer and director who has done extensive work in British arts television, mostly for the BBC. He had previously directed the theatrical films My Week with Marilyn (2011) and Woman in Gold (2015). The screenplay is co-written by Frank Cottrell-Boyce, best known for his work for Michael Winterbottom, including the films 24 Hour Party People (2002) and Code 46 (2003). The film was released with the clear intention of contending for 2017 awards season but failed to garner any nominations anywhere.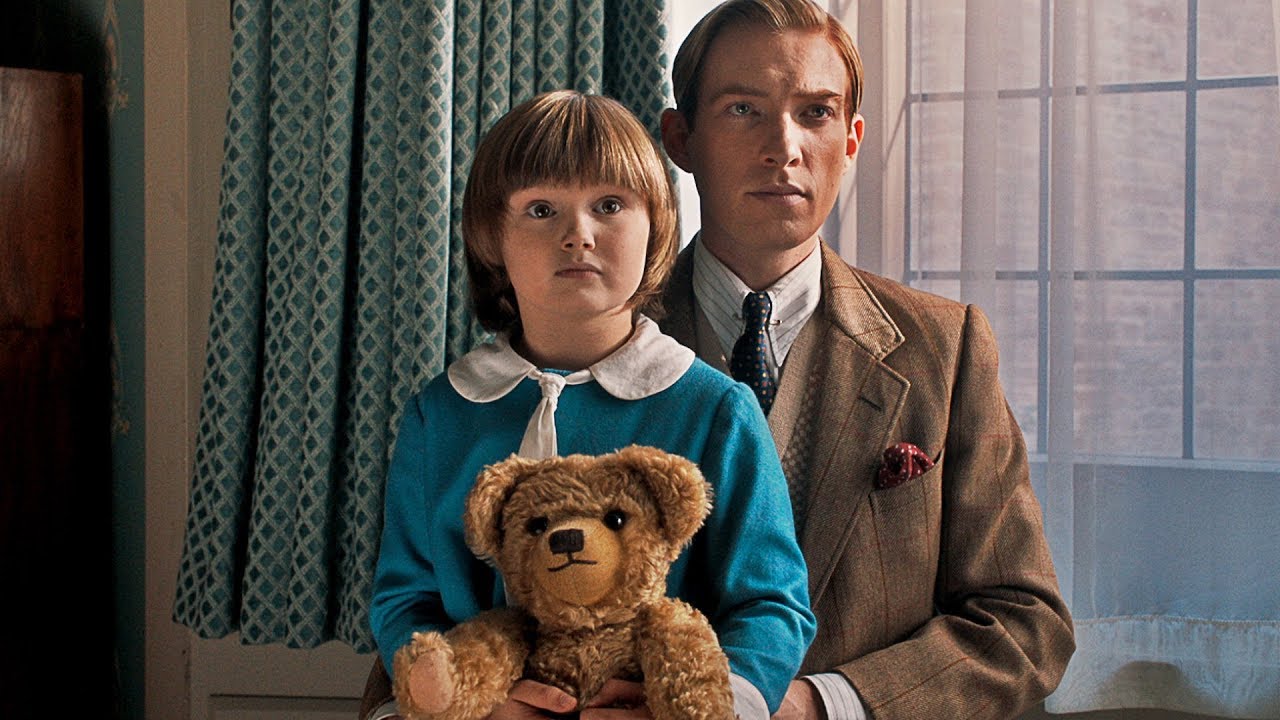 It took me a long time to get into Goodbye Christopher Robin. One of the jarring things from the outset was current It Girl Margot Robbie as Milne's wife. Robbie is an Australian actress and has gained a great deal of attention in the last couple of years. I still had memory of the two last films I had seen her in – as Harley Quinn in Suicide Squad (2016) and as Tonya Harding in I, Tonya (2017) – fixed in memory as I watched her here – both of which are at 180 degree remove from the role of the British society wife she is playing here. While the public is up in arms about Hollywood's constant casting of ethnic roles with whiteface – what has come to be called 'whitewashing' – I see no real reason why it shouldn't equally be the case with recasting British characters and real-life people with Hollywood stars – a notable case of this being the Bridget Jones films or Robert Downey Jr's Sherlock Holmes. It was this that kept rupturing my suspension of disbelief during the initial scenes.
The other is that the two lead characters of Milne and Daphne remain unlikeable people for much of the way into the film – Domhnall Gleeson gives a performance that is cold and shut-off, emotionally detached from his kid, while Margot Robbie's Daphne comes across as a self-absorbed bitch. This may well have been intentional but it also results in a film where we are actively disliking the central characters for a good way in.
On the other hand, there came this point (about thirty minutes in) when I started to warm to the film. The point it started to do so for me was when Milne is left with sole charge of Christopher Robin and awkwardly has to come to terms with being a parent for the first time. This leads to a quite magical montage of scenes with Domhnall Gleeson and Will Tilston wandering through the woods where we see (as per any creator biopic) aspects of the Winnie the Pooh story – then playing Poohsticks, Owl's house and so on – falling into place and being inspired.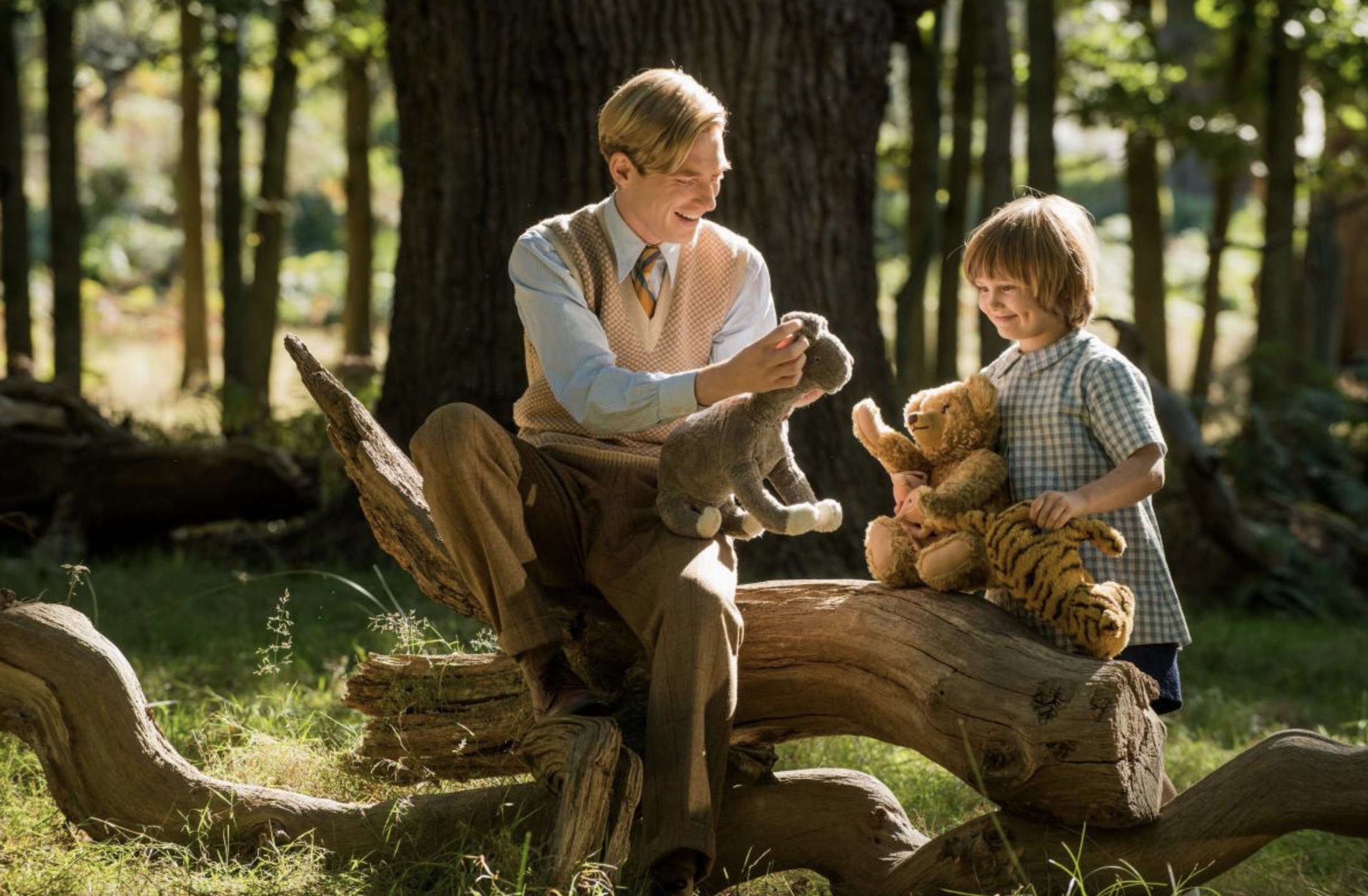 Unlike most other stories about various artists, this is not so much a celebratory one as a cautionary work where we see just as much how the world jumps on board the Winnie the Pooh stories as the effect it has on a young boy whose life is sliced up by the marketing of stories that were intended for him and by the constant intrusions of the rest of the outside world into his life.
Disney purchased the rights to Winnie the Pooh from Milne's widow and adapted the stories into three theatrically released animated shorts, Winnie the Pooh and the Honey Tree (1966), Winnie the Pooh and the Blustery Day (1968) and Winnie the Pooh and Tigger Too (1974), which were later packaged together as a feature film The Many Adventures of Winnie the Pooh (1977). They also spun off several animated feature-films based around the supporting characters, including The Tigger Movie (2000), Piglet's Big Movie (2003) and Pooh's Heffalump Movie (2005), and have made some 26 Winnie the Pooh video-released films and four tv specials since 1988, plus the cinematically released feature film Winnie the Pooh (2011). Also of interest is the live-action film Christopher Robin (2018) concerning a grown-up Christopher Robin reconnecting with the animals of Hundred Acre Woods.
(Nominee for Best Adapted Screenplay at this site's Best of 2017 Awards).
---
---