---
Crew
Director – Nick Lyon, Screenplay – Jim Hemphill & Jose Montesinos, Story – Jose Montesinos, Producer – David Michael Latt, Photography – E. Gustavo Petersen, Music – Chris Ridenhour, Visual Effects Supervisor – Joseph J. Lawson, Special Effects – Soufiane Shooting, Production Design – Boumaa Rassourance. Production Company – The Asylum.
Cast
John Hennigan (Hercules), Dylan Vox (General Nikos), Christian Oliber (Arias Dudenakis), Christina Ulfsparre (Princess Theodora), James Duval (Horace), Jerry M. Inman (Tymek), Jennifer Marie Paul (Iona), Marcus Shirock (Cyrus), Ben Chagra Khalid (King Demetrius), Aurelie Armelle Simone Chatellier (Queen Evenya)
---
Plot
Just before the modern era. General Nikos urges King Demetrius to invade the peaceful nearby city of Enos to claim its wealth. When Demetrius refuses, Nikos slaughters the king and queen and proclaims himself ruler. Nikos then imprisons the king's daughter Princess Theodora to force her to become his wife. Her beloved, Nikos's lieutenant Arias Dudenakis, flees to the nearby city of Segev in search of the legendary Hercules, son of Zeus and reputedly a mighty warrior, to help them fight back. However, upon discovering Hercules, they find him to only be a drunk.
---
The Asylum is a company that specialises in 'mockbusters' – low-budget films that copy the titles of big-budget studio releases and exploit their publicity by coming out at the same time, not to mention seek to fool unsuspecting browsers into thinking they are watching the other film. The Asylum's mockbusters have included the likes of The Da Vinci Treasure (2006), Pirates of Treasure Island (2006), Snakes on a Train (2006), I Am Omega (2007), Transmorphers (2007), Allan Quatermain and the Temple of Skulls (2008), The Day the Earth Stopped (2008), Death Racers (2008), 100 Million BC (2008), Sunday School Musical (2008), The 18 Year Old Virgin (2009), Paranormal Entity (2009), The Terminators (2009), Almighty Thor (2011), Battle of Los Angeles (2011), Abraham Lincoln vs. Zombies (2012), Age of the Hobbits (2012) and Atlantic Rim (2013), among others.
Hercules Reborn came out the same time as the twin Hercules movies of 2014 – The Legend of Hercules (2014) with Kellan Lutz and the high-profile Dwayne Johnson-starring Hercules (2014) from Brett Ratner. Hercules Reborn was released to dvd stores ten days before Hercules came out in theatres.
The Asylum have clearly cut a few corners when it comes to their version of Hercules. For one, all of the Greeks warriors wear Roman centurion uniforms where clearly someone has rented a bunch of costumes on the cheap and just hoped that nobody would notice the difference. Characters also have relentlessly modern attitudes and turns of speech – although after Hercules: The Legendary Journeys (1994-9), it is unlikely anybody would care about that.
The other thing is that we have a Hercules that is stripped of fairly much anything to do with the original Greek myths. This Hercules does claim to be a demi-god but that could just be drunk boasting, while the only actual element from the original myths is his killing of his wife Megara and children, which the film blames on Nikos anyway. This de-mythicised Hercules is not any different from the Hercules of the various 1960s Italian peplum where he was no more than a heroic muscleman who would intervene to overthrow tyrants and help the downtrodden, while any larger battles with mythic creatures or mention of the gods of Olympus was eliminated for budgetary reasons.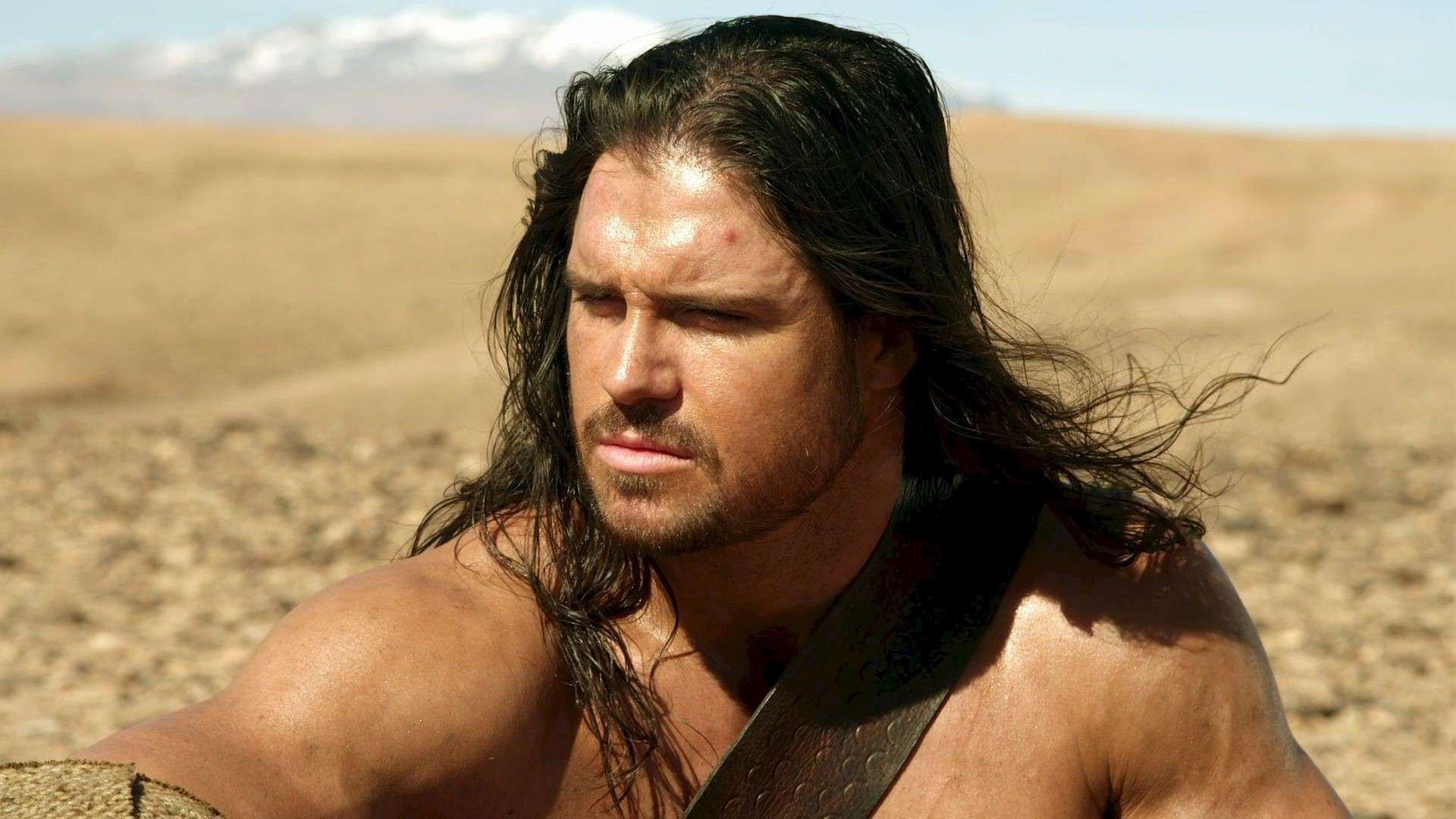 Even then, the original peplum could be counted on for at least one feat of superhuman strength per film but there is little of that here – the arena where the rebellion takes place has Hercules at one point chained to two large boulders, leading you to expect a scene where he tears the chains out or swings the boulders around his head but that never happens. At most, this Hercules is a good fighter.
Wrestler John Hennigan makes for an okay Hercules, a little more animated than many of bodybuilders that have inhabited the role. One of the big pluses is Asylum regular Dylan Vox who does well as the villain of the show. On the other plus side, the location shooting in Morocco also makes the film look a whole lot better budgeted than it is. Director Nick Lyon throws in some surprisingly bloody fight scenes. The results make for a strictly average but certainly never less than watchable film. When you think about it that makes it a whole lot better than can be said of either Hercules and The Legend of Hercules, both of which ended up being laughed off the screen by audiences.
Director Nick Lyon has made a number of other low-budget genre films, including the likes of Grendel (2007), Species: The Awakening (2007), Annihilation Earth (2009), Zombie Apocalypse (2011), Rise of the Zombies (2012), Foreclosed (2013), Bermuda Tentacles (2014), Stormageddon (2015), They Found Hell (2015), Earthtastrophe (2016), Isle of the Dead (2016), Shockwave (2017) and Titanic 666 (2022).
---
---