---
USA. 2017.
Crew
Director/Puppeteer – Steve, Screenplay – Zack Fox & Steve, Producer – Eddie Alcazar, Photography – Benjamin Goodman & Danny Hiele, Music – Flying Lotus (Miguel Atwood-Ferguson, Dennis Hamm & Thundercat), Prosthetic Makeup Effects – Vincent Van Dyke, Production Design – Phillip Duffin & Calder Greenwood. Production Company – Stray Dogs/Brainfeeder.
Cast
The Buttress (B), Zack Fox (Manuel), George Clinton (Dr Albert Clinton), Tim Heidecker (Phil), Manuel Vazquez (Julia), Diana Terranova (Pepper), Lexington Steele (Jody), Kewon Vines (Kazo), Donnell Rawlings (Voice of Kazo), Matt McCarthy (Mazo), Hannibal Buress (Voice of Mazo)
Smear
Crew
Photography – Norm Li, Special Effects – Retro Vision FX, Production Design – Paul Rice.
Cast
Shane Carpenter (Charlie), Angel Deradoorian (Voice of Charlie), Sandra R. Kisling (Michelle), Anders Holm (Teacher), Paul Preston (Pervert)
Sock
Crew
Screenplay – Dave Firth & Steve, Photography – Norm Li, Special Effects – Retro Vision FX, Production Design – Paul Rice.
Cast
Mali Matsuda (Angel), Pretty Ricki Fontaine (Jenny), David Firth (Roach Man), Bob Heslip (Bob)
---
Kuso is a directorial debut for the individual billed on the credits only as Steve. In real-life, this is Steve Ellison who is better known as the rapper Flying Lotus. Ellison/Flying Lotus has put out five albums since the mid-2000s, as well as worked on the scores for several indie films. The title 'kuso' is the Japanese word for shit.
There is surrealism, which has a noble tradition on screens going back to the work of Jean Cocteau and Luis Buñuel to more modern purveyors such as Alejandro Jodorowsky, David Lynch, The Brothers Quay and Peter Greenaway. On the other hand, there is student amateurism, which is filled with heavy-handed symbolism, shock effect for its own sake and inflated pretensions to artistic meaning.
Kuso falls well and truly into the latter. It is a film that you think from a description of the various happenings should be a wild and culty effort. Instead, it is near plotless, features one gross-out effect after another served up for its own sake, and lacks any type of coherent rationale to its randomness. The film was purportedly subject to mass walkabouts at its Sundance premiere.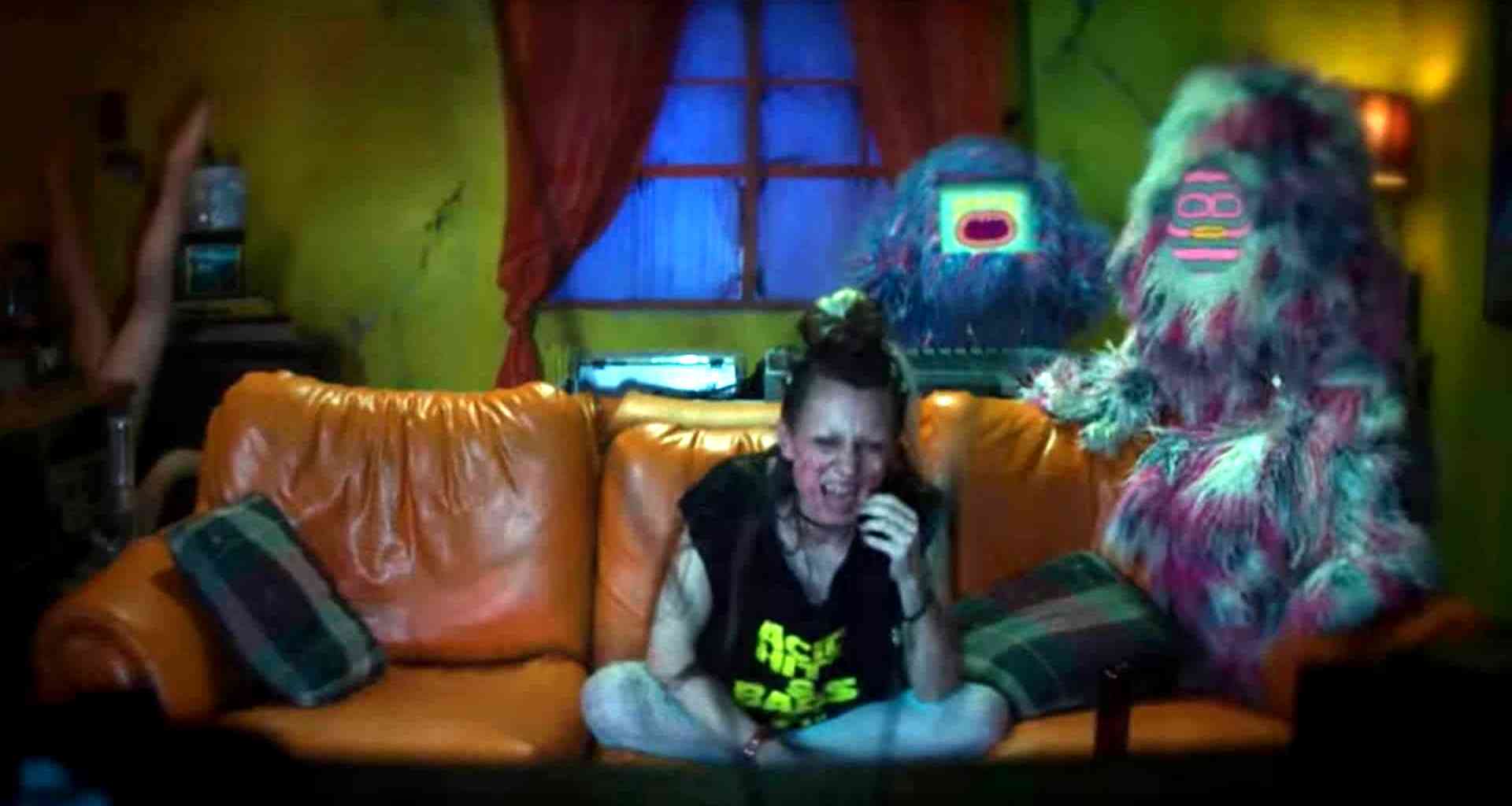 The film opens on a couple with sores all over their faces (almost everybody throughout has some type of facial disfigurement or plentiful sores) engaged in acts of erotic asphyxiation. In the next scene, we have a classroom of what would appear to be pinheads where one of the pupils begins to get turned on in class and runs away to get further turned on by skinned chicken-like creatures in a pond in the woods, as well as meets a creature shaped like a talking sphincter that reappears several times throughout.
There are scenes with a woman (Diana Terranova) who sits watching tv with what she refers to as 'trans-dimensional beings', which look like Yeti with tv sets that display various animated patterns for heads, while going into the bathroom to have a conversation with her ex who pops his head up out of the toilet.
A man attends a doctor's appointment and has to deal with a receptionist who gets replaced with an inflatable sex doll part way through the conversation, while the procedure to cure his fear of breasts involves singer George Clinton baring his buttocks, an insect creature emerging out of his ass and squirting liquid all over the patient's face, which the man then drinks.
With this mix of wild and crazy elements, you cannot help but think that Kuso should have been a cult hit. Instead it is painful amateurism and pretension of the worst order, Ask yourself, who would willingly sit all the way through and watch this?
(Winner in this site's Worst Films of 2017 list).
---
---