USA. 1999.
Crew
Director/Screenplay – Paul Thomas Anderson, Producers – Paul Thomas Anderson & Joanne Sellar, Photography – Robert Elswit, Music – Jon Brion, Songs – Aimee Mann, Visual Effects – Industrial Light and Magic (Supervisor – Joe Letteri), Special Effects Supervisor – Lou Carlucci, Production Design – William Arnold & Mark Bridges. Production Company – Ghoulardi Productions.
Cast
Tom Cruise (Frank T.J. Mackey), John C. Reilly (Jim Kurring), William H. Macy (Donnie Smith), Melora Walters (Claudia Wilson), Philip Seymour Hoffman (Phil Parma), Julianne Moore (Linda Partridge), Jeremy Blackman (Stanley Spector), Philip Baker Hall (Jimmy Gator), Jason Robards (Earl Partridge), April Grace (Gwenovier), Henry Gibson (Thurston Howell), Michael Bowen (Rick Spector), Melinda Dillon (Rose Gator), Cleo King (Marcie), Craig Kyinsland (Brad), Luis Guzman (Luis Guzman)
---
Plot
Phil Parma, the male nurse of the dying Earl Partridge, tries to help Partridge contact the son that he abandoned many years ago. The son is now Frank T.J. Mackey who runs the popular 'Seduce and Destroy' seminars, which teach men how to seduce any woman they want. At the same time, Mackey sits down for a tv interview but the journalist uncovers details about Frank's past that he would rather keep hidden. Meanwhile, Partridge's wife Linda tries to change his will so that she is excluded, having realised that she only married Partridge for the money but has now discovered that she loves him. At the same time, Jimmy Gator, host of the 'What Kids Know' tv gameshow, has been diagnosed with cancer and tries to reconcile with his daughter Claudia. Claudia has a cocaine habit and hides evidence of it as lonely Christian patrol officer Jim Kurring comes to investigate a reported disturbance. Once there, Kurring finds himself attracted to her. Meanwhile, Stanley Spector, a child prodigy appearing on the current live broadcast of 'What Kids Know', resents being pushed to perform by his father. His sentiments are echoed by former winner Donnie Smith, who is now in his forties and embittered about his success and the lack of love in his life.
---
Paul Thomas Anderson had a big hit with his second film Boogie Nights (1997), which trenchantly dug into 1970s nostalgia via an exhumation of the porn industry. It was a critical hit, although one's own opinion fell slightly less of such acclaim – Paul Thomas Anderson's tendency to tell long storied character strands occasionally trickled off into lack of focus. Magnolia, Paul Thomas Anderson's follow-up, garnered further critical kudos, topping a number of critic's Top 10 lists for 1999. Anderson subsequently went onto make the likes of Punch Drunk Love (2002), the Academy Award-winning There Will Be Blood (2007), The Master (2012), loosely based on the life of L. Ron Hubbard, Inherent Vice (2014) and Phantom Thread (2017).
Like Boogie Nights, Magnolia again has Paul Thomas Anderson telling multiple stories, although in this case there is no single focus, more a series of intersecting storylines. The model for this type of ensemble piece is the films of Robert Altman, most notably Nashville (1975) and Short Cuts (1992), and of course Quentin Tarantino's Pulp Fiction (1994). These are surely the cinematic equivalent of the canvases of Jackson Pollock. Pollock created an artistic revolution not so much by his random application of paint to a canvas but through the removal of a clear focus or subject from the frame.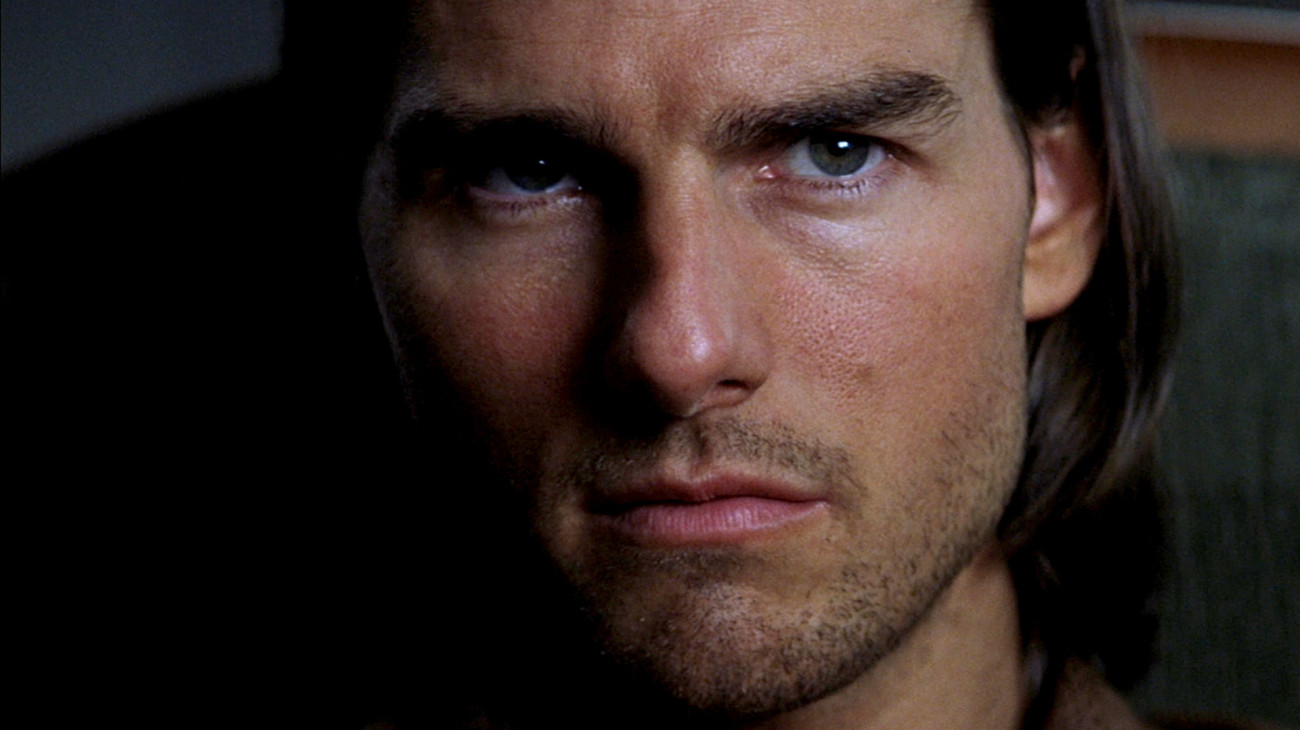 Magnolia is likewise a film that feels like dramatic paint has been randomly applied to a cinema screen – there are no identifiably clearcut characters or single story; it often takes a long time to see where Paul Thomas Anderson is going with each story (the film is over three hours long), and ultimately there is no clear idea of what point the film was working towards. Even the title Magnolia has no meaning in the film, except one guesses, as a metaphor – a flower in which the petals overlap one another. (This metaphor is embellished by the film's poster where the cast's faces are superimposed over the individual petals of a flower).
Magnolia was also crippled by a terrible promotional trailer that valiantly tried to make a virtue of the film having no clear plot or characters but ended up a flippantly presented dud that told one nothing at all about the film (although this was apparently edited by Paul Thomas Anderson himself). Magnolia is a clear example of a film having been carried to success by word of mouth rather than its advertising.
Nor does Paul Thomas Anderson concern himself with connecting and interweaving the stories. (Both Pulp Fiction and Altman's films make a virtue of their minute points of connection). Some of the film's stories intersect only remotely – for example, the credits of the What Kids Know tv show reveals Earl Partridge as executive producer, the only point of connection between the Tom Cruise/Jason Robards/Julianne Moore stories and the Jeremy Blackman/Philip Baker Hall stories.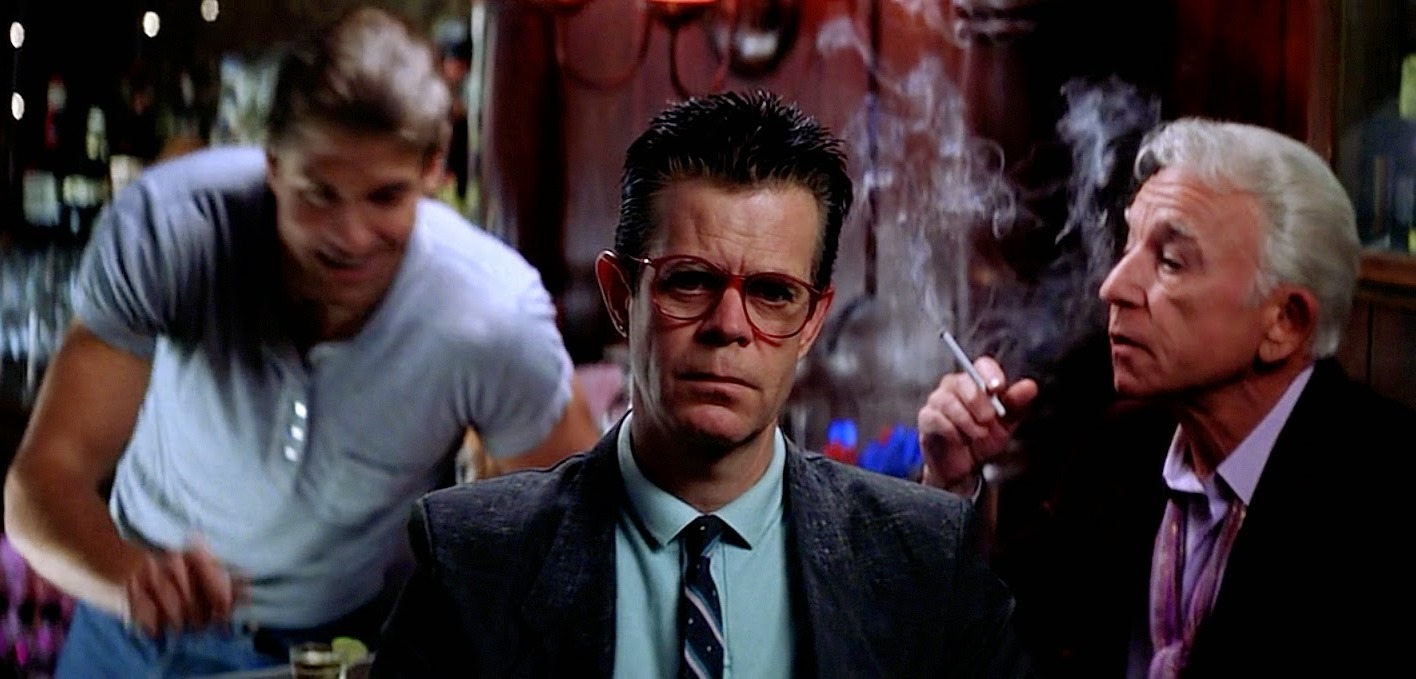 However, while Anderson never concerns himself with intersections, each story makes more sense when considered as something that folds over and reflects the other. Jeremy Blackman's genius child pushed into the quiz show spotlight is contrasted with William H. Macy's former whiz kid whose life has been ruined as a result; Tom Cruise's guru offering hyper-macho positive thinking seminars on how to seduce and conquer any woman you want – "Respect the cock, tame the cunt" – is sharply contrasted with both Jason Robards and Philip Baker Hall, dying men who have done exactly that – chased what they want to the abandonment of all else – and whose lives are filled with ruin and emotional regret as a result. Regret about unfulfilled relationships is the overriding theme of the film – something that the narrator later makes clear.
Paul Thomas Anderson also underlines the connections and peculiar overlappings with reference to the strange and inexplicable. There is a lengthy preamble about strange coincidences – a scuba diver whose body ended up in a tree after an aerial firefighting drop; a suicide who would have been saved from jumping by newly installed safety nets, only to be shot out the window on the way down by his mother with a shotgun that he himself loaded. These quirky stories appear to have nothing to do with anything else in the film. Gradually it becomes apparent that Paul Thomas Anderson has intended Magnolia as a Fortean film – after Charles Fort (1874-1932), the writer who was dedicated to charting strange coincidences and unexplained happenings. (Anderson is an admitted Fortean fan – and to reinforce the point we see one of Charles Fort's books on a table during the film).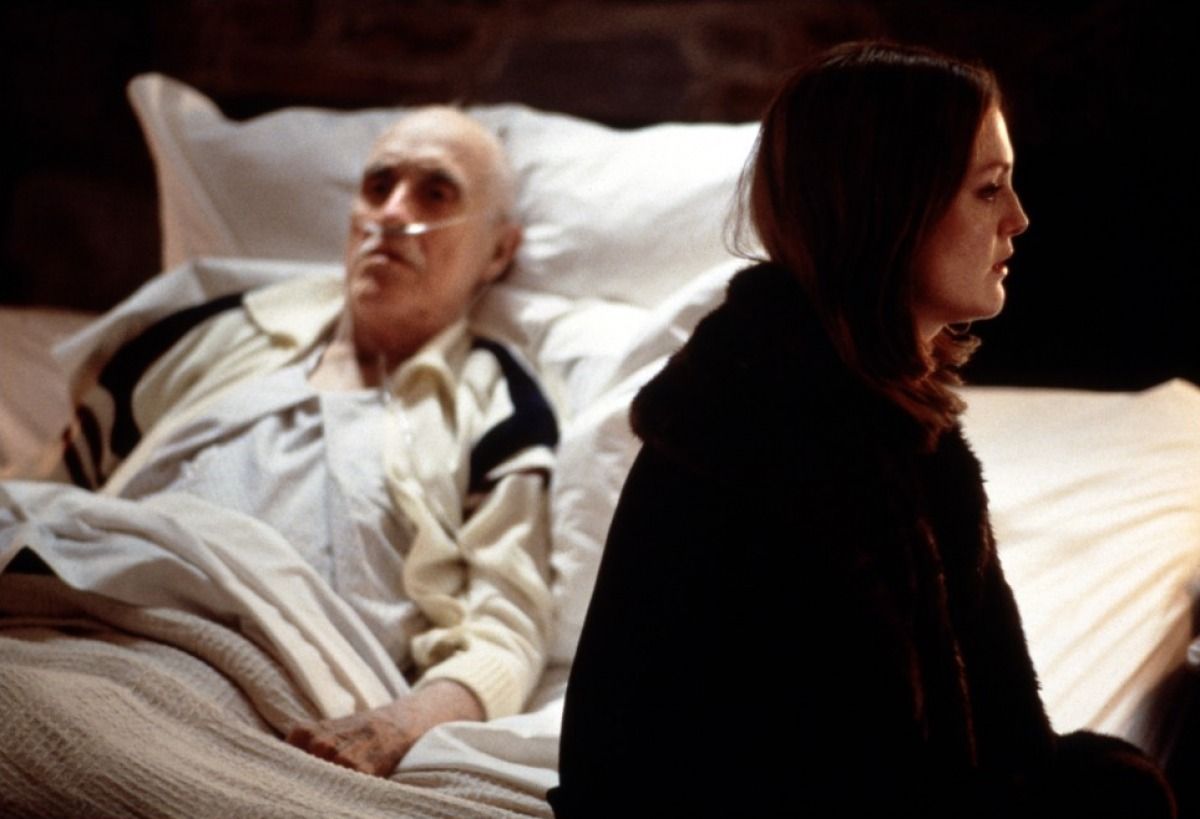 Later – the reason for Magnolia's inclusion on this site – Anderson for no discernible reason climaxes the film with the surreal apocalypse of a rain of frogs. The point that Paul Thomas Anderson seems to be working towards is that peculiar coincidences and intangible connections underline much of life – although this is never entirely a point that is backed up in the film, as none of the stories can be said to show bizarre and peculiar happenstance.
In the end, Magnolia is less a great film than it is an uneven film with moments of greatness. Paul Thomas Anderson writes characterisation with an eviscerating ability to penetrate to the heart of his characters and directs actors with a subtlety of nuance unlike any other director does. The film's legacy is that many of the actors in the film – Jason Robards, Philip Seymour Hoffman, William H. Macy, Philip Baker Hall, Julianne Moore and especially Tom Cruise (Oscar-nominated for the part, who takes one aback by the full-on aggressiveness of his role) – give great performances that are going to be probable defining signposts in their careers.
(Winner for Best Supporting Actor (Tom Cruise), Nominee for Best Supporting Actress (Julianne Moore) at this site's Best of 1999 Awards).
---
---