---
Crew
Director – Bharat Nalluri, Screenplay – Susan Coyne, Based on the Book The Man Who Invented Christmas: How Charles Dickens's A Christmas Carol Rescued His Career and Revived Our Holiday Spirits by Les Standiford, Producers – Niv Fichman, Vadim Jean, Robert Mickelson, Susan Mullen & Ian Sharples, Photography – Ben Smithard, Music – Mychael Danna, Visual Effects – Mavericks VFX (Supervisor – Greg Behrens), Special Effects Supervisor – Steven Templeton, Production Design – Paki Smith. Production Company – Bleeker Street/Telefilm Canada/Bord Scannan na Heireann (The Irish Film Board)/Ontario Media Development Corporation/Parallel Films/Rhombus Media/Mystic Point Productions/The Mob Film Company/Nelly Films Limited/The Mazur-Kaplan Company.
Cast
Dan Stevens (Charles Dickens), Christopher Plummer (Ebenezer Scrooge), Jonathan Pryce (John Dickens), Justin Edwards (John Forster/Ghost of Christmas Present), Morfydd Clark (Kate Dickens), Anna Murphy (Tara/Ghost of Christmas Past), Ger Ryan (Mrs Dickens), Miriam Margolyes (Mrs Fisk), Donald Sumpter (Haddock/Ghost of Jacob Marley), Simon Callow (John Leech), Miles Jupp (William Makepeace Thackeray), Ian McNeice (Chapman), David McSavage (Hall), Katie McGuinness (Fanny Dickens/Mrs Cratchit), Marcus Lamb (Reverend Henry Burnett/Bob Cratchit), Bill Paterson (Mr Grimsby), Cosimo Massimo Fusco (Signor Mazzini), Ely Solan (Young Charles), Pearse Kearney (Henry Jr/Tiny Tim)
---
Plot
1843. Charles Dickens has enjoyed great success as a writer but following the flop of three novels in a row, he is facing financial hardship and mounting bills on all fronts. Under pressure to come up with another success, Dickens has the idea of writing a Christmas story. Though the idea is ridiculed by his publishers, he persists, coming up with the characters of the miser Scrooge, the spirits that visit him, Jacob Marley, Bob Cratchit and Tiny Tim, all based on the people around him. As Dickens comes under pressure from mounting debts, a financially irresponsible father who moves in, an impossibly close deadline to get the book in stores for Christmas, he is visited by Scrooge and the characters from his book. Others meanwhile argue that he should devise a more positive ending for the characters.
---
The Man Who Invented Christmas comes as another in a line of creator biopics about authors and occasionally filmmakers who inspired classic works. Others include Kafka (1991), The Whole Wide World (1996), My Life as a Fairytale: Hans Christian Andersen (2001), Finding Neverland (2004), The Strange Case of Sherlock Holmes and Arthur Conan Doyle (2005), Miss Potter (2006), Fleming: The Man Who Would Be Bond (2014), In the Heart of the Sea (2015), Goodbye Christopher Robin (2017) and Professor Marston and the Wonder Women (2017). The Man Who Invented Christmas is based on The Man Who Invented Christmas: How Charles Dickens's A Christmas Carol Rescued His Career and Revived Our Holiday Spirits (2008), a biography from American author Les Standiford concerning Charles Dickens' writing of A Christmas Carol (1843).
Of all the abovelisted author biopics, The Man Who Invented Christmas must count as the most outrightly lunatic (even aside from the blatant lie of the title). It has several things in common with the life of Charles Dickens – yes, he financed the publication of A Christmas Carol himself and on an impossibly tight schedule; yes, it was a hit after a string of flops; yes, he did have an impecunious father.
However, the film has rearranged these into an absurd fiction of its own. Every author biopic listed above has scenes where the author meets someone or sees something happen and a lighbulb goes off as we see them suddenly conceive the characters. This takes that into overdrive where almost the entire film consists of Dan Stevens encountering people and characters, even people uttering lines of dialogue direct from the book.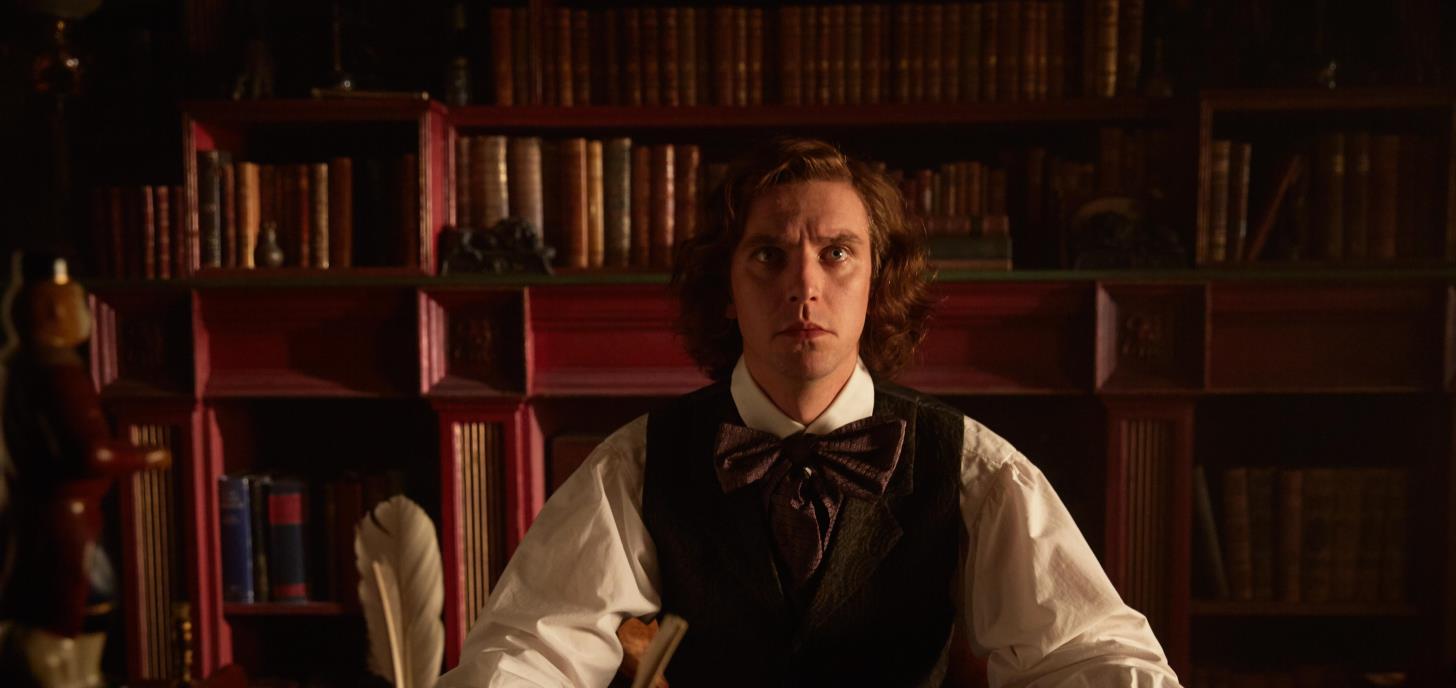 One of the main problems with the film is Dan Stevens. Stevens can be a fine actor and I have no real quibble with him. He doesn't much look like the surviving photos of Dickens but gets the hairstyle and the clothes. But the performance. It is hard to get a sense of the character of an author who has been dead for over a century and left no recordings behind would be but I can fairly much guarantee that it would not have been like the mad pantomime performance that Stevens turns it into, one minute play-acting for his children, the next pretending to argue with the ghosts of his own creations, while stumbling from incident to incident with wide-eyed wonder. The scenes with him trying to come up with a name for Scrooge like a hopped-up opium fiend leave you laughing more than wowed.
Which does neatly bring us to one of the most lunatic aspects of The Man Who Invented Christmas. Namely that its major sections of the film involve Dickens arguing with the characters from A Christmas Carol as he tries to wrestle the plot into place. It's an absurd plot device, least of all for the fact that that is not the way authors come up with characters and plots. Even giving The Man Who Invented Christmas the stretch of imagination to accept it as a plot device, it seems ridiculously ignorant of the way that an author constructs a story.
Part of the plot's requirement is that Dickens originally intended both Scrooge and Tiny Tim to die. But looking at the story, it is impossible to believe that Scrooge would have been written in with anything other than a redemption arc or that Tiny Tim was introduced as a character for the sole purpose of allowing Scrooge's misanthropy to thaw and to tug our heart-strings. I mean, is there any way that you can seriously believe that Dickens would have dreamt up a story intended for Christmas audiences in which he allowed these characters to die? No, the reality is that that is the way and the enormously predictable arcs with which either character was conceived and that it in an utterly absurd piece of dramatics on the part of the film to try and make us think it was ever otherwise.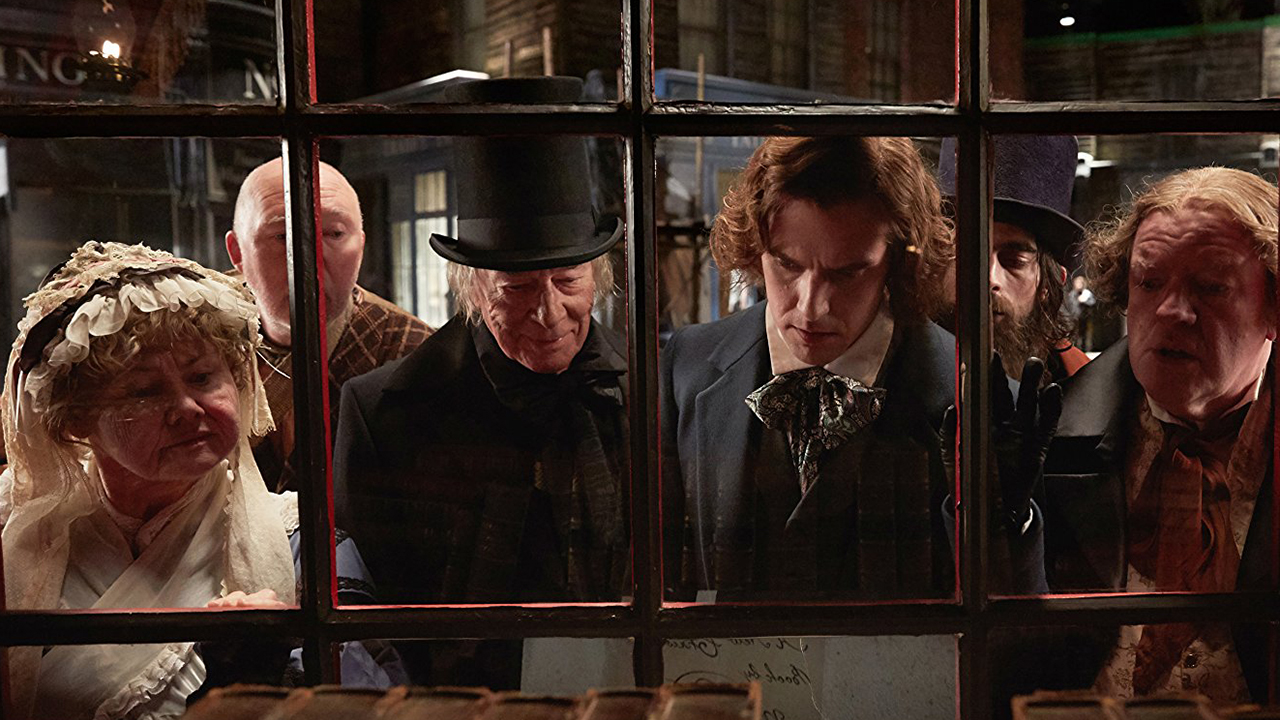 The film is directed by Bharat Nalluri, an Indian-born director who is mostly resident in the UK. Nalluri first entered genre material with his third film, the forgettable The Crow: Salvation (2000) and has spent a career in British and occasionally US television and the odd film such as Miss Pettigrew Lives for a Day (2008) and Spooks: The Greater Good (2015).
Adaptations of A Christmas Carol include:– a number of lost silent adaptations made respectively in 1901, 1908, 1910, 1913, 1916, 1923 and 1928. Sound versions include:– Scrooge (1935), a British sound version with Seymour Hicks as Scrooge; A Christmas Carol (1938), an American version with Reginald Owen; a Spanish adaptation (1947); Scrooge (1951), a British production starring Alistair Sim; Scrooge (1970), a British-made musical adaptation starring Albert Finney; a short animated version A Christmas Carol (1971) from animator Richard Williams; Mickey's Christmas Carol (1983), a 25 minute animated short from Disney where the Scrooge role was played by Scrooge McDuck and Mickey Mouse was cast as Bob Cratchit; the modernised updating Scrooged (1988) with Bill Murray; The Muppet Christmas Carol (1992), which enacted the tale with the Muppets and starred Michael Caine as Scrooge; a British-German animated adaptation Christmas Carol: The Movie (2001); the conservative-backed An American Carol (2008) where a liberal filmmaker is persuaded of their ways; the animated Barbie in A Christmas Carol (2008); and Robert Zemeckis's motion-capture animated A Christmas Carol (2009) starring Jim Carrey. TV adaptations include A Christmas Carol (1943), a 60 minute live version, which was apparently one of the first ever experimental tv broadcasts; The Christmas Carol (1949), a half-hour American adaptation starring Taylor Holmes; A Christmas Carol (1950), a British adaptation starring Bransby Williams; A Christmas Carol (1953), a half-hour American adaptation starring Noel Leslie; a German production (1960); Carol for Another Christmas (1964), a production written by Rod Serling as a United Nations Special that updated the tale as an anti-war parable; a Canadian production Mr Scrooge (1964); A Christmas Carol (1977), a British production starring Michael Hordern; Scrooge (1978), a Canadian production starring Warren Graves; Rankin-Bass's one-hour animated adaptation The Stingiest Man in Town (1978); An American Christmas Carol (1979), starring Henry Winkler, which updated the story to the Depression era; Skinflint: A Country Christmas Carol (1979), starring Hoyt Axton, a bizarre American adaptation populated entirely by Country and Western singers; A Christmas Carol (1981), an American adaptation starring William Paterson; A Christmas Carol (1982), an American adaptation starring Richard Hilger; A Christmas Carol (1984), a lavish British-made production starring George C. Scott; a French tv adaptation (1984); Blackadder's Christmas Carol (1988), a sardonic take on the story using the characters from the popular British tv series Blackadder (1983-9); Scrooge: A Christmas Sarah (1990), a British version that cast Scrooge as a woman (Sarah Greene); A Christmas Carol (1994), a British-made ballet adaptation; A Christmas Carol (1997), an American-made animated adaptation; Ebenezer (1997), a bizarre American adaptation that recast the tale as a Western starring Jack Palance; Ms. Scrooge (1997), an American version that also cast the role with a woman (Cicely Tyson); A Christmas Carol (1999), an American production starring Patrick Stewart; A Christmas Carol (2000), a modernised adaptation where Scrooge (Ross Kemp) was a petty loanshark; A Diva's Christmas Carol (2000) with Vanessa Williams as a self-absorbed pop singer; Scrooge and Marley (2001), a one-hour adaptation starring Dean Jones; Hallmark's sex-reversed A Carol Christmas (2003) starring Tori Spelling; Hallmark's musical adaptation A Christmas Carol (2004) with Kelsey Grammer; the Italian-made A Christmas Carol (2004); the modernised Karroll's Christmas (2004) starring Tom Everett Scott; the Doctor Who tv special A Christmas Carol (2010) where a time-travelling Doctor becomes the Ghosts of Christmases Past and Present to intergalactic miser Michael Gambon; the low-budget Canadian-made A Christmas Carol (2015); the dark adult BBC mini-series A Christmas Carol (2019) starring Guy Pearce; and the modernised musical Spirited (2022) starring Ryan Reynolds.
---
---