---
Spain/France/Portugal/UK/Belgium. 2018.
Crew
Director – Terry Gilliam, Screenplay – Terry Gilliam & Tony Grisoni, Producers – Mariela Besuievsky, Sebastien Delloye, Amy Gilliam, Gerardo Herrero & Gregoire Melin, Photography – Yousaf Bokhari, Music – Roque Banos, Visual Effects Supervisor – Ingo Putze, Visual Effects – L'Autre Compagnie (Supervisor – Stephane Bidault) & Worldwide FX Studio, Special Effects Supervisor – Reyes Abades, Prosthetic Makeup – Pablo Perona & Lucia Solana, Production Design – Benjamin Fernandez. Production Company – Tornasol/Kinology/Entre Chien et Loup/Ukbar Filmes/El Hombre que Mato a Don Quixote AIE/Carisco Producciones AIE/Recorded Picture Company/RTVE/Movistar+/Wallimage (Wallonia)/Proximus/Shelter Prod-Taxshelter.be-ING/ICAA/ICA.
Cast
Adam Driver (Toby), Jonathan Pryce (Javier/Don Quixote), Joana Ribeiro (Angelica), Stellan Skarsgaard (The Boss), Olga Kurylenko (Jacqui), Hovik Keuchkerian (Raul/Knight of the Mirrors), Jason Watkins (Rupert), Jordi Molla (Alexei Mishkin), Oscar Jaenada (Gypsy)
---
Plot
Toby, an American film director, is in Spain making a commercial about Don Quixote. By chance, he picks up a dvd of the full-length film he made based on the Don Quixote story some years earlier in this same area. Remembering back, he leaves the shoot to go back to the village where he shot the earlier film and find what happened to the locals he cast in the roles. He encounters Javier, the aging cobbler who was his Don Quixote but Javier is mad and now believes he really is Don Quixote. Seeing Toby, Javier hails him as Sancho Panza, Don Quixote's faithful companion. Toby accidentally starts a fire and is then taken off for questioning by local police. However, Javier attacks the car on horseback and rescues Toby. The two set off on Don Quixote's quest for the beautiful Dulcinea during which Adam finds himself slipping between being in the midst of a 17th Century adventure and being pursued by police in the present. During the course of this, he tries to find and take away Angelica, the girl he cast as Dulcinea.
---
Terry Gilliam is a director who has maintained a distinctive and original voice over the last five decades. Originally a member of the Monty Python troupe, Gilliam co-directed their first film Monty Python and the Holy Grail (1975) and then went his own way. He flourished on his own with the likes of Jabberwocky (1977), Time Bandits (1981), The Crimson Permanent Assurance segment of Monty Python's The Meaning of Life (1983), Brazil (1985), The Adventures of Baron Munchausen (1989), The Fisher King (1991), Twelve Monkeys (1995), Fear and Loathing in Las Vegas (1998), The Brothers Grimm (2005), Tideland (2005), The Imaginarium of Doctor Parnassus (2009) and The Zero Theorem (2013).
The one facet that is always associated with Terry Gilliam for right or wrong is that his films are massively problem ridden. Brazil was held up in release in the US because its distributor wanted to recut it for a happy ending; The Adventures of Baron Munchausen ran massively over-budget, necessitating the curtailing of Gilliam's original vision; The Brothers Grimm was held up in release limbo for more than a year because of disagreement between Gilliam and the Weinstein Brothers; while The Imaginarium of Doctor Parnassus ended up being nearly cancelled because of the death of star Heath Ledger near the end of shooting.
Even among Gilliam's long line of problematic films, the award surely goes to The Man Who Killed Don Quixote, which has been nicknamed 'The Unluckiest Film Ever Made'. Gilliam had planned a version of Miguel Cervantes' Don Quixote (1605) ever since 1989. He finally went ahead and began shooting a version in 2000 with Johnny Depp as Toby and Jean Rochefort as Don Quixote. However, this collapsed shortly into shooting due to a number of problems including a flood washing away the set and equipment and then Rochefort having to be sidelined for health issues – he diagnosed with a prostate problems and a herniated disc that left him in a great deal of pain whenever he sat on a horse. The completion guarantor pulled the plug just over a month into shooting. The catastrophe is charted in the documentary Lost in La Mancha (2002).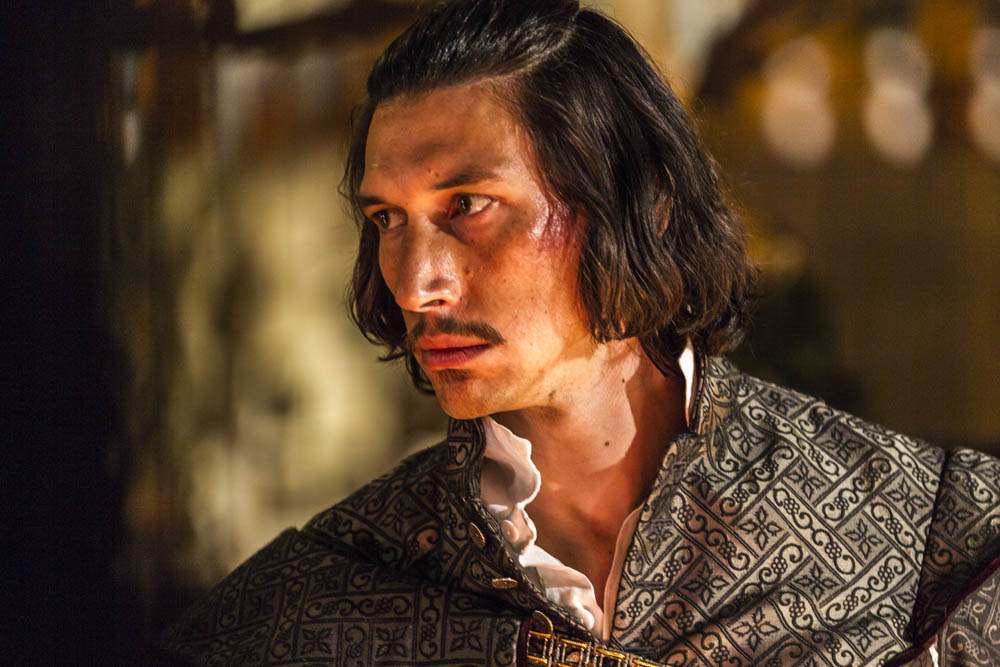 Over the next decade-and-a-half, Gilliam made various attempts to relaunch versions of the film that were to have starred variously Ewan McGregor and Jack McDonnell as Toby and Robert Duvall and John Hurt as Don Quixote. However, these ended up never going ahead due to lack of financing or problems with producers. Even when Gilliam obtained funding to launch this version of the film, it was fought every step of the way by Paulo Branco, one of the producers of an earlier attempt, who sued to block release claiming he owned the rights.
The Man Who Killed Don Quixote finally emerges here and one can see Terry Gilliam's original vision in its glory. It is interesting going from the glimpses of the film that we had in Lost in La Mancha – the purpose of the giants, Don Quixote being accompanied by a modern director (a screenwriter in the original version) – and seeing how they piece together in the finished film. There were claims made in pre-publicity that the film concerned a modern filmmaker travelling back in time but we see this is more subtly Gilliam playing with trompe l'oeil point-of-view as characters imagine themselves in the 17th Century or walk into scenes (the Knight of the Mirrors, the mediaeval castle at the end) where such illusion is being put on by others.
You can see many regular Terry Gilliam themes play out in the film. In the relationship between the long-suffering Adam Driver and Jonathan Pryce's deluded madman who believes he is Don Quixote, you can exactly the same relationship there was between Jeff Bridges' radio dj and Robin Williams' homeless man on a foolhardy possibly delusional quest for the Holy Grail in The Fisher King. Or for that matter young Sarah Polley accompanying cranky John Neville's Baron Munchausen in The Adventures of Baron Munchausen. In Brazil, The Fisher King and Tideland, there is the constant shifting trompe l'oeil effect between the real world and the world of imagination or delusion – you could also cite here Bruce Willis's insistence that his time travel experiences could be a delusion at one point during Twelve Monkeys. There's the constant puncturing of the heroic quest with the mundane or of heroes who fail or lose faith in their mission – a facet of almost any Gilliam film. And then there's the strange obsession with giants that turn up everywhere from Time Bandits to Brazil and Baron Munchausen.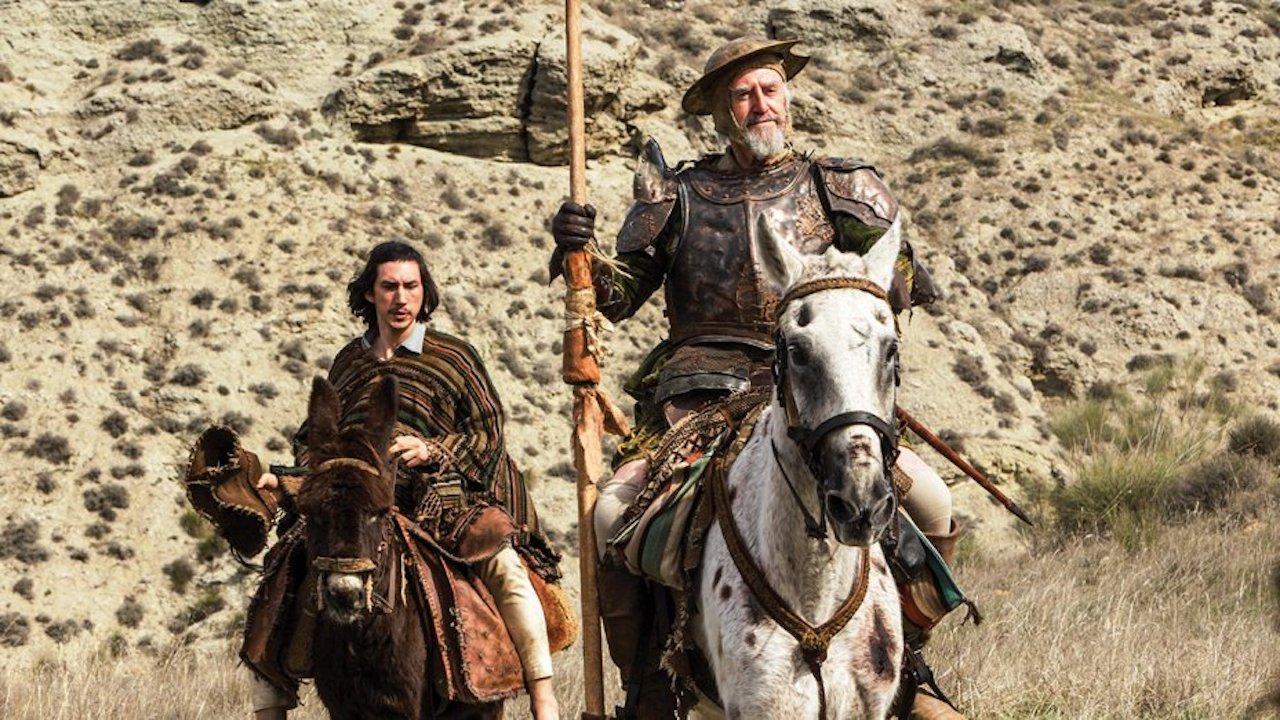 The Man Who Killed Don Quixote is an entertaining but also, I have to confess, an exhausting film. As soon as Jonathan Pryce drags Adam Driver off on his madcap quest, Gilliam winds the film up to an hysteric fever pitch and fairly much keeps it there for the ensuing seventy or so minutes. You are dragged from one manic scene with Jonathan Pryce attacking police cars to another with him jabbing his sword at winesacks imagining them with faces to his accidentally winning the joust with the Knight of Mirrors. At its silliest, Gilliam has Adam Driver by a riverside singing and dancing Eddie Cantor impressions. It becomes a noisy much of a muchness all on the same tone for long stretches – it is a film that you feel could easily have been trimmed of some of its running time. But then Terry Gilliam is regarded as an auteur and it seems sacrosanct for anybody to suggest such things.
On the other hand, the film does have the impassioned imagery of Terry Gilliam (even if it is probably the least fantastique of all the films he has made to date). There are all the magical scenes of Adam Driver's discovering Joana Ribeiro in a cave, his coming across a royal pageant seemingly moving through the forest, or just the final scene of the film with Adam Driver riding off into the sunset.
He Dreams of Giants (2019) is a documentary about the making of the film where Gilliam invited Keith Fulton and Louis Pepe, the same two filmmakers who made Lost in La Mancha, back to chart the process.
---
---