(Mei Ren Yu)
---
Crew
Director/Screenplay – Stephen Chow, Co-Writers – Chan Hing Kai, Fung Chih Chiang, Ho Miu Ki, Y.Y. Kong, Lee Si Zhen Kelvin, Lu Zheng Yu & Tsang Kan Cheung, Producers – Stephen Chow & Y.Y. Kong,, Photography (3D) – Choi Sung Fai, Music – Raymond Wong & Wendyz Zheng, Visual Effects Supervisor – Ken Law, Visual Effects – Different Digital Design Limited (Director – Ken Law Wai Ho), Macrograph, Inc. (Supervisor – Kang Tae Gyun), Magnon Studio, Matte Studio, Studio Moai, Animation – Avision & FromEast (Director – Lee Seungbok), Makeup Effects – FAuNO Theatrical Make-up and Special Makeup Effects Company, Production Design – Bruce Yu. Production Company – The Star Overseas Limited/China Film Co., Ltd./Hehe (Shanghai) Film Corporation Limited/Sharinan Enlight Pictures Co., Ltd./Shanghai New Culture Media Group Co., Ltd./Shanghai Tianshi Culture Communication., Ltd./China Cultural and Entertainment Fund L.P./Xiangshan Ze Yue Culture Media Co. Ltd./Alpha Pictures (Hong Kong) Limited.
Cast
Jelly Lin (Shan), Deng Chao (Liu Xuan), Show Lo (Octopus), Zhang Yu Qi (Li Ruo-lan), Tsui Hark (Uncle Rich), Chiu Chi Ling (Mermaid Long), Ivan Kotik (Dr George), Kris Wu (Long Jianfi), Wen Zhang (Constable Mo), Lee Sheung Ching (Constable Shi)
---
Plot
The billionaire Liu Xuan has purchased the Green Gulf coastal property. It is classified as a sanctuary because of the endangered dolphins there but Liu has driven all of them out with sonar devices and is now planning to redevelop the area. The even more wealthy Li Ruo-lan agrees to a partnership while trying to seduce Liu to her bed. Liu is instead intrigued by Shan, a strange girl he meets at one of his parties. What he does not know is that Shan is a mermaid. She and the rest of her kind live in an abandoned shipwreck at Green Gulf and are plotting to kill Liu for what he has done. Their plan involves Shan wooing him. Liu is happy to call Shan back because it annoys Li Ruo-lan. However, as she starts to become involved with him, Shan finds she has feelings for Liu and wavers in her plans to kill him.
---
Stephen Chow emerged from Hong Kong television and became a star on the screen during the 1990s. It was however as director, writer and star of his own material that Chow became one of the top Hong Kong comedy talents during the late 1990s/early 2000s. He made his debut as director with From Beijing with Love (1994), an hilarious spoof of the James Bond films and went onto the likes of the deliriously indescribable Forbidden City Cop (1996), The God of Cookery (1996), The King of Comedy (1999), Shaolin Soccer (2001), which combined soccer with flying martial arts of the Wu Xia cycle, the international hit of Kung Fu Hustle (2004), the children's film CJ7 (2008) and Journey to the West: Conquering the Demons (2013), as well as producing Dragonball: Evolution (2009) and writing/producing Journey to the West: Demon Chapter (2017).
Stephen Chow's early directorial films are works of comic genius, something that reached an absolute peak with Kung Fu Hustle. The funny thing about Chow is that at exactly the same time as his films go from being funny and very creative works of slapstick and moving over into mainstream success with Chinese-speaking audiences, they also start to lose much of the creativity that drove them. CJ7 was amiable but no great shakes, while both Journey to the West: Conquering the Demons and now The Mermaid feel peculiarly colourless works where much of Chow's comic genius seems buried beneath the machinery of big-budget filmmaking.
With The Mermaid, Stephen Chow seems to want to dig a knife in and expose the soullessness of China's new wealth. (Although the characters here are so broad that they verge on being more like the caricatures of comic villains that you get in children's films). The mermaids represent what you take to be a vague environmentalist concern. The film doesn't appear to take either position too seriously. In the midst of this, we get a romance that sort of makes this into a Chinese version of Splash! (1984).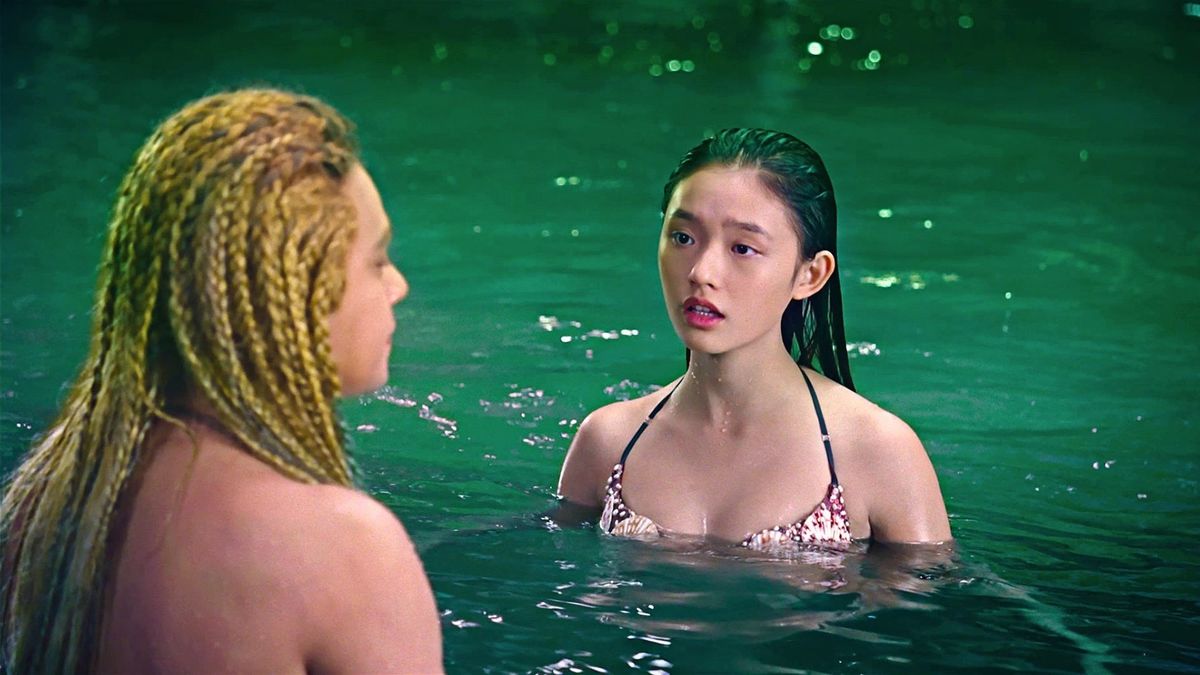 That said, the central relationship between the two characters is one that seems to have no real chemistry on screen beyond the plot's comedic contrivations. Deng Chao seems such a ridiculous caricature of self-absorbed chumpishness that you wonder how he could have any success in the business arena, while Jelly Lin has the cute schoolgirl/waif thing that much of HK/Chinese cinema loves going, albeit pushed to a maximum gaucheness. Beyond one or two montage scenes of them at a fairground, this is not exactly a romance that burns up the screen.
Furthermore, Stephen Chow's flair for comedy feels watered down. Some of the film's few funny moments are those that involve Show Lo as Octopus – he trying to deal with Deng Lao's security guards who see his tentacles while he is hiding in the bushes and the rather funny scene where he tries to impersonate a sushi chef and is forced to cut off and cook his own tentacles.
Other scenes like where Jelly Lin invades Deng Chao's apartment trying to kill him, only to end up on the receiving end of most of the methods she tries to use seems fitfully amusing, leaving you only thinking how much this lacks the brilliance of Chow during his heyday. It'd be nice if Chow could put a halt to the machinery of big-budget filmmaking and go back to discover what he once had, which was hilarious and madly creative.
---
---