---
Crew
Director – Ernest B. Schoedsack, Screenplay – Ruth Rose, Story/Producer – Merian C. Cooper, Photography (b&w) – J. Roy Hunt, Music – Roy Webb, Music Director – C. Bakaleinikoff, Photographic Effects – Harold Stine & Brent Willis, Special Effects Technical Creator – Willis O'Brien, Art Direction – James Basevi. Production Company – RKO Radio Pictures.
Cast
Robert Armstrong (Max O'Hara), Terry Moore (Jill Young), Ben Johnson (Gregg Johnson), Lora Lee Michel (Young Jill), Denis Green (Crawford), Frank McHugh (Windy)
---
Plot
Inspired by the image of cowboys roping lions, show business promoter Max O'Hara mounts an expedition to Africa. The expedition proves humdrum until O'Hara meets Jill Young, a girl who keeps a tame four metre tall ape that she calls Joe as her best friend. O'Hara persuades Jill into bringing Joe back to the US as a stage attraction.
---
Mighty Joe Young has clearly been made in the shadow of King Kong (1933). It could hardly avoid it. It reunites Kong directors Ernest B. Schoedsak and Merian C. Cooper and screenwriter Ruth Rose, it features Robert Armstrong playing essentially the same role he did in Kong and it has Willis O'Brien once again doing the stop-motion animated effects, not to mention the fact that it also features another giant ape who also has a special relationship with a blonde girl. But despite standing in the shadow of King Kong, Mighty Joe Young proves almost a film.
Willis O'Brien was the greatest of all stop-motion artists because he had the ability to invest his creations with sympathy and personality. Each of O'Brien's set-pieces here is dazzling – the sequence where the cowboys attempt to lasso Joe as he is throwing boulders at a cowboy cowering against a cliff; or where Joe takes on a group of strongmen on stage, which angrily turns into a punch-up with the last one. The scene where Joe appears out of an orchestra pit and lifts Terry Moore above his shoulders as she play Beautiful Dreamer on the piano is one image in the film that is truly magical.
Although the scene where Joe wrecks the theatre is surely one of the most exciting stop-motion animated sequences ever created – he tearing apart support pillars and burying people in rubble, swinging across the room on a rope (where the camera gets in and follows behind him during the swing), and best of all the scenes where he smashes the lions out of the cage and then starts jumping on them, bodyslamming them into the floor and then pinning them down and punching them out cold. (The scenes with real lions being dumped from heights and skidded across the floor make this not exactly a film that is guaranteed to be recommended by the American Humane Association).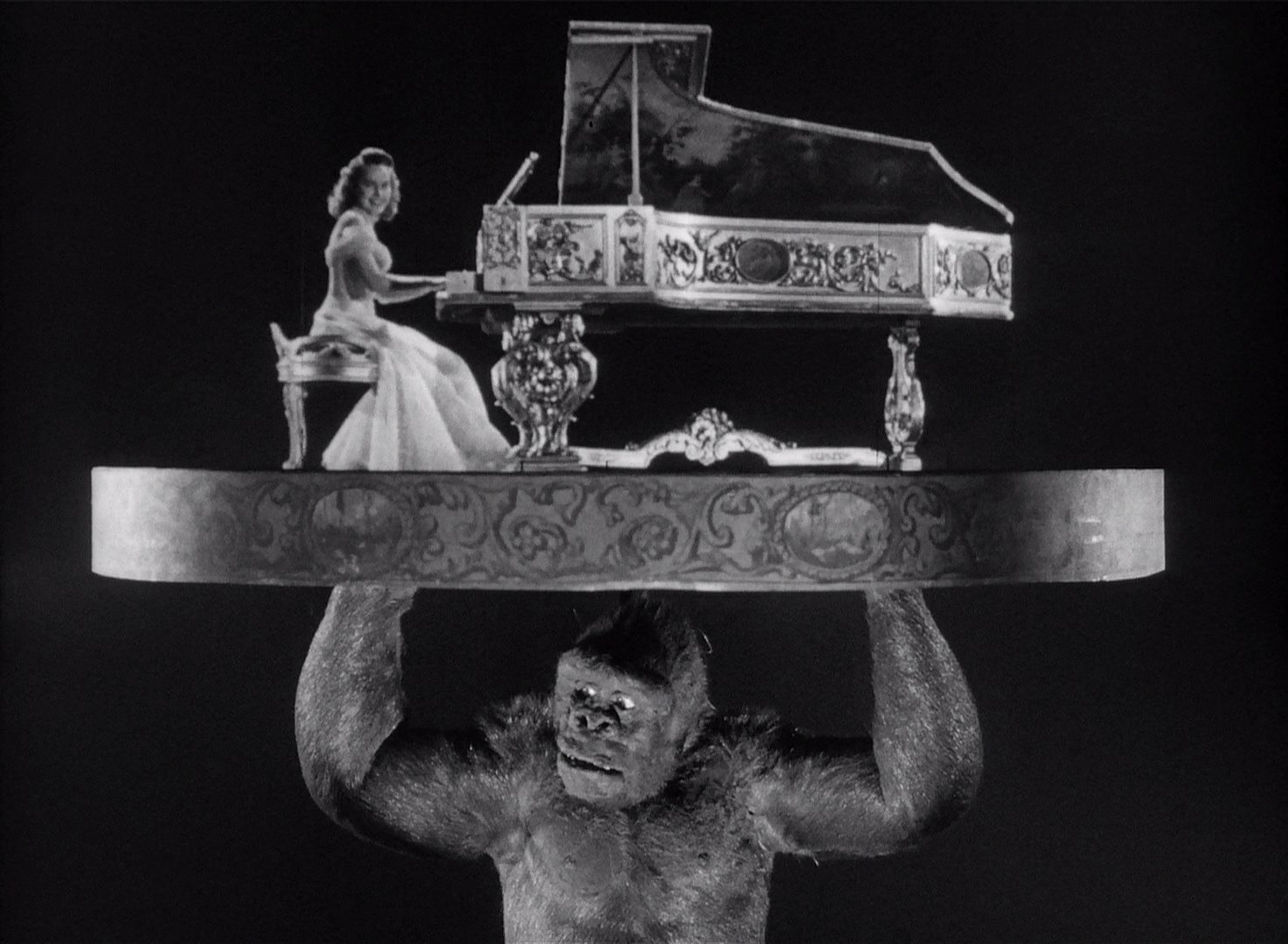 The orphanage climax with the amazing scenes of Joe fleeing up a burning tree carrying a baby, or escaping down with Terry Moore on his back is also exceedingly beautiful. There is a certain cute cuddliness to Joe that there never was to King Kong but Mighty Joe Young is otherwise a stop-motion masterpiece.
The film's evocation of Africa is not terribly convincing – being conveyed in a series of flatly painted backdrops rather than any genuine location scenery. The film's treatment of the natives does get a little dodgy too. Amusingly enough the film's deliberately over-the-top artificial version of Africa at the Golden Safari nightclub is better than its attempts to do a straight Africa – the nightclub marvellously designed with lions roaming in a glass cage behind the bar, the orchestra playing from a treehut, a foliage encased staircase at the entrance, native dancers – it is a wonderful tribute to Hollywood kitsch and brazen showmanship.
Mighty Joe Young was the first full length film job of Ray Harryhausen, who would go on to become the most famous stop-motion animator in the world. Here Harryhausen was employed as Willis O'Brien's assistant, although in the documentary Ray Harryhausen: Special Effects Titan (2011), Harryhausen estimates that he ended up doing 90% of the work.
Mighty Joe Young (1998) was the disappointing remake.
---
Trailer here
---