---
Crew
Director – Peggy Holmes, Screenplay – Jeffrey M. Howard & Kate Kondell, Story – Lorna Cook, Bobs Gannaway, Craig Gerber, Peggy Holmes, Jeffrey M. Howard & John Lasseter, Producer – Jenni Magee-Cook, Music – Joel McNeely, Animation Supervisor – Yuriko Senoo, CG Animation – Prana Aniation Studios, Inc. (Supervisors – Jouelle Baracho & Manivannan Madhesan), Art Direction – Fred Warter. Production Company – Disneytoon Studios.
Voices
Mae Whitman (Tinker Bell), Christina Hendricks (Zarina), Tom Hiddleston (James), Lucy Liu (Silvermist), Raven-Symone (Iridessa), Megan Hilty (Rosetta), Pamela Adlon (Vidia), Angela Bartys (Fawn), Jeff Bennett (Fairy Gary/Clank/Smee), Jim Cummings (Oppenheimer/Port)
---
Plot
In Pixie Hollow, the fairy Zarina works as a Dust Keeper whose job it is to maintain the fairy dust. This must be mixed in exactingly specified amounts but Zarina wants to experiment with different combinations. Her experiment goes awry and creates a monstrous plant. For this, she is fired from the job. One year later, the fairies are celebrating the Four Seasons Festival when Zarina reappears and lays down a blend of pixie dust that causes all the fairies to fall asleep. Tinker Bell and friends manage to hide in a trunk and are unaffected. They emerge to discover that Zarina has stolen all of the blue dust that is precursor to making fairy dust. They set out in pursuit to discover that Zarina has now become the captain of a human pirate ship by promising the crew that they will be able to fly. As Tinker Bell and her friends are captured, Zarina's plans come up against the treachery of the ship's crew.
---
There was a period during the late 1990s/early 2000s when Disney were churning out a great many cheap direct-to-video sequels to their earlier animated hits. This resulted in a deluge of indifferently produced product that in most cases failed to come anywhere near the quality of the originals. Pixar CEO John Lasseter put an end to these with his assumption of the role of Chief Creative Officer at Disney in 2006.
The one remnant of these Lasseter did allow to continue to be produced however were a series of animated direct-to-dvd films spun out from Disney's Peter Pan (1953) featuring the fairy Tinker Bell. These began with Tinkerbell (2008) and continued through Tinker Bell and the Lost Treasure (2009), Tinker Bell and the Great Fairy Rescue (2010), Secret of the Wings (2012) and Tinker Bell and the Legend of the Neverbeast (2014). (Lasseter serves as producer on all of these and receives story credit here). The Pirate Fairy was the fourth of the series and is the only one that does not have Tinker Bell's name above the title.
The Pirate Fairy comes with the glassy plasticity that beset much early CGI animation. Pixar and co have evolved well beyond this but on the lesser, more cut-price budget that this film is being produced on (ie. the animation outsourced to India), it is much more obvious. That said, the film is produced to a modest level of 3D animation and does result in some occasional fine imagery – notably the glorious image of the pirate ship taking off into the air with the application of fairy dust and gracefully banking and turning through the clouds.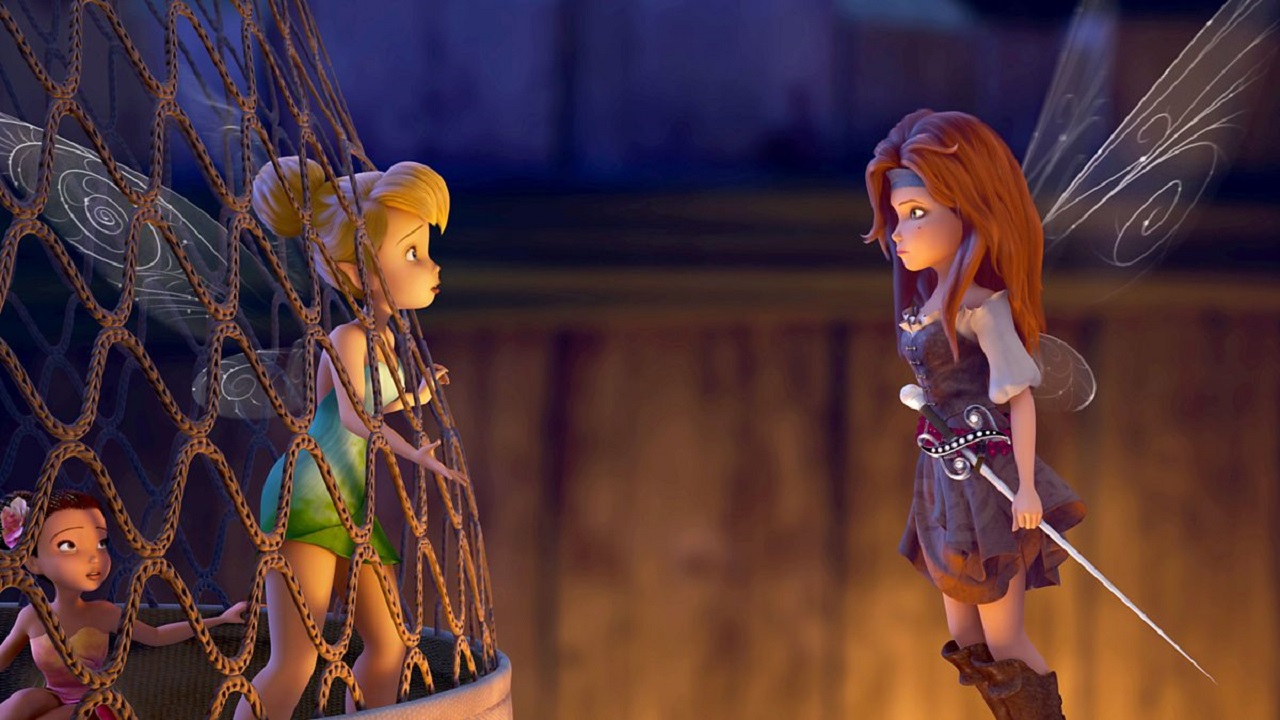 Still the material is bland and insipid. The film has the intriguing idea of offering up an anti-Tinker Bell in the form of Zarina's title character, but even then there is little that has gone into the conception of the character in any interesting way. It is only fantasy written for those in the single digit, if not pre-school ages, and there is little in terms of sophistication. Tom Hiddleston certainly has fun playing a cartoon villain.
The Pirate Fairy also comes with some cute pieces of fanservice that make it obvious that the events are a prequel to Peter Pan. The pirate known only as James (voiced by Tom Hiddleston) is clearly a young version of Captain Hook, even though the film never names him as such, and towards the end we see him losing his hand, while there is also an appearance from Smee among the crew. Elsewhere, the fairies are witness to the hatching of the most adorable young crocodile ever, which promptly emotionally bonds with Rosetta and regards her as a substitute parent, and is later seen to be swallowing a clock.
The film is directed by Peggy Holmes, a former dance choreographer who had previously worked at Disney, graduating to director with films like The Little Mermaid: Ariel's Beginning (2008) and one other TinkerBell film Secret of the Wings (2012). Holmes later went on to direct Skydance's debut theatrical animated film Luck (2022).
---
---