---
Crew
Director – Raja Gosnell, Screenplay – James Gunn, Story – James Gunn & Craig Titley, Based on the TV Series Scooby Doo, Where Are You? Created by Hanna-Barbera Productions, Producers – Charles Roven & Richard Suckle, Photography – David Eggby, Music – David Newman, Visual Effects Supervisor – Peter Crosman, Visual Effects – Rhythm and Hues (Supervisor – Betsy Paterson), Special Effects Supervisor – Brian Cox, Creatures/Animatronics – John Cox Creature Shop, Production Design – Bill Boes. Production Company – Mosaic Media Group.
Cast
Matthew Lillard (Shaggy), Sarah Michelle Gellar (Daphne), Linda Cardellini (Velma), Freddie Prinze Jr (Fred), Neil Fanning (Voice of Scooby Doo), Rowan Atkinson (Emil Mondavarious), Isla Fisher (Mary Jane), Miguel A. Nunez Jr (Voodoo Maestro), Steven Grives (N'Goo Tuana)
---
Plot
The ghostbusting team Mystery Inc, comprised of the vain Fred, the fashion-conscious Daphne, the brainy Velma and the laidback Shaggy and Shaggy's best friend, the Great Dane Scooby Doo, break up after differences within the group. Two years later, each of them is separately brought back together by Emil Mondavarious, the owner of the horror-themed Spooky Island, who is trying to find why visitors to Spooky Island are returning mysteriously changed. As the team uncovers the forces at work, they find a sinister fate in store for them.
---
The Flintstones (1994) was the first among the 1990s-00s fad for big-screen remakes of tv shows to make a live-action film out of what was originally a cartoon series. Since then there have been several other such efforts – George of the Jungle (1997), Mr Magoo (1997), Dudley Do-Right (1999), Inspector Gadget (1999), The Adventures of Rocky and Bullwinkle (2000), Josie and the Pussycats (2001), Fat Albert (2004), Alvin and the Chipmunks (2007), Transformers (2007), Underdog (2007), Speed Racer (2008), Dragonball: Evolution (2009), Yogi Bear (2010), The Smurfs (2011) and Jem and the Holograms (2015).
Most of these have not been critical successes. The crucial problem with the majority of these films is that their sole novelty lies in seeing the cartoon played out in live-action. The films usually have a great opening week after which interest flags off as soon as the initial novelty wears out. They rarely stand up as plots or even with any substance – these films are bubblegum pop, they come filled with inane slapstick gags and contemporary culture in-jokes pitched at the preadolescent demographic that the original cartoon was made for. Indeed, it may well be that most of these cartoon films fail because they are too accurate a facsimile of their originals. Cartoons operate on simplistically reduced notions of character and drama, which usually translates poorly to film.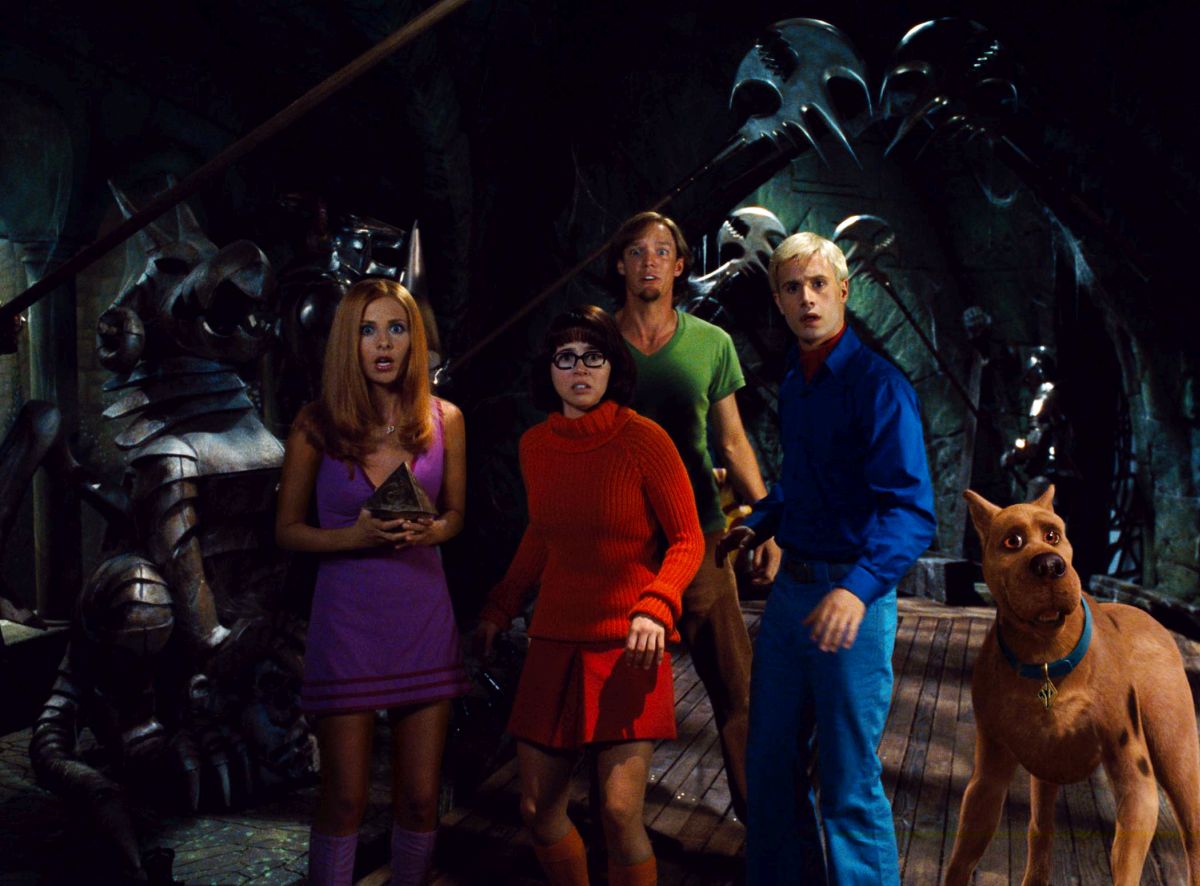 Hanna-Barbera's original Scooby Doo, Where Are You? (1969-72) was a popular hit. The series' original run was followed by several revivals, a number of tv specials and over 35 dvd-released animated films. The series was essentially a light-hearted take on teen mysteries with ghosts added to the mix – sort of a Nancy Drew's Haunted House Ride. Scooby Doo was an inanely trivial series – the plots were banally simplistic and the exercise only got by on its good-natured amiability. This film at least accurately captures the look of the characters, the light knockabout shenanigans and the slim, unchallenging plots.
Alas, Scooby-Doo is not very good. It plays out in a way that seems determined to not engage on any intellectual level whatsoever. There is nothing to it beyond much running around and slapstick antics with a big, dumb CGI dog. The low point of the film is surely a farting/belching competition between Shaggy and Scooby Doo. Conducted as two-dimensional animation in Hanna-Barbera's characteristically limited style, this would have sufficed as a kiddie pleaser, up on the screen being enacted by adults it looks very forced – all it is is a one-dimensional, no-brain film trying to look like a one-dimensional, no-brain cartoon.
The characters have little depth beyond one-word descriptions – Shaggy is a stoner, Fred is dense, Daphne is vain, Velma is brainy. Matthew Lillard at least performs Shaggy with great enthusiasm, although the best performance is actually from the least known cast member Linda Cardellini, who makes a pertly sexy Velma. The others only look like contemporary teen idols uncomfortably trying to act out the parts of cartoon characters, especially so in the case of an unconvincingly blonde Freddie Prinze Jr.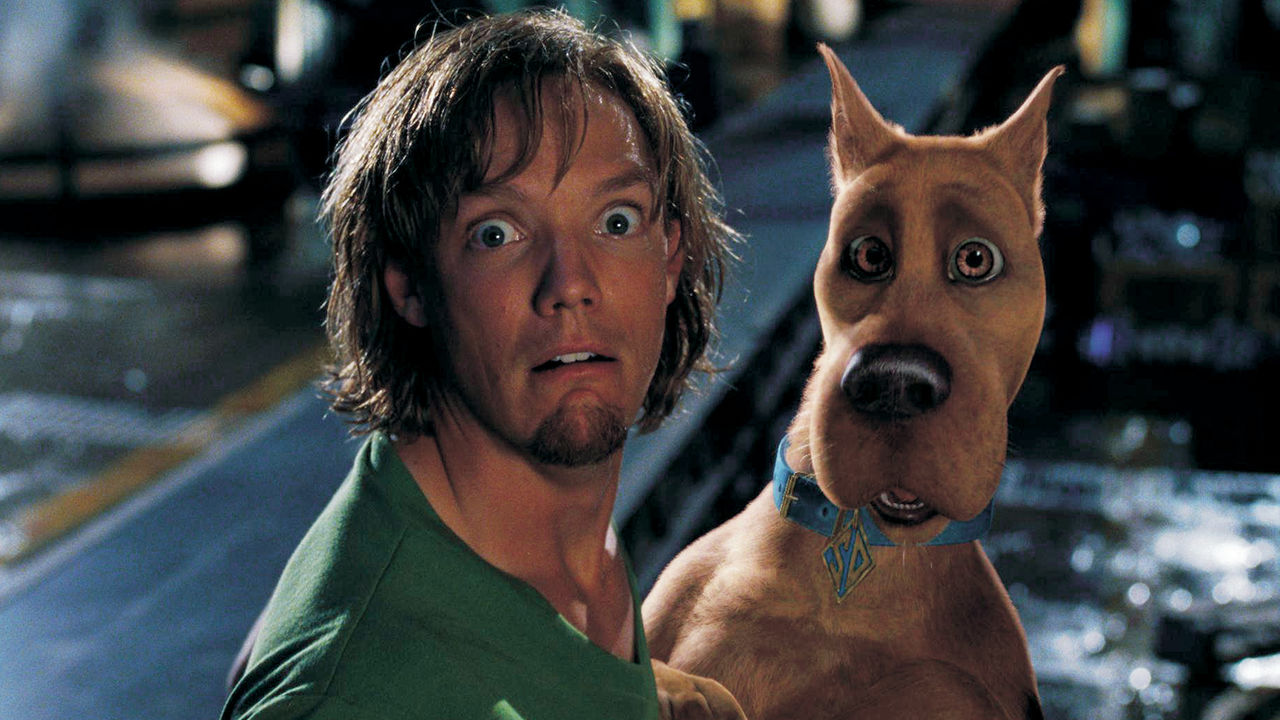 The sequel was Scooby Doo 2: Monsters Unleashed (2004), reuniting director Raja Gosnell and the rest of the cast. There was two further films in live-action with Scooby-Doo! The Mystery Begins (2009) and Scooby Doo: Curse of the Lake Monster (2010) with a different director and younger cast. Scoob! (2020) was an animated film revival.
Director Raja Gosnell subsequently went onto make the talking animals film Beverly Hills Chihuahua (2008) and Show Dogs (2018)., as well as another cartoon in live-action with The Smurfs (2011) and The Smurfs 2 (2013). Elsewhere, Raja Gosnell has made mainstream comedies such as Home Alone 3 (1997), Never Been Kissed (1997), Big Momma's House (2000) and Yours, Mine and Ours (2005). Co-writer James Gunn later went onto direct the likes of Slither (2006), Super (2010), Guardians of the Galaxy (2014) and Guardians of the Galaxy: Vol. 2 (2017), and The Suicide Squad (2021).
(No. 10 on the SF, Horror & Fantasy Box-Office Top 10 of 2002 list).
---
---