USA. 2013.
Crew
Director – Raja Gosnell, Screenplay – Karey Kirkpatrick, David Ronn, Jay Scherick, J. David Stern & David N. Weiss, Story – David Ronn, Jay Scherick, J. David Stern & David N. Weiss, Producer – Jordan Kerner, Photography (3D) – Phil Meheux, Music – Heitor Pereira, Visual Effects Supervisor – Richard R. Hoover, Visual Effects – Hybride (Supervisors – Thierry Delattre & Philippe Theroux) & Sony Pictures Imageworks, Special Effects Supervisor – Ryal Cosgrove, Gargamel Makeup – Illusion Industries Inc, Production Design – Bill Boes. Production Company – Sony Pictures Animation/Kerner Entertainment Company.
Cast
Hank Azaria (Gargamel), Neil Patrick Harris (Patrick Winslow), Brendan Gleeson (Victor), Jayma Mays (Grace Winslow), Jacob Tremblay (Blue Winslow)
Voices
Katy Perry (Smurfette), Jonathan Winters (Papa Smurf), Christina Ricci (Vexy), J.B. Smoove (Hackus), John Oliver (Vanity Smurf), George Lopez (Grouchy Smurf), Anton Yelchin (Clumsy Smurf)
---
Plot
Gargamel has now become a successful stage magician in Paris. However, his supply of magic is running low and he needs more Smurf essence. Thinking about how Smurfette, the Naughty who was originally his creation, was converted into one of the Smurfs, he wonders if he could not do the same with Vexy and Hackus, the two other Naughties he has created, and then drain their essence. In the Smurf village, Smurfette is upset that none of the Smurfs have remembered it is her birthday (when in fact they are planning a surprise party for her). Gargamel uses the last of his magic to open a portal to the Smurf village and sends Vexy through to abduct Smurfette. Grandpa, joined by Vanity, Grouchy and Clumsy, go to beg Patrick's help in rescuing Smurfette. Joined by Patrick's estranged stepfather Victor, they head to France. However, Gargamel has concocted a scheme to trick Smurfette by getting her to accept him as her father.
---
The Smurfs were originally a creation of Belgian cartoonist Pierre Culliford. First appearing in a children's comic-strip in 1958, they gained their own title in 1959. This led to much popularity and a host of merchandising. There was one previous animated film, Smurfs and the Magic Flute (1976), although the work that brought them to world attention was The Smurfs (1981-90), an animated tv series from Hanna-Barbera.
The Smurfs were then revived on the big-screen in The Smurfs (2011), which proved to be a modest hit. It was one of a host of modern films that we have seen since The Flintstones (1994) where animated tv series of the past have been replicated in live-action. It came from the hand of Raja Gosnell who has made mainstream comedy fare such as Home Alone 3 (1997), Never Been Kissed (1999), Big Momma's House (2000) and Yours, Mine and Ours (2005). Since the 00s, Gosnell has specialised in other animated tv series to film adaptations such as Scooby-Doo (2002) and Scooby Doo 2: Monsters Unleashed (2004), as well as the incredibly irritating talking animals film Beverly Hills Chihuahua (2008). Gosnell's films are utterly mainstream in their pitch – they trade in inane slapstick, cutsie laughs, smartass one-liners and avoid any intellectual depth with a vengeance. Despite Gosnell, The Smurfs emerged less painful than some others of its ilk such as Yogi Bear (2010) and the Alvin and the Chipmunks films.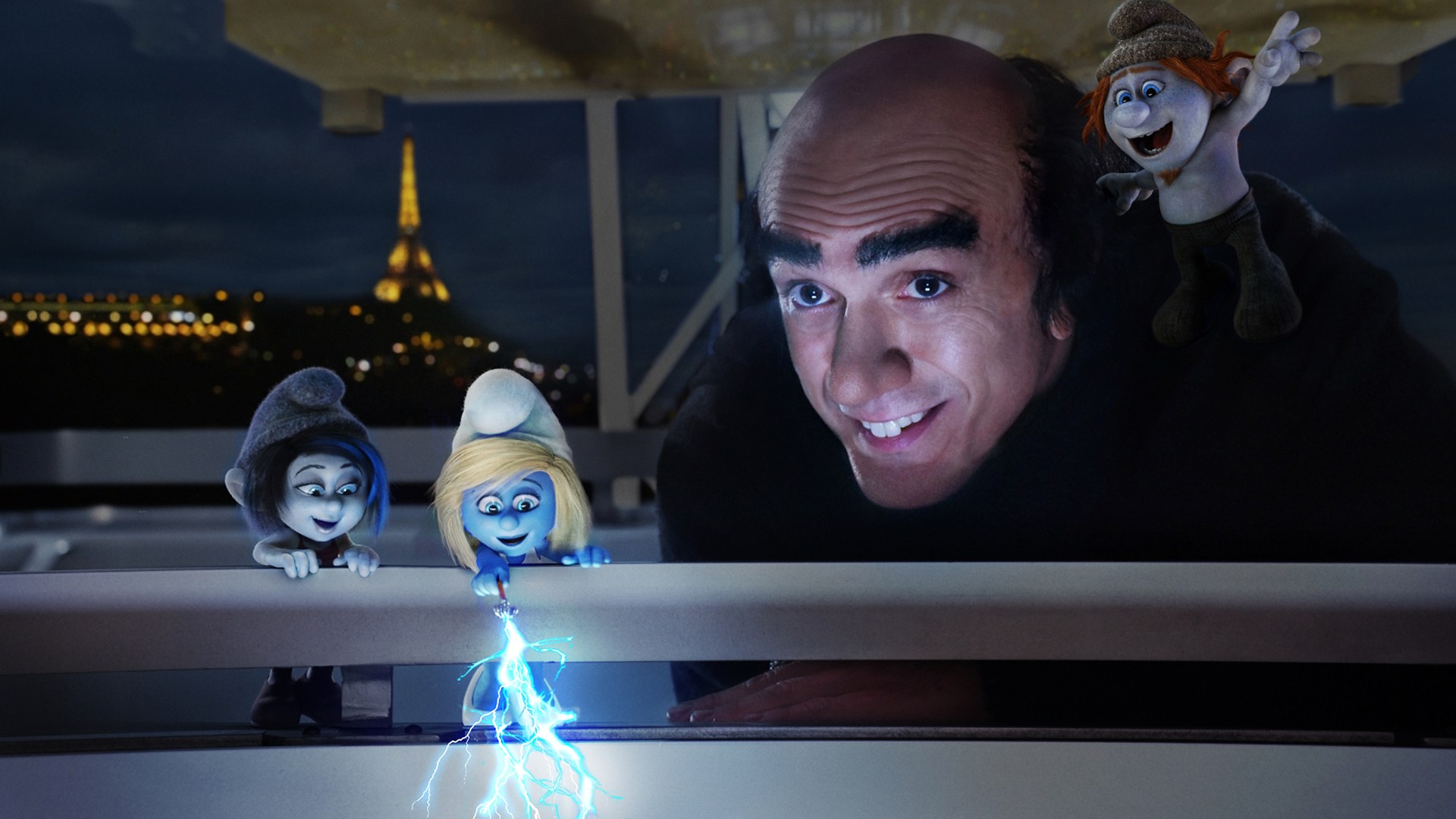 Most of the essential creative personnel behind the first film have been reunited here. Alas none of the innocuousness that first The Smurfs film had is present when it comes to The Smurfs 2. It is Raja Gosnell back making the same lazy family entertainment he always does. The film never consists of anything more than a series of slapstick gags – the Smurfs in inane antics in Gargamel's hotel room and rolling through the streets on a hotel cart; flying on the back of geese and causing food to splatter over posh outdoors diners; a Ferris Wheel running amok through the streets (although the way the wheel is designed and is seen rolling on top of the glass cages the passengers sit in would actually crush everybody inside alive); the climactic scenes with Gargamel being bounced everywhere with his magic gone wrong. All of these have been tooled for 3D to pander to a constant wow factor for children in seeing things rush towards them out of the screen.
In all of this, Raja Gosnell is making a film that plays for cutsie slapstick – there is very little else to The Smurfs 2 other than a progression between each slapstick set-piece. The film seems infected with a knowing cynicism and many lines make a play for the smartass and/or namedrop popular culture, although not quite as excruciatingly as in Beverly Hills Chihuahua. When studios start talking about reliance on franchises, this is the actuality of what you get – a film bereft of any kind of creativity beyond being a giant machine designed to make the single digit age-groups laugh.
The inanity is allowed to take over the film so much that Neil Patrick Harris, one of the saviours of the first film and an able comedy performer in his own right, barely even has to sign in to collect his cheque. Jayma Mays gets even less screen time. Most of the show ends up being handed over to Hank Azaria who goes for broke and plays as one-dimensionally black-hearted as it is conceivable to do. The surprise addition to the crew this time is Irish actor Brendan Gleeson as Neil Patrick Harris's estranged stepfather, which he plays with entertaining broadness – although even then, Gleeson suffers the indignity of being transformed into a duck for much of the middle of the film.
This was followed by the animated Smurfs: The Lost Village (2017).
(Winner in this site's Worst Films of 2013 list).
---
---