---
UK. 1988.
Crew
Director – Nicolas Roeg, Screenplay – Dennis Potter, Producer – Rick McCallum, Photography – Alex Thomson, Music – Stanley Myers, Production Design – David Brockhurst & Curtis A. Schnell. Production Company – Handmade Films.
Cast
Theresa Russell (Linda Henry), Gary Oldman (Martin), Christopher Lloyd (Henry Henry), Sandra Bernhard (Nurse Stein), Colleen Camp (Arlanda), Seymour Cassel (Dr Bernard Fairmont), Leon Rippy (Truck Driver)
---
Plot
North Carolina housewife Linda Henry is unhappy, feeling ignored by her doctor husband Henry who spends all his time with his beloved model trains and being spanked by his nurse. Linda then meets the mysterious British youth Martin who startles her by telling her that he is the son she gave birth to after she was raped in a fairground at the age of fifteen. She was forced to adopt the child out and he has now come in search of the mother he never had. However, it is not certain whether Martin is real or a figment of Linda's unstable mind.
---
Track 29 marks an interesting meetings of minds between Nicolas Roeg, director of films like Performance (1970), Walkabout (1970), Don't Look Now (1973) and The Man Who Fell to Earth (1976) and Dennis Potter, writer extraordinaire of such tv series as Pennies from Heaven (1978), The Singing Detective (1986), Blackeyes (1989) and Karaoke (1996) and various films like Pennies from Heaven (1981), Dreamchild (1985) and The Singing Detective (2003). (Indeed, Track 29 has a number of similarities to Schmoedipus (1973), an earlier tv play that Dennis Potter wrote about a man turning up on a woman's doorstep, claiming to be the son she gave away).
Naturally both Potter and Roeg bring their own particular thematic obsessions – Dennis Potter his fixation with a peculiar meeting ground where dream and reality blur together and of fantasy and artifice that becomes more interesting than reality; Nicolas Roeg his preoccupation with the creation of film as a text of interwoven, constantly overlapping clues and symbols. In Track 29, the preoccupations of either combine in ways that are fascinating. It is surely only an alliance of these two that could result in a film whose principal themes include dream and reality, incest, model trains, adultery, spanking and murder.
More than anything, Track 29 is a film about retreat from reality – a classic Dennis Potter theme – and ultimately back to the womb. Everyone in the film seems to want to retreat to childhood – Gary Oldman's behaviour becomes increasingly child-like throughout; Theresa Russell, frustrated in her desire to have a child, lives in a room filled with dolls that she mothers; Christopher Lloyd obsessively plays with toy trains and has his bottom spanked. Indeed, the most psychologically functional person in the film appears to be Sandra Bernhard's caustically tongued nurse.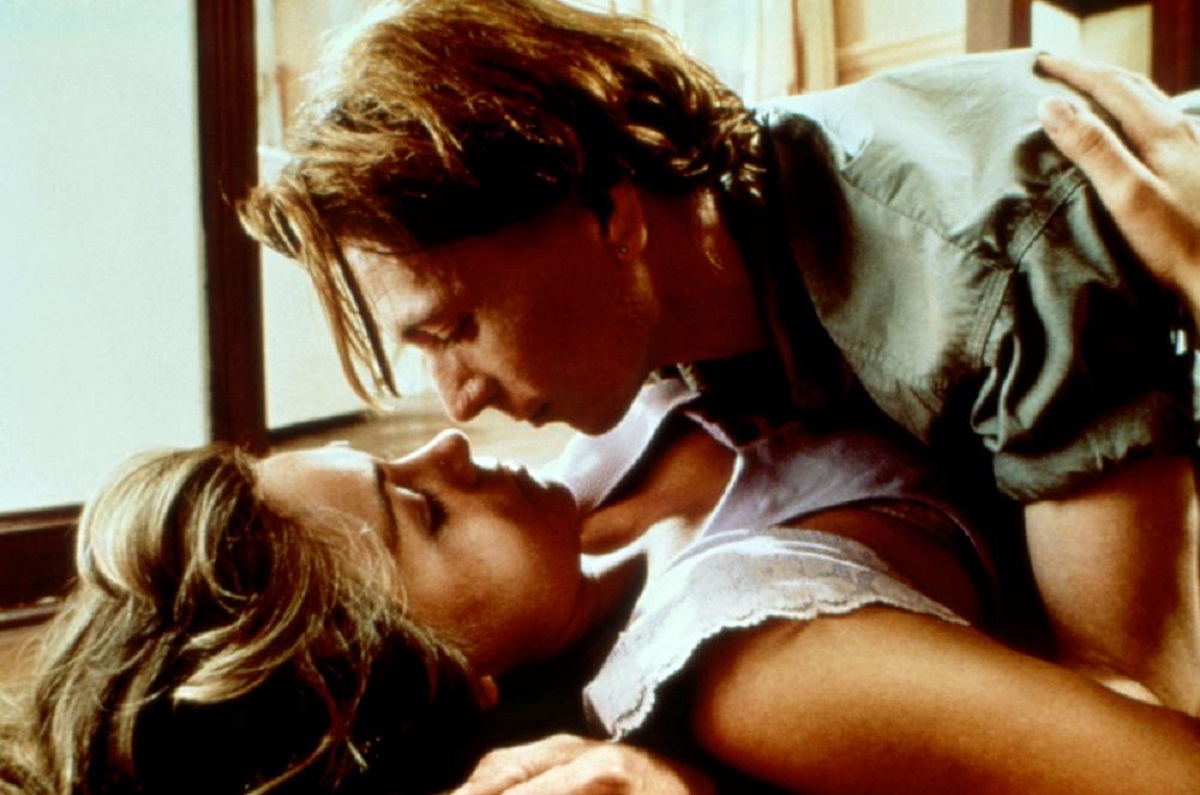 Nicolas Roeg plays with the film. It is a densely-laden map of symbols and Roeg makes connections everywhere – symbolic parallels between Christopher Lloyd's model trains and the sparking dodgem car of the boy that raped Theresa Russell; direct crosscuts between Russell's attempts to commit suicide by drowning and her giving birth to her rape child; between trains puffing and entering in and out of tunnels and sex; between the landscape of the model railroad and the landscape of North Carolina suburbia; between lost children and Theresa Russell's bedroom filled with dolls. Even the film's premise seems to playing on a pun between locomotives and being 'loco'.
On the film's downside, Nicolas Roeg allows his entire cast their heads. Theresa Russell does her vacant airy thing at its worst, and it convinces nobody, least of all her atrocious attempt at a Southern belle accent. Almost as bad is Gary Oldman whose infantile act is allowed to go on to an excess that most other directors would have balked at (although his singing scenes are very good). Christopher Lloyd is somewhat better, but he seems miscast, never manages to fully submerge those mobile eyebrows and the comic imperturbability that one has come to expect from him into what should be the role of an extremely dull person.
In the end, Track 29 is a game that strangely fails to move one. There is much about it that is good – particularly the way the film is deceptively structured to draw one in as to Gary Oldman's appearance initially being real then suddenly pulling back to show Theresa Russell sitting at a table in a bar talking to herself. Thereafter though, Roeg and Dennis Potter lose hold of the film and it sits in a nether void taken up by the caterwauling indulgences of its cast. Some occasional other moments stand out – a sequence that takes anarchic pleasure in smashing up the toy trains, culminating in a surrealistic apocalypse where trucks come smashing into Theresa Russell's bedroom, and the ending that confounds as to whether Gary Oldman is real or not – but most of Track 29 seems a strangely unaffecting game of intellectual sleight of hand.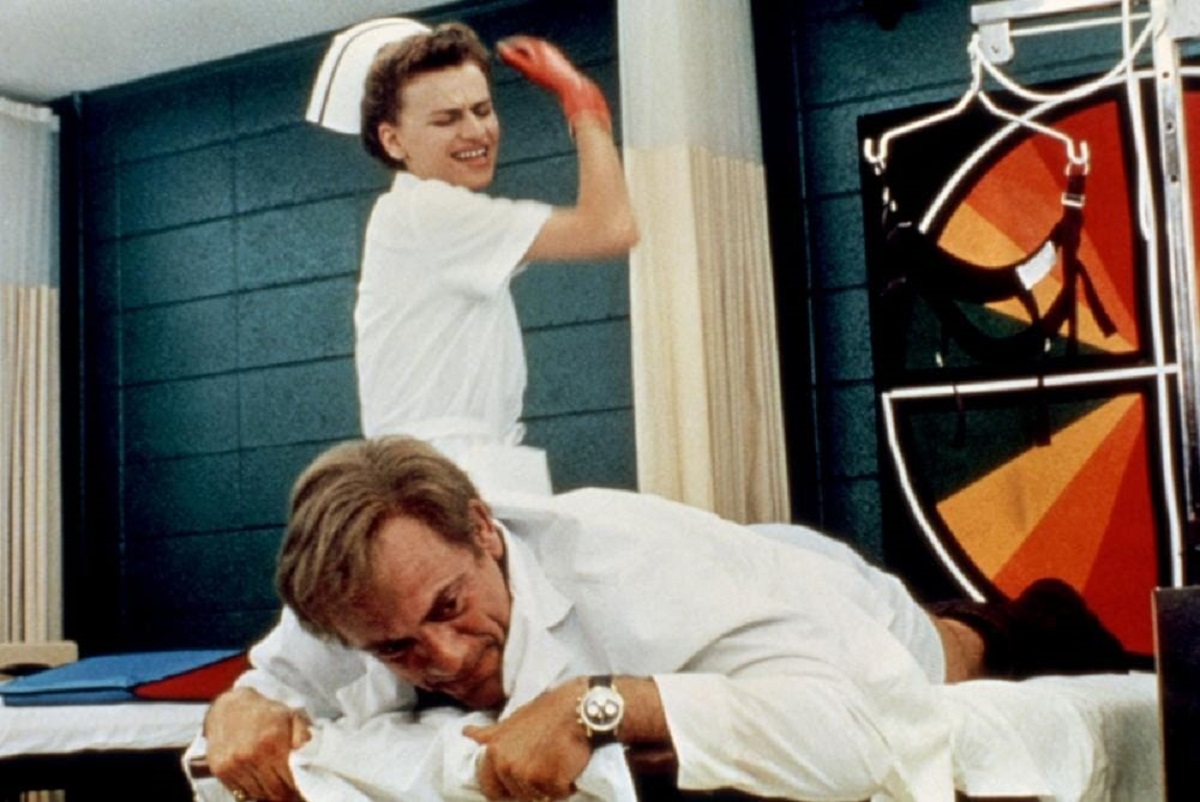 Dennis Potter's other genre works are:– the tv play Alice (1965), part an adaptation of Alice in Wonderland (1865), part an examination of the relationship between Lewis Carroll and Alice Liddell; the controversial tv play Son of Man (1969), a Passion Play that depicts Jesus Christ as racked with anxiety and doubt; the tv play Angels Are So Few (1970) about a housewife who receives a visit from a man who claims to be angel; the meta-fiction Follow the Yellow Brick Road (1972) where a man believes he is a character in a tv show; Brimstone and Treacle (1976/1987) about a man who claims to be The Devil; the mini-series Pennies from Heaven (1978) concerning Depression-era people who are constantly expressing their inner turmoils in lip-synched musical fantasy sequences; the tv play Blue Remembered Hills (1979) where Potter conducted the unique device of depicting his childhood during the War with adults cast in the roles of children; Pennies from Heaven (1981), the Hollywood remake of the earlier mini-series; Brimstone and Treacle (1982), a film remake of the tv play; Dreamchild (1985) about the life of the aging Alice Liddell; The Singing Detective (1986) where a man in a hospital bed, his buried past and the plot of a cheap detective novel blur together into a dazzling meta-fiction; Blackeyes (1989) about a woman in a sensationalistic novel who comes to life; Lipstick on Your Collar (1993) where the people in a government office in the 1950s express their fantasies in musical numbers; the tv play Midnight Movie (1994) where an old horror movie screening on tv and a mysterious unsolved murder in the present blur together; Cold Lazarus (1996), the final work written by Potter where the memories of dead writer are ransacked by the people of the future; and The Singing Detective (2003), the posthumous film adaptation of his tv mini-series.
Nicolas Roeg's other genre films are:– Don't Look Now (1973), a complex and beautiful film about precognition; The Man Who Fell to Earth (1976) about an alien visitor; the Roald Dahl adaptation The Witches (1990); the supernatural thriller Cold Heaven (1991); and Puffball (2007) about witchcraft and pregnancy.
---
---