---
Crew
Director/Story – Roar Uthaug, Screenplay – Espen Aukan, Producers – Espen Horn & Kristen Strand Sinkerud, Photography – Jallo Faber, Music – Johannes Ringen, Visual Effects Supervisor – Esben Syberg, Visual Effects – Copenhagen Visuals (Supervisor – Alex Oddbratt), Ghost (Supervisor – Claus Kogsbøll), Gimpville (Supervisor – Lars Erik Hansen), OPCM, Shortcut VFX (Supervisors – Dennis Bahnson & Simon Sandin), StaticVFX Studio (Supervisor – Alan Dumitru), Swiss International (Supervisors – Andreas Weidman & Leo Wilk) & Varg Studios (Supervisor – Alexander Kadim), Special Effects Supervisor – Hummar Højmark, Makeup Design – Dorte Pedersen, Production Design – Ulrika Axen & Koja-Tobias Eiving. Production Company – Motion Blur Produksjons.
Cast
Ine Marie Willmann (Professor Nora Tidemann), Kim Falck (Andreas Isaken), Mads Sjøgåsrd Pettersen (Captain Kristoffer Holm), Gard B. Eidsvold (Tobias Tidemann), Anneke von der Lippe (Prime Minister Berit Moberg), Fridtjov Såheim (Defence Minister Frederick Markussen), Dennis Storhøi (Defence Chief General Sverre Lunde), Karoline Viktoria Sletteng Garvang (Sigrid Hodne), Bjerne Helde (Court Chief Rikard Sinding), Ollie [Billy] Campbell (Dr David Secord), Yusuf Toosh Ibra (Amir)
---
Plot
Explosions created by an engineering project to tunnel through a mountainside in Dovre succeed in awakening something inside the mountain. Palaeontologist Nora Tidemann is rushed in for consultation with the Prime Minister and defence chiefs to analyse what has happened. Viewing the video footage, she is certain that they are looking at a giant footprint. She insists on finding her reclusive, cantankerous father and they confront what has emerged – a giant troll. The troll starts heading towards Oslo, but nothing the military bring against it has any effect. As the military prepare for extreme solutions – firing missiles that would raze the city – Nora and others try to find a less drastic means of stopping the troll.
---
Troll became an unexpected No 1 hit on Netflix, quite a surprise for a foreign language film. It comes from Norwegian director Roar Uthaug, who first appeared with the popular horror film Cold Prey (2006). Uthaug subsequently went on to make the fantasy film Magic Silver (2009), the Mediaeval survival film Escape (2012), and the acclaimed disaster film The Wave (2015). The film that Uthaug was previously most known for was his English-language attempt to reboot the Lara Croft franchise with Tomb Raider (2018).
There have been assorted films made about Trolls ranging from the cheap Troll (1986) and its notoriously bad sequel Troll 2 (1990) to animated fare such as A Troll in Central Park (1994), The BoxTrolls (2014) and Trolls (2016), plus sporadic appearances among the various creatures that appear in epic fantasy films. The troll is a figure that originates from Norwegian folklore where they are ancient, man-eating and can be turned to stone by sunlight. More recently, this variety of trolls appeared on film with Andre Øvredal's hilarious Found Footage film The Troll Hunter (2010), which everybody was rushing to make comparison to as Troll came out.
Troll has essentially been conceived as a Monster Movie and a modern Mass Destruction Spectacular. The assorted visual effects houses do a reasonable job of creating shots of the giant troll striding through the city. My immediate comparisons went out to Shin Godzilla (2016) where Godzilla was rebooted and the emphasis placed on titanically-sized scenes of mass destruction contrasted with the apparatus of government, emergency management agencies and military as they struggled to deal with this.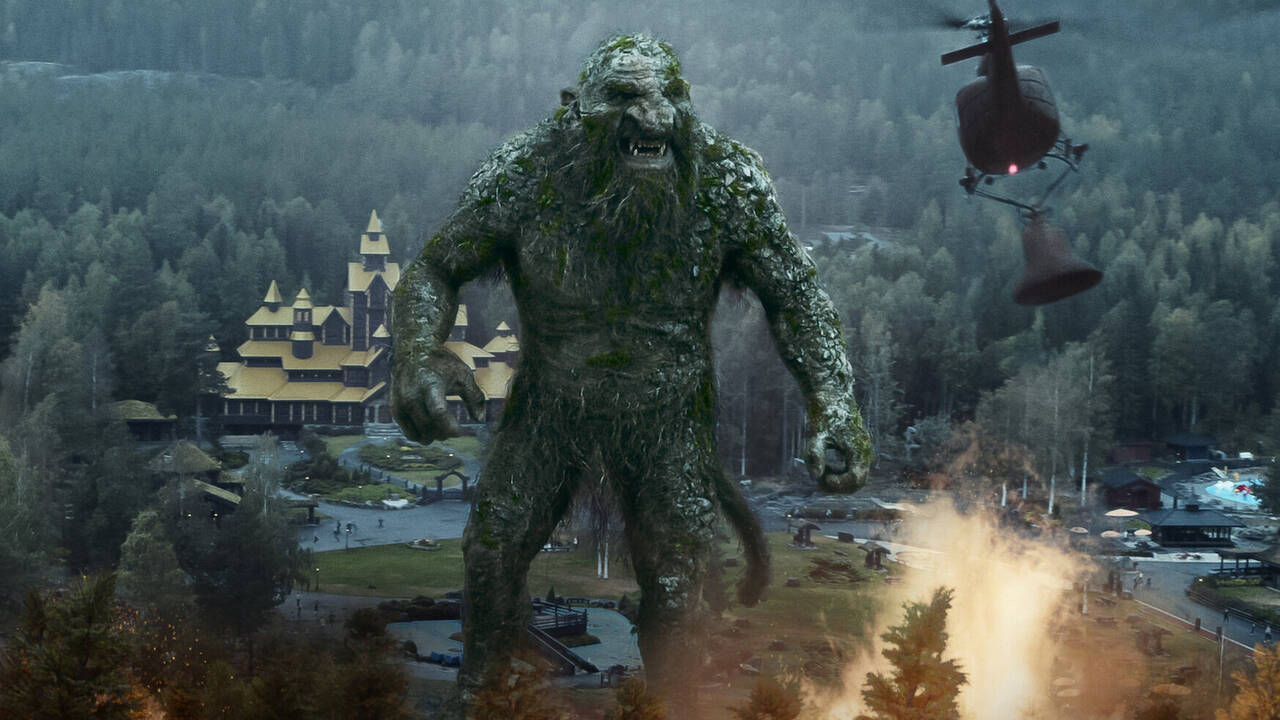 In these regards, Troll comes out weaker. I compare it to Shin Godzilla and the US-remake Godzilla (2014). In these, the respective filmmakers create considerable awe in depicting the monster of the show crushing their way through a city. What we get here is relatively light on the mass destruction side – occasional shots of buildings and vehicles being crushed, but only a single person being killed in all of this, which seems absurdly PG-rated.
Moreover, the scale of the show tends to be undercut by easy audience-identification characters – the ruthless defence minister, the girl hacker who defies orders. The scene where Fridtjov Såheim's minister gets punched out and the comedy relief over Kim Falck quitting his job seem there for easy predictable laughs and cheers. When the film arrives at a fairly light dramatic resolution after 101 minutes, you feel like there should have been more to it than there was.
---
Trailer here
---