(Hwasango)
---
Crew
Director – Tae-gyun Kim, Screenplay – Tae-gyun Kim, Dong-heon Seo & Jung Ahn-chul, Producer – Seoung-Jae Cha, Photography – Yeong-taek Choi, Music – Yeong Park, Art Direction – Geun-yeong Jang & Kyeong-hie Kim. Production Company – Shin Seung-soo Productions.
Cast
Kyuk Jang (Kim Kyung-soo), Su-ro Kim (Jang Ryang), Min-a Shin (Yoo Chae-yi), Jun-ho Heo (Mr Ma), Hyo-jin Kong (Soh Yoo-seo), Sang-woo Kwon (Song Hak-sim), Hyeong-jong Kim (Shimma)
---
Plot
Kim Kyung-soo becomes a new pupil at Volcano High. The school is divided between rival factions of sports teams. Kyung-soo demonstrates unusual martial arts abilities up against the secret master of the school, the librarian Song Hak-kim. The bullying Jang Ryan then places the principal under a spell and contrives to have Hak-kim arrested for this. As a hunt ensues for the principal's Secret Manuscript of power, Jang Ryan establishes himself as the toughest team leader by ruthlessly bullying all the other teams into submission. The other teams band together, believing that Kyung-soo has the power that can defeat Jang Ryang. At the same time, the scheming assistant principal has brought in a gang of other teachers who are tougher than they all of them.
---
Since the latter half of the 1990s, South Korean cinema has been making remarkable strides. The Koreans have with relentless regard been looking to both Hong Kong and American models – effortlessly adopting the pyrotechnic, hard-boiled crime thrillers of John Woo – to Hollywood genres such as the serial killer film, the teen slasher, not to mention highly original works such as the remarkable Lies (1999).
Volcano High is a clear attempt to mimic Hong Kong's Wu Xia cinema and its OTT martial balletics and high-flying wirework. What is unique about this is that the Wu Xia film is a genre that, while immensely popular in Asia, is unknown in South Korea. What is doubly interesting is that this is Hong Kong Wu Xia as filtered through the recent crossover successes in Hollywood – in particular the bullet-time action and 3D pans of The Matrix (1999) and the flying, wall-climbing visual poetry of Crouching Tiger, Hidden Dragon (2000). It is Wu Xia that is at once second-hand in its imitation.
Volcano High's amusing conceit is to transplant the Wu Xia film into a high school setting. It is an entirely fantatacised high school setting that is contemporary but at the same belongs to no particular time – using sports teams instead of warring clans, where the librarian becomes the secret master, while adding searches for secret scrolls of power and wire-flying dances in the sports stadium. The martial arts moves, wire flying, virtual pans and so on are energetic, if slightly hackneyed moves – and moreover clearly looks like wire-work rather that the effortless suspension of disbelief that we see in the Hong Kong equivalents.
That said, director Tae gyun-kim demonstrates an enormous degree of assurance. For every Wu Xia/Matrix-styled move he makes, he is constantly wittily undercutting it with tongue firmly planted in cheek. The pre-credits contains an hilarious parody of the scene in X-Men (2000) where Ian McKellen psychically holds bullets back in the air, with a teacher flinging a piece of chalking at Kyuk Jang and he freezing it stilled in front of his forehead.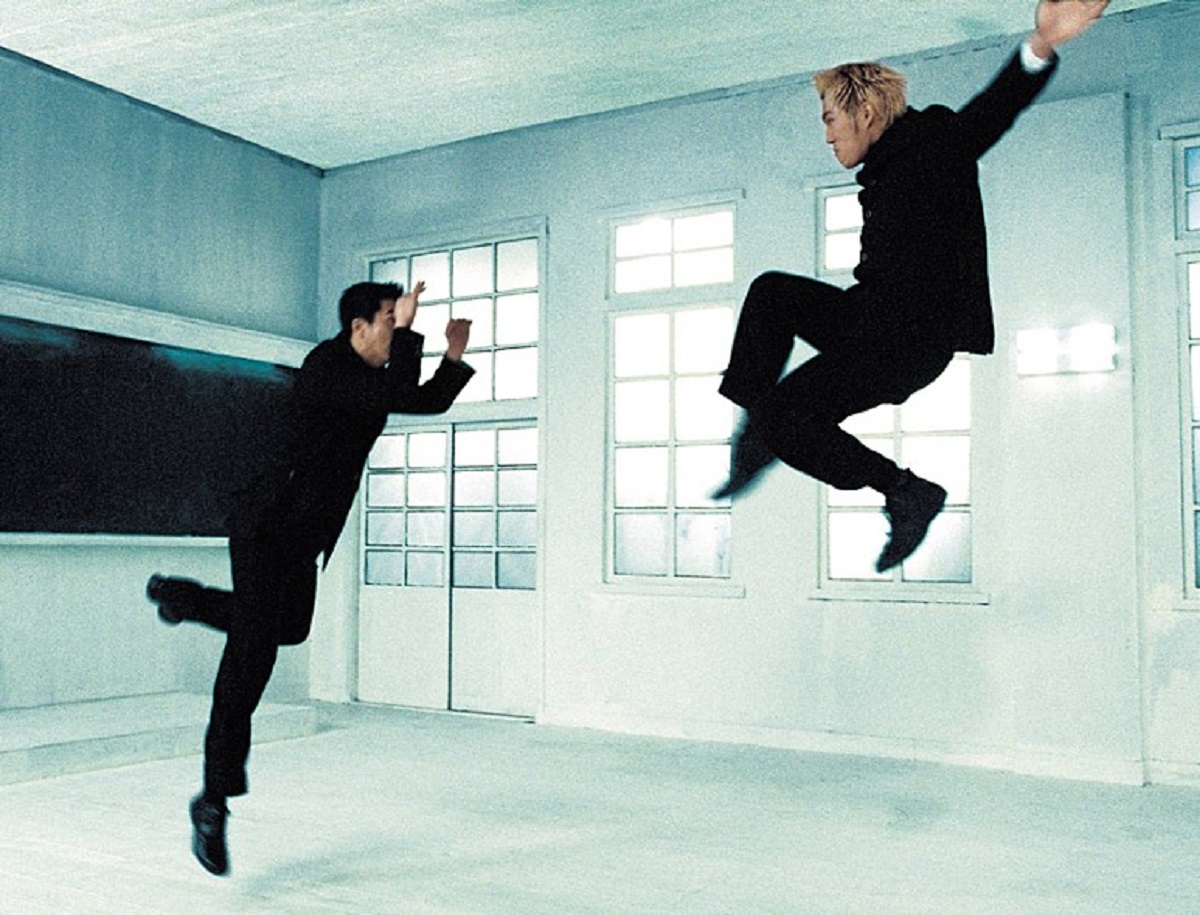 The film is visually abuzz with a dazzling and witty blend of split screen cutups, subtitles and visual cuts. Indeed, Tae gyun-kim is a director who has a sponge-like ability to steal the latest, most up-to-date style from international counterparts, reprocess it with as much smartness as they do, and wittily spoof it and make it his own at the same time. All the cast give excellent performances, especially Kyuk Jang whose balance between assured martial arts master and a gauche, goofy smile is side-splitting.
For all Tae gyun-kim's assuredness of style, wit and virtuoso directorial skill, Volcano High falls short of being a great film. Kae does not know when enough of a good thing is enough. The film, at 118 minutes, is overly long. In some ways it feels like a film and its sequel having been squeezed into one. The film spends the bulk of its time building Jang Ryang up as the villain and setting Kim Kyung-soo up to fight him as a classic underdog-discovers-his-innate-skill battle. However, about three-quarters of the way in, the film sidelines Jang Ryang and introduces the new threat of Mr Ma and the teachers. The final conflict with Jang Ryang is perfunctorily dismissed, while the freeing of Hak-kim from imprisonment is entirely forgotten about.
The film could have done entirely without the new teachers and would have been better off for it – it would have been nearly half-an-hour shorter and the building up to the climactic confrontation with Jang Ryang would have served much more satisfyingly. That said, the climax amid a stadium of exploding sprinklers is a moderately entertaining and the film itself eminently enjoyable and satisfying.
The only other genre effort made by Tae gyun-kim has been the subsequent horror film Higanjima: Escape from Vampire Island (2009).
---