---
Crew
Director/Screenplay – Joel Potrykus, Producers – Andrew D. Corkin, Joel Potrykus, Bryan Reisberg & Ashley Young, Photography – Adam J. Minnick, Music – Timothy DeWitt, Jamie Grefe, Brian Harding & Andrew Miller, Makeup Effects – Jeffrey Husselman, Production Design – Michael Lapp. Production Company – Uncorked Productions/Easy Open Productions/Sob Noisse.
Cast
Ty Hickson (Sean), Amari Cheatom (Cortez)
---
Plot
Sean lives in an abandoned trailer in the woods where he is engaged in a series of alchemical experiments. His friend Cortez visits to bring supplies but Sean becomes upset after he finds that Cortez has left his medication behind. Sean offers everything he has to The Devil for success in his experiments. He then begins to spiral down into madness where he cannot be sure whether what is happening and the visions that appear to him are real or not.
---
The Alchemist Cookbook was the third film from Michigan-based filmmaker Joel Potrykus. Potrykus has previously made Ape (2012), Buzzard (2014) and subsequent to this Relaxer (2018), a mind-boggling masterpiece about a guy playing a videogame on a couch that defies any easy attempts to pigeonhole it. I had previously seen Ape at a midnight screening where it was being promoted as a cult film, although it only left me emerging from it afterwards scratching my head.
I must admit that I was intrigued enough to watch the film by the title alone, which has clearly been intended as a play on the popular, frequently banned revolutionary manual The Anarchist Cookbook (1971) by William Powell. Although for all the title The Alchemist Cookbook and the chemistry experiments we see Ty Hickson engaged in, it is never actually clear what he is trying to achieve.
Joel Potrykus is an independent filmmaker and it goes without saying that The Alchemist Cookbook defies commercial filmmaking conventions. The whole film is shot in an abandoned trailer in the woods and the surrounding area and lake (so small it should really be called a pond). For much of the running time, there is only one character present – Ty Hickson's Sean. He is joined in several scenes by his best friend Amari Cheatom – there is one particularly funny scene where Hickson dares Cheatom to eat a tin of catfood – but most of the show involves Hickson alone in the trailer and woods.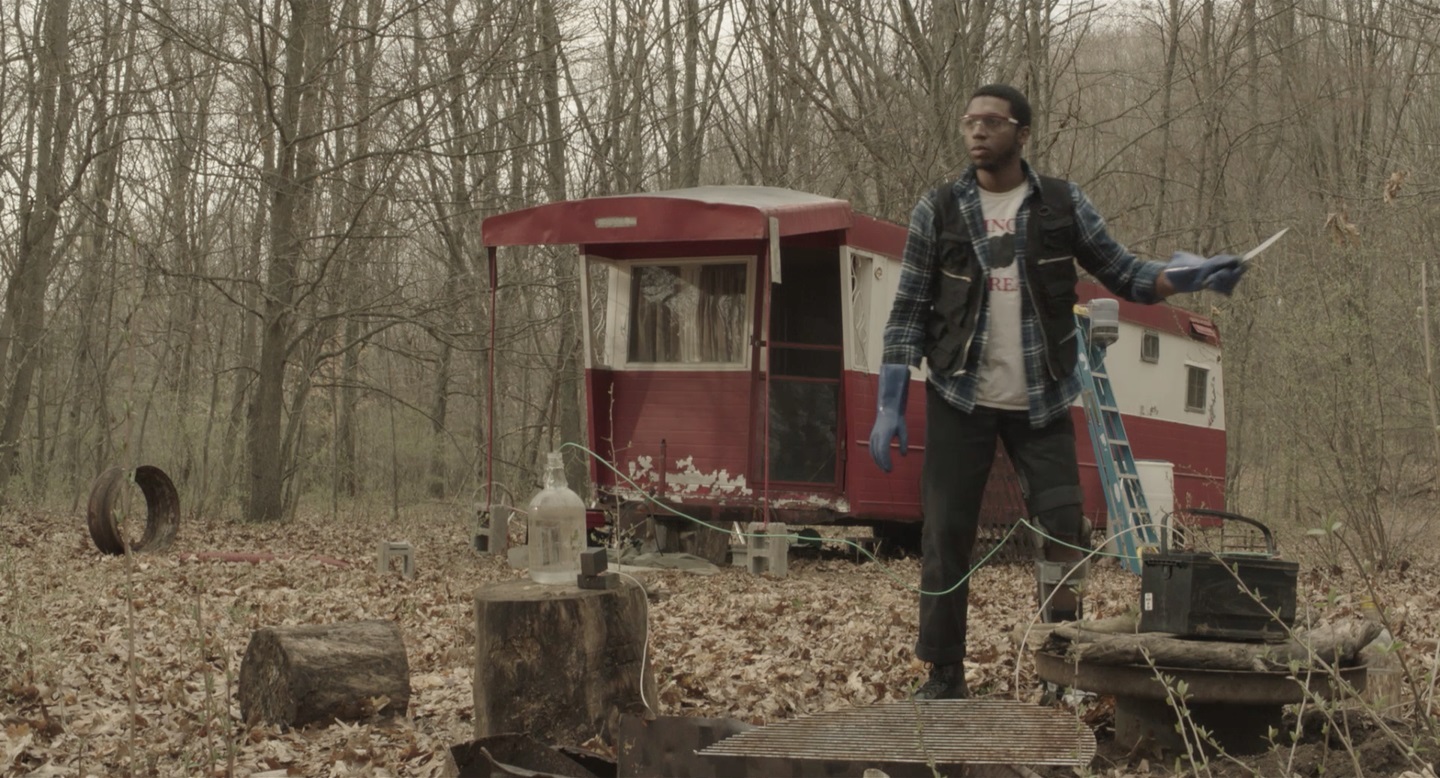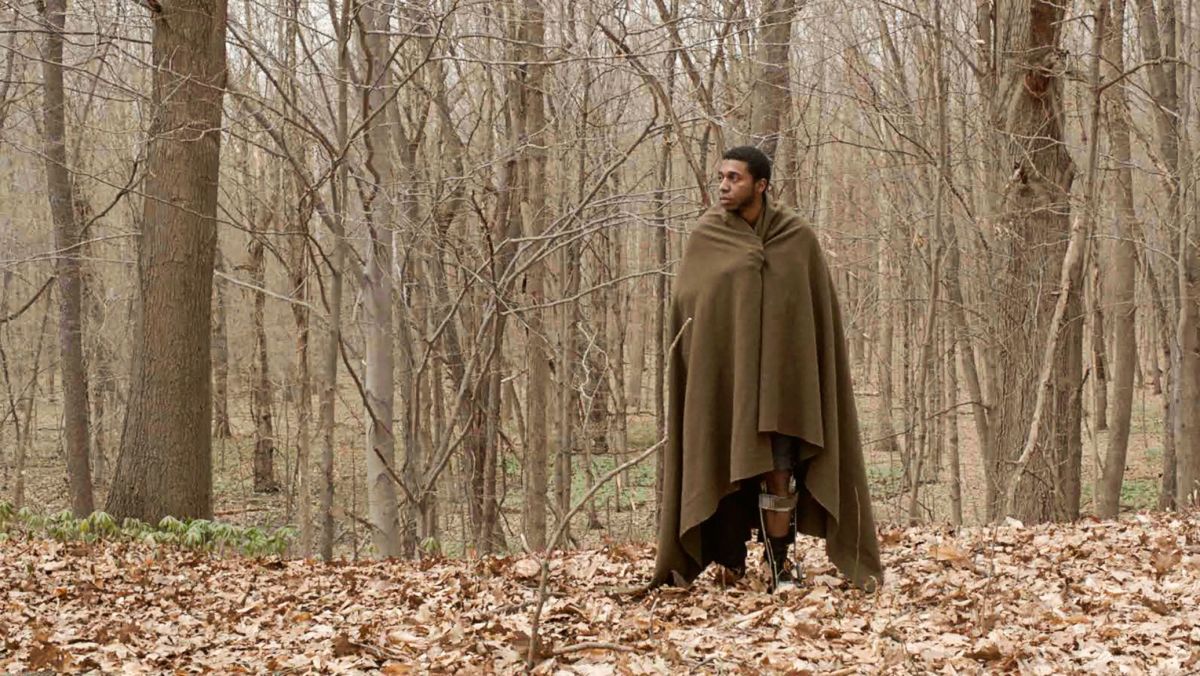 On the other hand, I also had the memory of the excruciating Alien Implant (2017), which very similarly consisted of a single character alone in a cabin in the woods as her mental state deteriorated. As The Alchemist Cookbook started in, Potrykus's focus on the dull observance of Ty Hickson pottering around doing nothing seemed to be heading in the same direction. Unlike Alien Implant, The Alchemist Cookbook sits on the fence between the infuriatingly dull and the quite interesting.
Joel Potrykus makes the film into a fascinating portrait of paranoia and disintegrating mental health as Hickson appears to be going off the rails without his psychiatric meds. We have a scene where Amari Cheatom returns after something unspecified has gone wrong and he is pursued by a never-seen gang whereupon he and Hickson argue. A little later there is the rather alarming scene where a bloodied Cheatom appears to Hickson over an outdoor fire where his dialogue runs between an angry diatribe and moments where he seems to be taken over by The Devil. Or maybe – we are not sure what has happened to him, whether Ty Hickson or the gang killed him. He also disconcertingly has white eyes, although you are not sure if this is a trick of the light or he has been resurrected from the dead. Potrykus remains ambiguous, giving no firm clues in either direction.
This ambiguity continues throughout the rest of the film. Earlier there is a scene where Ty Hickson offers his body and even his teeth to The Devil in return for success. We have seen enough horror movies and we expect something to happen but nothing does for a long time. Later though we have a scene where Hickson pulls one of his teeth out in front of the mirror, plus a disturbing scene where he is seen having devoured the intestines of his cat. The latter half of the film charts Hickson's progressive mental deterioration.
In the final scene [PLOT SPOILERS], he weighs his body down and attempts to drown himself in the lake but finds he cannot and returns to shore where the final shot of the film is a freeze-frame on his expression of fear as he turns to see something off-screen directly behind where the camera is looking at him.
---