---
Crew
Director/Screenplay – John Hough, Story – Michael Vines & Burt Wetanson, Producers – Chris Harrop & John Quested, Photography – Harvey Harrison, Music – Alan Parker, Special Effects – Allen Benjamin, Production Design – David Hiscox. Production Company – Manor Ground.
Cast
Sarah Torgov (Cynthia), Rod Steiger (Pa), Yvonne de Carlo (Ma), Janet Wright (Fanny), Michael J. Pollard (Woody), William Hootkins (Teddy), Mark Ericksen (Jeff), Caroline Barclay (Terri), Fiona Hutchinson (Lynn), Mark Lindsay Chapman (Rob), Stephen Shellen (Paul)
---
Plot
Cynthia is just released from a psychiatric institution. She heads off on holiday with a group of friends in order to recover. However, their plane develops engine trouble and they are forced to put down on a remote island. There they meet a family headed by a patriarch who insists on ridiculously outmoded moral standards – on saying grace at dinner, that they clean their plates before leaving the table and that everybody goes to bed at 8:30 pm. He and his wife have three middle-aged offspring who all have the minds of children. The weird family now make the outsiders their playthings, sadistically pursuing and then killing them.
---
Behind American Gothic, there is a potentially amusing satire on Bible Belt Americana and the words it mouths about Family Values. Indeed, the film's premise and especially its poster are construed as a take on Grant Wood's famous painting American Gothic (1930) – the often copied and parodied one with the puritan man with a pitchfork and his wife staring sternly out of the frame.
However, the film misses the satiric potential by miles and is witless. The set-up is conducted in a passable way but when the psychos – a group of giggling, overweight grownups playing at being children – are let loose they are so ludicrous and unthreatening one can no longer take the film seriously.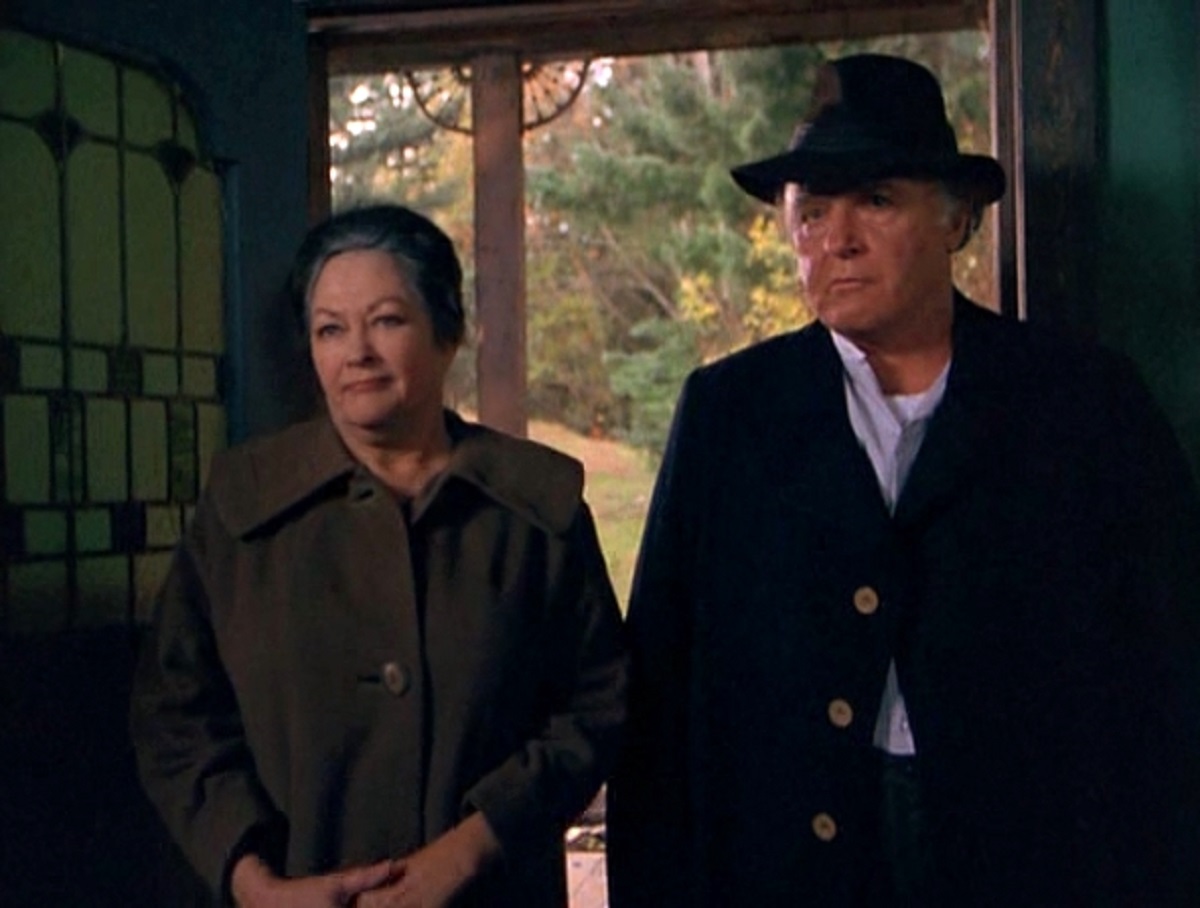 The film has almost been conducted as an opportunity to let its cast go wholly over the top, at which Rod Steiger, a past master when it comes to overacting, at least shows the newcomers in a splendid display of theatrics how real ham acting should be done. The film was a big comedown for British director John Hough who once made the excellent The Legend of Hell House (1973).
John Hough's other films are:- Hammer's Twins of Evil (1971), the haunted house film The Legend of Hell House (1973), the Disney films Escape to Witch Mountain (1975) and Return from Witch Mountain (1978) about psi-powered alien kids, the Disney ghost story The Watcher in the Woods (1980), Incubus (1982) about a demonic rapist, the British boy's air hero Biggles (1986), Howling IV: The Original Nightmare (1988) and Bad Karma/Hell's Gate (2002).
---
---