(Anatomy)
---
Germany. 2000.
Crew
Director/Screenplay – Stefan Ruzowitzky, Producers – Jakob Claussen & Thomas Wöbke, Photography – Peter Von Haller, Music – Marius Ruhland, Digital Effects – CA Scanline Production GmBh (Supervisors – Stefanie Stelf & Thomas Zauner), Makeup Effects – Nanni Gebhardt-Seele & Stephanie Hilke, Model and Sex Makeup Supervisors – Joachim Gruninger & Birger Laube, Production Design – Ingrid Henn. Production Company – Deutsche Columbia Pictures Filmproduktion/Clausse + Wöbke Production.
Cast
Franka Potenta (Paula Henning), Benno Fürmann (Hein), Anna Loos (Gretchen Mäollmann), Sebastian Blomberg (Caspar/Oliver Kaufman), Holger Speckhahn (Philip), Traugott Buhre (Professor Dr Rolf Grombeck), Oliver K. Wnuk (Ludwig), Arndt Schwering-Sohnrey (David Rolof), Antonia Cacilia Holfelde (Gabi), Rudiger Vogler (Dr Henning), Werner Dissel (Grandfather Ewald Henning), Barbara-Magdalena Ahren (Frau Henning)
---
Plot
Munich med student Paula Henning has won a scholarship to study in Heidelberg. On the journey there, she befriends fellow student Gretchen Mäollmann and the two agree to become roommates. On the train, she is also able to help another student David when he collapses from a heart condition. After classes begin, somebody injects David with a drug in a bar. The next day in anatomy class Paula is shocked to find that the body she is given to autopsy is David's. Investigating, she finds that he has been injected with a drug that coagulates the blood. On his thigh is printed the letters AAA. Subsequent investigation reveals that this is the sign of Age Actabile Antihippocrate, a notorious secret society that deliberately flaunts the Hippocratic Oath and experiments on subjects without their consent as a way of advancing medicine. Paula's investigation draws the attention of AAA who start to threaten her. However, those around Paula think that she is only imagining it. At the same time, both Gretchen and her lover Phil go missing.
---
This German-made horror film developed a reputation on video and at horror festivals and is one of the strongest genre efforts to emerge from the country in some time. Anatomie was made by Austrian-born director Stefan Ruzowitzky who had previously had some success with the arthouse-acclaimed The One-Seventh Farmers/The Inheritors (1998) and would go onto make the English language Wartime thriller All the Queen's Men (2001) and The Counterfeiters (2007), which won the Academy Award for Best Foreign Language Film.
Anatomie was possibly inspired by the success a few years earlier of the Danish Nightwatch (1994), the one other Euro horror of the 1990s to get rave reviews. Anatomie has a set-up that is very similar to Nightwatch – both feature a nervous young student as the central character and much nastiness going on in the morgue, as well a plot filled with similar kinds of torturous twists and turns.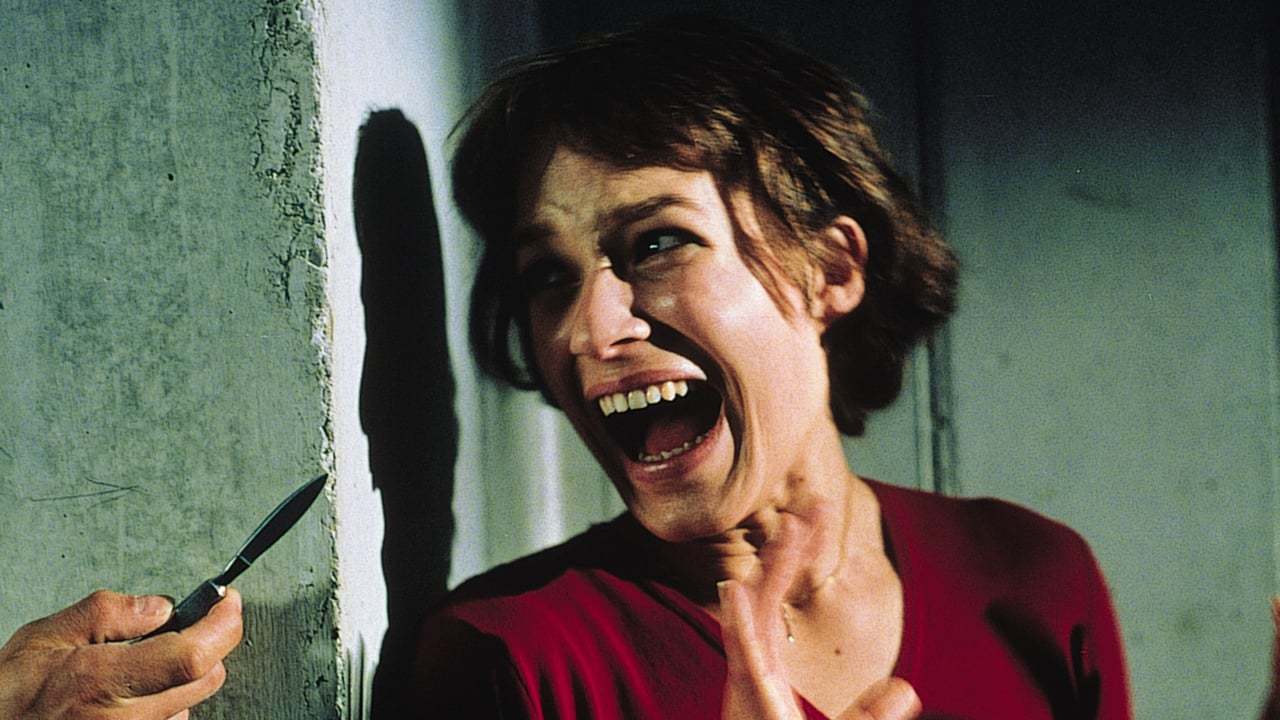 Anatomie also resembles one of the numerous books by Robin Cook, the author who specialised in medical thrillers, the most famous of these being the one that was made into the film Coma (1978), which has many similarities to Anatomie in its plot about sinister body-snatching experiments going on in hospitals. Franke Potenta here is a perfect Robin Cook heroine. Of course, the one element in Anatomie that is not to be found in a Robin Cook book is the strong focus on gore and sadism.
What makes Anatomie work extraordinarily well is director Stefan Ruzowitzky's immensely assured style and his willingness to go way out on a limb and challenge taboos. This is immediately apparent from the opening shot where we see a scalpel caressing a nude female body in closeup as the credits play, before pulling back to reveal that the body is a corpse in an anatomy class. Not far into the show Ruzowitzky throws in a wonderfully horrible sequence where a man wakes up on a dissecting table to find himself being cut open and his organs removed and for him to bring his hand up to try and free himself only to find that it has been stripped to the bone. (This makes Anatomie surely one of the first films amid the modern Torture Porn fad).
Ruzowitzky keeps the suspense wound with a gripping intensity. There is a marvellous scene where Anna Loos and Holger Speckhahn are making out on a morgue table, he goes down on her and then suddenly starts gurgling blood and collapses, where she tries to flee but is injected with the blood-coagulating drug by Benno Fürmann who then stands over her stabbing her as she tries to crawl to the door, even making a little bet with her that she cannot make it to freedom. With a sublime dogleg contortedness, Stefan Ruzowitzky then suddenly whips sympathies 180 degrees in the other direction and engages us in the suspense as Benno Fürmann tries to strip the corpse before the cleaners get in through the blocked door. Ruzowitzky builds the film to a superbly intense climax.
The anatomical statues created for the film are amazing – there is something wonderfully creepy to the scene where Benno Fürmann unveils the preserved statue of Anna Loos before the class and starts marvelling over it, opening a little door that shows the preserved heart inside and pulling the face off to reveal the skull beneath.
Anatomie is a film that it satisfying on all levels. There is a well-told story; it is directed with torturous suspense that keeps one entirely gripped; and in terms of horrors, it is a film that goes way out on a limb where most other films fear to tread.
Stefan Ruzowitzky returned with a disappointing sequel Anatomie 2 (2003). Subsequently, Ruzowitzky returned to genre material with the children's fantasy film Lilly the Witch: The Dragon and the Magic Book (2009) and the English-language horror film Patient Zero (2018). His greatest success however was with the international arthouse hit of The Counterfeiters (2007) about a group of Jews in a concentration camp being forced to conduct a forging operation for the Nazis
---
---