---
Crew
Director/Producer – William Webb, Screenplay – Dana Augustine, Story – Dana Augustine, William Webb & Richard Brandes, Photography – John Huneck, Music – Reg Powell & Sam Winans, Production Design – James Shumaker. Production Company – Westwind.
Cast
Robert Forster (Sergeant Daniel Jefferson), Duncan Regehr (Spaulding Osborne), Shanna Reed (Sharon Maxwell), Jeff Conaway (Francis 'Cowboy' Mulvehill), Juan Garcia (Eddie Garcia), Richard Roundtree (Lieutenant Lloyd Hughes)
---
Plot
Millionaire banker Spaulding Osbourne relieves the tensions of the high-pressure business world by going out and hunting human victims with a crossbow.
---
The idea of an investment banker leaving the corporate conference room to do a spot of manhunting is an appealing one. There is an ingenuity to the concept behind the film – one that takes the parasitic ruthlessness of corporate greed to its extreme. After Michael Douglas in the iconic Wall Street (1987), this surely seemed the logical next step. The script even rises to the occasion by throwing in an interesting series of analogies between the verdant and the concrete jungles and between the cutthroat nature of corporate business and the rituals of the hunt.
However, The Banker is never as good as its central idea – indeed, as the title character, Duncan Regehr is never actually shown ever conducting the film's titular profession. Instead, the film uninterestingly winds its way through the run of the psycho/slasher film cliches, all peppered with a requisite amount of gratuitous nudity, to finally arrive at a predictable end. The film trades most of these possibilities for routine subplots dealing with Shanna Reed's tv campaign and a mundane police procedural.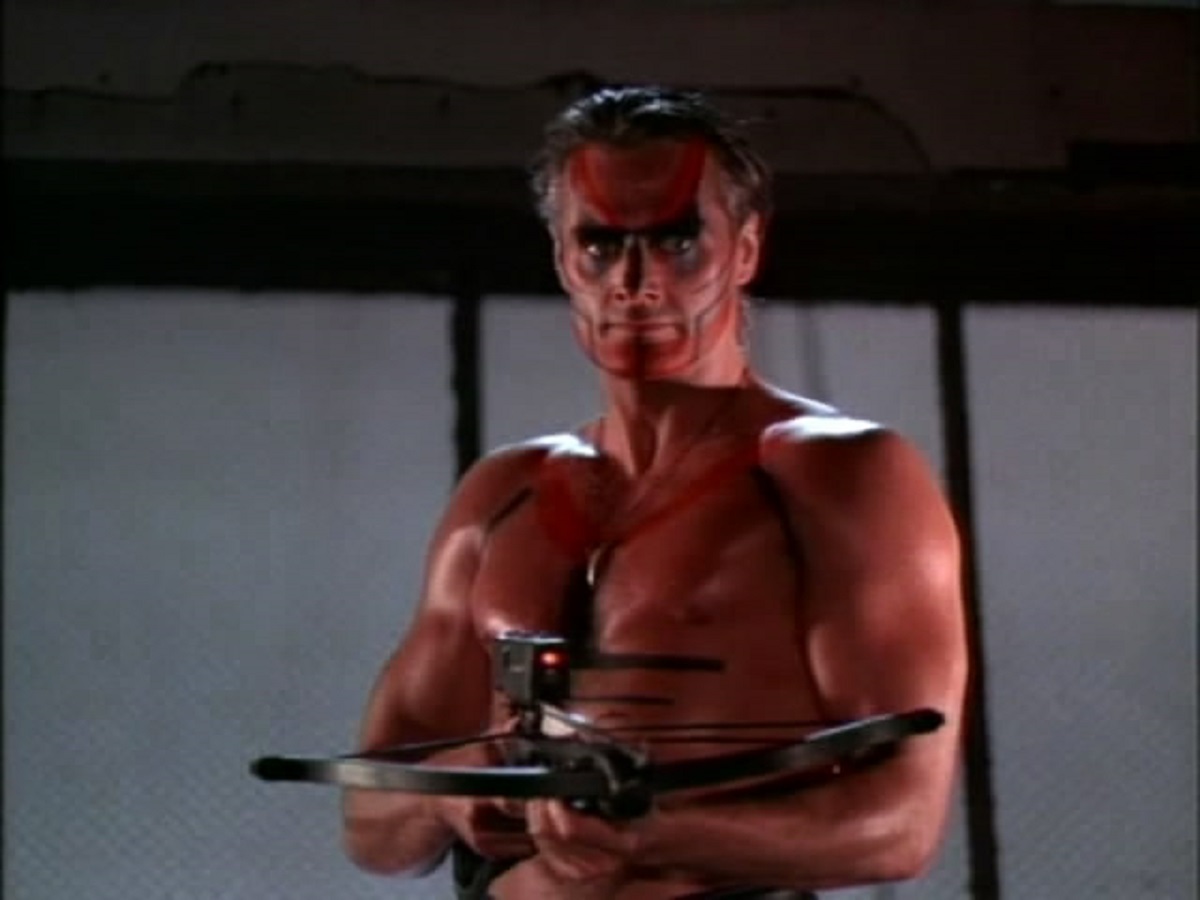 The film has its occasionally amusing moments – at one point, Jeff Conaway is caught while being pursued by Duncan Regehr, begs for a second chance and is given the opportunity to recite the names of the Seven Dwarves, but gets it wrong and is blown up by an incendiary crossbow bolt – but the rest is disappointingly mundane.
Robert Forster gives a dogged and tired performance as the pursuing detective. Duncan Regehr, a prize over-actor at the best of times, regrettably turns the polish of the business-suit into a role that comes out more like a camp Rambo.
With a worthwhile script and most certainly a better director attached to it, this is a film that could have been as ingenious as The Stepfather (1987). A better version of the same idea was conducted in American Psycho (2000).
Director William Webb is mostly known for low-budget action films. He also directed one other psycho film Party Line (1989). He has also produced genre works like Party Line (1991), The Neighbor (1993) and Asylum (1997),
---
---