aka Basic Instinct 2: Risk Addiction
---
Crew
Director – Michael Caton-Jones, Screenplay – Leora Barish & Henry Bean, Producers – Moritz Borman, Mario Kassar, Joel B. Michaels & Andrew Vajna, Photography – Gyula Pados, Music – John Murphy, Visual Effects – Framestore-CFC (Supervisor – Mark Nelmes), Special Effects Supervisor – Steve Hamilton, Production Design – Norman Garwood. Production Company – MGM Pictures/C2/InterMedia/IMF 3
Cast
David Morrissey (Dr Michael Glass), Sharon Stone (Catherine Tramell), David Thewlis (Detective Roy Washburn), Charlotte Rampling (Dr Milena Gardosh), Indira Varma (Denise Glass), Heathcote Williams (Dr Jakob Gerst), Neil Maskell (Detective Ferguson), Hugh Dancy (Adam Towers), Flora Montgomery (Michelle Broadwin), Terence Harvey (Henry Rose), Iain Robertson (Peter Ristedes), Stan Collymore (Kevin Franks)
---
Plot
Catherine Tramell is now living in London. She drives off a bridge while having sex with a footballer at the wheel of a car. The footballer is killed and the police suspect Catherine when drugs are found in his system. Psychologist Michael Glass is brought in to assess Catherine for the suitability of bail release. He determines that she has a 'risk addiction' – that she likes to place herself in situations of danger or where she can potentially be arrested. Afterwards, Catherine comes back to Michael and asks that he take her on as a patient. However, during therapy, Catherine proceeds to tease and taunt Michael sexually. He finds himself being tempted but tries to resist. Michael then finds that Catherine is playing a taunting game, having become involved with both Michael's ex-wife Denise and Denise's tabloid reporter boyfriend who is digging dirt on Michael, as well as his colleagues. And then murdered bodies begin to turn up.
---
Basic Instinct (1992) was one of the defining modern psycho-thrillers. It brought sexuality out of a closet and heatedly to the forefront of mainstream American cinema (for a time). Basic Instinct also created what one has termed the "psycho-sexual thriller" where the standard psycho-thriller was upped with a good deal of sexual content and where almost always the psycho of the piece was a sexually provocative femme fatale. Basic Instinct also served to make an A-list star out of the then relatively unknown Sharon Stone who soon rose above roles that required her to strip off and even ended up being nominated for an Academy Award and winning an Emmy.
The idea of a Basic Instinct 2 had been floating around since at least 2000, although appeared to be stuck in development hell for many years. There were numerous announcements and cancellations, with Sharon Stone at one point suing producers Mario Kassar and Andrew Vajna for work she lost out on while waiting for a greenlight and the producers at one point considering dumping all connection to Basic Instinct and launching the film as an independent project called Risk Addiction.
Various directors were attached, including John McTiernan of Predator (1987) and Die Hard (1988) fame, original director Paul Verhoeven and the original film's cinematographer Jan de Bont who turned director with Speed (1994) and Twister (1996). The most interesting of these names mentioned was David Cronenberg, director of The Fly (1986), Dead Ringers (1988), Crash (1996) and A History of Violence (2005), whose films always brim with perverse sexuality and would have been guaranteed to have made a fascinating Basic Instinct 2.
Names like Benjamin Bratt, Robert Downey Jr, Bruce Greenwood, Kurt Russell and even Pierce Brosnan were all bandied as the male lead at various points. Finally, Basic Instinct 2 emerged here. The director was now Englishman Michael Caton-Jones, known for films like Scandal (1989), Memphis Belle (1990), Doc Hollywood (1991), Rob Roy (1995) and The Jackal (1997).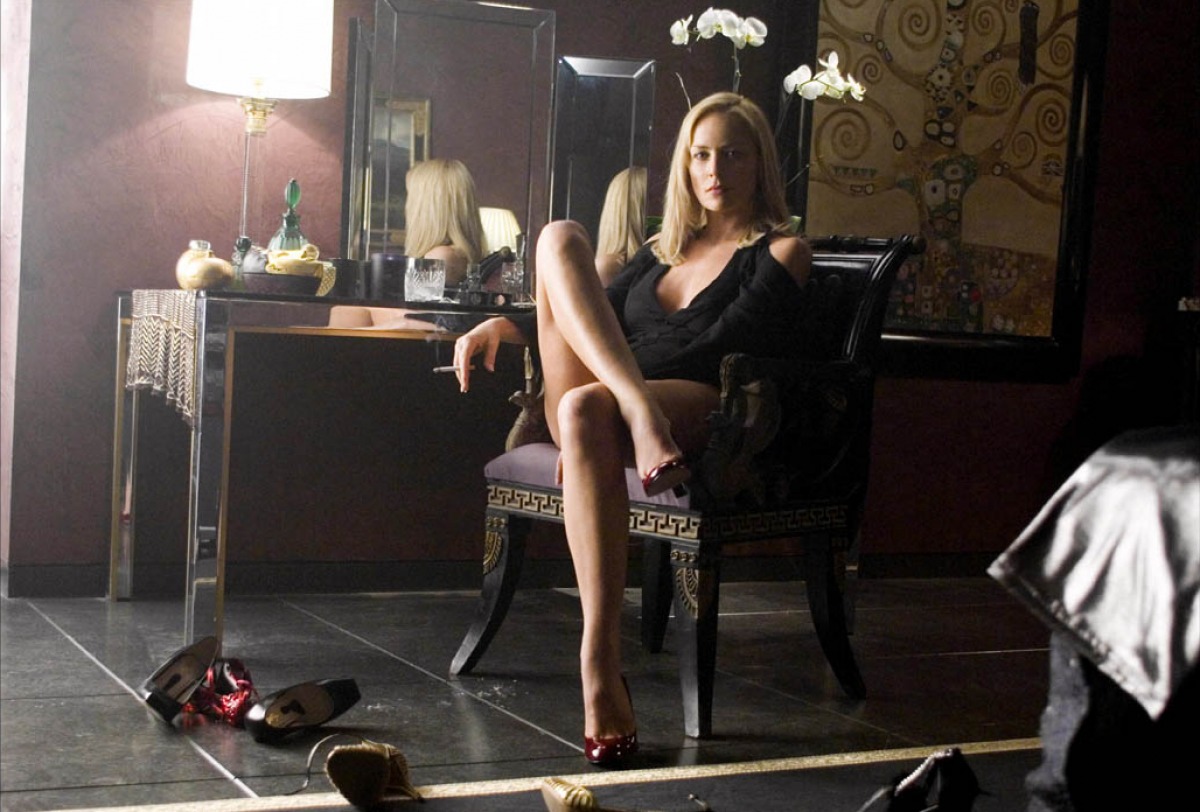 Basic Instinct 2 emerged but hardly with the ripples that Basic Instinct made when it came out. For one, it came out fourteen years after Basic Instinct – almost enough time for children who were born at the time the original came out to have grown up and be able to gain access to this film's R-rating. The most noticeable effect of the time difference was that Sharon Stone was 34 at the time that Basic Instinct came out, where people instantly regarded her as an alluring sexpot. However, by the time of Basic Instinct 2, Stone was aged 48 and the cinematographers and makeup people seem to have their work cut out trying to make her still seem the enticing figure that she once was, with mixed results. Upon opening Basic Instinct 2 received a host of extremely bad reviews – although most seemed to forget that Basic Instinct received exactly the same sort of reviews when it came out. (The film went onto win four of that year's Golden Raspberry Awards, including Worst Film and Worst Actress for Sharon Stone).
The other noticeable thing about Basic Instinct 2 is that the moral climate it came out amid was a good deal more conservative than it was when the original came out. For a brief time, Basic Instinct heralded a blossoming of on-screen sexuality in American mainstream cinema; only a few years later that had disappeared altogether. Threats from US Congress over the advertising of R-rated movies in the early 00s made such product less easy to promote with R-rated films being routinely cut for PG-audiences, while elsewhere the FCC were granted absurdly totalitarian authority after the storm-in-a-teacup over Janet Jackson's 'wardrobe malfunction' breast exposure on live tv, resulting in a considerably more oppressive censorship climate.
As a consequence, Basic Instinct 2 had the distinction of coming out fourteen years later than its original, yet containing far less sexuality on display. Sharon Stone gets her clothes off only about three times throughout. Of these, she only bares it all upon one occasion, while her others scenes and the one between David Morrissey and Flora Montgomery keep all body parts and nipples discreetly hidden behind arms or sheets. There is certainly nothing here that has the wildness of scenes in the original like the crotch flashing at the police station or where Michael Douglas forcefully takes Jeanne Tripplehorn.
The first thing that one notices is that in Michael Caton-Jones's hands, Basic Instinct 2 is a much slower, quieter film than Basic Instinct was. Caton-Jones certainly gives us an attention-grabbing opening with Sharon Stone having sex at the wheel of a sports car before it goes off the bridge but thereafter Basic Instinct 2 slows right down and becomes criminally talky. In Basic Instinct, Paul Verhoeven kept throwing outrages at us, but Michael Caton-Jones is a more staid filmmaker than that and most of Basic Instinct 2 feels like it could be no more than a standard thriller made for tv.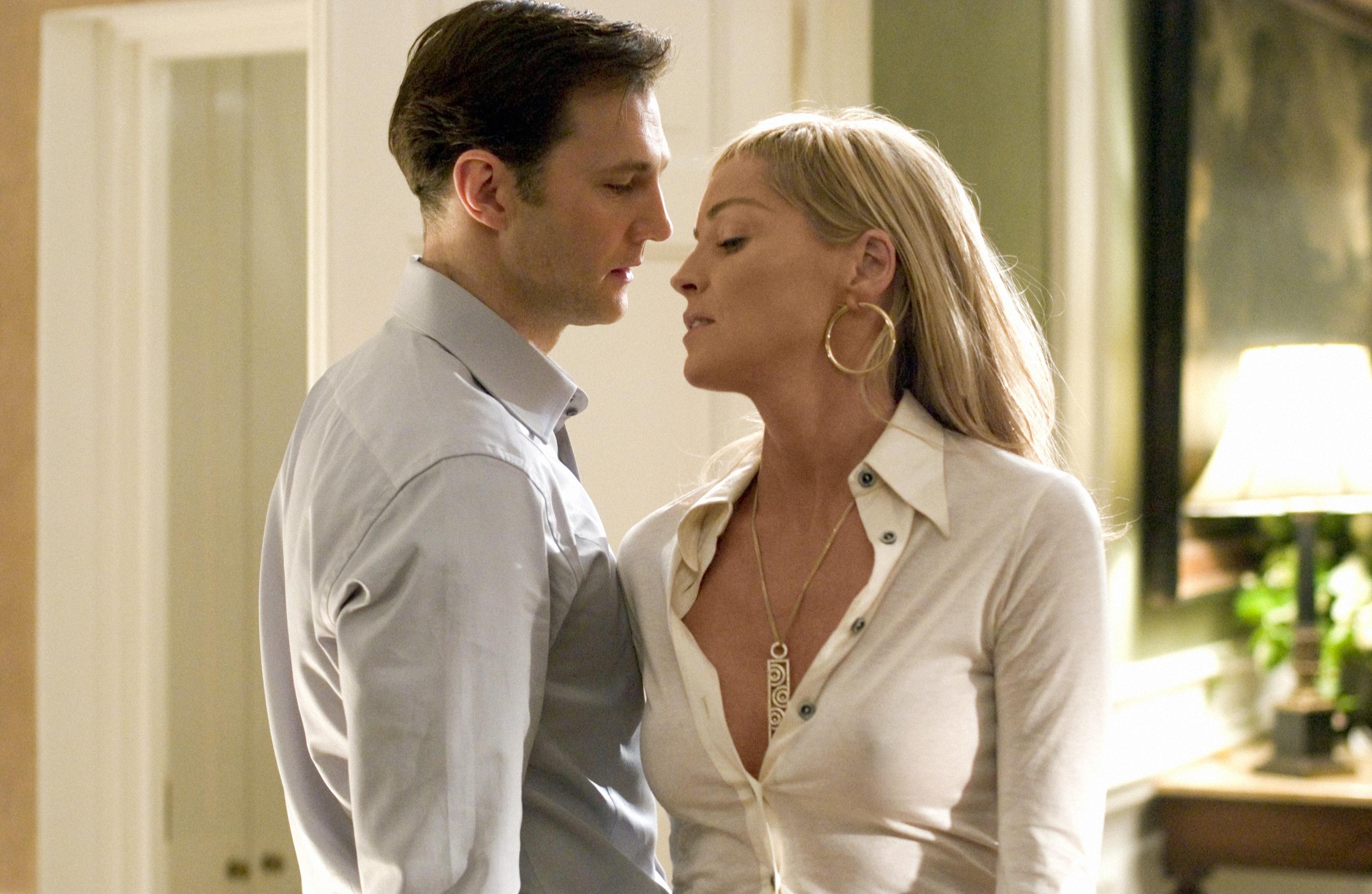 On the plus side, Caton-Jones pays much more attention to plotting than Paul Verhoeven did. Joe Ezterhas's script for Basic Instinct was an improbably wound knot of absurd contrivances. The plot here has similar knots of contrivation involving the hero, his ex-wife, those around them and secrets in the hero's past, but Basic Instinct 2 actually makes it work credibly and without seeming an absurd stretch of the imagination. One particularly liked the way the script conducts much double-play between Catherine's novel and the murders, the ambiguity of whether to trust Catherine or the detective, and especially the coda at the very end where Sharon Stone returns to David Morrissey and presents an entirely plausible alternate explanation for everything that happened before walking away smiling.
In Basic Instinct 2's favour, the relative tameness of the film does not mean it is a total write-off. The script does eventually hold one to it, especially during the last quarter. Michael Caton-Jones does create some occasional sizzle – especially good is a scene where Sharon Stone sits in David Morrissey's office, tempting him by talking about what he would like to do to her, while he is forced remain at a professional distance and not respond. On the whole, I am not convinced that Sharon Stone is that great an actress. Her best work – in Basic Instinct, her guest spot on tv's The Practice (1997-2004) and in The Muse (1999) – is when she gets to play to the gallery as broadly as possible. When she tries to play serious, she comes across as introverted and harshly unwelcoming. Happily, Basic Instinct 2 encourages her to go for it and she does an entertaining job of eating the scenery in full vamp mode.
David Morrissey, who up to that point was a relatively unknown actor had mostly appeared in British tv, is an interesting choice for the lead. Morrissey does well, although in the end is the wrong actor for the male lead in a film like Basic Instinct 2. He is an actor who reeks of Oxbridge breeding and British class – no particular problem – but this is also something that leaves him somewhat high and dry when it comes to depicting someone losing control. What Basic Instinct 2 needed to do was show him losing his cool upper lip altogether, rather than simply brooding about it.
---
---