(L'Uccello Dalle Piume di Cristallo)
---
Crew
Director/Screenplay – Dario Argento, Based [uncredited] on the Novel The Screaming Mimi by Frederic Brown, Producer – Salvatore Argento, Photography – Vittorio Storaro, Music – Ennio Morricone, Music Conductor – Bruno Nicolai, Makeup – Pino Ferrante. Production Company – CCC/Seda Spettacoli.
Cast
Tony Musante (Sam Dalmas), Suzy Kendall (Giulia), Enrico Maria Salerno (Inspector Morosini), Eva Renzi (Monica Ranieri), Umberto Raho (Alberto Ranieri), Mario Adorf (Berto Consalvi), Gildo Di Marco (Garullo), Pino Patti (Falagna), Giuseppe Castellano (Monti)
---
Plot
Sam Dalmas is an American writer holidaying in Rome with his girlfriend Giulia. Sam is passing an art gallery when he sees a leather-clad man stabbing the gallery owner's wife Monica Ranieri. Trapped between the automatic doors, he is unable to go to Monica's aid but is able to call the police and she is saved. Sam discovers that this is part of a spate of serial killings that have been occurring throughout the city. The police confiscate Sam's passport in order to keep him as a potential witness. Afterwards, Sam is nagged by the suspicion that something he saw at the gallery was not right and decides to investigate on his own. However, the killer then comes after Sam.
---
The Bird with the Crystal Plumage was the very first film from cult Italian director Dario Argento. It patented the stylish, ultra-sadistic psycho-thrillers that have since become Argento's trademark. Argento since went onto become the leading Italian genre director for the next three decades and beyond, gaining a cult following for his blend of arty camera moves and extravagantly gory dispatches. (See bottom of page for a full listing of Argento's other films).
In making The Bird with the Crystal Plumage, Dario Argento drew upon the Italian sub-genre of psycho-thrillers that are referred to as giallo thrillers (giallo being the Italian word for yellow). This was so named after Il Giallo Mondadori, a series of books from an Italian publishing house that translated copies of English-language thriller writers, which were all printed with distinctive lurid yellow covers.
The cinematic giallo thriller emerged in the 1960s with Mario Bava's Blood and Black Lace (1964) where Bava drew on the psycho-thriller that had been patented a few years earlier with Alfred Hitchcock's Psycho (1960). Bava went onto make other such giallo films as Five Dolls for an August Moon (1970), Hatchet for a Honeymoon/Blood Brides (1971) and Twitch of the Death Nerve/Bloodbath/A Bay of Blood/Carnage/Ecology for a Crime (1971). Throughout these, Bava patented a form of psycho-thriller that pared Hitchcock down to focus on the sadism and inherent misogyny, with plot often being a secondary consideration to gory despatches and arty visual stylism, along with much in the way of absurdly contrived Freudian traumas and identity confusions as the raison d'etre. These produced a great many imitators.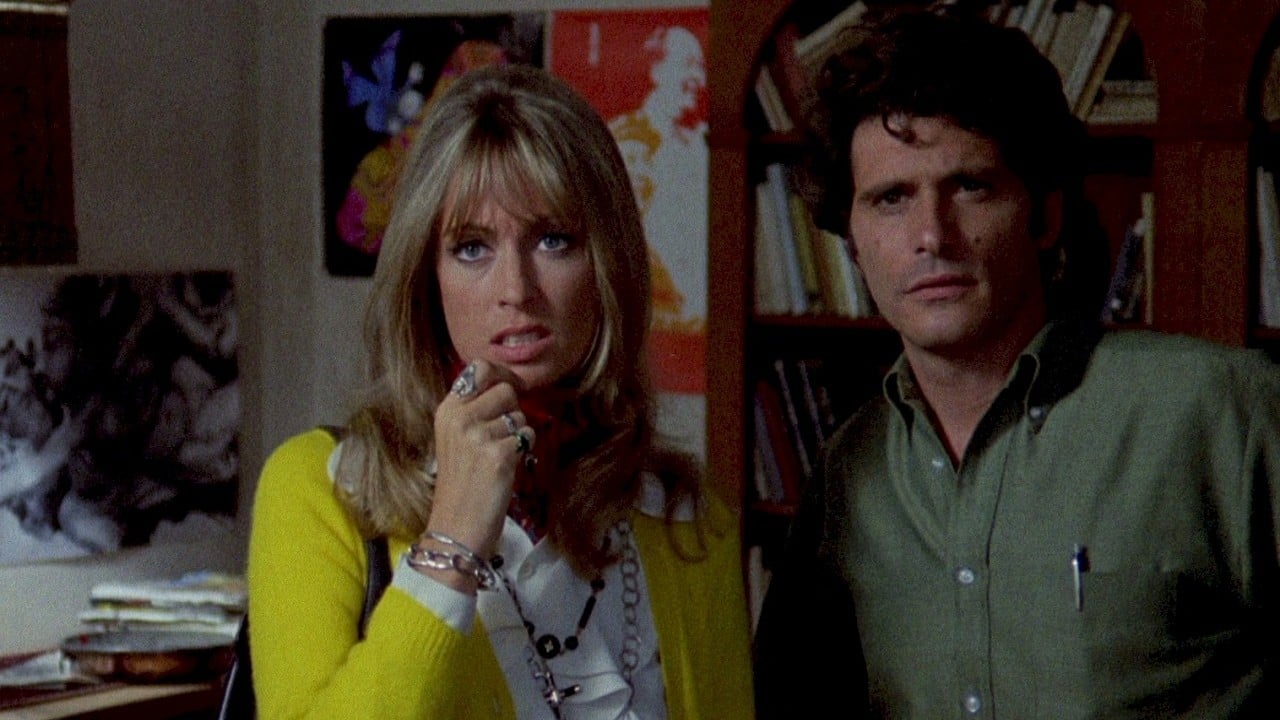 All of the elements of the Argento film are laid down in The Bird with the Crystal Plumage – the extravagant murder set-pieces, which almost invariably feature beautiful women as victims; the mystery killer whose identity is finally revealed in the closing act, although frequently with an arbitrariness where it feels like Argento has drawn random straws from among his cast list; the stylish and distinctive music scores, which often became cult items in themselves; the flamboyant camera moves (at one point here, the camera takes the point-of-view of a person thrown out of a window); and the plot element involving a half-remembered clue or someone who crucially misinterprets what they saw.
One of the frequent criticisms that you could make of Dario Argento's films is that while he adopts the psycho-thriller format, he seems frequently indifferent to matters of plot, which are usually minimally sketched out. Here in The Bird with the Crystal Plumage, he does better than in subsequent efforts, principally because he is adapting a novel, The Screaming Mimi (1958) by American thriller/sf writer Frederic Brown. As a result, The Bird with the Crystal Plumage seems much more plot driven than any other Argento film.
Of course, what one always watches in a Dario Argento film are the extravagant directorial set-pieces. The Bird with the Crystal Plumage is usually remembered for the opening set-piece, which has Tony Musante coming across the murder taking place inside a modern art gallery, which is all underlit white marble filled with giant foreboding statues of talon shapes and human torsos, where we see him caught between two sets of security doors unable to be heard through the glass or get free as the stabbed Eva Renzi crawls across the floor towards him, begging for help. It is a fabulous set-piece with an imaginative stylishness that immediately signalled Argento as someone to watch.
Argento would polish his style much more over the coming years but there are still some vivid other set-pieces. The frequently misogynistic nastiness of Argento's films was laid down in one set-piece here where a big-breasted woman is first seen undressing for bed and putting on a scanty night top and is then attacked by the killer who takes time out to rip off her top and panties with his knife before stabbing her, a clear example where her desirability is laid out for us before she is then slaughtered.
There is an expertly directed scene where Tony Musante is pursued by a hitman in a yellow jacket through a junkyard before he follows the man to a hotel only to enter a convention room where everybody is wearing the same yellow jacket. There is also an excellent scene with Suzy Kendall trapped in her apartment with the power and phone cut off, trying to escape as the killer slowly twists their knife to make a hole in the door, only for her to find that there are bars on the bathroom window and having to batter her way out through the heavy leaded skylight.
There is the immensely weird character of the artist (Mario Adorf) that Tony Musante goes to visit who lives in an abandoned building where he has blocked all the entrances so that Musante is forced to enter by climbing a ladder to a second-story window. Inside, we then see that Adorf keeps cats in cages where he mentions how he is fattening them up and Tony Musante suddenly realises that what he has been given to eat is cooked cat. There are a number of plot holes. Exactly who the hitman is one aspect of the plot that is left entirely unexplained, as we never see this character again after this one scene.
Ennio Morricone delivers a highly unusual score – one that is all la-la-la motifs. This becomes especially eccentric during the junkyard chase scene where the la-la-la's alternate with kettledrums, the lopsided honks of a jazz horn and bell sounds. The cast are never up to much in an Argento film and here Tony Musante has looks but little presence as the hero.
Dario Argento's other genre films are:– The Cat O'Nine Tails (1971), Four Flies on Grey Velvet (1971), Deep Red (1976), Suspiria (1977), Inferno (1980), Tenebrae/Unsane (1982), Phenomena/Creepers (1985), Opera/Terror at the Opera (1987), Two Evil Eyes (1990), Trauma (1993), The Stendhal Syndrome (1996), The Phantom of the Opera (1998), Sleepless (2001), The Card Player (2004), Mother of Tears: The Third Mother (2007), Giallo (2009), Dracula (2012) and Black Glasses (2022). Dario Argento has also written and produced Demons (1985), Demons 2 (1986), The Church (1989) and The Sect/The Devil's Daughter (1991).
---
---