---
Crew
Director – William Brent Bell, Screenplay – Stacey Menear, Producers – Matt Berenson, Roy Lee, Gary Lucchesi, Tom Rosenberg & Jim Wedaa, Photography – Daniel Pearl, Music – Bear McCreary, Visual Effects Supervisor – James McQuaide, Visual Effects – Fablefx (Supervisor – Ander Freij), Iloura (Supervisor – Josh Simmonds), Special Effects Supervisor – Paul Benjamin, Production Design – John Willett. Production Company – STX Entertainment/Lakeshore Entertainment/Huayi Brothers/Vertigo Entertainment.
Cast
Lauren Cohan (Greta Evans), Rupert Evans (Malcolm), Jim Norton (Mr Heelshire), Diana Hardcastle (Mrs Heelshire), Ben Robson (Cole)
---
Plot
American Greta Evans travels to take up a position as nanny with the aging Heelshires on their estate in the English countryside. However, when she arrives, she discovers that she is required to be nanny to a doll that the Heelshires calls Brahms, a likeness of their son who died twenty years ago. She is required to treat the doll as though it were real and the job comes with an exacting list of instructions as to the way that Brahms must be tended throughout each day. After announcing that Brahms has accepted her, they leave her to tend him while they go away. Left on her own, Greta promptly ignores the instructions. However, she soon finds that Brahms appears to be alive and capable of moving about when she is not looking. Moreover, it then starts to become sinisterly controlling and menacing.
---
William Brent Bell is a director who has so far specialised in genre material and The Boy was his fifth film. After debuting with the non-genre comedy Sparkle and Charm (1997), Bell previously made Stay Alive (2006), a film with the bizarre premise of Countess Bathory having been incarnated inside a videogame, and followed this with the Found Footage exorcism film The Devil Inside (2012) and the werewolf film Wer (2013). I cannot say that I have liked any of William Brent Bell's previous films. Stay Alive was ridiculous but it was the only of his films so far that had an original idea. The Devil Inside and Wer were at least slickly and professionally made but are entirely forgettable efforts. As a result of this, I had low expectations of The Boy before entering the theatre.
Bell confounds expectations somewhat and The Boy is his best film to date (with reservations). Bell has borrowed from the English ghost story and done a fine job of recreating its atmosphere and surroundings. The only thing that irks me about this is that what we have is not a legitimate British ghost story – it was filmed at Craigdarroch Castle on Vancouver Island, which certainly looks the real deal.
More to the point, the script for no apparent purpose writes an American actress in as the identification character. There is nothing in the film that could not have been far more credibly conducted using a British actress and it unbalances it to have to so blatantly American-wash the story – it is not even for the purpose of squeezing in a well-known actress as Lauren Cohan's only real prior fame has been as a regular on The Walking Dead (2010– ). That said, her anonymous performance is easily overshadowed by the charming and likeable British actor Rupert Evans.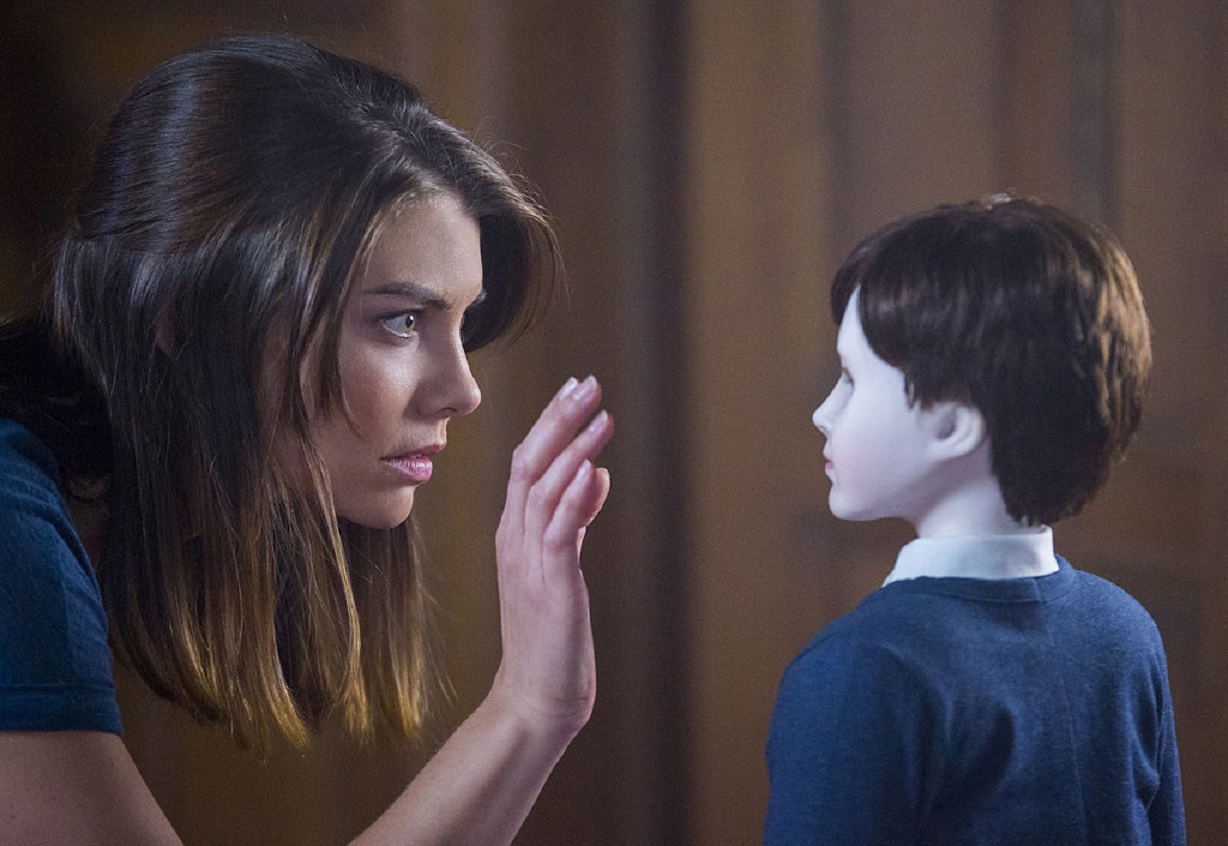 Like Guillermo Del Toro's Crimson Peak (2015) that came out a few months earlier, The Boy is an American production revisiting the setting of the British ghost story, even if neither film quite ends up being ghost stories that are told. An enormous amount of detail has been placed into perfecting the design of the house. The team have done a superlative job in getting the set dressings and look of the house down perfectly. Within this, Bell does a fine job in creating a haunted and creepy mood. There is something unnerving to the doll that remains unmoving and blankly staring throughout or is found having been moved when Lauren Cohan turns her back. On these grounds alone, The Boy starts to seem very promising.
By even the three-quarters point, I was quite prepared to give The Boy a favourable review and a three-star rating. Alas, the film then goes and kills it with a lame twist revelation about what is happening. [PLOT SPOILERS] Here we learn that there is actually a real Brahms – a boy-man who keeps his face hidden behind a Phantom of the Opera-like mask and hides within the walls of the house, a plot revelation borrowed from the recent Housebound (2014). The moving of the doll is one that he has apparently been sneaking out to do.
At no point in any of this does the film establish any rationale as to why the family are keeping up the pretence that the doll is alive and, given that they forbid any visitors, even why they would need to keep their son hidden inside the walls away from the world. It may seem odd to say this but I could quite easily have brought the notion of Brahms come to life as another evil doll film a la Child's Play (1988) or Annabelle (2014) and sequels to either but the very act of revealing that everything was just the mundane machinations of someone hiding in the walls turns the scenario into something absurd.
William Brent Bell returned to make a sequel with Brahms: The Boy II (2020), which has a family moving into the estate and the young boy finding Brahms, followed by the ghost story Separation (2021).
The Boy should not be confused with The Boy (2015), a far much superior but far less high-profile film about a psychopathic child that came out some months earlier.
---
---