---
Crew
Director – Renny Harlin, Screenplay – J.S. Cardone, Producers – Gary Lucchesi & Tom Rosenberg, Photography – Pierre Gill, Music – Tomandandy, Music Supervisor – Michael Friedman, Visual Effects Supervisor – James McQuaide, Visual Effects – Digital Dimension, Duran Duboi (Supervisor – Pierre Genin), Group Image Buzz Inc., Luma Pictures (Supervisor – Vincent Cirelli) & Sub/Par Pix, Mechanical Effects – Cineffects (Supervisor – Ryal Cosgrove), Makeup Effects/Prosthetics – Adrien Morot, Production Design – Anne Pritchard. Production Company – Lakeshore Entertainment/Sandstorm Films/Spacedog.
Cast
Steve Strait (Caleb Danvers), Laura Ramsey (Sarah Wenham), Sebastian Stan (Chase Collins), Toby Hemingway (Reid Garwin), Taylor Kitsch (Pogue Parry), Jessica Lucas (Kate Tunney), Wendy Crewson (Evelyn Danvers), Chace Crawford (Tyler Simms), Lyle Schmid (Aaron Abbot), Kenneth Welsh (Provost Higgins), Frank Fontaine (Gorman), Stephen McHattie (William Danvers III)
---
Plot
Teenagers Caleb Danvers, Pogue Parry, Tyler Simms and Reid Garwin are the Sons of Ipswich, the four eldest sons of the descendants of five families of witches that came to Ipswich, Massachusetts in the 17th Century to flee from witch persecutions in England. They are all students at the exclusive Spencer prep school but what the four keep hidden from others around them is that they have great magical powers. When Reid uses his powers to cause mischief, the others censure him for his recklessness. Caleb, the oldest of the group, is about to Ascend (turn age 18), meaning that his powers become even more powerful. However, someone starts using magical powers to attack the four and their girlfriends. They find their nemesis to be Chase Collins, a new student at Spencer, who reveals that he is a descendant of the fifth Ipswich family and has magical powers greater than all of them.
---
Renny Harlin is surely one of the worst directors currently working in A-budget cinema. The Finnish-born Renny Harlin first emerged in English language with the low-budget horror film Prison (1987), which then earned him the directorship of A Nightmare on Elm Street IV: The Dream Master (1988). From there Harlin graduated to A-budget action films beginning with Die Hard 2 (1990). Throughout the 1990s, Harlin made some of the mindlessly empty-headed and giddily overblown action spectaculars, including the likes of Cliffhanger (1993), CutThroat Island (1995), The Long Kiss Goodnight (1996) and Driven (2001). All but Cliffhanger ended up being big box-office flops that did little to recoup their overblown budgets.
From about the millennium onwards, Harlin seems to be returning to his roots in horror films, which have so far included the entertainingly absurd killer shark film Deep Blue Sea (1999), the universally derided Exorcist: The Beginning (2004), the preposterous serial killer thriller Mindhunters (2004), The Covenant and The Legend of Hercules (2014), as well as acting as producer on The Resident (2011).
The Covenant represents a creative collaboration between the almost always awful Renny Harlin and the fine and underrated writer-director J.S. Cardone. Like Harlin, J.S. Cardone started out in low-budget horror, writing The Slayer (1982), Shadowzone (1990) and Crash and Burn (1990), before graduating to director with several interesting films, usually thrillers, including A Climate for Killing (1991), Shadowhunter (1993), Black Day, Blue Night (1995), Exit in Red (1996), Outside Ozona (1998), The Forsaken (2001), True Blue (2001), Mummy an' the Armadillo (2004), 8MM2 (2005) and Wicked Little Things (2006). Elsewhere, Cardone has also written the scripts for Alien Hunter (2003) and the remakes of Prom Night (2008) and The Stepfather (2009), and has produced several Sniper sequels and Vampires: The Turning (2005).
The question of who is going to end up winning between Renny Harlin's customary ridiculously OTT direction and J.S. Cardone's sharp writing is clearly signalled from the moment the credits open on a loud and noisy heavy metal soundtrack. The first few minutes of The Covenant clearly show that it is Renny Harlin who is in control with a near-farcical scene where the four Sons jump down from a cliff that is about the height of the average mountain to join a group of partygoers, managing to land unharmed, and then engage in a car chase with cops where they drive their car over a cliff and fly off into the mist while shouting "Harry Potter can kiss my ass" at the pursuing police.
Typically for a Renny Harlin film, The Covenant is filled with effects-heavy scenes – the steam in a bathroom coalescing into a sinister figure; a car that becomes incorporeal and drives right through the length of a logging truck as the two vehicles collide on the highway; the teens using their powers to throw one another around; a dream where a room is filled with spiders; a silly showoffy scene where Sebastian Shaw blasts all the glass out of the windows in an open-hooded car as he does a slow-motion flip up into the air to land back into the driver's seat he just came from; a scene where Shaw departs from a room, causing the shattered glass from a mirror to reconstitute unharmed; and the absurdly effects-heavy climax with the two rival teens exchanging power blasts.
It feels as though The Covenant started out as a male version of The Craft (1996) and ended being pumped up with special effects to that point that it feels like a bad attempt to copy X-Men (2000). The teenagers become so absurdly powerful with their energy blasts, the ability to toss things around, create illusions and transform objects that it fails to mean anything – it is just one flashy effect after another that passes by without affect. If the teens can do anything – and they seemingly have little in the way of rules that constrain their powers – what suspense or danger do they face? One soon arrives at the all-important killer of interest in a film/story – who cares what happens to these people?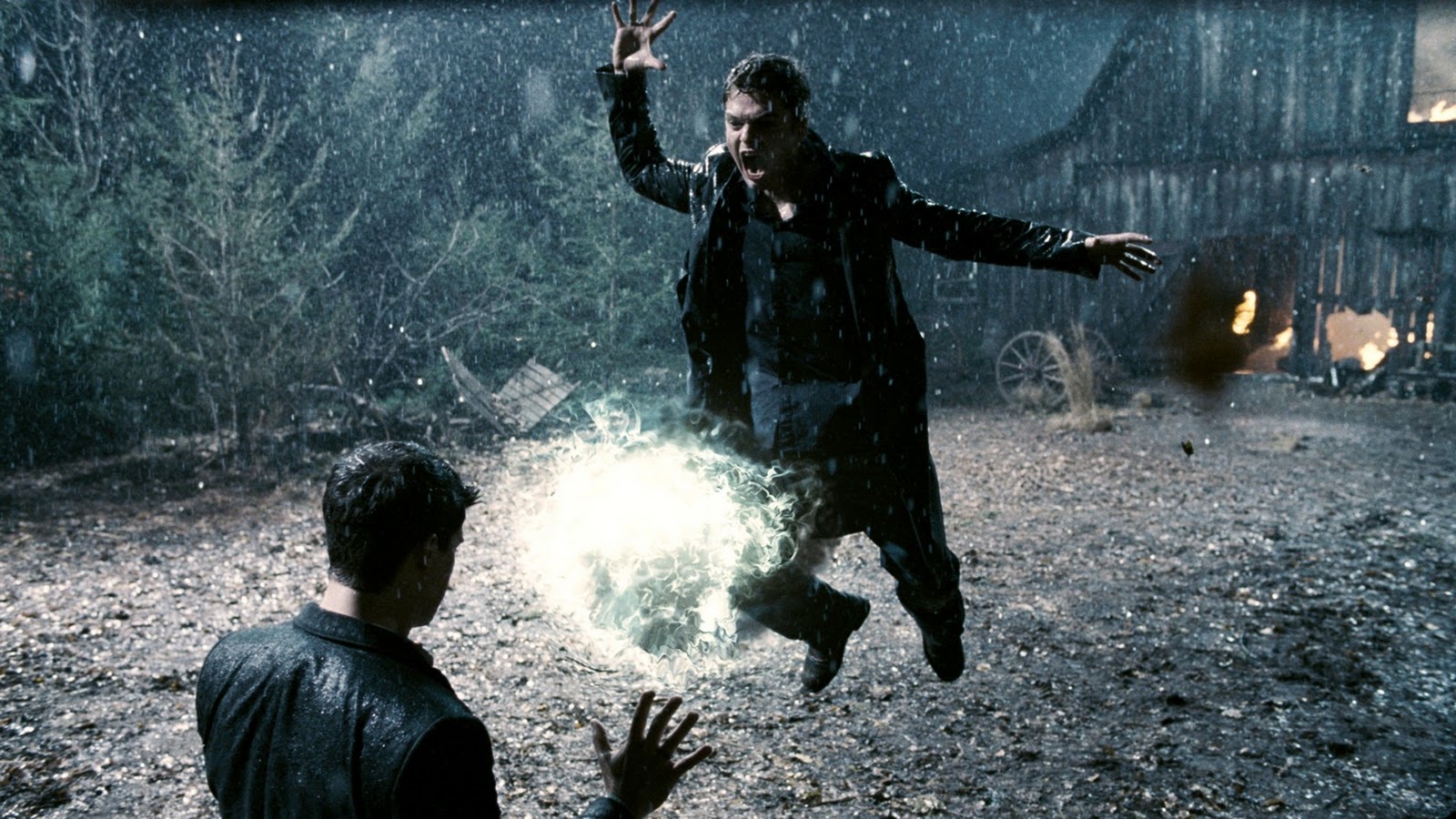 The dread spectre of the 00s teen horror movie also hangs over The Covenant like a death sentence. The film has been cast with actors that have been chosen solely for their pretty boy looks – and Renny Harlin takes all opportunity to parade their buffed bodies dressed in swimming trunks or in changing rooms and showers, and outfits them with flashy cars to drive. (Indeed, did the film not have a decent budget, there are times you would swear it is one of the homo-erotic works of David DeCoteau, which almost all seem to consist of buffed guys walking around in their briefs).
The problem with the film is that the first third or so introduces the teenagers as a bunch of spoilt preppy brats – the sorts that were The Covenant a slasher film would have targets earmarking them early on in the show – but by the end we are asked to care about what happens to them as they face a threat. Maybe teenage girls wetting their panties about such pin-up pretty boys might, but for the rest of us all that we are left is a giant "who cares?"
(Winner Worst Film in this site's Worst Films of 2006 list).
---
---