---
Crew
Director – Iain Softley, Screenplay – Kimberly Lofstrom Johnson & Lee Patterson, Story – Kimberly Lofstrom Johnson, Producers – Jason Blum, Jaume Collett-Sera & Julie Yorn, Photography – Brad Shield, Music – Edward Shearmur, Visual Effects Supervisor – Jamison Goei, Visual Effects – Rez-Ilusion, Special Effects Supervisor – Jimmy Lorimer, Art Direction – Jeremy Woolsey. Production Company – Blumhouse/Ombra Films/LBI Entertainment.
Cast
Julianne Hough (Mallory Rutledge), Teddy Sears (Christian Laughton), Madalyn Horcher (Katie Goldman), Drew Rausch (Deputy), Penelope Mitchell (Voice of Ella Rutledge)
---
Plot
Mallory Rutledge is driving from San Francisco to Denver to be married. She decides to take a scenic backroad only for her SUV to break down. Teddy Sears, who is hitchhiking through the area, comes to her aid. After he gets her vehicle running, she offers him a ride only for him to start making crude sexual suggestions. She demands he get out but he pulls a knife. As they struggle at the wheel, the SUV goes off the side of the road and down a cliff. Teddy gets free but Mallory is left trapped inside the overturned vehicle with her leg wedged, unable to get out. Teddy continues to return, taunting her with the offer of food and a way out. Mallory is left desperately trying to find a means to get free and survive with what she can improvise with the things she has to hand.
---
Iain Softley is a British director who has made acclaimed works such as Backbeat (1994) and The Wings of the Dove (1997). Softley has ventured into genre material on a number of occasions with the likes of Hackers (1995), K-PAX (2001), The Skeleton Key (2005) and Inkheart (2008) but has turned out consistently underwhelming works on every occasion. Here Softley is working for Blumhouse, the near-ubiquitous company that had produced a great deal of medium-budgeted horror in recent years. (See below for Blumhouse's other films).
With Curve, Iain Softley ventures into the Conceptual Containment Thriller. This is the name that this author has given to a certain type of thriller that has taken off in the last few years where the filmmakers attempt to contain the drama in as tight and contained a location as possible. See the like of Phone Booth (2002), a psycho-thriller that trapped its protagonist inside a telephone booth for the duration; Black Water (2007), which took place with characters trapped in a tree by a crocodile; Wind Chill (2007), a ghost story that took place inside the front seat of a car; Shuttle (2008) with its protagonists held hostage in an airport shuttle; Buried (2010), which was set entirely around Ryan Reynolds inside a coffin; Frozen (2010) with three characters trapped in mid-air aboard a ski chairlift; The Night Chronicles 1: Devil (2010) with characters trapped in an elevator with The Devil; 127 Hours (2010) with James Franco trapped under a rock in a crevasse; 247oF (2011) with people trapped in a sauna with the heat on the rise; ATM (2012) with three people trapped in an ATM booth by a killer; Landmine Goes Click (2015) with a character trapped standing on a landmine; The Shallows (2016) in which Blake Lively is stranded on a rock by the tide and menaced by a lurking shark; 200 Degrees (2017) in which Eric Balfour is trapped inside a heat kiln; Serpent (2017) with a couple trapped in a tent with a deadly snake; Oxygen (2021) with a woman trapped inside a cryogenic capsule; and Shut In (2022) with a woman locked in a pantry by her abusive ex. (For a greater overview of the genre see Imprisonment Thrillers).
The basic premise of Curve with a girl trapped in an overturned SUV was done before in Wrecked (2010) and Detour (2013) in which respectively Adrien Brody and Neil Hopkins were trapped in his vehicle at the bottom of a ravine or beneath a mudslide, as well as the subsequent Centigrade (2020) with a couple trapped in a vehicle during a blizzard. Curve is essentially Detour by way of The Hitcher (1986) with Teddy Sears as a smilingly ruthless serial killer who keeps returning at requisite intervals to taunt and torment the trapped Julianne Hough.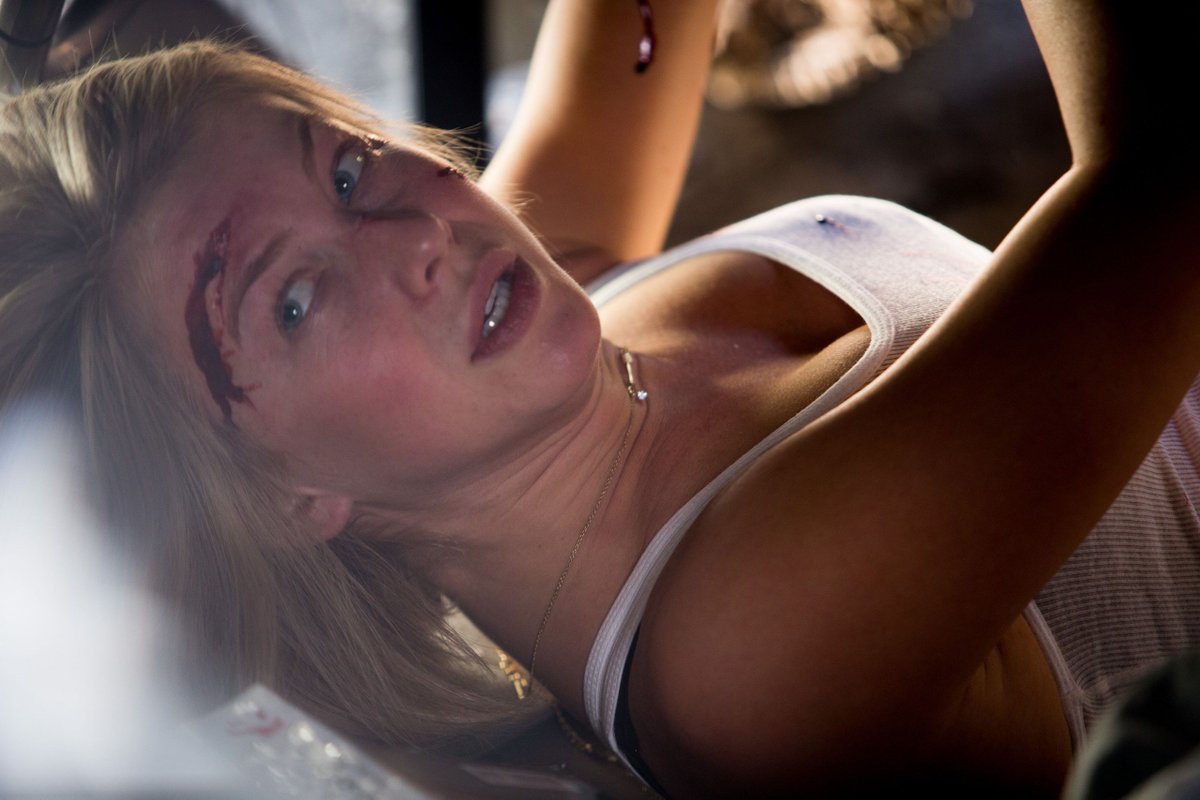 I am in the odd position of having liked Iain Softley's non-genre films far more than any of the occasions upon which he has dabbled in genre material. Curve comes with a premise that is fairly hard to mess up. Softley gives us all the requisite aspects of the survival drama where hopes rise and are dashed based on tiny things that are available to hand. There are moderately ick scenes where Julianne Hough has to kill and eat a mouse or drink her own pee. Teddy Sears, quite an about-face from his turn as the Earth 2 Flash Jay Garrick in tv's The Flash (2014– ), plays with a handsomely dangerous charm.
Iain Softley does a competent job of riding up and down the hopes, of introducing Teddy Sears every so often to twist a knife. On the other hand, in comparison to some of these isolated containment dramas – 127 Hours, The Shallows (2016) – there is nothing that has you chewing your fingernail ends in tension. It is a safely middle of the road film where you feel that putting us through the ringer emotionally when it comes to the survival scenes was not that crucial to Softley. The latter half traipses off into eminently predicable ends where Julianne Hough gets free and goes seeking vengeance against Teddy Sears.
Jason Blum and his Blumhouse production company has also produced a number of other genre films including:- Hamlet (2000), Paranormal Activity (2007) and sequels, Insidious (2010) and sequels, Tooth Fairy (2010), The Bay (2012), The Lords of Salem (2012), The River (tv series, 2012), Sinister (2012) and sequel, Dark Skies (2013), Oculus (2013), The Purge (2013) and sequels, the tv mini-series Ascension (2014), Creep (2014), Jessabelle (2014), Mercy (2014), Mockingbird (2014), Not Safe for Work (2014), Ouija (2014) and sequel, 13 Sins (2014), The Town That Dreaded Sundown (2014), Unfriended/Cybernatural (2014), Area 51 (2015), The Boy Next Door (2015), The Gallows (2015), The Gift (2015), Jem and the Holograms (2015), The Lazarus Effect (2015), Martyrs (2015), Visions (2015), The Visit (2015), The Darkness (2016), Hush (2016), Incarnate (2016), The Veil (2016), Viral (2016), Amityville: The Awakening (2017), Get Out (2017), Happy Death Day (2017), The Keeping Hours (2017), Split (2017), Stephanie (2017), Bloodline (2018), Cam (2018), Delirium (2018), Halloween (2018), Seven in Heaven (2018), Truth or Dare (2018), Upgrade (2018), Black Christmas (2019), Ma (2019), Prey (2019), Don't Let Go (2019), Sweetheart (2019), Black Box (2020), The Craft: Legacy (2020), Evil Eye (2020), Fantasy Island (2020), Freaky (2020), The Hunt (2020), The Invisible Man (2020), Nocturne (2020), You Should Have Left (2020), Black as Night (2021), The Black Phone (2021), Dashcam (2021), Madres (2021) and Firestarter (2022).
---
---