---
Crew
Director/Screenplay – Mickey Keating, Producers – Sean Fowler, Mickey Keating & Jenn Wexler, Photography (b&w) – Mac Fisken, Music – Giona Ostinelli, Makeup Effects – Gerner & Spears Effects. Production Company – Glass Eye Pix/Alexander Groupe/Scareflix #10.
Cast
Lauren Ashley Carter (Darling), Brian Morvant (The Man/Henry Sullivan), Sean Young (Madame)
---
Plot
Darling agrees to take a position as the caretaker of an apartment in New York City, although she is warned that the place has a reputation as being haunted. Soon after moving in, she begins to hear voices whispering and experiences disturbing hallucinations. She becomes fixated on a man after bumping into him on the street. She follows him to where he lives and then goes to meet him at a bar with the intention of luring him back to the apartment.
---
Mickey Keating is a rapidly rising name on the horror scene. Within a short space of time, Keating made films such as Ritual (2013), Pod (2015), Carnage Park (2016) and Psychopaths (2017), all of which have been gaining increasing critical attention and genre press. Darling was co-produced by Larry Fessenden's Glass Eye Pix who have become a more-than-reasonable name on the horror scene in the last decade. (Fessenden himself has a minor cameo as a cop near the end of the film).
Within its opening moments, Darling gives off a strong sense of homage to/influence of Roman Polanski's Repulsion (1965). The parallels are unmistakeable – the black-and-white photography, the woman of fraying sanity alone in a big apartment. Like Catherine Deneuve in Repulsion, Lauren Ashley Carter is almost the sole character on screen with the exception of a man she brings back home/lets in halfway through (which does not end nicely for him). There is barely any dialogue in the film. If all of that didn't clinch the Polanski inspiration then surely the ticking clocks on the soundtrack would.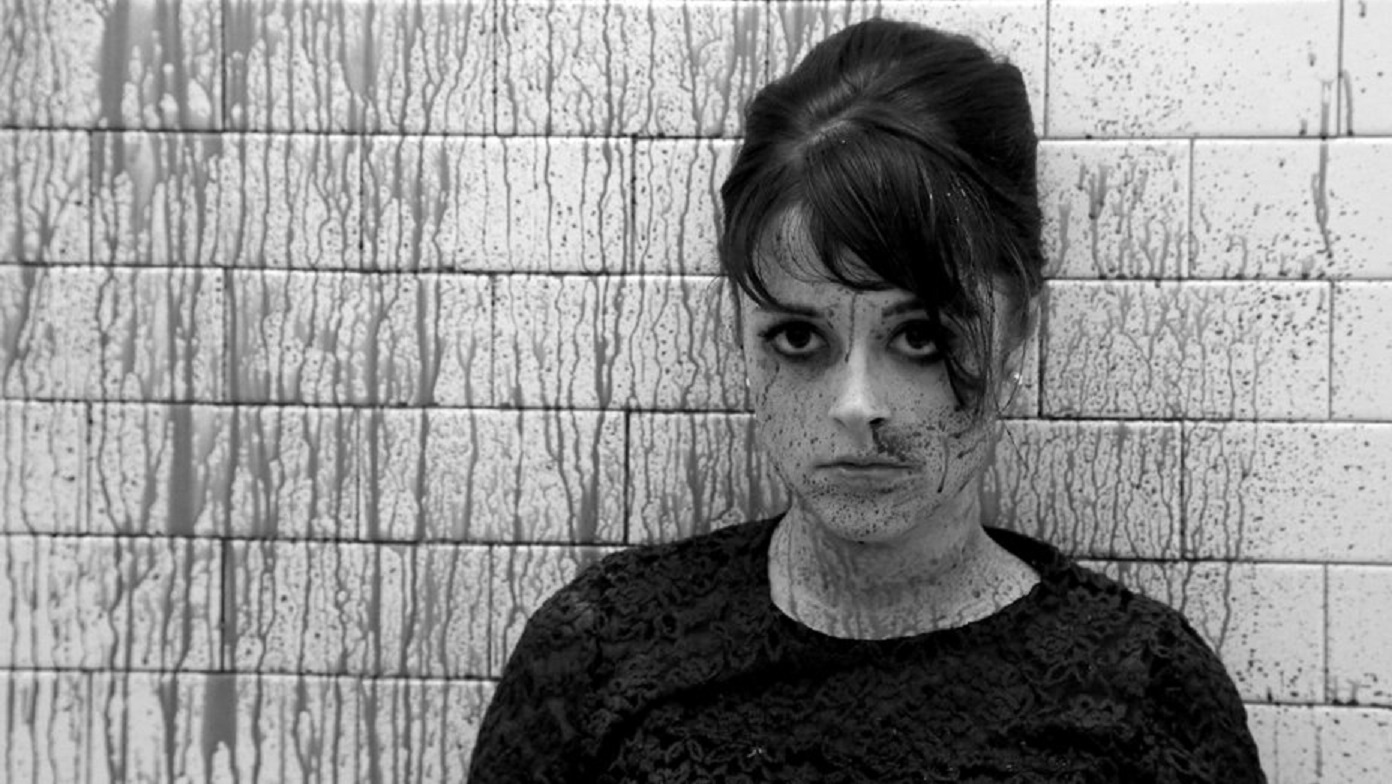 Certainly, while you can make comparison to Repulsion, Mickey Keating's perpetual insertion of subliminal jumpcuts is far cruder than any of the shock effects that Polanski delivered. That said, Darling is not without some effect of its own. The combination of black-and-white photography (there are some stunning opening shots of New York City) and a psycho-thriller score (all jagged strings), as well as the constant shrieking jumpcuts adds to a sense of fractured mental space that we are in. This is considerably aided by the piercing wide-eyed intensity with which Lauren Ashley Carter plays.
When it comes to the scenes where Lauren Ashley Carter stalks and invites a man (Brian Morvant) home and the abruptness with which she repeatedly stabs him with a knife, Darling has definitely entered well into Repulsion territory, at the same time as it is charting its own unique way there. The most shockingly effective scenes are not so much the stabbing but the aftermath, which come relayed in a series of subliminal flashes where we get momentary glimpses of Lauren Ashley Carter hacking into the body with a saw, wrenching out the teeth with a hammer and holding up the severed head.
The film reaches a disturbing ending where [PLOT SPOILERS] Lauren Ashley Carter announces in a quiet voice down the phone to Sean Young "I think I'm going to become part of the building's ghost stories" and then goes to jump off the roof.
---
---