---
Crew
Director – Will Canon, Screenplay – Will Canon, Max La Bella & Doug Simon, Story – Max La Bella, Producers – Lee Clay & James Wan, Photography – Michael Fimognari, Music – Dan Marocco, Visual Effects – Mikros Image (Supervisors – Cyrille Bonjean & Hugues Namur), Rez-Illusion (Supervisor – Jamison Goei), Special Effects Supervisor – Guy Clayton, Makeup Effects – Fractured FX, Inc. (Supervisor – Justin Raleigh), Production Design – Deborah Riley. Production Company – First Point Entertainment/Three Folks Pictures.
Cast
Dustin Milligan (John Mitchell), Frank Grillo (Detective Mark Lewis), Maria Bello (Dr Elizabeth Klein), Cody Horn (Michelle Chapman), Scott Mechlowicz (Bryan Purcell), Megan Park (Jules Carter), Aaron Yoo (Donnie Smith), Alex Goode (Sam Chapman), Terence Rosemore (Jenkins), Thomas Francis Murphy (Leonard Abernacky)
---
Plot
Police are called to the notorious Livingston House in Louisiana where a series of murders occurred in 1988. Detective Mark Lewis arrives on the scene to discover three dead bodies in the house and John Mitchell unconscious. Lewis's girlfriend, police psychologist Elizabeth Klein, is brought in to question John, while Lewis examines the scene and video footage taken by the group who were inside the house. As becomes apparent, John was the son of the only survivor of the 1988 massacre and was persuaded to conduct an examination of the house by hotshot ghostbuster Bryan Purcell. Once inside the house, they found that supernatural forces were indeed starting to stir.
---
Demonic is a film produced by James Wan, better known as a director of efforts such as Saw (2004), Death Sentence (2007), Insidious (2010) and The Conjuring (2013), where he has proven himself an astute and well above average talent. On the other hand, Wan has had far less successful choices when it comes to the films he has chosen to produce – look no further than Annabelle (2014), Insidious Chapter 3 (2015), Lights Out (2016), Insidious: The Last Key (2018), The Nun (2018) and The Curse of La Llorona (2019). With Demonic, an original work, Wan has chosen to back American director Will Canon, who had previously made the non-genre Brotherhood (2010).
I had hopes for Demonic as it started in – it certainly gives the impression of being a slickly put together show. On the other hand, it quickly dredges its way through a hoary panoply of boo moments that feel like tired cliches – crucifixes that turn upside down and doors that open when nobody is looking, red herring jumps with animals popping out at unexpected moments, hideous faces appearing when people look in the mirror, loud noises and slams, characters standing blankly facing the wall. It feels like a film where we have well and truly seen every move before.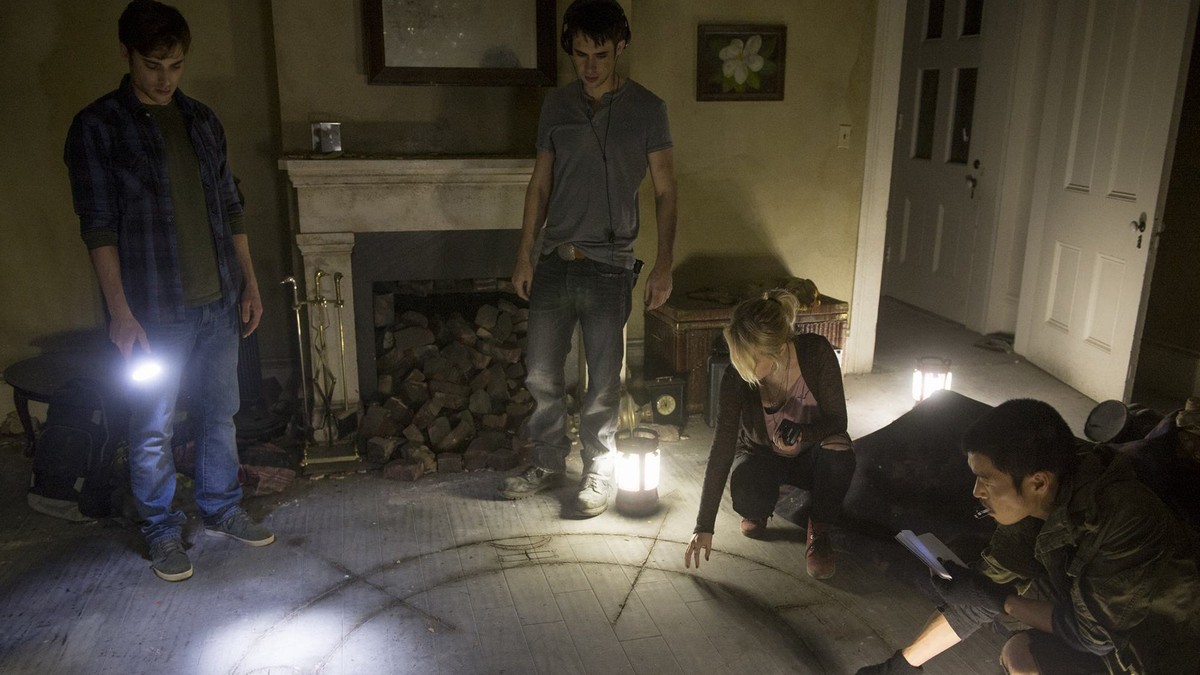 As is the case with several other films of recent, Demonic seems to be heading towards what you could call the post-Found Footage film where we still get the use of handheld video camera, security camera footage, infra-red and so on, while the paranormal investigators wade in holding camcorders as though this is the natural means of investigation, but where this is also contrasted with regular third-person dramatic framing.
All of this would merely be forgettable but the film has to jump aboard another cliche – the left field twist ending. Everything culminates on a series of silly shock jumps, followed by a convoluted series of revelations about rituals, occult circles, possessions and twists about who is who and what is what. They feel like twists performed solely for their own sake and frankly ones where you have difficulty following what is meant to be the case.Apart from the fine and reliable Maria Bello and a hard-headed Frank Grillo, most of the cast are the usual pretty teens/twentysomethings inserted for audience appeal.
---
---