---
Crew
Director – Guy Maddin, Based on the Ballet by Mark Godden, Adapted from the Novel Dracula by Bram Stoker, Producer – Vonnie von Helmolt, Photography (b&w + some colour) – Paul Suderman, Music – Gustav Mahler, Special Effects Supervisor – Ken Hart Swaine, Makeup Effects – Doug Morrow, Production Design – Deanne Rohde. Production Company – Domino Film/Canadian Broadcasting Corporation/Vonnie von Helmolt.
Cast
Tara Birtwhistle (Lucy Westenra), Wei-Qiang Zhang (Dracula), Dave Moroni (Professor Abraham Van Helsing), CindyMarie Small (Mina Murray), Brent Neale (Renfield), Johnny A. Wright (Jonathan Harker), Stephane Leonard (Arthur Holmwood), Matthew Johnson (Dr Jack Seward), Keir Knight (Quincy P. Morris)
---
Plot
1897. Lucy Westenra is wooed by three suitors and dreams of marrying all of them. The sinister Asian man Dracula then appears in her bedroom and she falls inexplicably ill. The expert Professor Van Helsing arrives and determines that a vampire has bitten Lucy. All effort, including blood transfusions and surrounding her room with garlic, is made, but Lucy succumbs and must be staked and her head cut off to save her from becoming vampire-kind. Van Helsing then determines that Dracula has moved onto seduce Lucy's friend Mina Murray and they race to Dracula's castle to kill him before Mina succumbs.
---
In the late 1980s, Canada's Guy Maddin emerged as a fascinatingly offbeat director, making bizarre surrealist kitsch homages to lost styles of filmmaking with films such as Tales from the Gimli Hospital (1989) and Archangel (1990). Maddin reached his peak of critical acclaim with Careful (1992) and eventually even attracted name actors for Twilight of the Ice Nymphs (1997). Maddin continued his unique vision with the subsequent likes of The Saddest Music in the World (2003), Cowards Bend the Knee, or The Blue Hands (2003), Brand Upon the Brain! (2006), My Winnipeg (2007), Keyhole (2011), The Forbidden Room (2015) and The Green Fog (2017). All of Guy Maddin's films are set in bizarrely exaggerated and fanaticised make-believe villages that evoke the design of silent German cinema, and come rent through with deadpan purple dialogue and surreal overwrought melodramas.
That Guy Maddin should turn to an adaptation of Bram Stoker's oft-filmed perennial Dracula (1897) here is of no particular surprise. That Dracula: Pages from a Virgin's Diary should be an adaptation of a ballet first performed by the Winnipeg Royal Ballet in 1998 and choreographed by Mark Godden to the music of Gustav Mahler, and that it should be made entirely as a silent film could be considered fairly much par for the course with Guy Maddin. That it should be a film that is surprisingly faithful to the Bram Stoker text, as well as a silent cinema stylistic homage that Guy Maddin pulls off with nary a touch of parody, however is.
Maddin and Mark Godden trim some aspects of Bram Stoker and rearrange others (the film comes in at a surprisingly slim 73 minutes). The book's extended prologue concerning Jonathan Harker's trip to Transylvania is removed, although a potted recount of these events are presented later in the piece. Lucy Westenra is blown up to become the central character – the film now centres around two set-pieces involving her and then Mina's seduction. In fact, Pages from a Virgin's Diary is a ballet in two acts – one set entirely in Lucy's bedroom where she is preyed upon (in a clever move, her bed comes apart to become her funeral bier without a single scene change), and a second act set around the graveyard and castle where Dracula seduces Mina.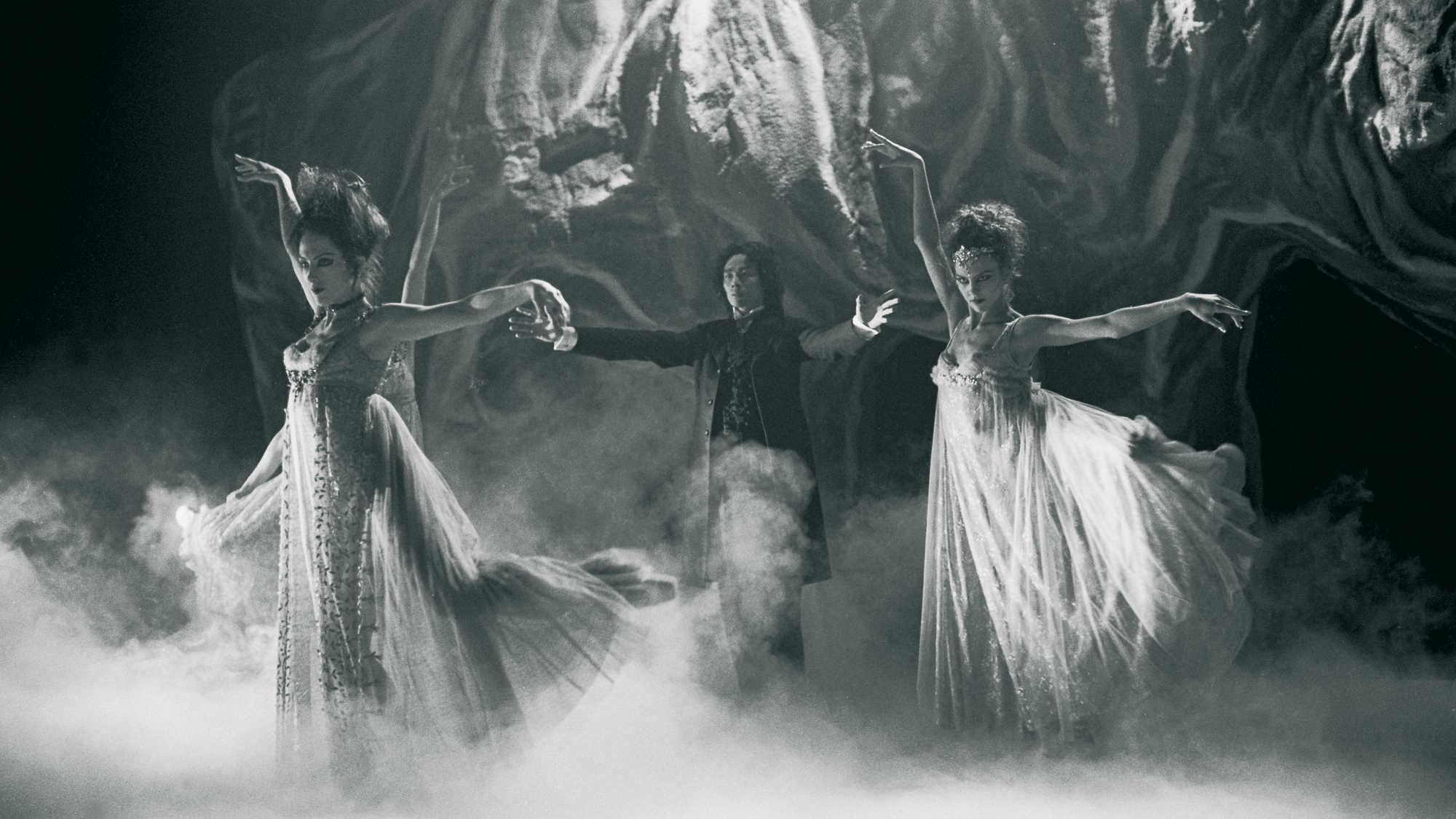 While trimming the book down, Guy Maddin at the same time always looks to the Bram Stoker text for his inspiration and keeps the essence of the detail exceedingly well – in fact, this is much more faithful to the text than either than 1931 or 1958 non-balletic film adaptations. Maddin even gives us details from the book such as the episode with the Bloofer Girl. The climactic battle with Dracula has been increased over and above the book to become almost a balletic rendition of the climax from the Hammer adaptation Dracula/The Horror of Dracula (1958) with the Crew of Light driving Dracula away with crucifixes and beams of light from rent walls, before multiply staking him.
Though the film remains a ballet, Guy Maddin directs with a sensuality and energy such that one frequently forgets this and instead sit watching the adaptation of the story. Unlike most many filmed ballets and operas, there is not the sense that the director is merely pointing the camera at action that would normally be taking place on a stage but rather that Maddin has broken the action up and deliberately adapted it to the filmic medium. The dance movements all come exquisitely stylised – how the staking of Dracula or the servants placement of garlic around Lucy is turned into a dance or the way in which the Crew of Light moves through the castle holding their torches in pirouetting formation. It is one of the rare examples where a ballet has been given a virtuoso dynamism that makes it work as a film.
Maddin has also done an impeccable job of stylistically recreating the look of silent film – the intertitle cards, the lighting and makeup, the long slow fades and irising of the lens, the colour tints of various parts of the film. Some parts of the b/w frame have also been tinted – the blood naturally flows red and for some reason of uncertain symbolism so to is the money, with coins tinted gold and notes a lurid green.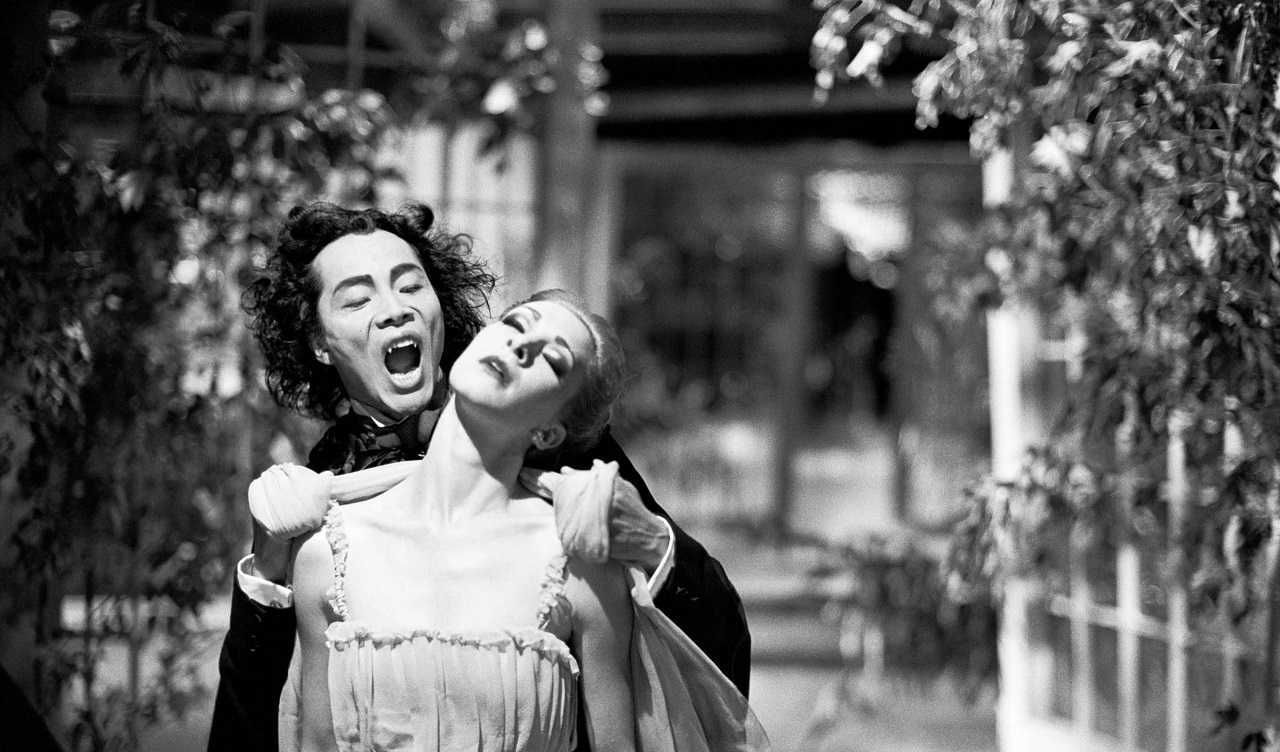 Guy Maddin takes the unusual step of giving us a Chinese Dracula in Wei-Qiang Zhang. As Dracula, Wei-Qiang Zhang lacks the magnetic stature and intensity that other essayists of the role like Bela Lugosi and Christopher Lee invested the part with. However, a Chinese Dracula does give Guy Maddin the opportunity to interpret Dracula as a specifically racial threat. Where most other adaptations of the book see Dracula as representing a repressed sexual presence invading the prim propriety of Victorian England, Maddin interprets Dracula as a racial pollutant. In one of the intertitle cards, we see Dracula's journey to England as an arrow on a map, which comes highlighted by a single, lurid red word 'Immigrants!' Later there is talk of Lucy's blood having 'been polluted', where the clear implication is that foreign blood has entered her system and the only immediate recourse is a transfusion from the Caucasian Englishmen.
All of the cast are the original players from the 1998 Winnipeg stage production. Amid these, Dave Moroni makes for an excellent Van Helsing, his age and imposing intellectual certainty making him one of the most perfectly suited actors to the role. The Crew of Light, although minor characters, are perfectly cast as earnest young suitors who could have stepped out of a monochrome photo of the era.
Other adaptations of Dracula are:– the uncredited classic German silent Nosferatu (1922); Universal's Dracula (1931) with Bela Lugosi; the Spanish language version Dracula (1931) shot on the same sets as the Lugosi version starring Carlos Villarias; Hammer's classic Dracula/The Horror of Dracula (1958) with Christopher Lee; Dracula in Pakistan (1967), an uncredited remake of the Hammer film; Count Dracula (1970) a cheap continental production which also featured Lee; Dracula (1974), a cinematically-released tv movie starring Jack Palance; Count Dracula (1977), a BBC tv mini-series featuring Louis Jourdan; Dracula (1979), a lush remake starring Frank Langella; Werner Herzog's Nosferatu the Vampyre (1979) with Klaus Kinski; Francis Ford Coppola's visually ravishing Bram Stoker's Dracula (1992), featuring Gary Oldman; the modernized Italian-German adaptation Dracula (2002); the BBC tv movie Dracula (2006) with Marc Warren; ; the low-budget modernised Dracula (2009); Dario Argento's Dracula (2012) with Thomas Kretschmann as Dracula; the low-budget Canadian Terror of Dracula (2012) with director Anthony D.P. Mann as Dracula; the tv series Dracula (2013-4) with Jonathan Rhys Meyers; the BBC mini-series Dracula (2020) starring Claes Bang; Bram Stoker's Van Helsing (2021), which actually features no Dracula; and The Asylum's Dracula: The Original Living Vampire (2022) with Jake Herbert.
(Winner in this site's Top 10 Films of 2002 list).
---
---