aka Eye See You
---
Crew
Director – Jim Gillespie, Screenplay – Ron L. Brinkerhoff, Based on the Novel Jitter Joint by Howard Swindle, Producer – Rick Kidney, Photography – Dean Semler, Music – John Powell, Visual Effects – Illusion Arts (Supervisors – Syd Dutton & Bill Taylor), Special Effects Supervisor – Dave Gauthier, Prosthetic/Animatronic Effects – Steve Johnson's XFX Inc, Production Design – Gary Wissner. Production Company – KC Medien/Capella.
Cast
Sylvester Stallone (Jake Malloy), Charles S. Dutton (Hendricks), Polly Walker (Jenny), Christopher Fulford (Slater), Robert Patrick (Noah), Kris Kristofferson (Doc Mitchell), Jeffrey Wright (Jaworski), Robert Prosky (McKenzie), Tom Berenger (Hank), Courtney B. Vance (Reverend Jones), Angela Alvarado Rosa (Lopez), Dina Meyer (Mary)
---
Plot
FBI agent Jake Malloy is on the trail of a serial killer who specialises in killing cops. As Malloy arrives at the latest murder scene, the killer calls to taunt him that he is at Malloy's house. Malloy races there but is too late to save his wife Mary from becoming the killer's next victim. Afterwards, Malloy sinks into alcoholism and attempts suicide. His partner Hendricks drags him to detox centre in remote Wyoming that specialises in burnt-out law enforcement officers. However, as the centre is cut off by a snowstorm, someone starts killing the other cops and Malloy realises that the serial killer has followed him there and is posing as one of the group.
---
In the 1980s and 1990s, Sylvester Stallone was the No. 2 man in action movies next to Ah-nuld. Come the latter half of the 1990s and the appeal of either star started to flag – both Arnie's and Sly's releases from about 1997 onwards have been greeted with general indifference and have consistently failed to garner the enthusiasm they once did. The films of No. 3 action star, Jean-Claude Van Damme, fail to even get theatrical releases these days. Maybe it is simply that the old 1980s image of the buffed and brutal action hero has become a thing of the past, replaced either by lithe Asian martial artists or intellectuals who rely on brainpower.
Whatever the case, D-Tox was further evidence of Sylvester Stallone's slide in public appeal. It did receive a cinematic release but was greeted with indifference and dispatched to video release within less than two months. [Its failure could well be because of such an uninspiring title – rather than a serial killer thriller, it suggests either a message melodrama about the AA process or else the street name of a rapper].
Which is a shame as D-Tox is almost a good film. It is certainly one where Sylvester Stallone seems to be shucking brawn and inchoate brutality and looking in much darker directions – his hero is a character who is bowed under the weight of personal traumas and, unlike most other heroes in action movies, does not shrug the death of a loved one off in five minutes or swear bloodthirsty vengeance against all involved, but someone who quite credibly falls to pieces, descends into alcoholism and is even seen trying to commit suicide.
D-Tox certainly seems a very promising one at the outset. It is directed by Jim Gillespie, who previously made the worthwhile I Know What You Did Last Summer (1997). There is an attention-getting opening with a victim answering the door only to get a power drill in the eye through the peephole – a set-up borrowed from Dario Argento's Opera (1987) – and Sylvester Stallone's federal agent attending the crime scene only to get a call from the killer who is at his house about to attack his wife. Particularly good is the look of the film – all icy exteriors and a forebodingly grey cement bunker interior where cinematographer Dean Semler has done a superb job in reducing the light level to create grimly austere surroundings.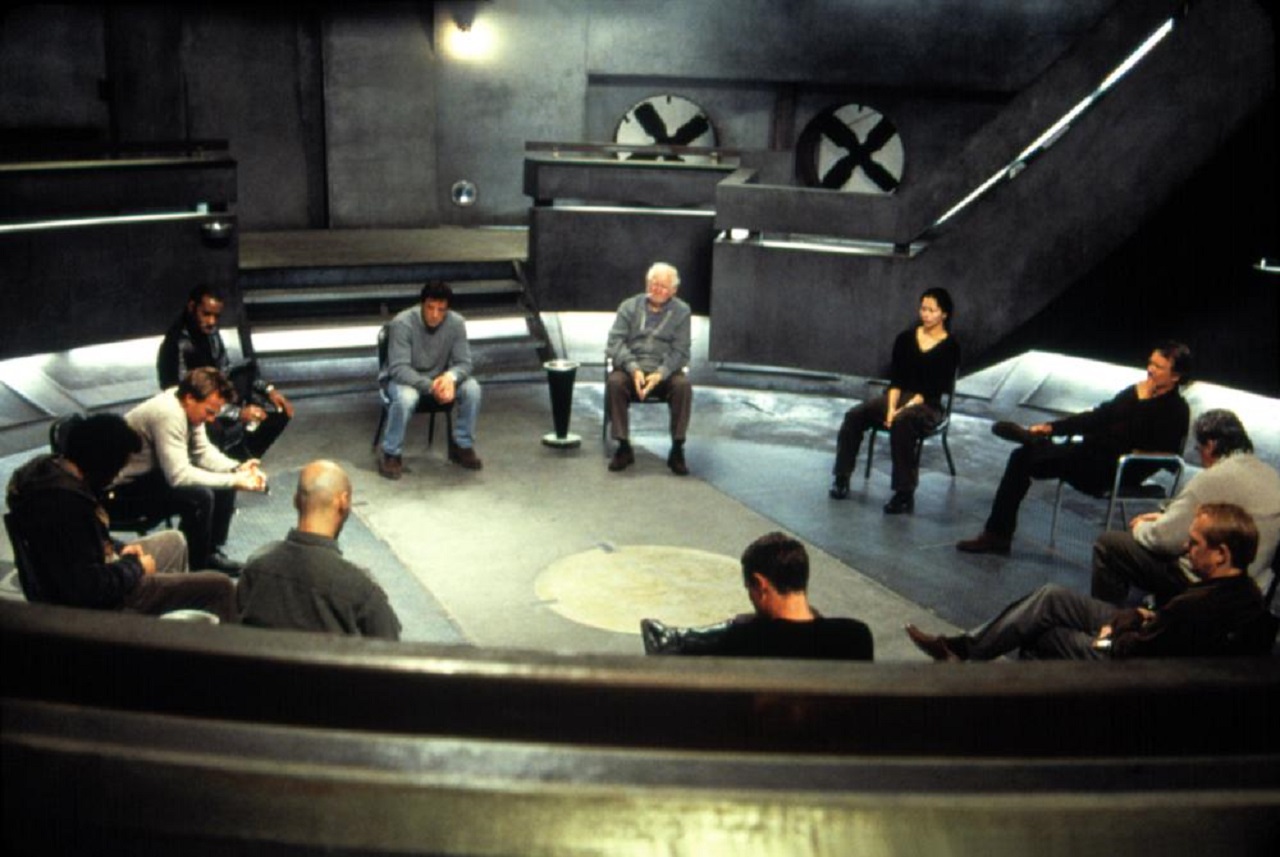 The film assembles an interesting array of burned-out characters who all come with interesting shades and depths, especially good being Robert Patrick's taunting military freak, with everybody lorded over by Kris Kristofferson radiating wry, leathery wisdom in the way Kristofferson only can. It is a film both in look and with its bared-open characters that seems set to enter a visually dark place of mind not unakin to serial killer thrillers like Se7en (1995) or tv's Millennium (1996-9).
Only after such a promising set-up, Jim Gillespie and the filmmakers go and totally blow it. Despite its being sold as an upmarket thriller, D-Tox emerges as no more than a slasher film with a bigger budget. After having created this interesting setting and characters, the film appears disinterested in anything more to do with them. The setting and dark look amount to absolutely nothing and the burned-out characters are of no more significance than the usual run of faceless victims in a slasher film. Indeed, Sylvester Stallone never gets to confront his personal demons, rather he just shrugs his problems off without a comment and sets about hunting down the killer.
Jim Gillespie certainly keeps the film moving but never puts the characters or the twists of the plot through any kind of corkscrew. We are never breathlessly on the edge of our seats trying to figure out who the killer is, while the eventual revelation of their identity comes with surprisingly little in the way of effect.
---
---