---
Crew
Director/Screenplay – Bill Condon, Based on the Book Father of Frankenstein by Christopher Bram, Producers – Paul Colichman, Gregg Fienberg & Mark R. Harris, Photography – Stephen M. Katz, Music – Carter Burwell, Special Effects – Ultimate Effects, Makeup Effects – Sota FX, Production Design – Richard Sherman. Production Company – Lions Gate Films/BBC Films/Flashpoint/Regency Entertainment/Spike Productions.
Cast
Ian McKellen (James Whale), Brendan Fraser (Clayton Boone), Lynn Redgrave (Hanna), Lolita Davidovich (Betty), Jack Plotnick (Edmund Kay), David Dukes (David Lewis), Rosalind Ayres (Elsa Lanchester), Cornelia Hayes O'Herlihy (Princess Margaret), Jack Betts (Boris Karloff)
---
Plot
James Whale was once the director of Frankenstein and Bride of Frankenstein but was forced to retire due to his open homosexuality. It is 1957 and the aging Whale sits in his Malibu home. He befriends his gardener, the muscular drifter Clayton Boone, and persuades Boone into posing for him to paint, although more to get Boone to take his shirt off than any artistic reason. The heterosexual Boone is suspicious when he learns of Whale's homosexuality but a friendship eventually grows between the two as Whale confides to Boone about his past.
---
James Whale (1889-1957) was one of the great genre directors of the 1930s. Gods and Monsters is a biopic of James Whale's personal life that comes based on gay writer Christopher Bram's fictional book Father of Frankenstein (1996), which speculates about the circumstances of Whale's death by drowning in his own pool in 1957. (The title of the film comes from a toast that Ernest Thesiger makes in Bride of Frankenstein (1935): "To a new world of gods and monsters"). As the film goes to some lengths to elaborate, James Whale became tired of forever being known for his Frankenstein films and preferred to be known for his serious war drama Journey's End (1931) and the musical Showboat (1936).
However, it is for his horror films that James Whale will always be known – and certainly it is with some irony that when it comes to using Whale's films to echo his life, the film here invariably turns to Bride of Frankenstein rather than Journey's End or Showboat. Whatever Whale might have thought, his Frankenstein (1931) is a horror landmark and one that forever changed the very nature of the genre. Other works such as The Old Dark House (1932), The Invisible Man (1933) and Bride of Frankenstein, which is widely regarded as being superior to Frankenstein, are shot through with a sublimely droll sense of humour that make them genre classics.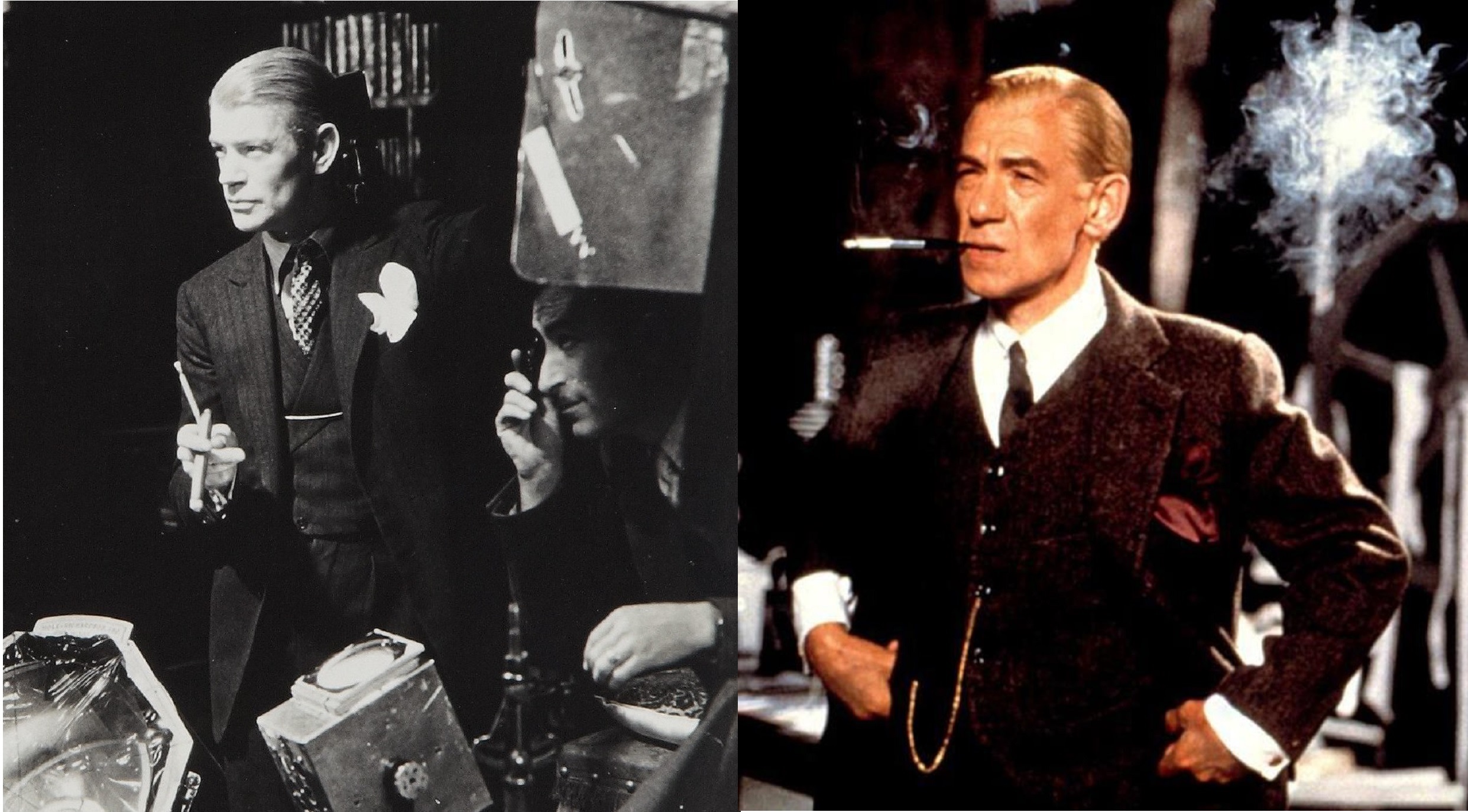 Gods and Monsters is directed and written by Bill Condon. Condon broke into the industry as the screenwriter of Michael Laughlin's duo of genre films Dead Kids/Strange Behavior (1981) and Strange Invaders (1983). As a screenwriter, Condon went onto the likes of FX 2 (1991) and Alec Baldwin's problem-ridden Shortcut to Happiness (2003).  Condon had previously directed two theatrical films, neither of which impressed – the Southern Gothic horror film Sister Sister (1987) and Candyman: Farewell to the Flesh (1995), a disappointing sequel to Clive Barker's Candyman (1992). (In an interesting touch, Clive Barker, who himself came out of the closet a couple of years earlier, takes an executive producer role here). Subsequent to Gods and Monsters, Bill Condon found his feet as a director in a big way and went onto a variety of other works, usually biopics like Kinsey (2004) and Dreamgirls (2006). Condon went onto make the The Twilight Saga two-parter Breaking Dawn Part 1 (2011), Breaking Dawn Part Two (2012), The Fifth Estate (2013), Mr. Holmes (2015) and Beauty and the Beast (2017).
Gods and Monsters is an exceptional film and one that left audiences everywhere moved. Rather than a mere examination of James Whale's life, the film is an extraordinary study in friendship. That the central friendship is one that grows between an aging gay man and a virile but homophobic young man is also crucial to the film. Unlike perhaps too many gay-themed films coming out at the moment, this is a film that is about homosexuality dramatically rather than a film that tries to politicise its sexuality. Bill Condon has a great deal of affection for both characters – he, for instance, does not caricature either Boone's homophobia or his lack of intelligence in any way, something that would have been easy to do.
Condon uses scenes from Bride of Frankenstein to echo Whale's life with haunting effect – particularly the final scene that contrasts the classic encounter between the blind man and the monster, both aching for friendship, and the friendship between Whale and Boone. Condon also demonstrates a great sense of humour – Ian McKellen's line in front of Princess Margaret, "He hasn't met a princess before – only old queens," brings the house down. Nor is Condon afraid to be indiscreet about Hollywood names – George Cukor and Ernest Thesiger are shamelessly outed and the film is not too complimentary about Boris Karloff's intellectual endowment. The only slightly false note the film hits is its portrait of Princess Margaret – her portrayal as a giddy and gauche adolescent is impossible to buy in light of the decorum and composure with which the Royal Family usually conducts itself.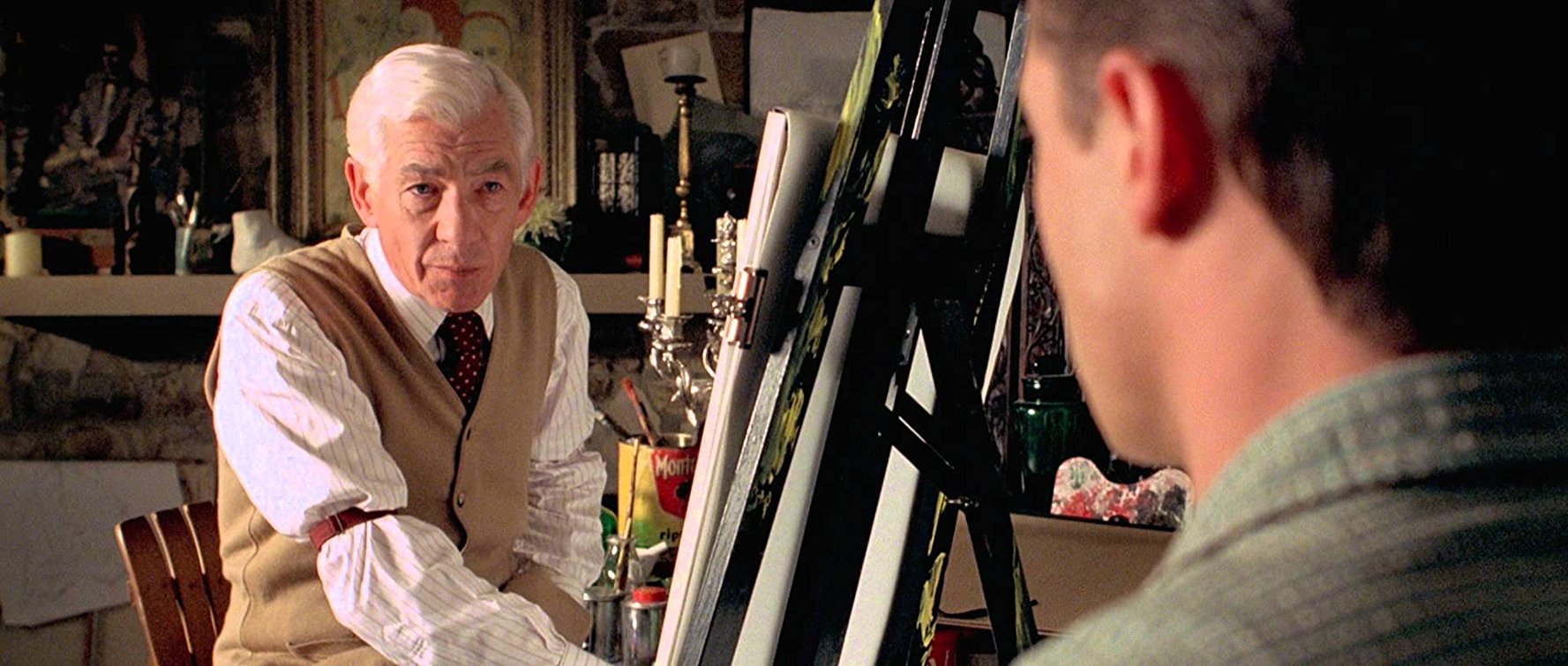 The film is served by an exceptional cast. At the screening at the Vancouver International Film Festival I attended, people came out muttering about Ian McKellen's performance being worthy of award nominations – and indeed, he was nominated at both that year's Academy and Golden Globe Awards. There is greatness to the part – just watching McKellen's sly conniving in getting Brendan Fraser to strip for him and the hungriness out of the corner of his eye is a delight. (Interestingly enough, less than a month after the release of Gods and Monsters, Ian McKellen appeared in another film Apt Pupil (1998), which also had people talking award nominations. There are a surprising number of similarities between McKellen's roles in Gods and Monsters and Apt Pupil – in both, he plays an aging man living alone who befriends a much younger boy and in the course of the friendship shadows of their past and the events of one of the World War's hangs over and dominates events).
Brendan Fraser, getting away from comedic casting as a likeable lunkhead in recent films around this time, is extremely good in the part of Boone. The real scene stealer is Lynn Redgrave, who was unrecognisable as the maid until one read the end credits. Her expressions of disgust and scenes trying to euphemistically word around mentioning the term 'homosexuality' to Boone are hysterical.
(Winner in this site's Top 10 Films of 1998 list. Winner for Best Actor (Ian McKellen) and Best Actress (Vanessa Redgrave) and Nominee for Best Adapted Screenplay and Best Supporting Actor (Brendan Fraser) at this site's Best of 1998 Awards).
---
---