---
USA. 2008.
Crew
Director – David DeCoteau, Screenplay – Simon Savory, Inspired by the Short Story The Fall of the House of Usher by Edgar Allan Poe, Producers – Paul Colichman, Stephen P. Jarchow & John Schouweiler, Photography – Howard Wexler, Music – Harry Manfredini, Production Design – Billy Jett. Production Company – Here! Films/Regent Studios, LLC/Mad Pix, Inc/Rapid Heart Pictures.
Cast
Michael Cardelle (Victor Reynolds), Frank Mentier (Roderick Usher), Jaimyse Haft (Madeline Usher), Jack Carlisle (Marcus), Dan Fugardi (Casper), Taylor Graham (Danny), Bart Voitila (Sam), Ian Shaw (Narrator)
---
Plot
Victor Reynolds receives a request to go and visit his childhood friend and gay lover Roderick Usher at Roderick's large family home. He finds Roderick ill, suffering from an over-acuteness of the senses. Roderick's sister Madeline tries to come onto Victor but falls ill. Victor is tormented of ghostly visions of the former handymen that were Roderick's lovers and have all mysteriously died. Gradually, Victor begins to penetrate the mystery of the House of Usher – that it is a living house and tied to the Usher family's health. In order for Roderick and Madeline to remain well, they need to make constant human sacrifices to the house.
---
Edgar Allan Poe's The Fall of the House of Usher (1839) is a classic story. The story details an anonymous narrator's visit to the house of his good friend Roderick Usher, only to find Roderick in a state of mental decay due to a crippling heightening of the senses, before Roderick's sister Madeline is buried while still alive and the house collapses. This has led to a number of film adaptations, including the silent experimental The Fall of the House of Usher (1928); Jean Epstein's French silent version The Fall of the House of Usher (1928); the tv movie The Fall of the House of Usher (1979) with Martin Landau and Charlene Tilton as Roderick and Madeline; Jesus Franco's Revenge in the House of Usher (1982) with Howard Vernon as Roderick; The House of Usher (1989) with Oliver Reed as Roderick; The House of Usher (2006); as an episode of the animated anthology Extraordinary Tales (2015); the gender-flipped Lady Usher (2020) starring Theresa Santiago; The Fall of Usher (2021); and the tv mini-series The Fall of the House of Usher (2023), which incorporates a medley of Poe stories. Most famous of these was Roger Corman's The House of Usher (1960) starring Vincent Price, which became the first in a series of Edgar Allan Poe adaptations for Corman featuring Price.
House of Usher 2008 comes from David DeCoteau, a prolific director of low-budget genre films. DeCoteau started directing in the early days of Albert and Charles Band's Empire studio, producing works for them and others such as Dreamaniac (1986), Creepozoids (1987), Nightmare Sisters (1987), Sorority Babes at the Slimeball Bowl-a-Rama (1988), Beach Babes from Beyond (1993), Test Tube Teens from the Year 2000 (1994), among a great many others. (See below for David DeCoteau's other genre films). Although David DeCoteau's work started out in exploitation T&A in the 1980s and 90s, what has become increasingly more evident by the late 1990s/00s is DeCoteau's own gay proclivities. More and more openly, his films have come to feature a gay emphasis and numerous scenes of physically buffed young men lounging around bare-chested to the point with House of Usher where the result has become more like a softcore gay film.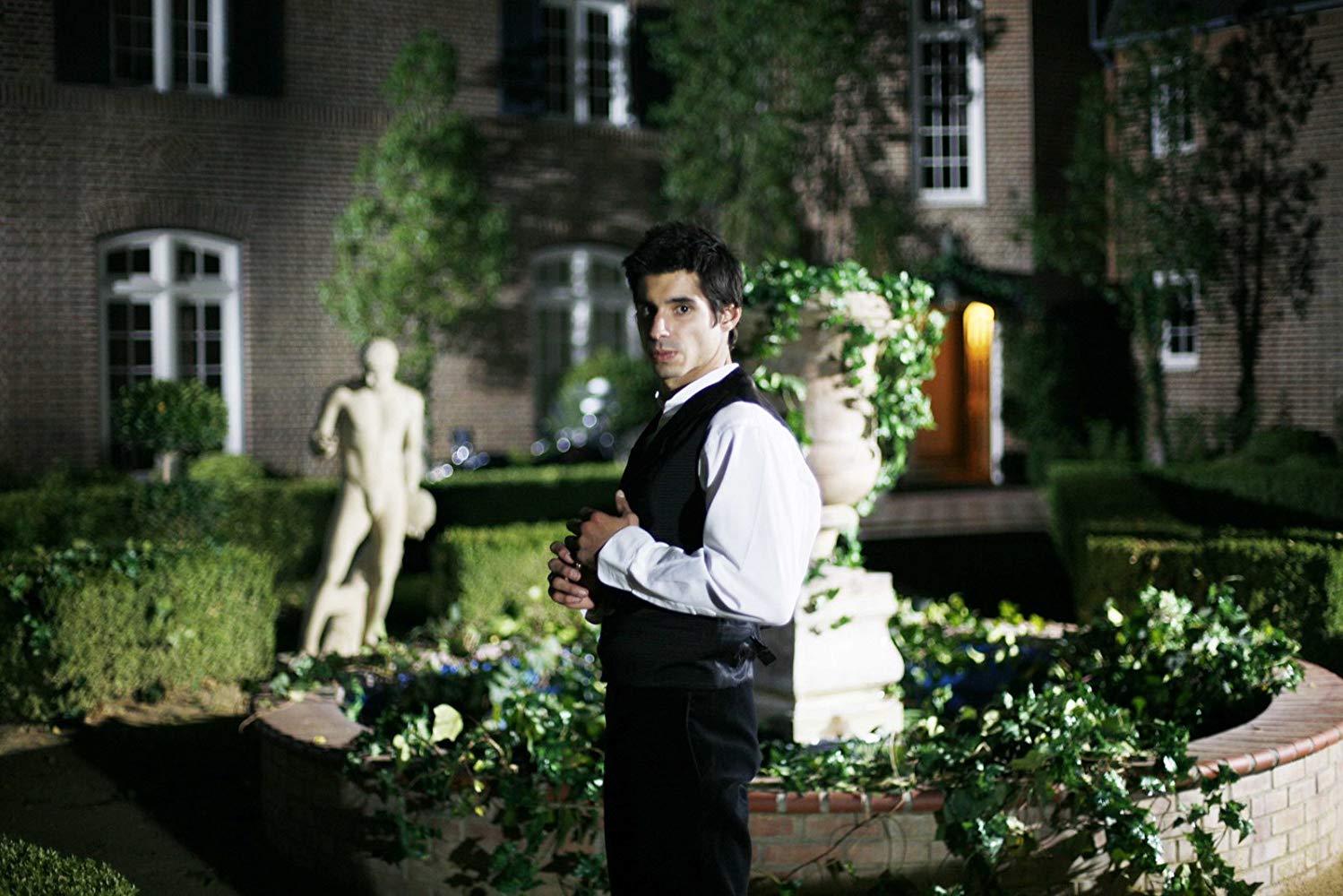 House of Usher was one of several Edgar Allan Poe adaptations that David DeCoteau made around this time, along with The Raven (2007) and The Pit & the Pendulum (2009). However, these are adaptations that Poe would have difficult recognising – The Raven was not about a talking raven quoting "nevermore" but about a raven-masked killer slaughtering people at a costume ball, while The Pit and the Pendulum was about a psychologist conducting experiments and killing off people in a gloomy mansion.
Throughout all of these runs David DeCoteau's predilection for homo-erotica. Edgar Allan Poe would surely be turning in his grave at the thought of The Fall of the House of Usher transformed into a softcore gay work – within the first few minutes, DeCoteau gives us Frank Mentier's Roderick Usher (affectionately referred to as "Ush") and his friend Michael Cardelle engaged in a steamy make out session that goes on for several minutes. Even the ghosts get to stand around and haunt while bare-chested and wearing briefs. (The film is decidedly on the softcore side, as we never get the guys any further undressed than a pair of briefs being pulled part way down their buttocks). Indeed, the number of scenes that DeCoteau contrives to find where guys who have been selected for their buffed physiques wander around without shirts on or in their briefs verges on self-parody. As with most of David DeCoteau's films, the actors have been chosen for their looks/physiques rather than their acting ability – hero Michael Cardelle survives okay, although when it comes to Frank Mentier's Roderick, lines like "Living in a house of the damned is no easy thing even if it is for one night," fall laughably flat in his lips.
The disappointment about House of Usher 2008 is that David DeCoteau badly mishandles the atmosphere of the story. The story is dependent on a single mood – that of decay and looming madness with the house echoing an inner state of a mind as it slowly collapses. DeCoteau does get one aspect of the story right that many other film adaptations miss – the house being directly linked to the health of the Usher family, although this is then conflated with stock horror elements like the need to make blood sacrifices.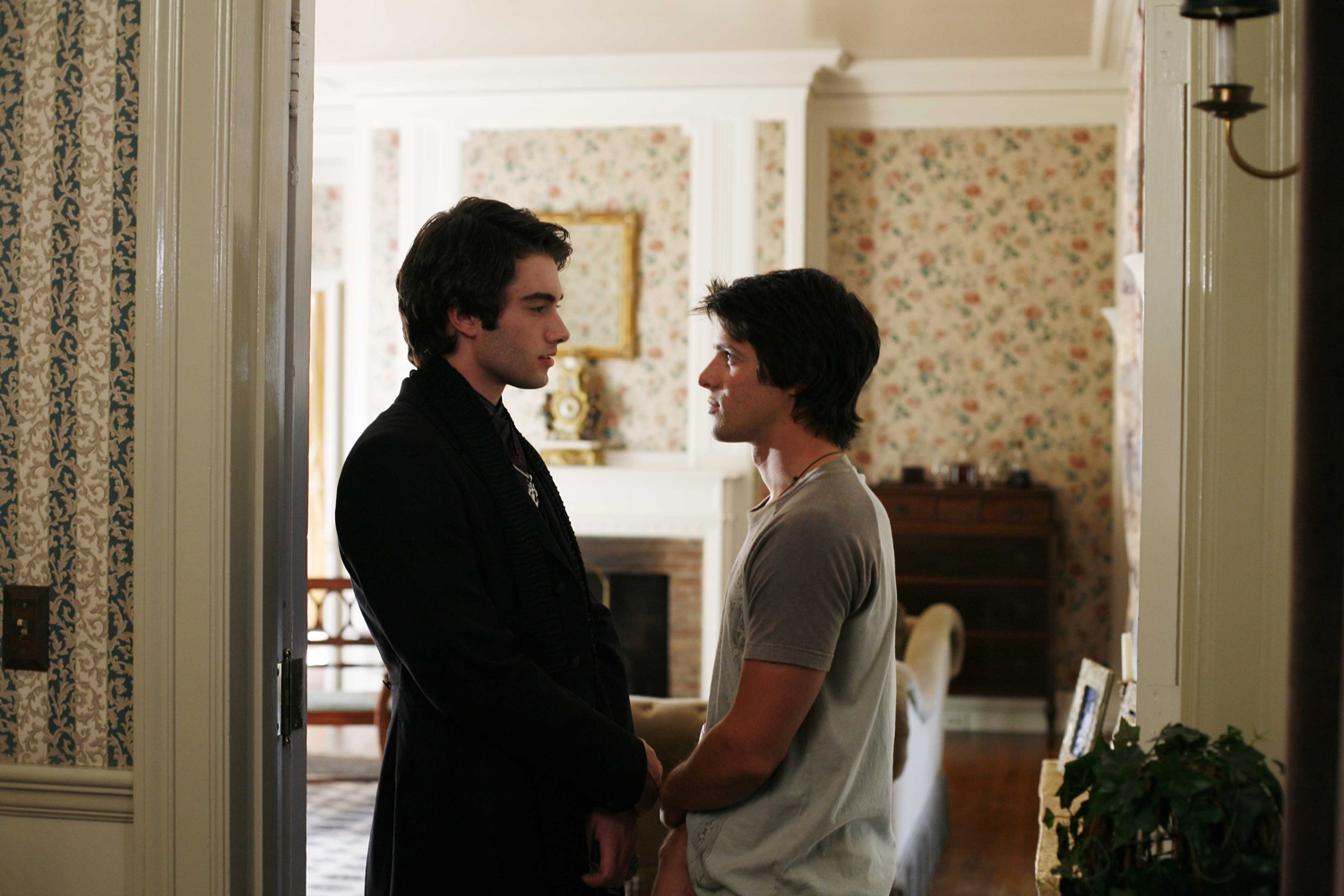 Typically of David DeCoteau, most of the film plays out around languid dream sequences with guys in their boxer shorts lying around being caressed rather than any attempt to achieve mood. Major aspects of the story like Madeline collapsing from catalepsy and being buried alive have been dumped – she does collapse but is not buried alive; indeed, in David DeCoteau's gay emphasis, she is largely irrelevant to the story (although, to be fair, she does get to make out with Michael Cardelle in one scene). There is little to no attempt to give the big house that the film is shot in any gloomy or brooding atmosphere, even though this is the essence of any telling of The Fall of the House of Usher. Rather than having the house collapse at the end, DeCoteau opts for a corny "it was all a madman's delusion" twist ending straight out of The Cabinet of Dr Caligari (1919).
David DeCoteau's other films of genre interest are:– Dreamaniac (1986), Nightmare Sisters (1987), Creepozoids (1987), Dr Alien/I Was a Teenage Sex Maniac (1988), Sorority Babes at the Slimeball Bowl-a-Rama (1988), Murder Weapon (1990), Puppetmaster III: Toulon's Revenge (1991), Beach Babes from Beyond (1993), Test Tube Teens from the Year 2000 (1994), Blonde Heaven (1995), Prehysteria! 3 (1995), Beach Babes 2: Cave Girl Island (1996), Bikini Goddesses (1996), Lurid Tales: The Castle Queen (1996), Petticoat Planet (1996), Prey of the Jaguar (1996), The Journey: Absolution (1997), Shrieker (1997), Skeletons (1997), Beach Babes from Beyond 2 (1998), Curse of the Puppet Master (1998), Frankenstein Reborn (1998), The Killer Eye (1998), Talisman (1998), Alien Arsenal (1999), Ancient Evil: Scream of the Mummy (1999), Witchhouse (1999), The Brotherhood (2000), Frankenstein and the Wolfman Reborn (2000), Prison of the Dead (2000), Voodoo Academy (2000), Final Stab/Final Scream/Scream 4 (2001), The Frightening (2001), The Brotherhood 2: Young Warlocks (2001), The Brotherhood 3: Young Demons (2002), Wolves of Wall Street (2002), Leeches (2003), Speed Demon (2003), Ring of Darkness (2004), The Sisterhood (2004), Brotherhood IV: The Complex (2005), Killer Bash (2005), Witches of the Caribbean (2005), Beastly Boyz (2006), Grizzly Rage (2007), The Raven (2007), Alien Presence (2009), The Brotherhood V: Alumni (2009), The Brotherhood VI: Initiation (2009), Nightfall (2009), The Pit & the Pendulum (2009), Son of a Witch (2009), Stem Cell (2009), 1313: Giant Killer Bees (2010), Puppet Master: Axis of Evil (2010), A Dream Within a Dream (2011), 1313: Haunted Frat (2011), 1313: Actor Slash Model (2011), 1313: Boy Crazies (2011), 1313: Wicked Stepbrother (2011), 1313: Bermuda Triangle (2012), 1313: Bigfoot Island (2012), 1313: Cougar Cult (2012), 1313: Frankenqueen (2012), 1313: Hercules Unbound (2012), 1313: Night of the Widow (2012), 1313: UFO Invasion (2012), A Halloween Puppy (2012), Immortal Kiss: Queen of the Night (2012), Santa's Summer House (2012), Snow White: A Deadly Summer (2012), 2: Voodoo Academy (2012), Hansel & Gretel: Warriors of Witchcraft (2013), My Stepbrother is a Vampire (2013), A Talking Cat (2013), A Talking Pony (2013), 3 Scream Queens (2014), 3 Wicked Witches (2014), 666: Devilish Charm (2014), 666: Kreepy Kerry (2014), 90210 Shark Attack (2014), Bigfoot vs D.B. Cooper (2014), Knock 'Em Dead (2014), Asian Ghost Story (2016), Bloody Blacksmith (2016), Evil Exhumed (2016), Sorority Slaughterhouse (2016), 666: Teen Warlock (2016), The Wrong Child (2016), The Wrong Roommate (2016), Swamp Freak (2017), The Wrong Crush (2017), The Wrong Man (2017), The Wrong Student (2017), The Wrong Cruise (2018), The Wrong Friend (2018) and The Wrong Teacher (2018). DeCoteau has made films under a variety of pseudonyms, including Ellen Cabot, Richard Chasen, Julian Breen and Victoria Sloan.
---
---