---
Crew
Director – Karen Moncrieff, Screenplay – Rebecca Sonnenshine, Producers – Jason Blum & John Miranda, Photography – Anastas Michos, Music – Adam Gorgoni, Visual Effects – VFX Legion (Supervisor – James David Hattin), Special Effects Supervisor – Jimmy Lorimer, Production Design – Melanie Paizis-Jones. Production Company – Blumhouse.
Cast
Lee Pace (Mark), Carrie Coon (Elizabeth Wells), Sander Thomas (Jacob), Amy Smart (Amy), Julian Latourelle (Dash), Ana Ortiz (Janice Trejada), Ray Baker (Lenn), Cliff Chamberlain (Smith)
---
Plot
Mark and Elizabeth happily marry after several years living together and having had a young son Jacob. However, eight years later they have divorced following Jacob's death in a car accident. Mark now returns to the house they shared, preparing to ready it to be sold after the tenants trashed it. He is startled to see Jacob there. After initial spookiness, he talks to Jacob and things seem perfectly normal. Jacob then asks when he is going to see his mother. Mark tries to bring Elizabeth, who has remarried, to the house but she walks out after seeing Jacob there. Mark brings her around and the two of them move back into the house, amazed to be with Jacob again. In the course of this, they reconnect. However, a local psychic warns Mark that Jacob does not belong in this world and must go back to where he came from.
---
Blumhouse, the production company of Jason Blum have risen throughout the 2010s to corner the contemporary market on medium-budget horror films. Blumhouse have been responsible for Paranormal Activity (2007) and sequels, as well as the likes of Insidious (2010), The Purge (2013) and Happy Death Day (2017), which they have all been spun out into successful series. (See bottom of the page for Blumhouse's other films).
I paid attention to Karen Moncrieff a few years ago with her second film as director, the excellent The Dead Girl (2006), which takes the perspective of several different women affected by the actions of a serial killer. Moncrieff went on to make the legal drama The Trials of Cat McCall (2013) but then seemed stuck in television, turning out banal fare such as the Virginia C. Andrews adaptation Petals on the Wind (2014) and episodic work, nothing that returned to the promise that she showed with The Dead Girl.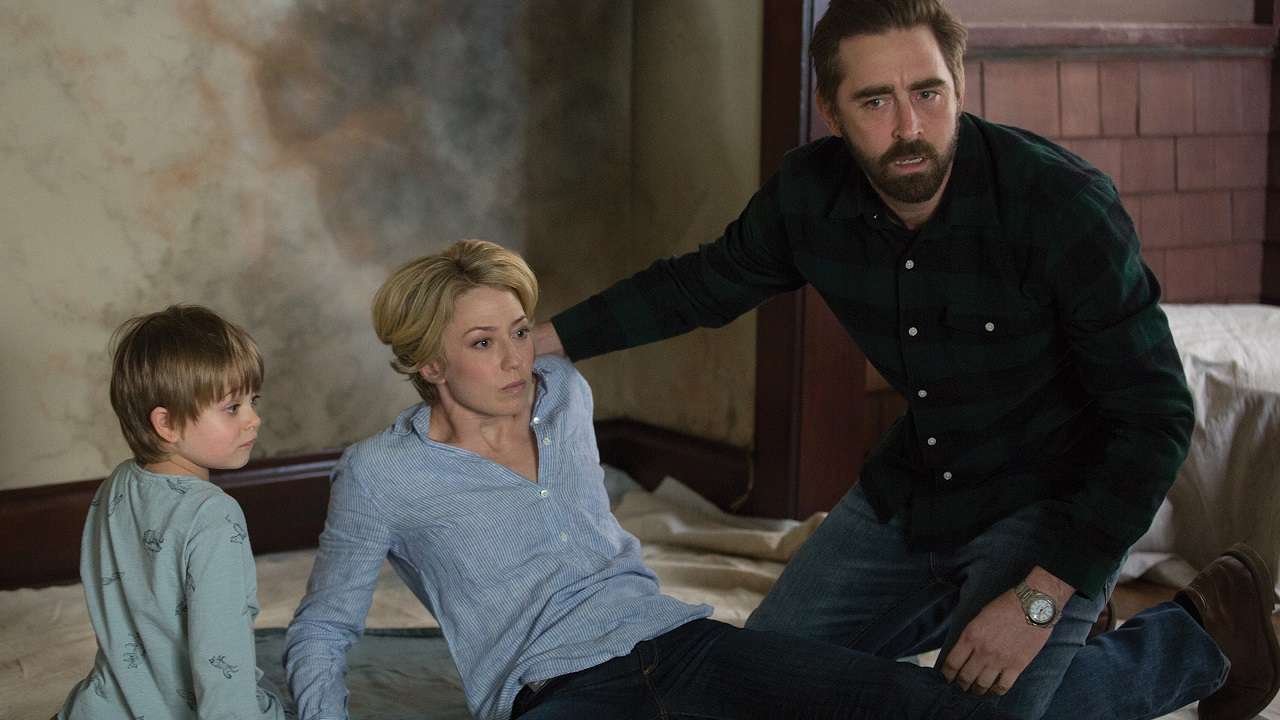 Blumhouse have ventured into the modern ghost on a number of occasions before – efforts like Jessabelle (2014), The Gallows (2015) and entire series like the Paranormal Activity and Insidious films. However, The Keeping Hours is one entry that sits at almost completely opposite remove from these – it is a ghost story relationship drama. Now there is a certain percentage of you that will switch off the moment the term 'relationship drama' is bandied about. I would implore you not to as you will miss out on a surprisingly good film.
Karen Moncrieff does amazing things as director. For one, she gives Lee Pace, previously an actor I had seen but never paid much attention to, opportunity to shine with handsome assurance and to emerge as a leading man. The simple montage of scenes that Moncrieff takes us through at the start during the wedding, Pace's scenes with young Sander Thomas and of Pace, Sander Thomas and Carrie Coon dancing together come with a sincere affection. It is for once a film I have sat through where the emotions engendered come with a sense of real feeling rather than seem just lines being uttered by actors at other actors.
Moncrieff does equally well when she starts to segue into the ghost story elements. The scenes with Lee Pace being spooked by doors abruptly slamming, children's toys falling down from the attic and especially the stroboscopically lit scenes with a half-glimpsed boy figure running through the shadows in the attic all speak of someone who has an accomplished assurance with genre material.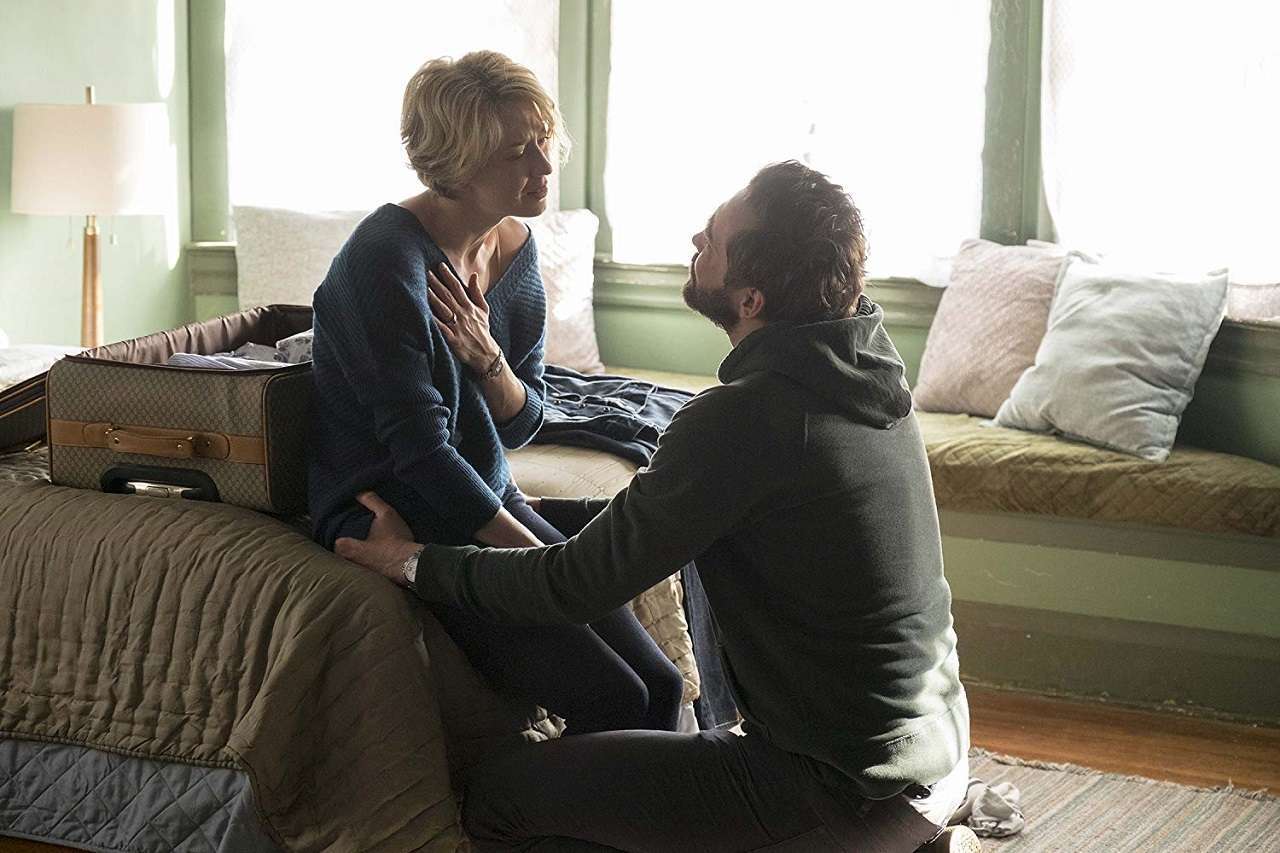 However, Karen Moncrieff and her writer Rebecca Sonnenshine are interested in putting on far more than a standard ghost story. Soon the story segues into one about two parents reconnecting with the child they lost and we see the emotional warmth with which they do so and how this comes to absorb and take over all around them. The scenes where the two finally unleash their angers and resentments hold some incredible raw writing and playing. In this, there are some lovely touches as we see Sander Thomas with genteel prescience nudging the two of them to reconnect. Yet at the same time Moncrieff and Sonnenshine will jolt us out of it by warnings from Ana Ortiz that this is not a natural thing and can spell no good. We see the seductive emotion of the family together again contrasted with the harsh warnings from outside. When the film slowly, subtly segues into its ending, the effect is quite unexpected and an incredibly emotional one. Not to mention the complete antithesis of anything Blumhouse has made before. It defies expectation to emerge as one of the best films they have put out.
Jason Blum and his Blumhouse production company have produced a number of other genre films including:- Hamlet (2000), Paranormal Activity (2007) and sequels, Insidious (2010) and sequels, Tooth Fairy (2010), The Bay (2012), The Lords of Salem (2012), The River (tv series, 2012), Sinister (2012) and sequel, Dark Skies (2013), Oculus (2013), The Purge (2013) and sequels, the tv mini-series Ascension (2014), Creep (2014), Jessabelle (2014), Mercy (2014), Mockingbird (2014), Not Safe for Work (2014), Ouija (2014) and sequel, 13 Sins (2014), The Town That Dreaded Sundown (2014), Unfriended/Cybernatural (2014), Area 51 (2015), The Boy Next Door (2015), Curve (2015), The Gallows (2015), The Gift (2015), Jem and the Holograms (2015), The Lazarus Effect (2015), Martyrs (2015), Visions (2015), The Visit (2015), The Darkness (2016), Incarnate (2016), The Veil (2016), Viral (2016), Amityville: The Awakening (2017), Get Out (2017), Happy Death Day (2017), Split (2017), Stephanie (2017), Bloodline (2018), Cam (2018), Delirium (2018), Halloween (2018), Seven in Heaven (2018), Truth or Dare (2018), Upgrade (2018), Black Christmas (2019), Ma (2019), Prey (2019), Don't Let Go (2019), Sweetheart (2019), Black Box (2020), The Craft: Legacy (2020), Evil Eye (2020), Fantasy Island (2020), Freaky (2020), The Hunt (2020), The Invisible Man (2020), Nocturne (2020), You Should Have Left (2020), Black As Night (2021), The Black Phone (2021), Dashcam (2021), Firestarter (2022), M3gan (2022), Mr Harrigan's Phone (2022), Nanny (2022), Soft & Quiet (2022), Run Sweetheart Run (2022), Sick (2022), They/Them (2022), The Visitor (2022), Torn Hearts (2022), Unhuman (2022), The Exorcist: Believer (2023), Five Nights at Freddy's (2023), There's Something Wrong With the Children (2023) and Totally Killer (2023).
(Nominee for Best Original Screenplay at this site's Best of 2017 Awards).
---
---