---
USA. 2001.
Crew
Director/Screenplay – Martin Kitrosser, Based on the Novel Hole in the Water by Robert Kearney, Producers – Pierre David, Frank Konigsberg, Ken Sanders & Noel A. Zanitsch, Photography – Steve Adcock, Music – Richard Bowers, Production Design – Craig Keller. Production Company – World International Network, LLC/The Konigsberg Co.
Cast
William R. Moses (Chuck Hausman), Marcia Cross (Rebecca Hausman), Daniel Quinn (Art Sannur), Christopher Kriesa (Sheriff Lyle Pointer), Ted Haler (Stuart Blaylock), Brandon Maggart (Pete Gromek), Jack McGee (Cliff Bartok), Katherine Helmond (Katrina Ford), Donald Craig (Jay Wilkerson), Michele Scarabelli (Janine Blaylock), John Saxon (Reverend Leo Hausman)
---
Plot
Chuck Hausman returns, along with his wife Rebecca, to his small Californian hometown of Deerfield for the funeral of his father, the Reverend Leo Hausman. Chuck's father was abusive and Chuck never spoke to him again after he left home eighteen years ago. At the reading of the will, Chuck receives $10,000 but his father's business partners are shocked to learn that the $250,000 they loaned Leo has been lost. As Chuck and Rebecca clean out the house, both the business partners and Leo's housekeeper try to break in to search for the money. At the same time, Rebecca learns about Chuck's past, how he was placed in a psychiatric institution and how he may have murdered his previous wife. Now, Chuck's former girlfriend goes missing, believed murdered, after she tries to demand money from him. So does the housekeeper after she steals Leo's journal, which may hold clues to the whereabouts of the money. Increasing evidence leaves Rebecca believing that Chuck may be the killer.
---
Expatriate Canadian Pierre David is a prolific producer of psycho-thrillers for cable. Pierre David has made an enormous number of these ranging from The Paperboy (1994), Stalked (1994), The Secretary (1995), Daddy's Girl (1996), The Dentist (1996), The Landlady (1997), The Nurse (1997), Blind Obsession (2001), The Stepdaughter (2000) and the Perfect' series begun with The Perfect Nanny (2000). Many of Pierre David's earlier psycho-thrillers are routine and formulaic but as they have progressed, they have developed considerable sophistication and conduct often subtle variations on his formula.
Living in Fear is one of Pierre David's more polished thrillers. Despite its forgettable title, the film has a wonderfully adept script that keeps moving through some marvellous twists and turns that leave one hanging in doubt as to whether the central character played by William R. Moses is a murderer or innocent. This is kept in a state of ambiguous tension until the very end.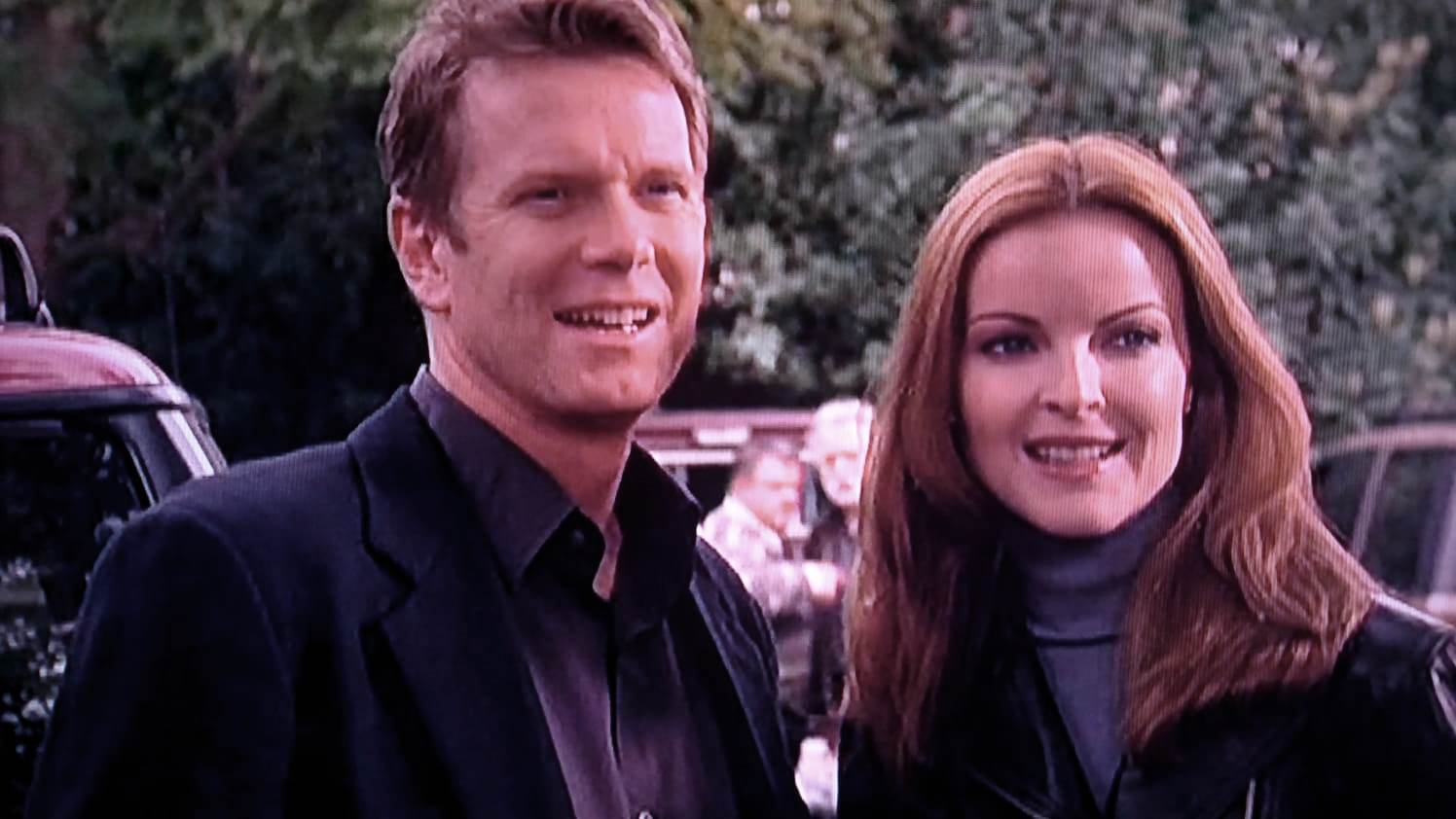 Central to Living in Fear is the performance of William R. Moses (who also associate produces the film). Moses is an underrated actor who has had to wait until Pierre David's thrillers to be able to deliver his best work. Moses's finest performance came as the good/bad twins in Alone with a Stranger (2000), which is also Pierre David's best film.
Here Moses is cast as the husband with an ambiguous past. The performance he gives requires him to travel all the way between handsome and sympathetic husband, cold ruthlessness and falling apart. The entire film hangs on whether Moses is capable of delivering such a range with conviction, which he does exceptionally well. In the role of Moses's wife one can also note a then unknown Marcia Cross several years before fame as Bree Van De Kamp on tv's Desperate Housewives (2004-12).
---
Trailer here
---