---
Crew
Director – Bob Bralver, Screenplay – Bob Bralver & Russell V. Manzatti, Producer – Ovidio G. Assonitis, Photography – Roberto D'Ettorre Piazzolli, Music – Carlo Maria Cordio, Special Effects – Gino De Rossi, Todd Jensen, Donald Pover, Howie Rogie, Neil Smith & Mike Thompson, Special Effects Makeup – Chris Biggs, Production Design – Billy Jett. Production Company – Cannon Films.
Cast
Mark Hamill (Justin McKay), Savina Gersak (Lara Martin), Michael Dudikoff (Lawson), Robert Mitchum (Dr Hardy), Lezlie Deane (Joan)
---
Plot
Lara Martin, a Russian immigrant, decides to leave her husband, police detective Lawson, despite his pleas not to go. She sets out driving from Montevideo to go and stay with a friend in Santa Barbara. Lawson takes a cop car and determinedly pursues her. Lara offers a ride to hitchhiker Justin McKay but then realises that Justin is a serial killer who is killing people along the route. As Justin makes her his prisoner, Lara's only hope lies in the pursuing Lawson.
---
This is one serial killer thriller that is almost never listed in the thriller section of videostores. Rather, due to the presence of action star Michael Dudikoff, it is almost invariably to be found in the action sections of shelves. it has the distinction of being one of the last films produced by Cannon Films, who were responsible for a good many Charles Bronson and Chuck Norris films throughout the 1980s, among others, although was released after Cannon had declared bankruptcy.
Midnight Ride has an interesting and original premise. It could almost be considered an action movie version of The Hitcher (1986). The premise of a wife fleeing an abusive marriage and inadvertently picking up a psychotic hitchhiker, with her only hope being the obsessively pursuing husband, is certainly original. Alas, it is an idea that never gets adequate treatment – as the pursuing husband, Michael Dudikoff is considered just in his actions and by the happy wrap-up ending all her reasons for wanting to leave him have been forgotten. A much more interestingly shaded film would have had the wife caught between the two threats.
The same plot conducted with a better budget and most certainly a better director could be quite gripping. Alas, Midnight Ride was made on a B-budget from Cannon Films and was shot on the cheap in Italy. This seems even cheaper than most of Cannon's films. The director was stuntman Bob Bralver, whose only prior directorial outing was the slasher film Rush Week (1989).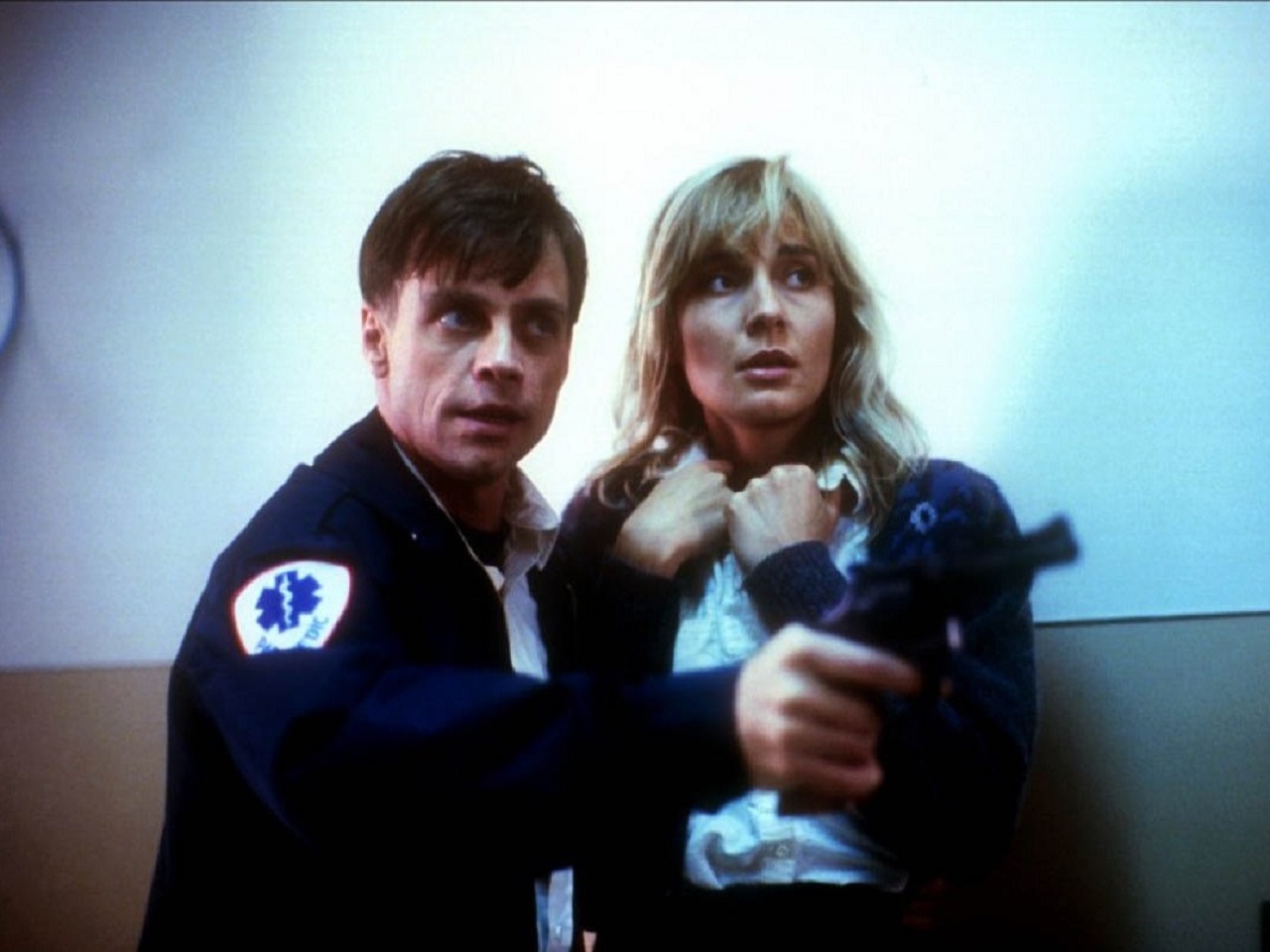 The action looks a lot more cheaply conducted than most of Cannon's films – a few cheaply spectacular car chases and crashes, a garage being demolished and blown up. Little of it impresses and none of it generates any excitement – which is all the more disappointing considering that director Bob Bralver is a seasoned stunt coordinator who has headed work on tv shows such as The Fall Guy (1982-6) and Knight Rider (1981-6).
Midnight Ride features Mark Hamill as the psycho. Hamill was going through a period where he was making a determined effort to shake the perpetually boyish typecasting that had dogged him ever since Star Wars (1977). Around the same time, he was playing other tough guy roles in the likes of Slipstream (1989) and The Guyver (1991), and then went onto play a string of comic-book villains on tv's The Flash (1990-1) and animated series such as Batman, The Fantastic Four, Phantom 2040 and Spider-Man. Here Hamill gives an astonishingly over-the-top performance. It is a piece of totally lunatic acting that would even make grand over-actors like Jack Nicholson and Jim Carrey recoil in shame.
The most entertainingly OTT scene involves Hamill laughing like a maniac while driving with Michael Dudikoff tied to the hood of his car and ramming into the back of a truck. There is a moderately entertaining climax set in a hospital with Mark Hamill trying to ECT Savina Gersak to death, he and Michael Dudikoff fighting through the halls and Hamill crashing down stairs on a quad bike, before hilariously skidding his way through and being engulfed in a furnace.
---
Trailer here
Full film available here:-
---