---
Crew
Director – Mike Flanagan, Screenplay – Mike Flanagan & Jeff Howard, Based on the Short Film Oculus: The Man With the Plan Written by Mike Flanagan & Jeff Seidman, Producers – Marc D. Evans & Trevor Macy, Photography – Michael Fimognari, Music – The Newton Brothers, Visual Effects – Arc Productions (Supervisor – Bret Culp), Special Effects Supervisor – David Nash, Production Design – Russell Barnes. Production Company – Intrepid Pictures/Mica Entertainment III.
Cast
Karen Gillan (Kaylie Russell), Brenton Thwaites (Tim Russell), Katee Sackhoff (Marie Russell), Rory Cochrane (Alan Russell), Annalise Basso (Young Kaylie), Garrett Ryan (Young Tim), James Lafferty (Michael Dumont), Miguel Sandoval (Dr Graham), Kate Siegel (Marisol)
---
Plot
Twenty-one year-old Tim Russell is released from a psychiatric institution after eleven years. He re-joins his older sister Kaylie. She takes him back to the family home. There she has arranged for the delivery of the historic Lasser Mirror from the auction house where she works. She is certain that the mirror has exuded a great evil throughout the centuries, causing victims to go insane, mutilate themselves or die of dehydration. She is also certain that the mirror caused their mother to go crazy and their father to kill her. After his psychiatric treatment, Tim is not so certain that that is what happened and believes there are rational explanations for everything. Kaylie has brought in supplies and equipment to combat the mirror, as well as set up recording equipment to document things. As they set about waiting for something to happen, the mirror appears to be toying with their perceptions of reality in a series of deadly games.
---
I became highly impressed with the name of director Mike Flanagan after watching Absentia (2011) a couple of years ago. It was a horror film that took place in deeply mysterious places and came with a directorial effect that took your breath away – a series of jumps that made you double-take and rewind just be sure what it is that you saw. It showed Mike Flanagan as a director of great promise. Oculus was Flanagan's fifth film and his choice of direct follow-up to Absentia.
There have been films about sinister mirrors before – segments of anthologies like Dead of Night (1945) and From Beyond the Grave (1974) and full-length films like The Brøken (2008) and Mirrors (2008). Surprisingly, one of the few things that Mike Flanagan never does here is concern himself with mirror doppelgangers or having the mirror open up portals to other places; rather it exudes physical evil but crucially could have been almost any item of household furniture. Indeed, the tone of much of the show feels more like something along the lines of Insidious (2010).
The start of Oculus seems ordinary, unexceptional. I kept waiting for Mike Flanagan to jolt us with some of the extraordinarily eerie effects he did in Absentia but they seem curiously absent – a scene with Karen Gillan thinking she sees figures beneath shroud-covered busts moving seems oddly routine (not to mention keeps making you think that Gillan is still back dealing with Weeping Angels). Nevertheless, the film takes a turn for the fascinating where Karen Gillan introduces the ghost hunting equipment, tells the history of the mirror and its malevolent influence and then introduces her methods for thwarting it. This starts to propel Oculus into the arena of the decidedly interesting.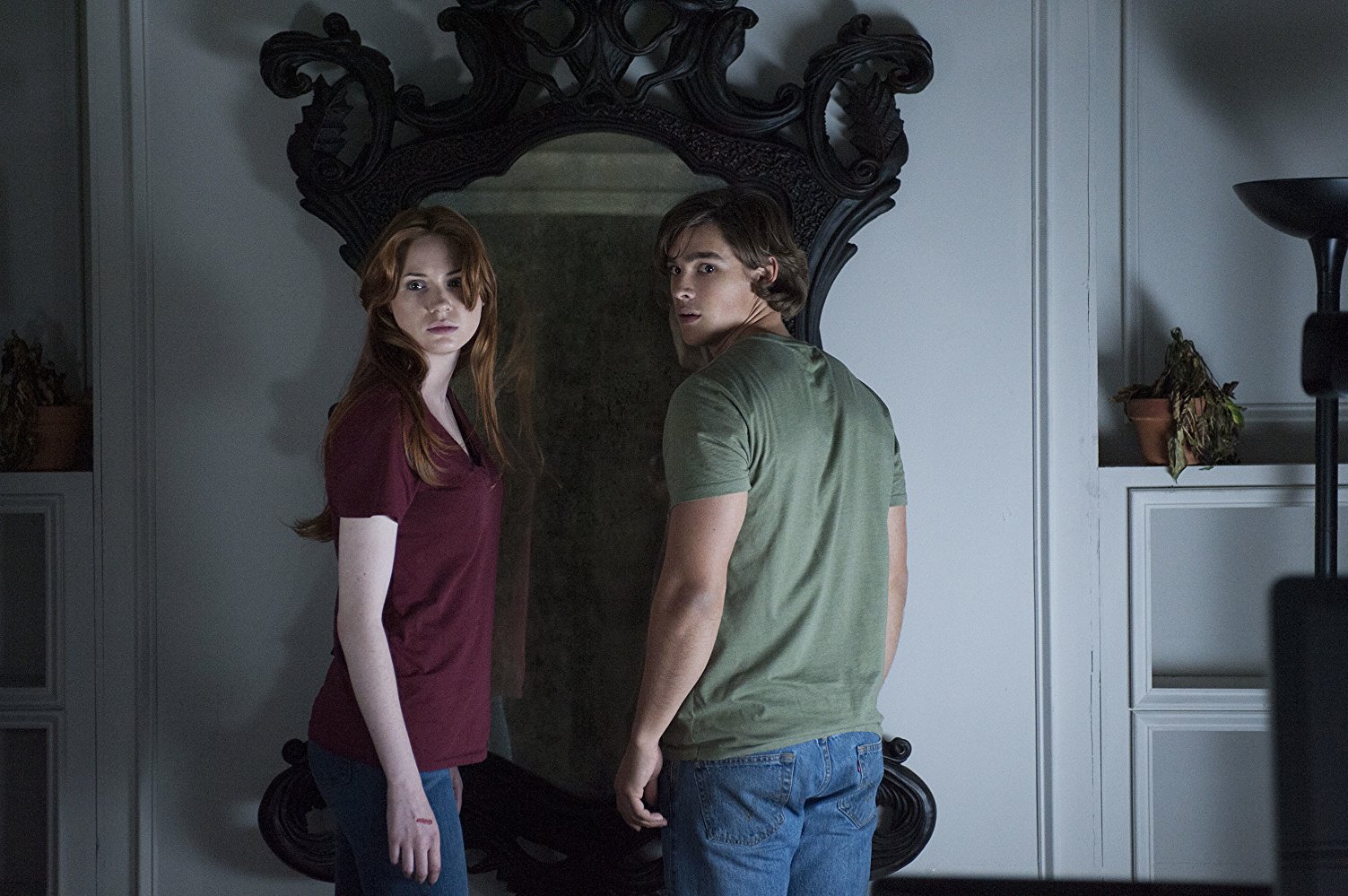 Things are made even more so by pitting brother and sister Karen Gillan and Brenton Thwaites as believer vs rationalist – not unakin to the polar opposites of Mulder and Scully on tv's The X Files (1993-2002, 2016-8) – so that each of the events that occur and supposedly offer proof (or not) of the mirror's influence are countered with rational explanations, even the occasional alternative depiction of events as though we are watching two parallel realities. Of course, Oculus being the film it is, you know the rationalist side is never going to win out.
When Mike Flanagan does start delivering his scares, he produces some eerie effects – especially during the games when the mirror starts trying to protect itself or manipulating people's sense of reality. There is a nasty scene where Karen Gillan picks up an apple she is eating only to find she has bitten into a light bulb. The most effective scene is the one where Gillan thinks she is attacking the ghost woman with a piece of broken china, only to discover she has stabbed her fiancee (James Lafferty) in the neck and then, while the body is lying there and she is trying to ascertain whether what she has done is real or not, she gets her hourly call from him where his cheerfully bland voice comes at disturbingly upbeat cheer to the scene before us. Flanagan winds these games of illusion and uncertainty about what the characters are seeing to an effectively grim conclusion.
The film is serviced by a reasonable cast of moderately known names, mostly recruited from tv. Karen Gillan, the Scottish actress who came to fame as a companion on the modern Doctor Who (2005– ), does a creditable job of dropping her natural Scottish accent for a generic American Midwest one. There is also a very neurotic looking Katee Sackhoff, the great find from tv's Battlestar Galactica (2003-9) as the mother, and Rory Cochrane, a regular from CSI: Miami (2002-12) as the father.
Mike Flanagan next went onto make Before I Wake (2016) about a child whose dreams become reality, Hush (2016) about the stalking of a deaf woman, Ouija: Origin of Evil (2016), the Stephen King adaptation Gerald's Game (2017), the tv mini-series The Haunting of Hill House (2018), Doctor Sleep (2019) and the tv mini-series Midnight Mass (2021), while he also produced, created and directed some episodes of the tv mini-series The Haunting of Bly Manor (2020) and The Midnight Club (2022).
---
---