(Kamera o Tomeru Na!)
---
Crew
Director/Screenplay – Shinichiro Ueda, Based on the Play Ghost in the Box by Ryoichi Wada, Producer – Koji Ichihashi, Photography – Takeshi Sone, Music – Kyle Nagai & Nobuhiro Suzuki, Makeup Effects – Kazuhide Shimohata. Production Company – Enbu Seminar.
Cast
Takayu Hamatsu (Takayuki Higurashi), Yuzuki Akiyama (Chinatsu/Aika Matsumoto), Kazuaki Nagaya (Ko/Kazuaki Kamiya), Harumi Shuhama (Nao/Harumi Higurashi), Mao (Mao Higurashi), Manabu Hosoi (Hosoda), Shuntaro Yamazaki (Toshisuke Yamago), Hirochi Ichihara (Hiroshi Yamanouchi), Shinichiro Osawa (Shinichiro Kosawa), Yoshiko Takehara (Yoshiko Sasahara), Sakina Asamori (Saki Matsuura)
---
Plot
A film crew are making a zombie film in a disused industrial plant where it is rumoured that experiments were conducted in raising the dead back during the War. Just then, the cast and crew are attacked by zombies. They try to flee for their lives. All the while, the director keeps pushing the zombies at the cast so that he can film the results. This is actually a film called 'One Cut of the Dead', which was commissioned for live broadcast on a new zombie television channel and intended to be filmed all in a single camera take. One month earlier, director Takayuki Higurashi accepted the assignment and began rehearsals. However, when it came to the day of shooting, a series of mishaps and screw-ups behind the scenes, including a drunken crew-member, another with diarrhoea and the director and his wife having to step in and play roles when actors failed to turn up, proceeded to turn everything into a shambles.
---
One Cut of the Dead was a directorial debut for Shinichiro Ueda. Made on next-to-no budget, the film gained great international word of mouth. Ueda next went on to co-direct the comedy Aesop's Game (2019) and then returned with Special Actors (2019), which has a similar theme that vies between reality and illusion as a group of people are hired to play roles.
I didn't know what to make of One Cut of the Dead before watching. In the first section, it quickly becomes apparent that we are watching a Long Take film. This was an idea created by Alfred Hitchcock with Rope (1948) wherein he tried to make an entire film in a single take (although Hitchcock had to cheat and use eight cuts, disguising them so as to appear seamless). Since then, a number of other filmmakers have used the idea with the likes of Russian Ark (2002), PVC-1 (2007), Cut (2010), Pig (2010), The Silent House (2010), Silent House (2011). Fish & Cat (2013), Unfriended/Cybernatural (2014), Victoria (2015), King Dave (2016), Red Mile (2016), Rendez-Vous (2019), Corona (2020) and Crazy Samurai Musashi (2020).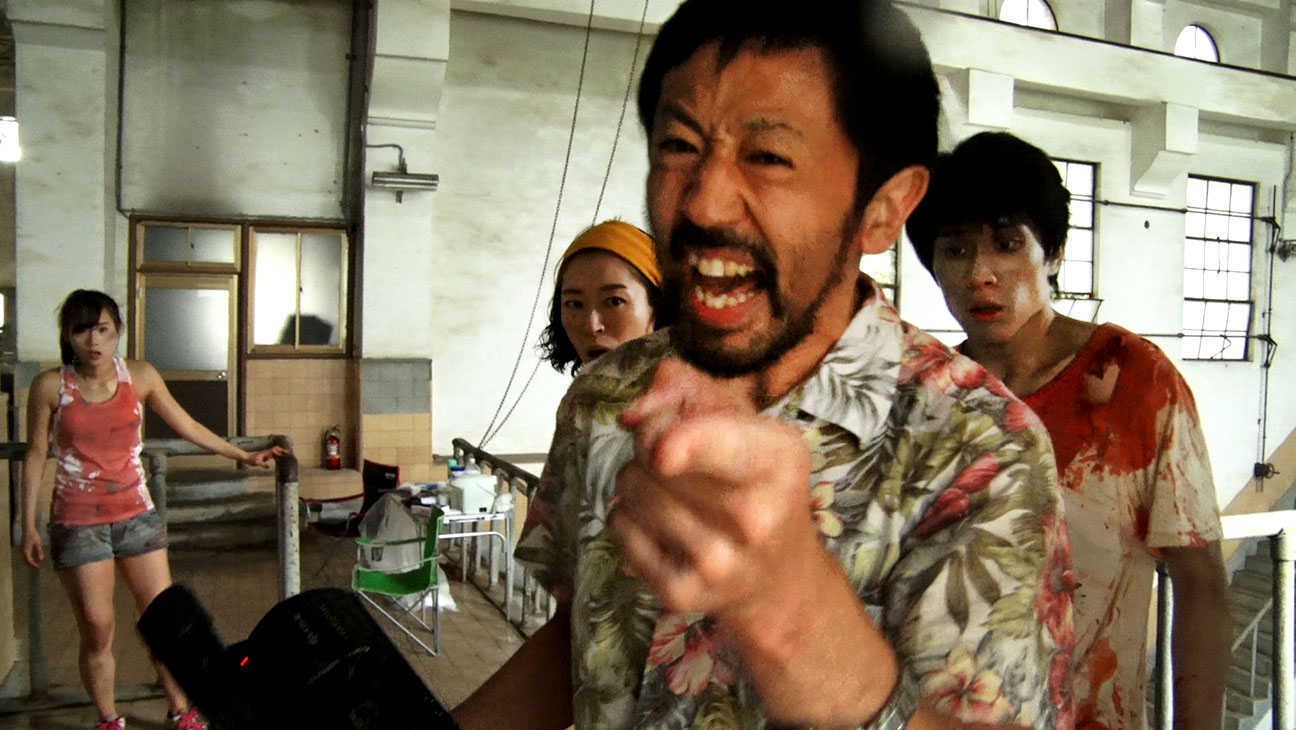 This is the first time that someone has attempted to conduct a Long Take zombie film, although not the first time with a horror film – see the aforementioned Cut, Pig and either version of Silent House, which all came out around the same time. It becomes apparent in watching these that horror is not really a genre suited to the Long Take film. The zombie film delights in gore and splatter but here the camera turning away when someone is being gored or else we see a body being hacked up hidden behind the drop of a roof. Surprisingly, the film does manage to generate some suspense in the scenes with Yuzuki Akiyama being pursued through the tunnels where the single viewpoint camera manages to swing between her and the pursuing zombies at other ends with some effect.
Some of the fun of the film is watching the logistics of how the exercise was pulled off in a single take – the camera diverting away so the cast can pop in through other doors and so on. Beyond the basic novelty of the exercise though, this does not seem a particularly original or innovative zombie film. The most amusing parts are the scenes where director Takayu Hamatsu keeps popping up shoving zombies at actors and yelling "action!".
I think if this were all that One Cut of the Dead were, I would probably rate it lower than I have – a novelty amusement, not much more than that. There is however a puzzling jolt at the 37-minute point where the film abandons the Long Take approach and we pull back to standard dramatic camera set-ups, cuts and editing. It is initially confusing as we are told it is 'one month ago' and then see the director Takayu Hamatsu in a different setting being handed the assignment and meet Harumi Shuhama who is now his wife. As we watch, they go through rehearsals for what we learn is to be a live broadcast of the zombie film we just watched.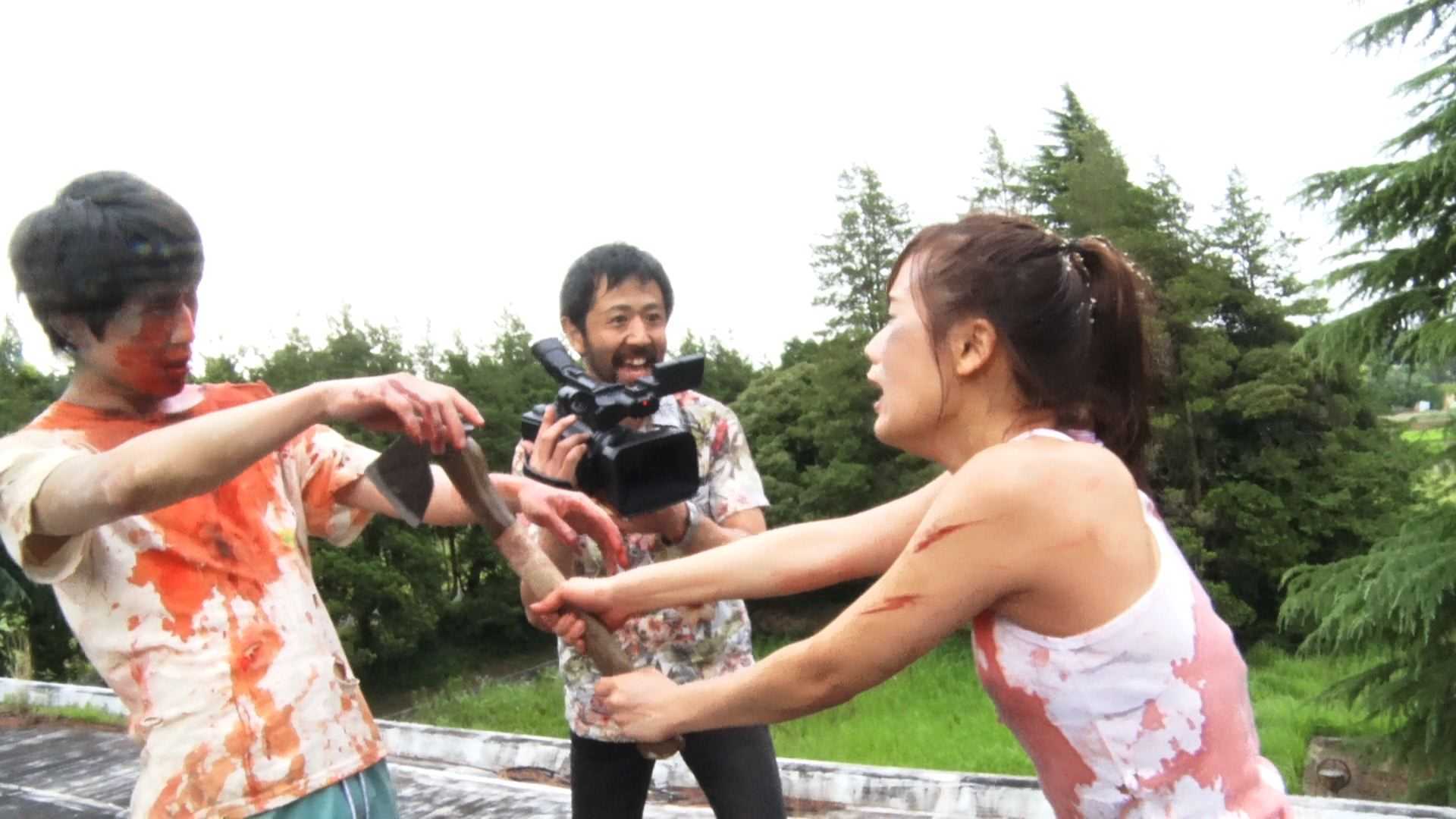 It is when the actual broadcast begins that the ingenuity and enormous fun of One Cut of the Dead becomes apparent. We see the Long Take film we just watched from behind the scenes as it is being shot whereupon an entirely different film transpires. In doing so, the film goes from the slightly interesting to the positively ingenious. It becomes particularly hilarious as everything starts to go wrong – where we learn that various zombie attack scenes involved director Hamastu trying to prop up a drunken actor playing a zombie, where another actor is suffering from stomach upset. Or where a random scene with Harumi Shuhama talking about self-defence was her having to improvise live when an actor missed their cue, of what we thought were looks of horror by an actress turns out to be cue card messages held up to direct her, to the wife going off script, or piece of equipment failing and the rest of them having to improvise live with increasingly chaotic and hilarious results.
What started out seeming like an enthusiastically amateurish film is turned on its head in ingenious ways and revealed to be actually an extremely accomplished and highly organised work. The zombies on a zombie film set had been done with intermittent amusement in I Survived a Zombie Holocaust (2014) but this emerges as one of the most ingenious and funniest takes on the zombie film I have seen in some time.
Some of the cast but not director Shinichiro Ueda went on to make a sequel One Cut of the Dead in Hollywood (2019). Ueda and the cast reunited for One Cut of the Dead: Mission Remote (2020), a special made for the pandemic where a returning Takayuki Hamatsu is required to make a crime film during lockdown (although this features no zombies). The original was remade by Michel Hazanavicius with Final Cut (2022).
---
---