USA. 2009.
Crew
Director/Screenplay – David Twohy, Producers – Robbie Brenner, Mark Canton, Ryan Kavanaugh & Tucker Tooley, Photography – Mark Plummer, Music – Boris Elkis, Visual Effects Supervisor – Jonah Loop, Visual Effects – Comen VFX (Supervisor – Tim Carras), Special Effects Supervisor – Rafael Perez, Makeup Effects – Matthew W. Mungle, Production Design – Joseph C. Nemec III. Production Company – Rogue Pictures/QED International.
Cast
Steve Zahn (Cliff Anderson), Timothy Olyphant (Nick), Milla Jovovich (Cydney Anderson), Kiele Sanchez (Gina Scruggs), Marley Shelton (Cleo), Chris Hemsworth (Kale), Anthony Ruvivar (Chronic)
---
Plot
Newlyweds Cliff and Cydney Anderson travel to Hawaii for their honeymoon. They stop to pick up a couple of hitchhikers, Cleo and Kale, but feel uneasy with them, before the couple leave over an argument. As they head to a camping area, they meet Nick who claims to be an Iraq War veteran, and his girlfriend Gina. At the same time, they hear news of a couple who are wanted for the murder of two other newlyweds. They encounter Cleo and Kale again. As they settle down to camp with the two of them, their aggressive manner and Nick's skill as a hunter start to convince Cliff and Cydney that they are the wanted killers.
---
For some years now, I have insisted David Twohy is one of the most underrated genre talents out there. Twohy began as a screenwriter, turning out scripts for the B-budget likes of Critters 2 (1988), Warlock (1989) and gaining an increasing prominence with A-list films such as The Fugitive (1993), Terminal Velocity (1994), Waterworld (1995), G.I. Jane (1997) and Impostor (2002). In between these, Twohy made his directorial debut on the intelligent low-budget time travel film Timescape (1992) and the cinematically released alien invasion film The Arrival (1996) before having an acclaimed hit with Pitch Black (2000). Twohy subsequently made the submarine ghost story Below (2002) and the Pitch Black sequels The Chronicles of Riddick (2004) and Riddick (2013). Below failed to do much business, while The Chronicles of Riddick was hugely budgeted but greeted with critical indifference that saw Twohy sitting in limbo for several years before being able to make a directorial return with A Perfect Getaway.
A Perfect Getaway was David Twohy's fifth film as director. Unfortunately, it was only a medium success, barely earning back its budget and quickly sinking into dvd oblivion. Disappointingly, A Perfect Getaway is David Twohy's least directorial work to date, a piece of hackwork where it feels that all the imaginative and subtle things that one celebrated about his earlier works have deserted him. It feels less like a work made by a director with a strong and intelligent grasp of genre sensibilities than it does an ingenue studio effort made by a newbie director straight from film school/music video training grounds who has had what he wants to do dictated the entire way by the studio suits and his cast's agents.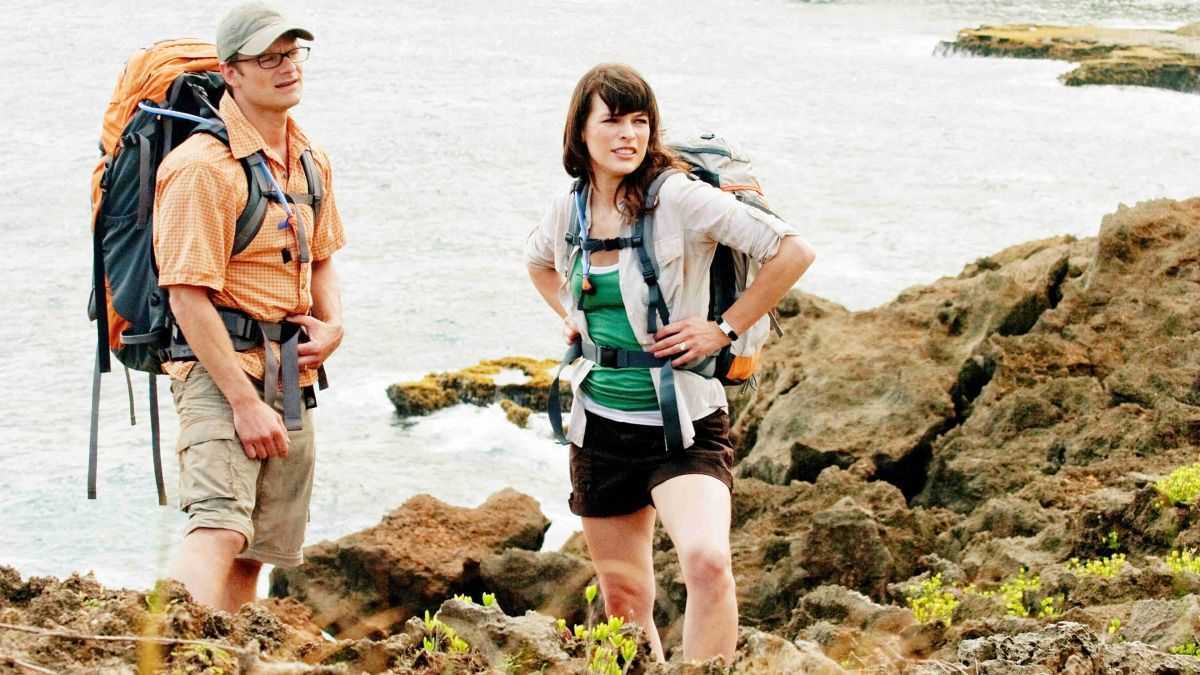 A Perfect Getaway ventures into the tourists in peril theme that we have seen in a number of films around this period – the most obvious of these being Hostel (2005), as well as other films such as Wolf Creek (2005), Turistas (2006), Borderland (2007), The Last Resort (2009), Slave (2009) and And Soon the Darkness (2010) – wherein tourists venturing into prettily photographed foreign locales find something nasty lurking there that wants to kill them. Expectedly, A Perfect Getaway is stunningly photographed in locations that range from Puerto Rico to Jamaica and Hawaii. Although there does seem something artificial about the constantly beautiful scenery, falls, cloud formations and plays of sunlight at every turn – as one finds, David Twohy was not above having the scenery digitally retouched to seem even more so.
The film's set-up is a classic expectation. Steve Zahn is a gormless white boy out of his comfort zone in the wilds where he encounters Timothy Olyphant and girlfriend Kiele Sanchez who are familiar with wilderness survival and seem increasingly more ambiguous in their actions – Olyphant appears to enjoy hunting a little too much, she adeptly guts an animal – to the point that we begin to wonder if maybe they are not the killers. Timothy Olyphant certainly rises to the occasion and gives a performance that holds an appropriate degree of charisma and danger. Against this, Steve Zahn has the standard character arc of the city slicker who needs to toughen up, get his hands dirty and learn to survive in this environment.
At least, that is what A Perfect Getaway wants us to assume. As we find out about the three-quarters point, this is all set-up for one gigantic point-of-view tweak. The entire film has been created to give us a massive left field twist. [PLOT SPOILERS]. Here it is suddenly revealed that Steve Zahn and Milla Jovovich are not the innocent whitebread couple on their honeymoon that we have been led to believe but are in fact the wanted killers.
[PLOT SPOILERS CONTINUE]. At this point, I became intensely annoyed with A Perfect Getaway. The entire film has been blatantly manipulated in order to set up this point-of-view tweak – everything from the opening camcorder wedding scenes to those of Steve Zahn and Milla Jovovich driving through the island in matrimonial bliss and Zahn's affectation of whitebread discomfort in the wilds, even down to whispered conversations Zahn and Milla Jovovich have about what to do with Timothy Olyphant and Kiele Sanchez. Everything we are told throughout is only selective misdirection. This becomes one of the more credibility straining left field twists to occur in the era of the M. Night Shyamalan reality bender.
After this is pulled, A Perfect Getaway becomes increasingly more ridiculous. We are abruptly placed in the point-of-view of now seeing Steve Zahn's gauche character as a deadly killer – where Zahn is about as credible as Jeff Daniels was as a serial killer in Blood Work (2002) – and to now regard Timothy Olyphant who one has previously been led to regard as a borderline psychopath as the hero of the show. It is too hard a changeabout to have to swallow. The film climaxes in a series of tedious action scenes that are largely shot in slow-motion, clearly showing that David Twohy's forte is not as an action director.
---
---