---
Crew
Director – Joe Dante, Screenplay – John Sayles, Story – Richard Robinson & John Sayles, Producer – Jon Davidson, Photography – Jamie Anderson, Music – Pino Donaggio, Photographic Effects – Bill Hedge, Peter Kuran & Rick Taylor, Special Effects – Jon Berg, Creature Design/Animation – Phil Tippett, Makeup – Rob Bottin & Vincent Prentice, Art Direction – Bill & Kerry Mellin. Production Company – New World Pictures/Piranha Productions.
Cast
Bradford Dillman (Paul Grogan), Heather Menzies (Maggie McKeown), Kevin McCarthy (Dr Robert Hoak), Keenan Wynn (Jack), Dick Miller (Buck Gardner), Barbara Steele (Dr Florence Mengers) , Shannon Collins (Suzie Grogan), Belinda Balaski (Betsy), Richard Deacon (Earl Lyon), Bruce Gordon (Colonel Waxman), Paul Bartel (Dumont), Melody Thomas (Laura Dickinson)
---
Plot
Maggie McKeown, a private investigator who tracks missing people, enlists the grudging help of alcoholic misanthrope Paul Grogan in finding two missing teens. The search takes them to an abandoned military base. In attempting to empty a pool to look for bodies, they accidentally release into the river a strain of piranha that have been genetically engineered for greater intelligence and the ability to survive in salt water. Grogan, Maggie and Dr Robert Hoak, the scientist who created the piranha, race downstream in an attempt to stop the piranha before they reach the summer camp where Grogan's daughter is.
---
The massive success of Jaws (1975) quickly petered out amid bad imitations – Orca (1977), Tentacles (1977), Tintorera (1977) and Shark (1982). This mini-genre briefly perked up with several parodies – Attack of the Killer Tomatoes (1978), Up from the Depths (1979), Alligator (1980), Blood Beach (1980), Humanoids from the Deep (1980), Blades (1989) and Piranha.
Piranha is mostly known as the first genre entry from director and genre regular Joe Dante – his second film in all, following Hollywood Boulevard (1976). Dante would later go onto direct a number of other quirkily tongue-in-cheek genre films throughout the 1980s (see below). It was also the first script of John Sayles who delivered several exploitation scripts for Roger Corman – Battle Beyond the Stars (1980), Alligator and Dante's The Howling (1981) – before becoming one of America's foremost independent filmmakers with the likes of Matewan (1987), Lone Star (1996) and Limbo (1999).
Piranha comes in the distinctively jokey genre in-referential style that Joe Dante would make his trademark. There are acting appearances from genre icons like Barbara Steele, Kevin McCarthy, cult director Paul Bartel and Dick Miller who became an inseparable fixture, almost a good luck charm, in all of Joe Dante's films. Clips from old monster movies like The Monster That Challenged the World (1957) turn up on tv's in the background. There are a plethora of fishy in-jokes – fried fish, Warner Brothers cartoons with fishing themes, someone sitting at the beach resort reading Moby Dick (1851), a Jaws videogame (which appears straight after the credits and shoots up producer Jon Davidson and Joe Dante's names!!!).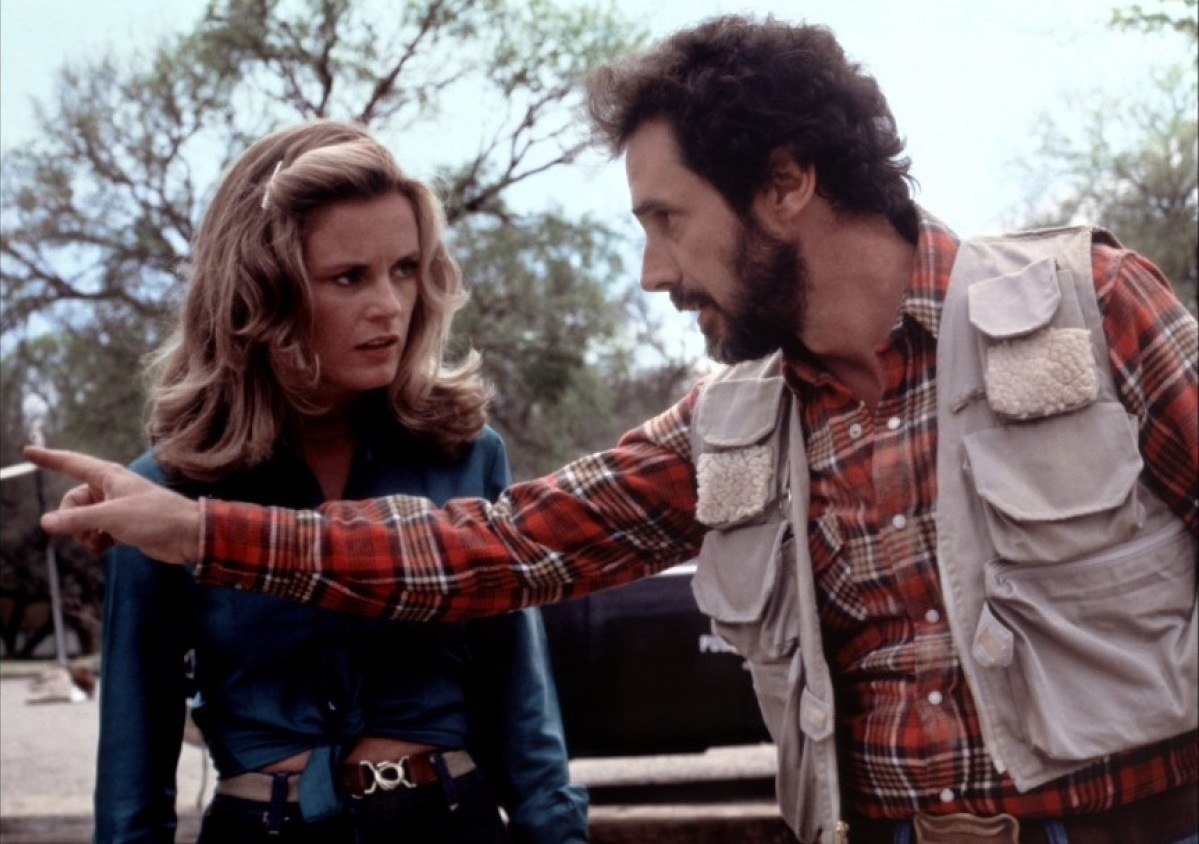 Piranha is better than many subsequent Joe Dante films, which tended to vanish under the weight of Dante's preoccupation with making genre in-jokes. Mostly it appears to be because Dante is held in tow between John Sayles's tight script and New World's perception of the film as an exploitation film that requires a requisite amount of necessary thrills and T&A, both of which Dante pulls off without letting his usual sidetrackings get away with him. Dante succeeds here in doing something he never does in any of his subsequent productions – he generates suspense. He is successful in turning somewhere commonplace – an ordinary river or lake – into a place of unease. In fact, Piranha is so successful at doing this that Dante never even needs to show the piranha at all – just watching someone idly trailing their hand in the water or a trail of blood flowing unseen behind the raft is enough to immediately suggest tension.
John Sayles contributes some amusingly peppery dialogue. "Do you have any cigarettes?" the misanthropic Bradford Dillman is asked, "No, I quit a year ago, it interfered with my drinking." Or the summer camp counsellor trying to think up excuses to help young Shannon Collins who is afraid of the water to skip the race – "Maybe you're getting your – no, you're too young for that." Elsewhere people drop such wonderfully straight-face lines as "Sir, the guests are being eaten," and Bradford Dillman's steadfast resolution, "We'll pollute the bastards to death." All play well – Heather Menzies (previously Jessica on tv's Logan's Run [1977-8]) gives a perky performance, which is nicely balanced out by Bradford Dillman's cynically misanthropic one, although both of them never do a great deal more other than run around during the second half.
In all, while its status has been highly elevated by many genre reviewers, Piranha remains an entertaining exploitation film, no more. It has no expectations beyond that but succeeds very likeably within what it sets out for itself.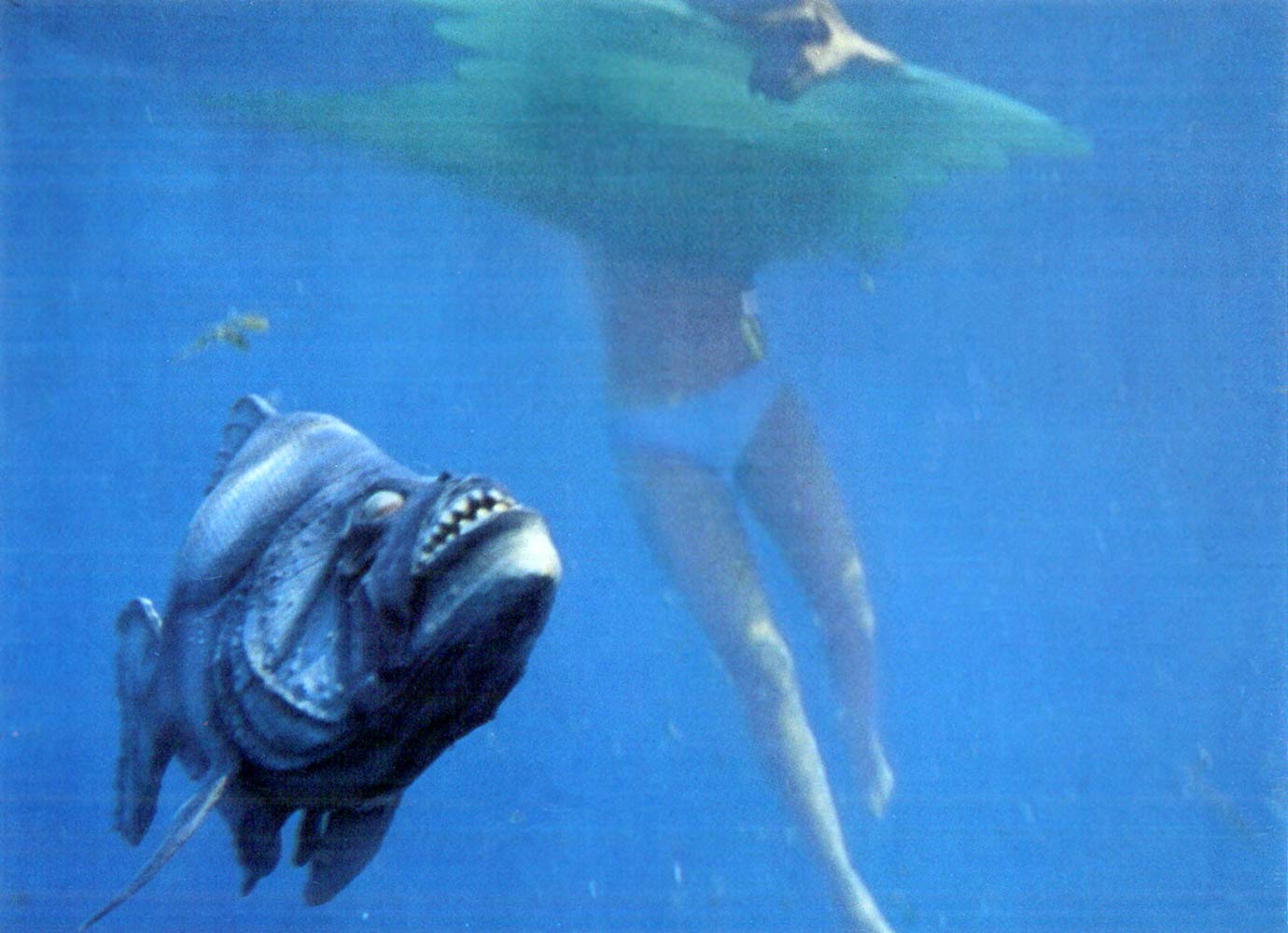 There was a sequel – Piranha II: Flying Killers/Piranha II: The Spawning (1981) – which is related in title only, and is a terrible film, distinctive only for being the directorial debut of James Cameron, who would later go onto the likes of The Terminator (1984), Aliens (1986), Titanic (1997) and Avatar (2009). The film was later remade as a cable tv movie Piranha (1995). Neither film displays any of the tongue-in-cheek humour of the original. Amid the slew of 1970s/80s horror remakes being conducted in the 00s, Piranha was enjoyably remade by director Alexandre Aja as Piranha (2010), which also produced a sequel with Piranha 3DD (2012).
Joe Dante's subsequent films were:– The Howling (1981), the third episode of the anthology Twilight Zone – The Movie (1983), Gremlins (1984), the fine Explorers (1985), Innerspace (1987), segments of the comedy skit anthology Amazon Women on the Moon (1987), the suburban paranoia black comedy The 'Burbs (1989), Gremlins 2: The New Batch (1990), the excellent Matinee (1993) about a genre fan's childhood, the toy wars film Small Soldiers (1998), the witty toon adventure Looney Tunes: Back in Action (2003), parts of the anthology Trapped Ashes (2006), the Young Adult horror film The Hole (2009), Burying the Ex (2014) about a zombie ex-girlfriend and the Mirari episode of the horror anthology Nightmare Cinema (2018). Dante also created the delightful smalltown paranoia tv series Eerie Indiana (1991-2) and produced the short-lived The Osiris Chronicles (1998) and Jeremiah (2002-3), as well as the film adaptation of the comic-book legend The Phantom (1996).
---
---