aka Piranha II: The Spawning
---
Netherlands/Italy. 1981.
Crew
Director – James Cameron, Screenplay – H.A. Milton, Producers – Jeff Schechtman & Chako Van Leeuwen, Photography – Roberto D'Ettore Piazzoli, Music – Steve Powder [Silvio Cipriani], Special Effects/Makeup Effects – Giannetto de Rossi, Art Direction – Vincenzo Medusa & Stefano Paltrinieri. Production Company – Chako Film Co.
Cast
Tricia O'Neil (Anne Kimbreaux), Lance Henriksen (Steve Kimbreaux), Steve Marachuk (Tyler Sherman), Ancil Gloudon (Gabby), Ricky G. Paull [Ricky Paull Goldin] (Chris Kimbreaux), Ted Richert (Raoul), Carole Davis (Jai), Connie Lynn Hadden (Loretta), Arnie Ross (Mal), Leslie Graves (Allison)
---
Plot
At a Caribbean island beach resort, swimmers venturing near an old shipwreck located offshore are found bared to the skeleton. Local police chief Steve Kimbreaux suspects a shark but his ichthyologist ex-wife Anne knows this could not be the case and determines to find the truth. She then discovers that one of her pupils that she beds is from a covert government department that have bred a special strain of piranha that can survive out of water and even fly.
---
Sometimes it is hard to tell from humble beginnings what future greats will ever arise. Certainly, people watching this ratty, terrible effort in 1982 would never have guessed that director James Cameron would ever get to direct another film again, let alone go on to win an Oscar as Best Director for Titanic (1997), not to mention make such genre powerhouses as The Terminator (1984), Aliens (1986), The Abyss (1989), Terminator 2: Judgment Day (1991) and Avatar (2009). Needless to say, Piranha II is rarely a film that turns up on the curriculum vitae of James Cameron who prefers to give people the impression that he began directing with The Terminator instead. [To James Cameron's defence, it appears that he was dismissed only a few days into shooting and the bulk of the film instead shot by Ovidio G. Assonitis with Cameron retaining credit on the finished print].
The first Piranha (1978) was a likeable B-movie that planted tongue firmly in cheek and enthusiastically spoofed the prevailing cycle of seagoing monster movies begun by Steven Spielberg's Jaws (1975). Piranha II tries to bill itself as a sequel to Piranha but there is almost no common ground between the two, short of the two films featuring the common theme of a strain of genetically-engineered piranha attacking a holiday resort. The only person from Piranha involved here is Dutch producer Chako van Leeuwen who reclaimed the rights to Piranha after a bitter legal battle with New World Pictures and then went away to Italy to make this sequel, employing some of the perpetual guilty offenders from the low-budget end of Italian exploitation cinema.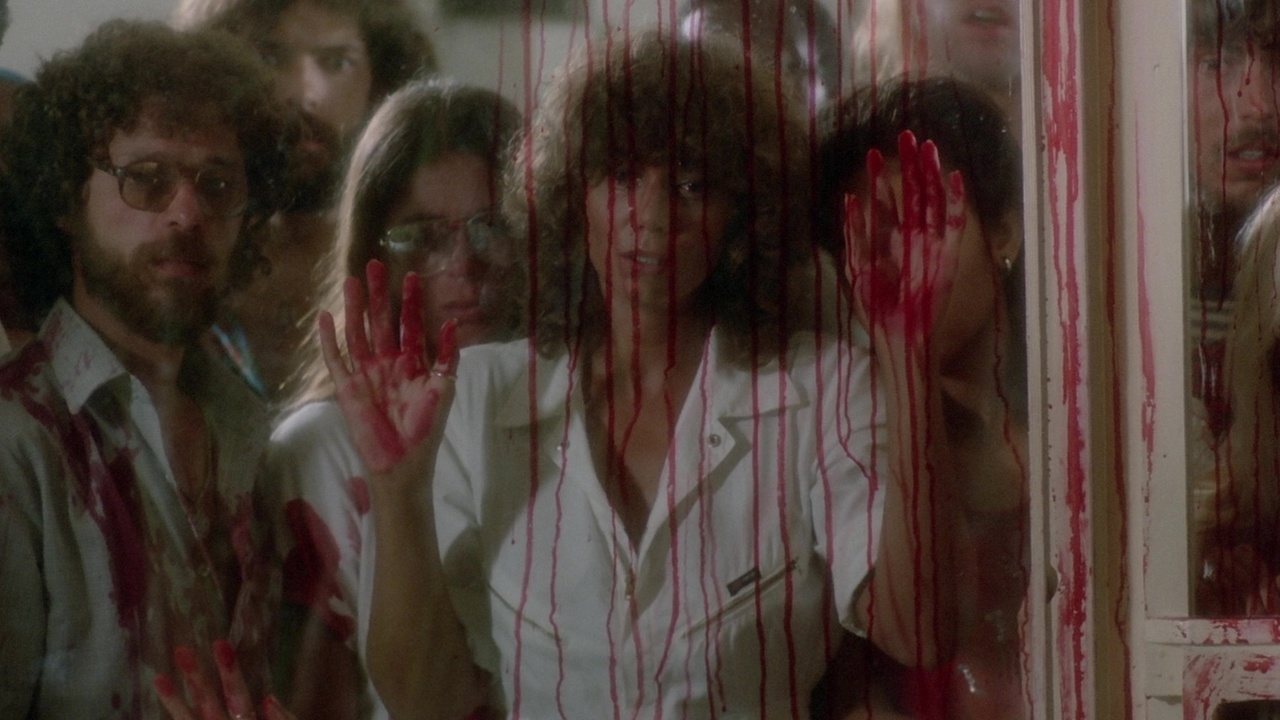 Unlike Piranha, Piranha II misses the point and takes itself deadly seriously. (You cannot help but think if Joe Dante and John Sayles had gotten loose on some of the material here, they could have made an even funnier film than the original). The script comes as a grab-bag of post-Jaws exploitation cliches – the authorities who refuse to believe in the menace lest panic disrupt local festivities (although Piranha II has sufficient amusement to have the Jaws-styled pompous authority figures now happy to dismiss the menace as a shark before revealing the truth to be something else); the disbelieved heroine; the scientist killed by his own creations; the businesspeople whose greed proves their undoing; the climactic race against time.
The flying piranha effects are hilariously unconvincing – at one point, they are even contrived to do an Alien (1979) chestburster type scene. What makes Piranha II especially awful are the deliberate attempts at humour – the bit parts from a middle-aged widow looking to get laid, an incompetent yachtsman, a stuttering bandy-legged chef – that are hammed up so badly as to be excruciating. There is some extremely poor camerawork. On the plus side, heroine Tricia O'Neil shows she is better than the material at hand and capable of more, although has failed to do anything of significance outside of Piranha II, a probable case of a bad film killing off her career. At least, James Cameron survived such a set-back.
Piranha was later remade as Piranha (1995) and Piranha (2010). The latter also produced a sequel with Piranha 3DD (2012).
---
---