---
Crew
Director – The Soska Sisters, Screenplay – John Serge & The Soska Sisters, Story – John Serge, Based on the Film by David Cronenberg, Producers – Paul Lalonde, John Vidette & Michael Walker, Photography – Kim Derko, Music – Claude Foisy, Visual Effects Supervisor – Darren Wall, Visual Effects – Unban Prairie Post Production, Special Effects Supervisor – Mark Ahee, Creature/Prosthetic Design – MastersFX, Production Design – Peter Mihaichuk. Production Company – MFX/Amcomri/Back 40 Pictures Inc./Fimmode Entertainment/Telefilm Canada/Ontario Creates/Twisted Twins Productions Inc..
Cast
Laura Vandervoort (Rose Miller), Benjamin Hollingsworth (Brad Hart), Ted Atherton (Dr William Burroughs), Hanneke Talbot (Chelsea Cattrall), Mackenzie Grey (Gunter), Stephen Huszar (Dominic Danvers), Stephen McHattie (Dr Keloid), Kevin Hanchard (Dr Riley), Heidi von Palleske (Dr Elliott), Joel Labelle (Trent Taylor), Greg Bryk (Director), C.M. Punk (Billy)
---
Plot
Rose Miller is a long-suffering assistant to the clothing designer Gunter. After finding that Brad, the guy she likes, only asked her to a party because her friend Chelsea asked him to, an upset Rose drives away on her motor scooter only to crash. She comes around in the clinic of Dr Keloid who has reconstructed Rose's jaw and stomach living leaving her badly disfigured and having to drink pulped food. She learns about the transhumanist Burroughs Clinic that offers experimental reconstructive treatment and will pay all her medical bills. Dr William Burroughs persuades Rose that he can fix her with modified stem cell procedures and a skin graft. Rose emerges from surgery looking even better than before. She is also ravenously hungrily and wants to devour animal blood. She then begins to have fantasies of attacking people and drinking their blood, which she initially dismisses as being caused by the side effects of the drugs. However, the people she attacks start to become rabid and uncontrollably attack others.
---
Rabid (1977) was the third feature film from David Cronenberg, coming out just before the point when Cronenberg's name started to be discovered. It featured porn star Marilyn Chambers in a straight acting role as Rose, a woman who receives an experimental skin graft following an accident. The skin graft produces a small phallic organ under her armpit that needs to drink blood, only to cause all of Rose's victims to turn rabid and start attacking others.
Rabid is the first time that one of David Cronenberg's films has been remade. Scanners (1981) was spun out into a series of cheap sequels during the 1990s. The Dead Zone (1983) was reworked as the tv series The Dead Zone (2001-2) but that was more a remake of the original Stephen King novel. And at occasional points during the 2010s, there was talk of a remake of The Brood (1979), although this has never approached anywhere near a greenlight. It is a surprise that we have not seen more given how the last few years have seen almost every horror property from the 1970s and 80s excavated in some way. This may well say something either about Cronenberg's themes being still too adventurous to update, that the richness of their metaphors might be too strong for today's content free multiplex crowd or simply that Cronenberg has kept tight control on his copyright given how much most of the 00s/10s remakes have emerged as pallid copies of their originals.
The Rabid remake comes from Canada's twin Soska Sisters, Sylvia and Jen. The duo emerged with the self-financed, self-starring Dead Hooker in a Trunk (2010) where a combination of their novelty act (twin girl directors with astute genre sensibilities), clear talent in the rough and the film's attention-grabbing title triumphed over a fairly raggedy production. They only improved in leaps and bounds with their next film, the immensely assured American Mary (2012) set in the underground world of body modification. This was followed by See No Evil 2 (2014), the T is for Torture Porn segment of ABCs of Death 2 (2014), and the revenge film Vendetta (2015). The Soskas also make frequent acting or cameo appearances in their own (and others) films – they can be spotted here in the party scene near the start as the two twins who disappear into a bathroom stall to do coke while making bitchy comments about Laura Vandervoort.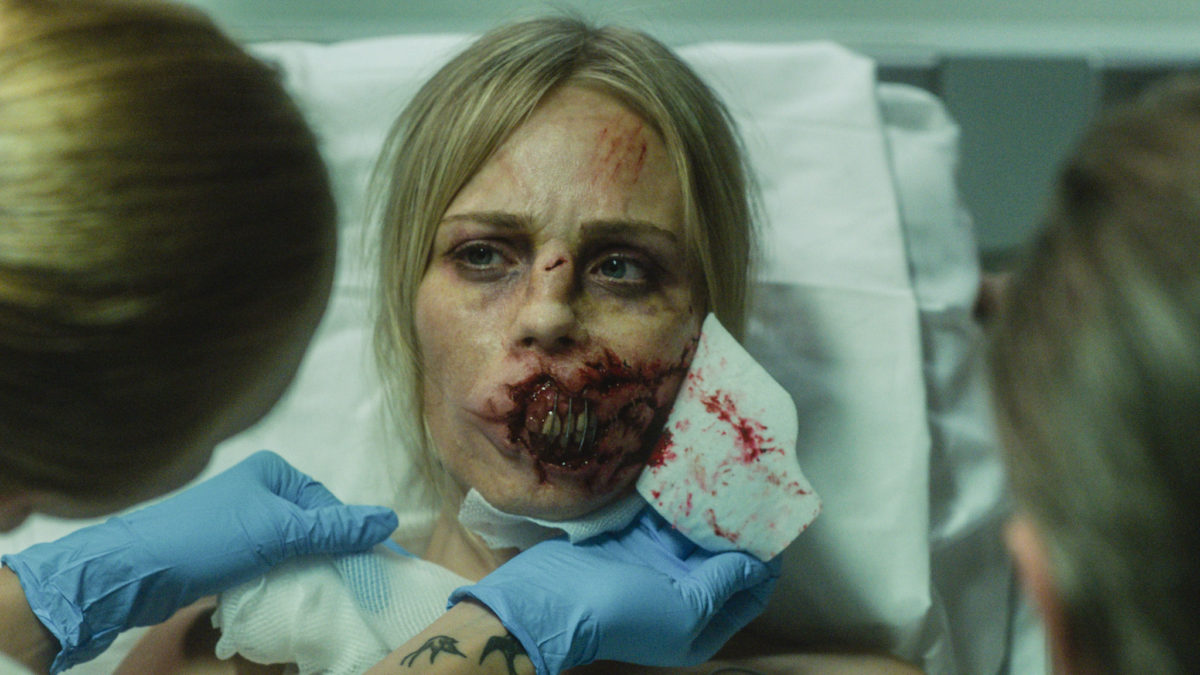 The Soska Sisters take on Rabid apparently with David Cronenberg's blessing. They are smart enough as directors that they don't fall into the pitfalls of most remakes in stripping the original of all that made it work; of remaining faithful to the original but not too faithful as to be slavish; and of placing their own imprint on the film in a way that doesn't trash the original but embellishes it from new directions.
They take the time to update the story into the modern era. The remake now bandies about terms like transhumanism (a phrase that had been coined but was not in general use in 1977), stem cell surgery and of course everything is located amid the modern health cost nightmare (part of Laura Vandervoort's readiness in signing up to the Burroughs Clinic is that they pay for all of her health coverage). In an amusing touch, Laura Vandervoort is now a modern urban girl whose development of blood-drinking habits later in the film comes in contrast to her fad vegetarian diet.
The Soskas make some structural changes to Cronenberg's story such as giving it a much longer preamble about Rose's job as a downtrodden dogsbody at a fashion house plus a maybe/maybe not attraction to co-worker Benjamin Hollingsworth. The other oddity is that Dr Keloid is present but is sidelined altogether, getting only a single scene appearance (in the person of Stephen McHattie) where he patches Rose up but leaves her deeply scarred. Unlike the original all-in-one operation performed by Keloid, this Rose then has to go to a different clinic and undergo another surgery to have the graft where it then becomes Ted Atherton as the new character of Dr Burroughs who implants Rose with the parasite. The remake also throws out the underarm parasite from the original for a less convincing set of CGI tentacles. The Soska also place more focus on Rose's facial disfiguration whereas in the original we never got to see a scarred Marilyn Chambers at all.
On the other hand, all this new material unbalances the story – the background of Rose and her bitchy fashion show milieu, plus the two surgeries and Rose's adjustment in between, adds a whole lot more whereas Cronenberg had all of this over and done with in the first ten or so minutes. He was thus able to get onto the meat of the story fairly soon in whereas this takes three-quarters of an hour of runtime to get there.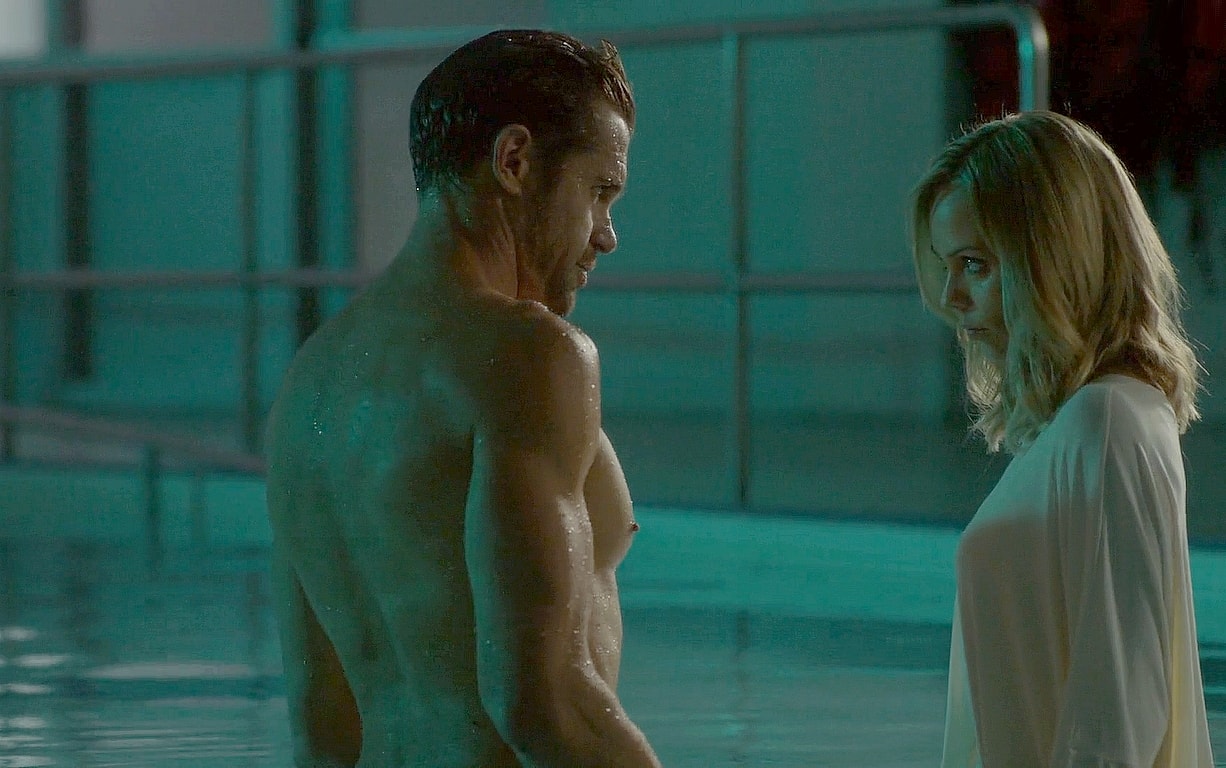 The other major change is the focus of the story. In the original, Marilyn Chambers' was an essential cypher. She was a Typhoid Mary who infected everybody she came into contact with but essentially drifted from person to person without any real connection to any of them. The Soskas place more of a feminist spin on Rose. As in American Mary and here, the central character is one who is downtrodden and taken advantage of in life but gains an empowerment as a result of delving into radical medical techniques. During the attacks on her victims, we get scenes where she acts as a far more calculating agency and stands up to and deliver justice desserts to men that are jerks or self-absorbed.
The Soska Sisters also throw in much homage to David Cronenbeg's other works. There is a surgical scene with the surgeons decked out in scarlet robes right out of Dead Ringers (1988). Dead Ringers actress Heidi von Palleske makes a small appearance as a doctor at the hospital. Furthermore, she is named Dr Elliott, while later we have a Dr Beverly, the names of the two twin doctors played by Jeremy Irons in Dead Ringers. Ted Atherton plays a Dr William Burroughs, named after the author whose work became the basis of Cronenberg's Naked Lunch (1991). Moreover, when we see a picture of Burroughs' wife, it is a photo of Lynn Lowry, the lead actress from Cronenberg's Shivers (1975).
The Soska Sisters hold little back and readily leap into gore – so much so that before the film opened, the two ended up being banned from Twitter after sharing a picture of a facially disfigured Laura Vadervoort. We get repeats of the scenes from the original with the surgeon going amok and the Santa being gunned down. One of the strongest effects though is actually seeing Laura Vandervoort with a disfigured face and being reduced to eating pulped food through a giant syringe. We probably didn't need the climax with Rose as a full-on CGI monster, which is the one point the film becomes schlocky.
The strangest name on the credits is that of Paul LaLonde, the Canadian producer who is better known, along with his brother Peter. as one of the driving forces behind the faith-based Cloud Ten Pictures, which produced the Biblical End Times tetraology Armageddon (1998), Revelation (1999), Tribulation (2000) and Judgment (2001), plus the original Left Behind (2000). Paul has even written several books on Biblical prophecy. Paul has worked solo as a producer without his brother since the 2010s but still puts out faith-based films including the remake of Left Behind (2014). Quite what he is doing signed on here to a work that seems at about 180 degrees remove from faith-based cinema is a big scratch of the head.
---
---