---
Crew
Director – David Greene, Screenplay – D.B. Ledrov & Nathaniel Tanchuck, Based on the Short Story by August Derleth & H.P. Lovecraft, Producer – Phillip Hazelton, Photography – Kenneth Hodges, Music – Basil Kirchin, Musical Director – Jack Nathan, Makeup – Harry Frampton, Art Direction – Brian Eatwell. Production Company – Troy Scheck Productions Ltd.
Cast
Carol Lynley (Susannah Whately Kelton), Gig Young (Mike Kelton), Oliver Reed (Ethan Whately), Flora Robson (Aunt Agatha Whately), Judith Arthy (Emma), William Devlin (Zebulon Whately), Bernard Kay (Tait)
---
Plot
Magazine editor Mike Kelton travels to tiny Dunwich Island with his wife Susannah. Susannah was born in Dunwich but grew up in New York. She has now inherited the Whately family mill on the island. Upon their arrival, they are given dire warnings about what will happen if they go to the mill where the locals have suffered ill fates. Ignoring this, they move in. As they do, something stirs inside the mill and starts killing people. Meanwhile, Susannah's cousin Ethan becomes increasingly menacing in his attentions towards her.
---
H.P. Lovecraft (1890-1937) is a writer that casts an enormous shadow over American horror fiction. There have been a number of films adapted from his works (see below and in more detail in Lovecraftian Films). The Shuttered Room is an almost H.P. Lovecraft adaptation. Following Lovecraft's death in 1937, writer August Derleth (1909-71), who had been a correspondent with Lovecraft during his lifetime, became the executor of his estate. Derleth brought together all of Lovecraft's works and created his own publishing company Arkham House in order to do so. In doing so, he became the one who took Lovecraft from an obscure writer within his lifetime to giving him wider renown. (It was also Derleth who came up with the term Cthulhu Mythos to refer to Lovecraft's body of work). Beginning in 1941, Derleth began to complete unfinished stories and ideas in Lovecraft's papers, putting them out as collaborations written by Lovecraft and himself, along with a number of original works set in and around the Cthulhu Mythos. The Shuttered Room (1959) was one such pastiche written by Derleth based by notes for a story that Lovecraft made but never got around to writing. The story can be found in the collection The Shuttered Room and Other Pieces (1959) credited as by Derleth and Lovecraft.
In the 1960s, H.P. Lovecraft was not quite the name that he is today. Nevertheless, there had been several film adaptations made during this period under the aegis of Roger Corman and American International Pictures with Corman's The Haunted Palace (1963) based on Lovecraft's The Case of Charles Dexter Ward (1941), which was sold as one of Corman's Edgar Allan Poe films, and in particular Corman's production designer Daniel Haller who directed Die, Monster, Die!/Monster of Terror (1965) based on The Colour Out of Space (1927) and an adaptation of The Dunwich Horror (1969). It would however take until the 1980s and the success of Re-Animator (1985) before the cinematic Lovecraft would take off. August Derleth has never enjoyed any other film success, although he did have five of his stories adapted as episodes of the anthology Thriller (1960-2) and three for Rod Serling's Night Gallery (1970-3).
The Shuttered Room was made by David Greene, a director who almost always worked in television, most notably with mini-series such as Rich Man, Poor Man (1976) and Roots (1977) and the occasional film like the submarine drama Grey Lady Down (1977). In genre material, Greene also made the interesting spy film Madame Sin (1972), the android tv movie Prototype (1983) and a couple of tv remakes of classic horror films with Night of the Hunter (1991) and What Ever Happened to Baby Jane? (1991).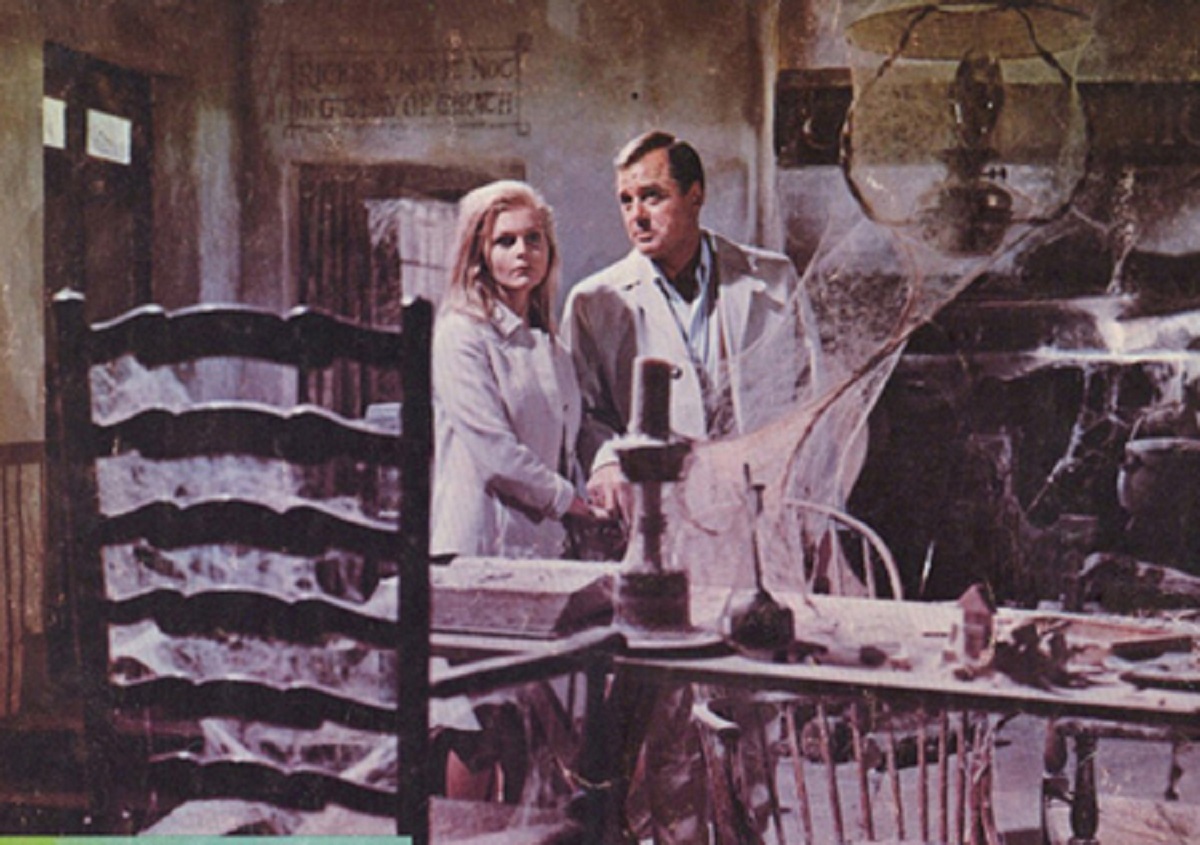 Although generally overlooked in the pantheon of cinematic H.P. Lovecraft and not widely seen, The Shuttered Room is well worth reconsideration. Its very obscurity and lack of write up in genre publications led to the expectation of not much at all, however this is far from the case. Up until this point, cinematic Lovecraft was only represented by The Haunted Palace and Die, Monster, Die, both of which drew on the style of Roger Corman's Edgar Allan Poe films. Corman in turn drew his influence from Hammer horror films and had his Poe adaptations taking place in studio-bound sets and atmosphere-laden old mansions, The Shuttered Room came with a different look to it. For one, Greene goes outdoors to shoot and does an excellent job of evoking a sense of place of New England – even if he is shooting in Old England. (The film also turns the quintessential Lovecraftian town of Dunwich into an island). Greene is a far better director than Daniel Haller in terms of opening the film up dramatically, shooting the landscapes and peopling the fictional world with characters.
The film has a great performance from Oliver Reed, who at the time had a few leading roles under his belt (mostly for Hammer Films) but was not quite the A-list name and sex symbol that he became around 1970. Reed lights the film up with a lupine glee – he gives the otherwise relatively placid film a wild, maniacally charged unpredictability in every scene he turns up. He creates a great sense of menace during his initial scenes befriending Carol Lynley as she sits in the open-top car. In the scenes where Reed escorts Lynley and Gig Young up the hillside to meet Aunt Agatha, you get the impression that he is trying to make moves on her. The entire film seems to brood with this sexual tension – the scenes watching Carol Lynley undressing and the remarkable scene where she goes for a walk and Oliver Reed is having his way with local girl Judith Arthy nearby on the beach where the locals stand around watching before Reed suddenly abandons Arthy and decides to pursue Carol Lynley.
The early scenes play very much on the sense of resentment from country folk towards people from the city that became all the vogue a few years later in films like Deliverance (1972) and The Texas Chain Saw Massacre (1974). In particular, what The Shuttered Room resembles is Straw Dogs (1971) where Carol Lynley even looks like Straw Dogs heroine Susan George. In both films, the Lynley/George characters are slim, blonde and have sophisticated ways and we see how they are surrounded by a horde of uncouth locals after seemingly stirring up their lusts. As in Straw Dogs, we get a very similar focus on Lynley's unattainable sexuality here – closeups of her crossing her legs and shots of her stripping down to her bra as seen by a peeper behind the wall. (Although the latter scene is clearly David Greene borrowing more than a few leaves from Psycho (1960) and the scene where Anthony Perkins peeps in on Janet Leigh in the shower).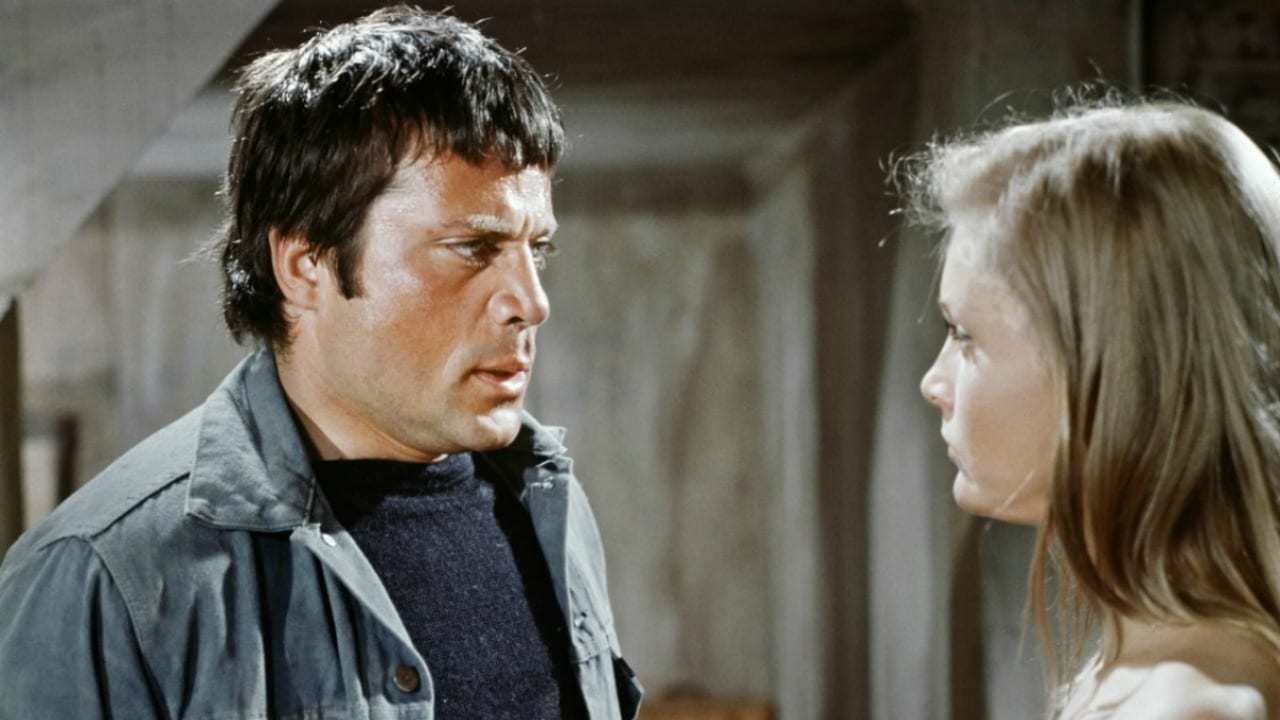 On the minus side, these sexual tensions and the sense of resentment towards city intruders by country people are what drive the film more so than any traditional Lovecraftian elements, which usually concern themselves with occult rituals to unleash elder gods, the quest for forbidden knowledge and unseen terrors from beyond this realm. The Shuttered Room is certainly one of the most mundane H.P. Lovecraft stories and is the only one of those mentioned here that features a non-fantastical menace. Indeed, the resolution about a maddened twin who has to be locked away places The Shuttered Room more into the company of films like The Beast in the Cellar (1970) and The Unseen (1981) dealing with deformities and crazed family members locked away in the attic/cellar.
Other films based on the works of H.P. Lovecraft include:- The Haunted Palace (1963), Die, Monster, Die/Monster of Terror (1965) and The Dunwich Horror (1969). The big success in the modern era was Stuart Gordon's splattery black comedy version of Re-Animator (1985), which popularised Lovecraft on film. This led to a host of B-budget Lovecraft adaptations, including Stuart Gordon's subsequent From Beyond (1986), The Curse (1987), The Unnameable (1988), The Resurrected (1992), Necronomicon (1993), The Unnamable II: The Statement of Randolph Carter (1993), Lurking Fear (1994), Gordon's Dagon (2001), and other works such as The Dream-Quest of Unknown Kadath (2003), Beyond the Wall of Sleep (2006), Cool Air (2006), Chill (2007), Cthulhu (2007), The Tomb (2007), Colour from the Dark (2008), The Dunwich Horror (2009), The Color (2010), Pickman's Muse (2010), The Whisperer in Darkness (2011), The Dark Sleep (2013), The Haunter of the Dark (2015), Herbert West: Re-Animator (2017), Color Out of Space (2019), H.P. Lovecraft's The Deep Ones (2020), the tv series Lovecraft Country (2020), Markham (2020), H.P. Lovecraft's Witch House (2021), The Resonator: Miskatonic U (2021) and The Lurking Fear (2023). Lovecraft: Fear of the Unknown (2008) is a documentary about Lovecraft. Also of interest is The Manitou (1978), which features an appearance of the Great Old One; Cast a Deadly Spell (1991) and its sequel Witch Hunt (1994), a tv movie set in an alternate world where magic works and where the central character is a detective named H.P. Lovecraft; Juan Piquer Simon's cheap and loosely inspired Cthulhu Mansion (1992); John Carpenter's Lovecraft homage In the Mouth of Madness (1995); the fan parodies Lovecracked: The Movie (2006), The Last Lovecraft: Relic of Cthulhu (2009) and Call Girl of Cthulhu (2014); even a trilogy of animated children's film Howard Lovecraft and the Frozen Kingdom (2016), Howard Lovecraft and the Undersea Kingdom (2017) and Howard Lovecraft and the Kingdom of Madness (2018) in which a young Lovecraft encounters his own creations; while Batman faces Lovecraftian horrors in the animated Batman: The Doom That Came to Gotham (2023). The Elder Gods turn up at the end of The Cabin in the Woods (2012), Lovecraft (Paul Titley) appears as an imaginary companion in Ghostland/Incident in a Ghostland (2018) and In Search of Lovecraft (2008) features a tv news crew discovering that Lovecraft's works are true. Lovecraft's key work of demonic lore The Necronomicon also makes appearances in films such as Equinox (1970), The Evil Dead II (1987) and Army of Darkness (1992), and was also borrowed as an alternate retitling for Jesus Franco's surreal and otherwise unrelated Succubus/Necronomicon (1969) about a BDSM dancer.
---