---
Crew
Director/Screenplay – David Koepp, Based on the Novel A Stir of Echoes by Richard Matheson, Producers – Judy Hofflund & Gavin Polone, Photography – Fred Murphy, Music – James Newton Howard, Visual Effects – Banned from the Ranch Entertainment (Supervisors – Casey Cannon & Van Ling), Makeup Effects – Jim Beinke & Tony Gardner, Production Design – Nelson Coates. Production Company – Hofflund-Polone/Artisan Entertainment.
Cast
Kevin Bacon (Tom Witzky), Kathryn Erbe (Maggie Witzky), Zachary David Cope (Jake Witzky), Illeana Douglas (Lisa), Kevin Dunn (Frank McCarthy), Conor O'Farrell (Harry Damon), Eddie Bo Smith Jr (Neil), Jennifer Morrison (Samantha Kozak), Lisa Weil (Debbie Kozak), Steve Rifkin (Kurt McCarthy), Chalon Williams (Adam Damon)
---
Plot
Chicago lineman Tom Witzky allows his sister-in-law Lisa to hypnotize him as a parlour trick at a party, not believing that she will succeed. She does, but afterwards Tom finds that she has innocently inserted a post-hypnotic command for him to "open his mind". He now starts seeing visions of a dead girl in his living room and has clairvoyant experiences. He sits at home ignoring work and his wife as he tries to understand what he is experiencing. He comes to believe that the dead girl is attempting to communicate with him so that he can solve her murder.
---
David Koepp emerged in the 1990s with an impressive list of high-calibre screenwriting credits that include the likes of Jurassic Park (1993), Carlito's Way (1993), The Paper (1994), The Shadow (1994), Mission: Impossible (1996), Spider-Man (2002), War of the Worlds (2005), Indiana Jones and the Kingdom of the Crystal Skull (2008) and Jack Ryan: Shadow Recruit (2014). Koepp then made an impressive debut as writer and director of the excellent downfall of civilized order drama The Trigger Effect (1996) and continued to move from strength to even greater strength with this ghost story.
When Stir of Echoes came out, many were quick to compare it to The Sixth Sense (1999), which had been released in the US only a month earlier. There are undeniable similarities between The Sixth Sense and Stir of Echoes – they are both films about people able to see ghosts, they both feature a spookily prescient child and the murder of a girl that needs avenging. However, Stir of Echoes opts for a far more routine murder mystery plot than The Sixth Sense and its way-out surprise ending. On the other hand, watching Stir of Echoes and David Koepp's extraordinarily accomplished shocks makes The Sixth Sense's success seem that little bit less, as a film that has been carried more by the buzz surrounding its surprise ending than anything else.
Most good horror films have one good shock that stands out or makes an audience jump. However, Stir of Echoes comes packed with so many it is difficult to choose one. There is the first jolt that comes in the moment that Kevin Bacon turns around and sees the dead girl sitting on the couch beside him; or the scenes where the babysitter is drawn upstairs by hearing the young boy speaking to the ghost of her sister on the baby-minder; or wife Kathryn Erbe walking through the house oblivious to the ghost girl sitting stirring her bathwater or unscrewing a lightbulb behind her in the cellar.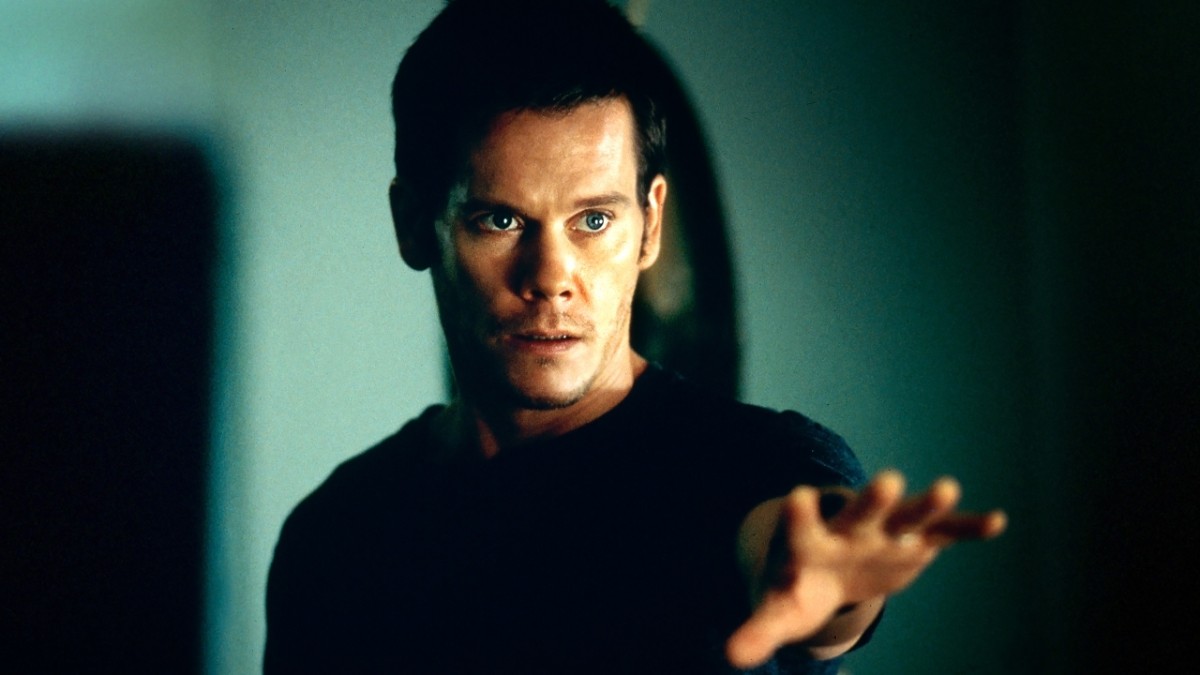 David Koepp creates some eerie moments of enormous subtlety – like where Kathryn Erbe casually discusses her grandmother having to go into hospital and Kevin Bacon responds "No, she – " before cutting himself off and seconds later the phone rings and one can already tell what the news is going to be. In one genuinely spooky sequence, Kevin Bacon wakes up as neighbour Kevin Dunn walks in suddenly announcing "I'm going to kill you" and rushes to the house as Dunn's son Adam Rifkin pulls a gun and then shoots himself. Bacon then wakes up to find this has been a dream, only to find all the details from the dream – the boots under the couch, the note on the mirror, the postwoman – starting to repeat themselves. Rarely has a film created such a consistent sense of eerieness at every moment.
Koepp leaves the audience with the impression that something ominous could happen at any moment. There are not many films that create this sense of foreboding and Stir of Echoes is one of the few films to have made this somewhat jaded genre reviewer jump in their seat. Koepp also engages in some extraordinary meta-fictional devices. In the hypnotism scenes, Koepp in effect allows the camera to in effect become Kevin Bacon as he is hypnotised. When Illeana Douglas asks him to close his eyes, shutters drop across the lens and the screen goes blank. With total ingenuity, Koepp then has her ask Bacon to imagine himself in a movie theatre – whereupon we see a theatre before us and are granted the amazing image of looking above the heads of the audience in the theatre where we are watching and seeing a screen on which there is another audience looking at a blank screen from exactly the same position we are in. Koepp then asks Kevin Bacon to move toward the screen and focus on an indistinct word there and gradually focuses into the word "Sleep". This is not quite the way hypnotism works – a hypnotist should gradually ask someone to unfocus rather than to concentrate – but it does allow David Koepp to pull one eerie shock later in the piece where Kevin Bacon is hypnotized again and the word coming into focus seems to be "Die" instead of "Sleep".
Also extremely good is David Koepp's determined effort to root Stir of Echoes in a working class environment. Koepp determines to make Stir of Echoes a horror film of ordinary people and is particularly good at depicting the working class environs of Kevin Bacon's family life and the Chicago suburb he lives in, while confining the horrors almost entirely within their rundown rental property.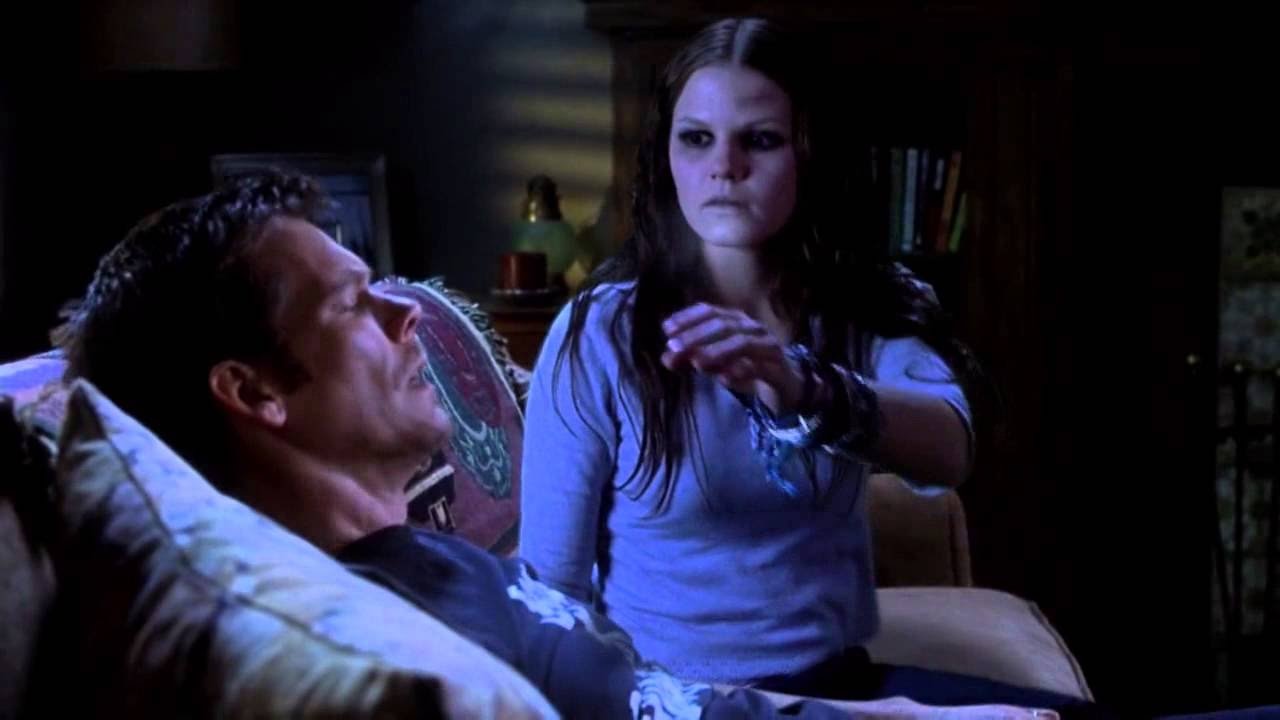 The unfortunate thing about Stir of Echoes is that it did only doing middling business amid a summer that was packed with horror movies – The Haunting (1999), The Blair Witch Project (1999), The Sixth Sense and Stigmata (1999). After such inundation, the critics, fresh from showering accolades on Blair Witch and The Sixth Sense, dismissed Stir of Echoes merely because it is too much of one particular product line. Whereas if the truth be known, Stir of Echoes is arguably the best of all the above films.
Stir of Echoes: The Homecoming (2007) was a sequel, which retold the same story with the central character now made into an Iraq War vet played by Rob Lowe.
David Koepp's other genre films include the screenplays for the very weird Apartment Zero (1988), the psycho-thriller Bad Influence (1989), Robert Zemeckis's immortality black comedy Death Becomes Her (1992), Jurassic Park (1993), the mystical superhero film The Shadow (1994), The Lost World: Jurassic Park (1997), Spider-Man (2002), War of the Worlds (2005), the children's film Zathura: A Space Adventure (2005), Indiana Jones and the Kingdom of the Crystal Skull (2008), Angels & Demons (2009), Jack Ryan: Shadow Recruit (2014), Inferno (2016) and The Mummy (2017). As director, Koepp has also made the downfall of civilisation drama The Trigger Effect (1996), the Stephen King adaptation Secret Window (2004), Ghost Town (2008) and the non-genre likes of the thriller Premium Rush (2012), the comedy Mortdecai (2015) and the malevolent house film You Should Have Left (2020).
(Winner in this site's Top 10 Films of 1999 list. Winner for Most Underrated Film, Nominee for Best Director and Best Adapted Screenplay at this site's Best of 1999 Awards).
---
---