aka Unsane
(Sotto Gli Occhi dell'Assassino)
---
Italy. 1982.
Crew
Director/Story – Dario Argento, Screenplay – Dario Argento & George Kemp, Producer – Claudio Argento, Photography – Luciano Tavoli, Music – Massimo Morante, Fabio Pignatelli & Claudio Simonetti, Art Direction – Giuseppe Bassan. Production Company – Sigma Cinematografica-Roma.
Cast
Anthony Franciosa (Peter Neal), Daria Nicolodi (Anne), Guiliano Gemmi (Inspector Germani), John Saxon (Bulmer), Mimsy Farmer (Jane McCarroll), Mirella D'Angelo (Tilde)
---
Plot
Peter Neal, an American writer of sensationalistic thrillers, arrives in Rome on a press tour. At the same time, a girl has her throat slit and is left with pages from Neal's book 'Tenebrae' stuffed into her mouth. The murders continue, always imitating scenes from his books, at the same time as the killer taunts Neal with messages.
---
Tenebrae was one of the films from cult Italian director Dario Argento. Argento had emerged in the 1970s with successful giallo psycho-thrillers like The Bird with the Crystal Plumage (1970), The Cat O'Nine Tails (1971), Four Flies on Grey Velvet (1971) and Deep Red (1976), all of which made a virtue of artistically staged ultra-sadistic murders. Argento then found international acclaim with the occult thriller Suspiria (1977).
Expectedly, Tenebrae is filled with Dario Argento's customarily wildly over-the-top, artistically pretentious sadistic set-pieces. In the opening scenes, a woman is caught shoplifting, is allowed to go home after she comes onto the store detective, whereupon she has her throat slit as the killer turns up inside her house, he stuffing the pages he tears from the book into her mouth.
In another scene, Argento conducts a single 360o pan up the walls, over the roof and down the side of a house, watching the women inside undressing and then focuses in on one victim, the camera looking up through her dress as she pulls it over her head and the killer's knife suddenly comes at her. In one uncomfortably nasty scene, a girl is pursued and savagely mauled by a dog and manages to hide inside a house, only to find it is the killer's house.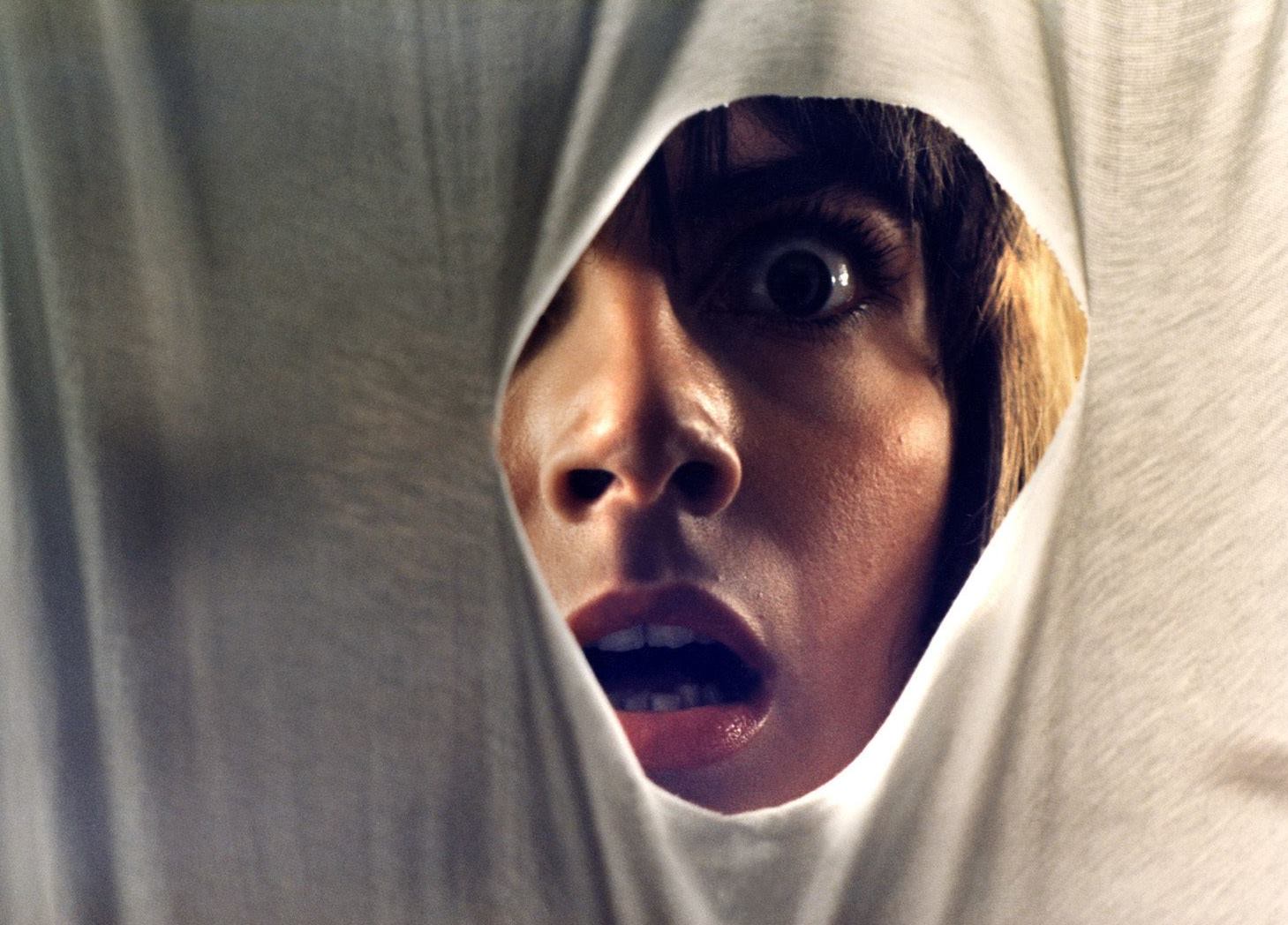 The most captivating scene is the opening, with the credits run over by a narration from the book as it is torn up and fed into a fire – "The impulse had become irresistible. There was only one answer to the fury that tortured him. And so he committed his first act of murder. He had broken the most deep-rooted taboo and found not anxiety, not fear, but freedom. Every humiliation which stood in his way could be swept aside by the simple act of annihilation – murder." Nothing else in Tenebrae ever matches such a fervid sense of disturbed psychology.
As always, with any Dario Argento film, Tenebrae is written around each set-piece, and trying to make logical sense of the plot and the contrivances required of it is like following a ball of wool after it has been unravelled by a kitten, particularly the end double revelation of multiple killers. This is either something accepts or rejects as part and parcel of any Dario Argento film and as such Tenebrae is enjoyable enough on its own terms.
There is also a serious side to Tenebrae. The film was inspired by Argento's real-life harassment by a fan stalker who had gained his phone number while Argento was in Los Angeles in 1980 and began making a series of veiled threats. It also sees Argento standing up to respond to many of his numerous critics of the violence in his films. There is one scene at a press conference where he has Anthony Franciosa respond to a woman reporter who is determined to press feminist issues – "If someone is killed with a Smith and Wesson revolver, do you go to see the president of Smith-and-Wesson?"
Dario Argento's other films are:– The Bird with the Crystal Plumage (1970), The Cat O'Nine Tails (1971), Four Flies on Grey Velvet (1971), Deep Red (1976), Suspiria (1977), Inferno (1980), Phenomena/Creepers (1985), Opera/Terror at the Opera (1987), Two Evil Eyes (1990), Trauma (1993), The Stendhal Syndrome (1996), The Phantom of the Opera (1998), Sleepless (2001), The Card Player (2004), Mother of Tears: The Third Mother (2007), Giallo (2009), Dracula (2012) and Black Glasses (2022). Dario Argento has also written and produced Demons (1985), Demons 2 (1986), The Church (1989) and The Sect/The Devil's Daughter (1991).
---
---