---
Crew
Director – Jim Wynorski, Screenplay – R.J. Robertson, Producer – Alida Camp, Photography – Zoran Hochstatter, Music – Chuck Cirino, Creature Effects Designer – Mark Williams, Production Design – Gary Randall. Production Company – Miracle Pictures./Concorde.
Cast
Teri Copley (Marissa Orlock), Steve Altman (Dexter Ward), Robert Vaughn (Byron Orlock), Ace Mask (Dr Victor Van Helsing), Angus Scrimm (Stefen), Howard Morris (Marinas Orlock), Jay Robinson (Uncle Ephraim Ward), Monique Gabrielle (Patty), Lenny Juliano (Maxie Fields), Steve Franken (Hans Hupp), Brinke Stevens (Betty Lou)
---
Plot
Dexter Ward attends the funeral of his Uncle Ephraim who turns out not to be dead after all. Ephraim explains that he is the librarian at the Miskatonic University in Arkham, Massachusetts, which houses the largest collection of occult books in the world. However, one powerful tome, The Book of Ulthar, has been borrowed by Marinas Orlock. Ephraim asks Dexter to retrieve the book. The only clue to Orlock's whereabouts is his daughter Marissa who is an aspiring actress in Los Angeles. Dexter goes and meets her, just as a telegram arrives asking her to come to Transylvania. Dexter accompanies her, the two striking up an attraction along the way. At Castle Orlock, they meet Marinas's brother Byron, a vampire. Marinas has died and funeral is held. In the will, Marinas bequeaths the castle to Marissa but also informs them that the book is hidden somewhere in the walls. A hunt for the book by various parties then ensues.
---
Transylvania Twist was a horror parody produced by Roger Corman via his Concorde production company. It did appear to play some (very few) theatrical dates but was mostly seen on video. It was the seventh film for prolific low-budget director Jim Wynorski who worked at the Corman stables throughout much of the 1980s and 90s. (See below for Jim Wynorski's other films).
It is possible that Transylvania Twist was made as part of the vampire movie parody fad of the early 1980s – Love at First Bite (1979), Once Bitten (1985), My Best Friend is a Vampire (1987), Rockula (1990). It does spoof a number of vampire movie tropes – the castle, Robert Vaughn as the vampire count, Van Helsing and Dracula's brides. Beyond that there are assorted parodies of other genre tropes like possession, seances and the lynch mob of villagers with burning torches. Mostly the film plays out as a serial barrage of lame jokes and bad puns, which are at least passably painless.
Just as equally, the film appears to have been made as a generalised parody on the genre as it was in the late 1980s. This becomes evident from the opening scene where Monique Gabrielle is pursued by lookalikes of Michael Myers, Leatherface and Freddy Krueger whose claw hand turns out to be an entire Swiss Army Knife. Later we see a lookalike of Hellraiser (1987)'s Pinhead emerging from an acupuncture store commenting "I don't know about you but that hurts." Angus Scrimm, The Tall Man in Phantasm (1979) and sequels, turns up as the butler and has a scene that parodies Phantasm where the silver sphere becomes the ball in an impromptu baseball game.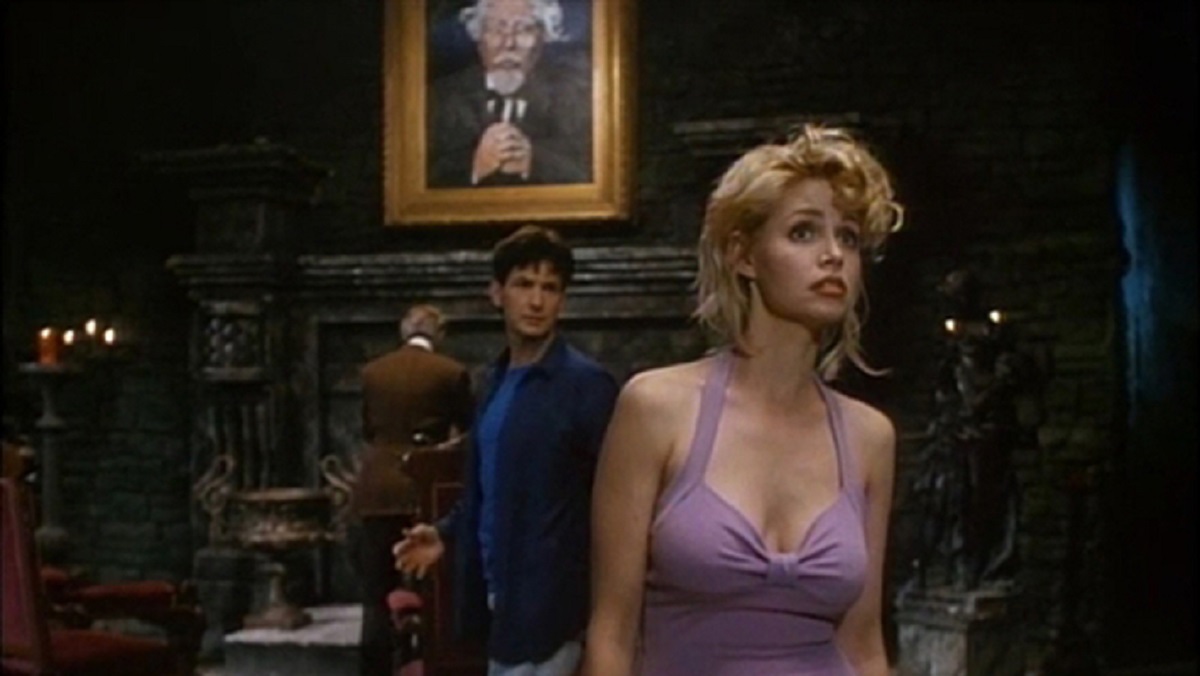 There are copious other genre references and parodies throughout. The hero is named Dexter Ward after the possessing ancestor in H.P. Lovecraft's The Case of Charles Dexter Ward (1941), which had notedly been filmed by Roger Corman as The Haunted Palace (1963), while his uncle works at the library at the Miskatonic University in Arkham, Massachusetts, one of the key locales in Lovecraft's works. At the climax of the film, we are told that the unconvincing monster that emerges is a Lovecraftian Great Old One.
There are assorted cameos of genre names. Famous Monsters of Filmland (1958-82) editor Forrest J. Ackerman turns up as a funeral director. There are also assorted Scream Queens and wannabes of the era such as Monique Gabrielle, Brinke Stevens, Kelli Maroney, Becky LeBeau and Toni Naples who had appeared in various Wynorski and Corman films (although all keep their clothes on – Transylvania Twist went out with a PG-rating).
The biggest cameo is a scene where Steve Altman enters a room and is greeted by no less than the late Boris Karloff in a scene edited in from Corman's The Terror (1963). Scenes of beaches and hillside castles from that film are also liberally reused (along with footage from various Corman Filipino-shot action films). Robert Vaughn's vampire is also called Byron Orlock – the aging actor played by Boris Karloff in the Corman-produced Targets (1968).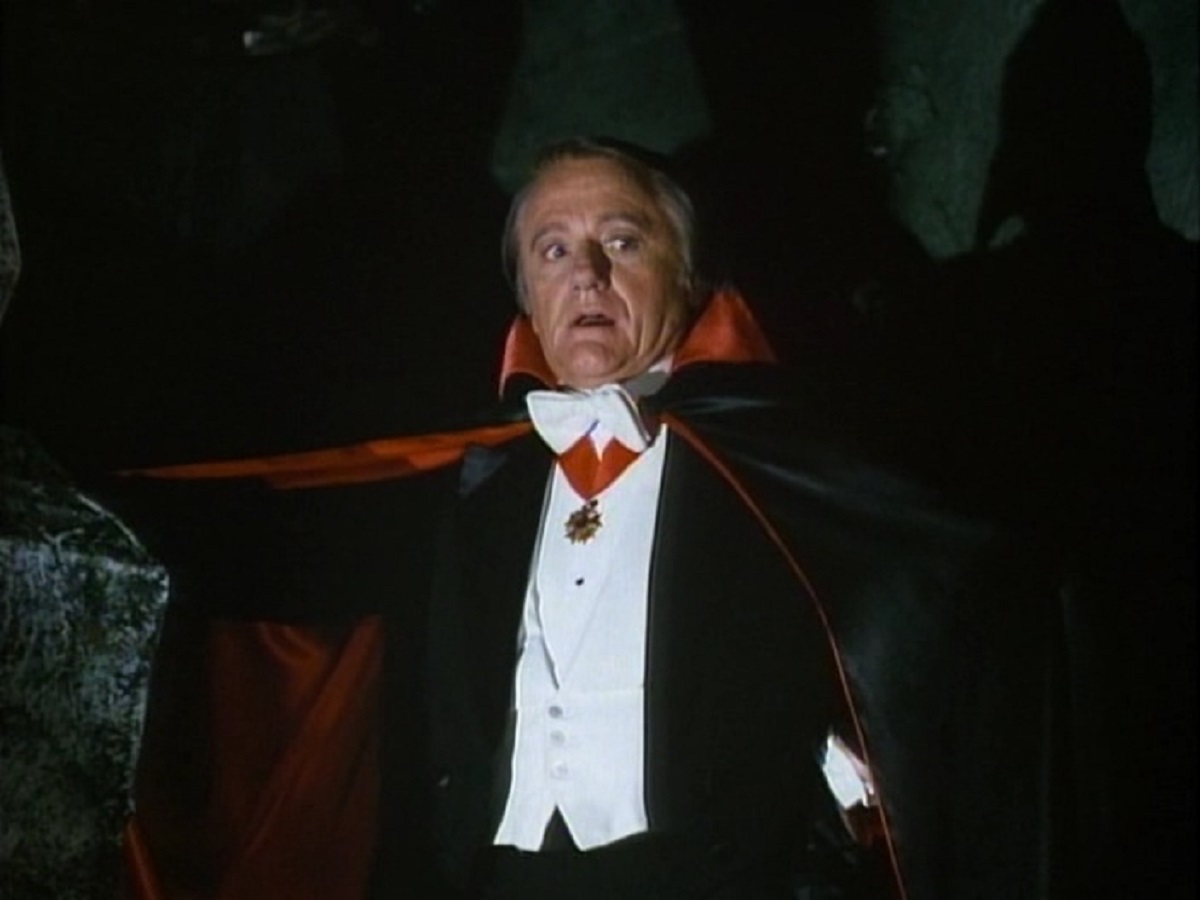 Jim Wynorski's other genre films are:- The Lost Empire (1983), Chopping Mall (1986), Deathstalker II (1987), Not Of This Earth (1988), The Return of Swamp Thing (1989), The Haunting of Morella (1990), Sorority House Massacre II (1990), Sorority House Massacre 3/Hard to Die/Tower of Terror (1990), 976-Evil II (1991), Scream Queen Hot Tub Party (1991), Munchie (1992), Ghoulies IV (1993), Dinosaur Island (1994), Munchie Strikes Back (1994), Sorceress (1995), The Wasp Woman (1995), Vampirella (1996), The Pandora Project (1998), Storm Trooper (1998), The Bare Wench Project (1999), Desert Thunder (1999), Bare Wench Project 2: Scared Topless (2000), Crash Point Zero/Extreme Limits (2000), Raptor (2001), Thy Neighbor's Wife/Poison (2001), The Bare Wench Project 3: Nymphs of Mystery Mountain (2002), Gale Force (2002), Project Viper (2002), Bare Wench Project Uncensored (2003), Cheerleader Massacre (2003), More Mercy (2003), The Curse of the Komodo (2004), Gargoyle (2004), The Thing Below (2004), Alabama Jones and the Busty Crusade (2005), Bare Wench: The Final Chapter (2005), Komodo vs Cobra (2005), Sub Zero (2005), The Witches of Breastwick (2005), The Witches of Breastwick 2 (2005), A.I. Assault/Shockwave (2006), Cry of the Winged Serpent (2006), Bone Eater (2007), The Breastford Wives (2007), House on Hooter Hill (2007), Cleavegefield (2009), Fire From Below (2009), Vampire in Vegas (2009), Monster Cruise (2010), Dinocroc vs Supergator (2010), The Hills Have Thighs (2010), Camel Spiders (2011), Gila (2012), Piranhaconda (2012), Hypnotika (2013), Scared Topless (2013), Sexually Bugged (2014), Shark Babes (2014), Water Wars (2014), Scared Topless (2015), A Doggone Christmas (2016), Sharkansas Women's Prison Massacre (2016), Cobragator (2018) and Attack of the 50 Foot CamGirl (2022).
---
---